It's all too easy for a lovely clean car to become an absolute tip within a few short minutes. Nobody treats your car interior as well as you do, do they? Whether it's mucky kids with food crumbs all over the place, your friends bringing in muck from their shoes, or plain old accumulated dust and dirt, you want it gone.
The good news is that quite often you can get your car's interior looking almost as good as new with the simple application of a vacuum cleaner. A swift hoovering out can clear your mats and upholstery of debris in minutes. It can remove dust, which is ideal for allergy sufferers. And keeping your carpets free of damaging grit means they'll last longer, too.
But there's more to vacuuming a car than just running the hose over the driver's seat. If you want to do a really thorough job, read on.
Choosing the right vacuum
We're not suggesting you buy a vacuum specifically to clean your car - unless you're a professional valeter, it's not needed. But equally, upright vacuum cleaners are almost universally unsuited to the task - so if that's your only option, we recommend buying or even borrowing a cylinder vacuum cleaner or a handheld cordless unit.
Description
Our current favourite handheld vacuum cleaner, the Gtech manages to be powerful enough for most
Description
The happiest cylinder vacuum cleaner in the world, the Henry vacuum cleaner has proven itself to
Whatever you use, the following tools will make your life much easier:
A flexible hose - this gives you more freedom in the tight confines of the car
A crevice tool - for nooks and crannies down the side of seats
A turbo brush - for larger areas of carpet
A soft dusting brush - for more delicate areas
A long extension cord - for mains-powered vacs, to give you the maximum reach
The true neat-freak can even buy miniature detailing kits, with tiny nozzles and brushes intended to get dust out from crevices in the dash, air vents or other microscopic areas. You can approximate this if you like with duct tape and a drinking straw.
Preparing before you vacuum
The first thing you'll want to do is the same first step in spring cleaning - grab a bin bag and empty out your crap. What's the point of trying to clean around debris? Not to mention, large items that can be sucked up by your vacuum can easily result in a clog or even damage. Clear out everything large enough to be picked up, and ideally remove your personal belongings, too.
Then, it's a good idea to open up all the doors and give the car a good airing before you start.
Take out the mats, as they're easier to clean when they're out of the car and on a flat surface. If your car has removable seats, take advantage of that and take them out - and make sure not to neglect any car seats or booster seats, or the area under them.
How to vacuum your car - step by step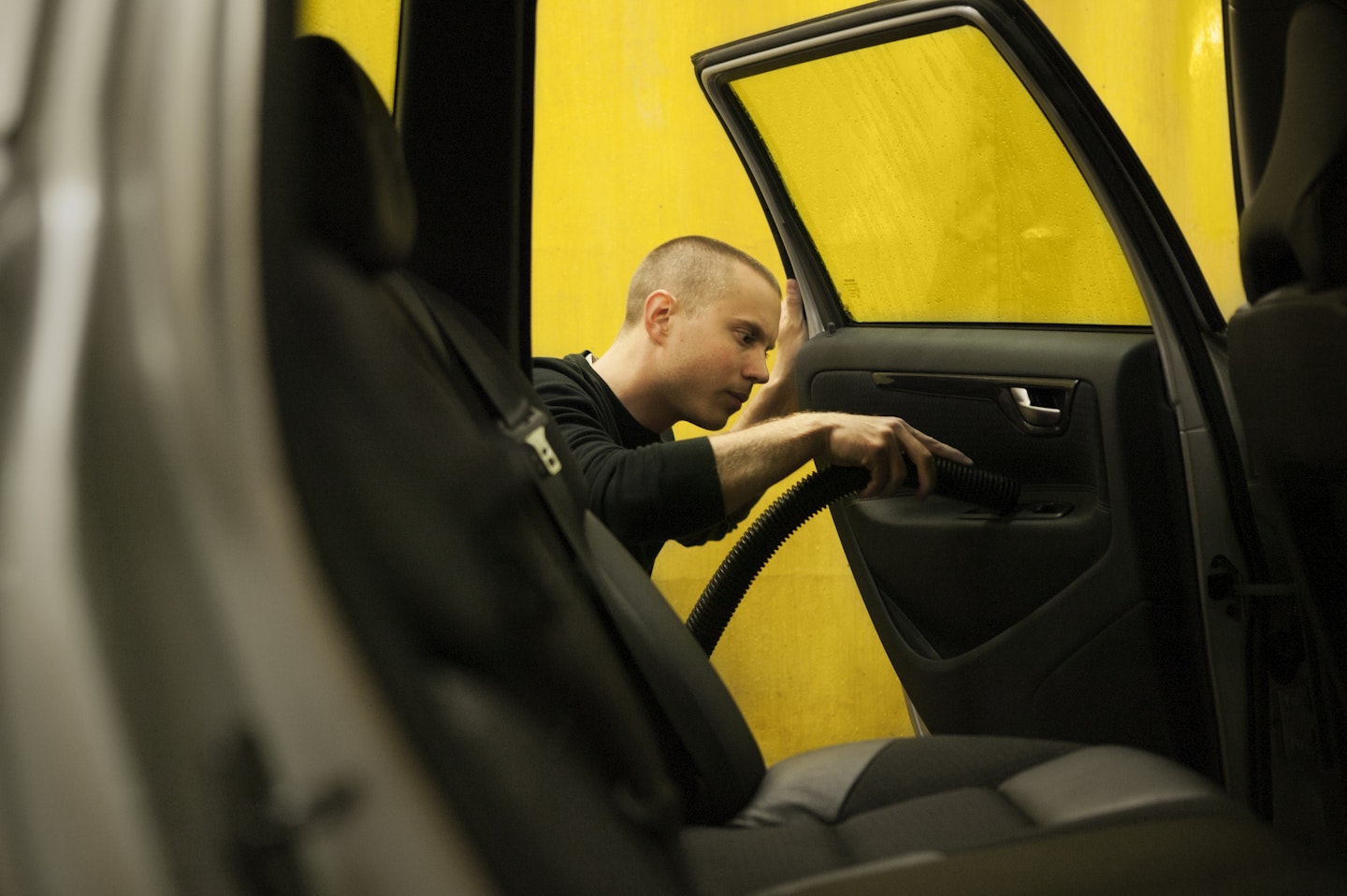 Mats
Heavily-soiled mats can be hung up and beaten, like our ancestors used to do with their rugs. This is useful if they're full of heavier debris, like sand. Otherwise, use a turbo nozzle or stiff upholstery tool to agitate the mats so they get cleaner quicker.
Headlining
Starting at the top and working down is a good idea. Vacuuming the headlining may seem overkill, but it holds a surprising amount of dust.
Now's a good time to open up the sunroof, if you have one, and vacuum out any loose debris - particularly dry leaves - that may have arrived during the few months of the year it's warm enough to open the sunroof.
Dashboard
Easily forgotten but very important. Use the softest brush attachment you have and steer clear of delicate screens which are better dusted with a cloth.
Cover the larger areas of the dash first, then use a narrower tool for the cracks and crevices - such as the air vents, storage nooks, glovebox or cupholders.
Seats
Keep an eye on your vacuum's dust container and you may be shocked at how much debris even a visibly clean seat can hide. Give each one a thorough vacuum, using a turbo nozzle or stiff upholstery brush on the bases to get out the muck that suction alone can't handle.
Remember to fold the seats out of the way to get under them, as well as down the sides - dust, grit and litter can worm their way into anywhere.
Using your vacuum's crevice tool, get into all the nooks and crannies. Slide it into the gap where the seat back meets the seat base, as well as down the sides of each one and in between the front seats and the centre console.
Vacuuming won't remove deep stains or dirt that's left a mark - so if your upholstery needs more than just hoovering, check out our favourite spot cleaners here.
Boot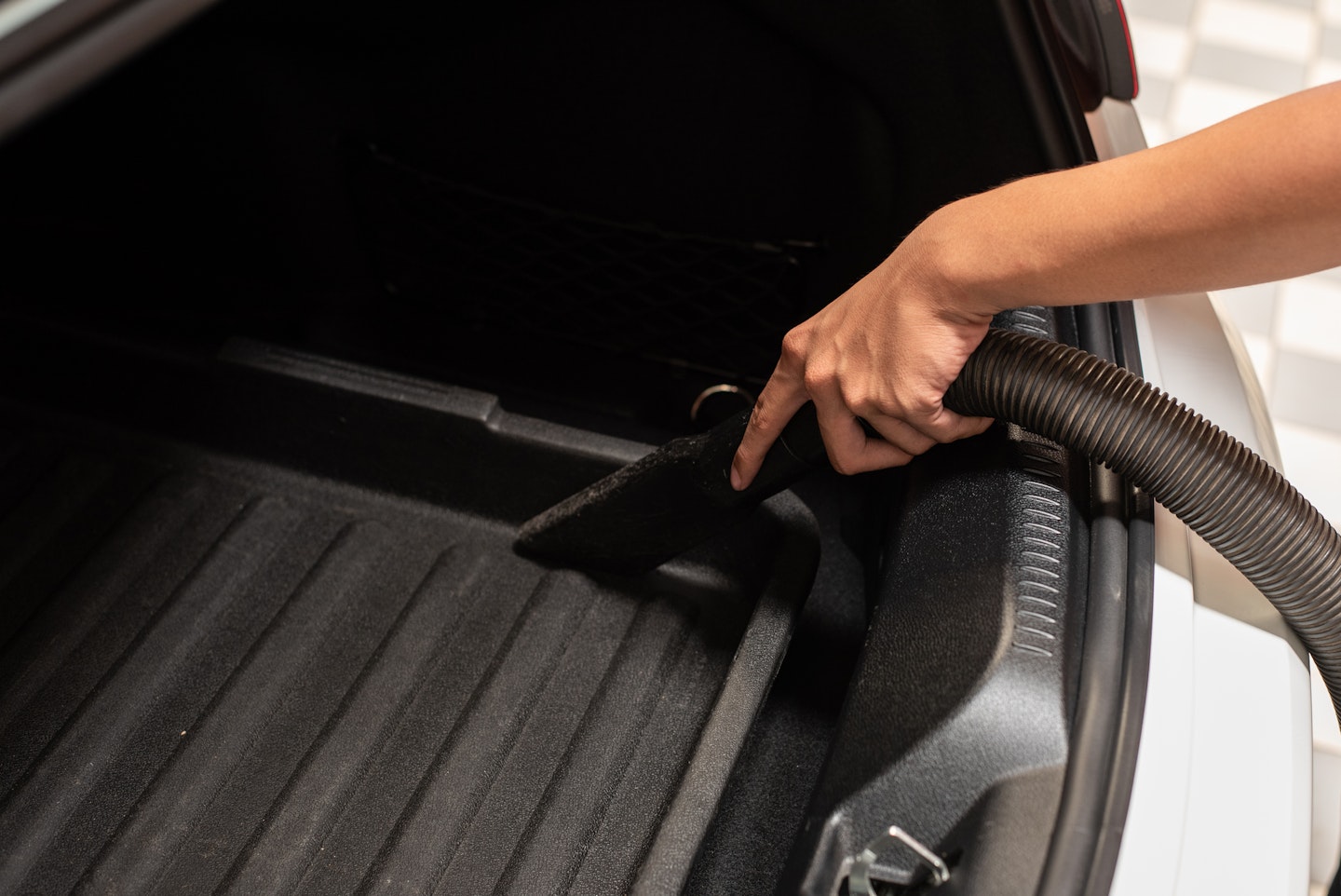 Time once again to break out the turbo brush or, if your boot is very big you could even use the main floor attachment to speed things up.
There are lots of potential snags where you could miss an area, so be thorough - fold the rear seats and vacuum their backs, clear debris from the spare wheel well or underfloor storage, and by working methodically you'll eventually get every bit.
Carpets
Keeping your car's fitted carpets clean is essential. Sharp debris such as sand and grit can actually wear out the pile - so make sure it doesn't stay in for long. Carpets in good condition can actually increase the value of a car.
Vacuum every inch, including where the carpet rises up the centre console, and make sure you get into awkward areas such as those under the front seats and behind the pedals.
Final touches
Wipe over the final areas with a soft cloth, especially delicate surfaces. Consider a spritz of fabric refresher spray or air freshener to make things smell fresh, and use the opportunity while loading your personal effects back into the car to do a serious decluttering.
Of course, vacuuming can't sort everything - so check out our reviews of upholstery spot cleaners here if you've got stains that need extracting. Or, for cleaning the outside of the car, consider our favourite pressure washers.
READ NEXT:
For verdicts, scoops, news and analysis from the team, delivered direct to your inbox, subscribe to the CAR newsletter.
You can enjoy CAR in its traditional print format, or one of the swelling number of digital editions, optimised for Apple iPhones, Android devices, iPads, tablets and desktop computers.