The popularity of dash cams has been growing over the past decade, especially with so many good quality budget dash cams becoming available. There are probably more benefits to owning a dash cam than you've realised, and they currently represent peace of mind to over a million UK motorists and counting.
Depending on your insurance provider, getting a dashcam can reduce your monthly premiums – and in the event of an accident, a dashboard camera can also be an invaluable piece of kit to help settle any claims. What's more, they're a great safeguard against a more unsettling trend; those increasingly popular 'crash-for-cash' crimes.
Our team looked at over 40 cameras, including some mini dash cams, to narrow down the cheapest model for the highest quality. We've found time and time again, paying the extra dollar doesn't always mean you're getting a better product, though it often helps. It boils down to knowing exactly what to look for. After interrogating the most reasonable dashcam options available today, we've found the below list to be our current top favourites.
The best budget dash cams at a glance:
Best value dashcam (Editor's choice): ORSKEY Dash Cam 1080P Car Camera - Buy now from Amazon UK
Best easy-to-use dashcam: Nextbase 222 Dash Cam - Buy now from Amazon UK
Best night vision dashcam: IIWEY 4K Dash Cam - Buy now from Amazon UK
You can spend much more than this, but you may not need to. For those looking to purchase a dash cam but not sure of what they're after exactly, we've also put together a handy buying guide at the end of this article.
The best budget dash cams
Best for value dashcam (Editor's choice)
Description
Easy to use, reliable, and with sound performance, it's hard to disparage this budget dash cam.
Pros
High image quality
Great value
Cons
Some may find the larger screen intrusive
Best easy-to-use dash cam
Description
In terms of value, quality and usability, the Nextbase 222 does the business. The high-precision G
Pros
Fantastic design and usability
Excellent mounting system
Best night vision dash cam
Description
The IIWEY 4K Dash Cam comes with 4K resolution and a wide-angle lens that provides an impressive
Cons
Permanent wiring kit costs extra
Best budget dash cam with GPS
Description
GPS is a very handy additional security feature that allows you to see the route you travelled at
Pros
GPS and Wi-Fi
Magnetic mount
Best budget HD dashcam
Description
Road Angel has gathered all the features you might expect and has managed to package them in this
Pros
Full HD recording
Compact design
Cons
Instructions could be better
The best overall dash cam
We don't just test the budget models; some advanced dashcams and well-known brands are well worth the extra outlay. But whether it's worth spending more than the selection above really depends on how involved you want to get with the technology. Our overall favourite dash cam, the Nextbase 622GW below, offers more than just basic recording but includes many advanced features relying on smartphone interaction and extra apps.
The 622GW's performance is top-notch. You can choose a default frame rate and resolution, but there are also bits of software to aid clarity, such as image stabilisation and polariser. There are also smart features, including Alexa Built-in, What Three Words location, and an automated, subscription-based emergency SOS system.
It might be a couple of years old now, but it's still the best.
The best of the best
Description
Over several years, Nextbase has evolved sensors, mounts and optics that refine the user
Pros
Large storage
slow motion playback
4k resolution
Cons
Pushes 'Budget' to the extreme
Recording and storing footage
Once you have chosen which dash cam suits you, it's worth investing in a decent SD card. San Disk's High Endurance MicroSD cards are everything you need for use in a dash cam: reliable, fast, and great value. Our pick of the lot is the 64GB version, which is good for all circumstances except perhaps high-quality dual recording, in which case we suggest getting one of the larger ones. It even comes with an SD adaptor.
Budget dash cam buying advice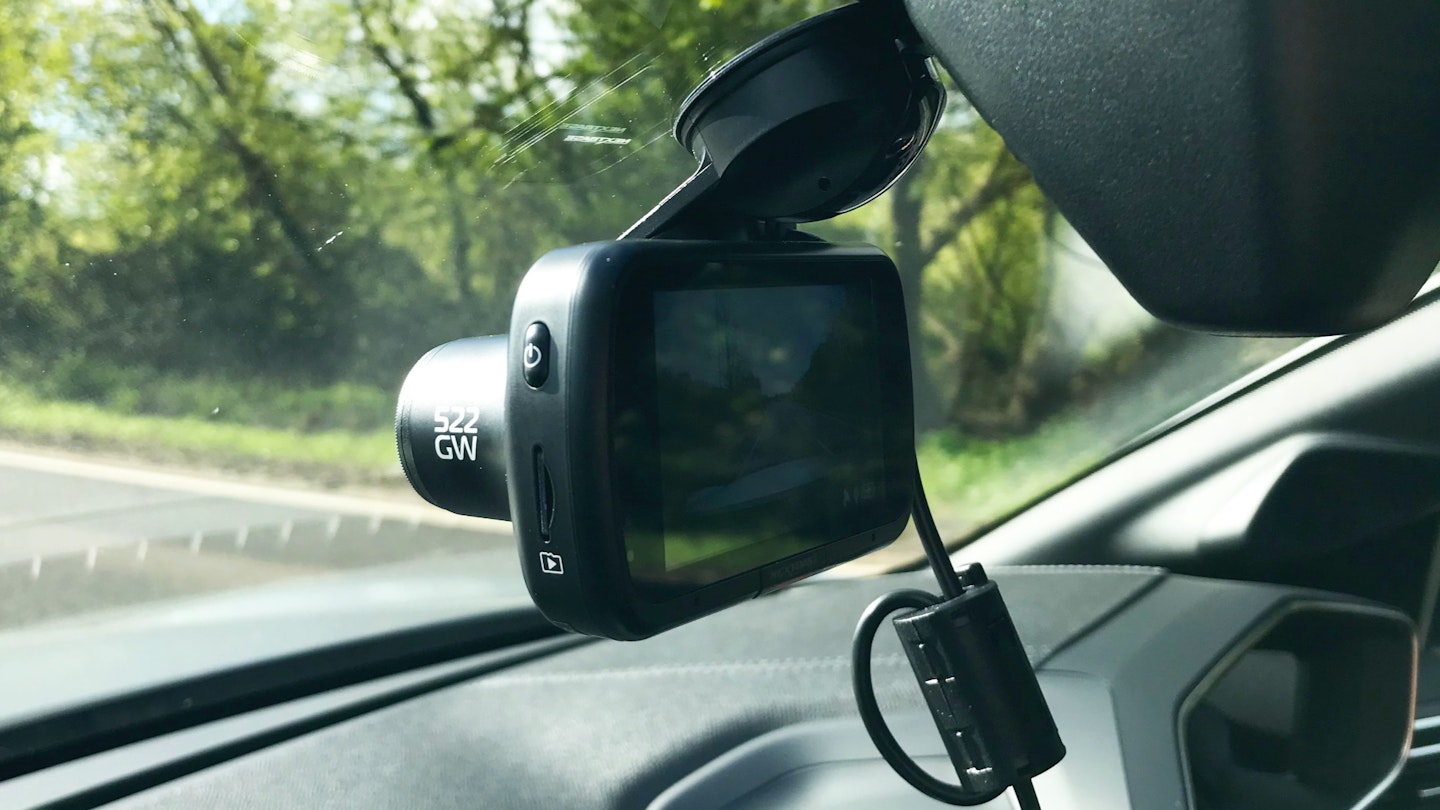 Essential features
When it comes to finding the best dash cam for you, there are several that contribute to making a model the right one for your needs.
The first and most obvious is the quality of the footage. In the event of an incident, if you can't rely on that footage to prove your case, it's a waste of an investment, so you must ensure it's reliable in all conditions. This is the first thing we looked at when rating the above dash cams.
The main specification that you need to look out for here is the video resolution, so for this, the recording needs to be 1080p at least - 720p just isn't good enough. All of the dash cams mentioned here are 1080p or above, but other image quality features come into play to make them a quality product.
These include the frame rate (how many frames are captured per second), having 'low light performance' features (meaning it can see well at any time of day), a high dynamic range (good levels of contrast in the image) and the widest lens possible (minimum 120 degrees).
Extra features
Other features that might impact which dash cam is best for you come down to your use of the camera, how it looks & is mounted and accessing the footage. For instance, screens are useful if you are doing more one-off recordings, such as a specific journey or track runs, but for everyday driving where you are continually recording, you may want something less intrusive.
Mounting can be another important feature since you may wish to move the cam between vehicles. Most dash cams utilise suction cups that fit the windscreen. However, some models come with 3M double-sided adhesive stickers to offer a more permanent and secure solution.
The footage can be accessed via mobile apps or by plugging the device into your computer. The former offers more instant access to footage, but this bonus usually comes with a heftier price tag. Apps vary in quality too. The best come from brands including Garmin and Nextbase. If you're not bothered with unmounting, connecting and manually downloading the files, you can save a good few pennies. You can spot which cams connect to your mobile by seeing which have Wi-Fi smartphone features.
We've outlined all the things that you need to consider when choosing your dash cam in a quick checklist below.
Checklist for choosing a quality dashcam
• HD Quality Video (1080x1920)
• High frame rate
• Has 'low light performance' features (measured in ISO)
• Ideally has a wide lens type (120+ degrees)
• High/wide dynamic range (good levels of contrast)
• G-force sensor (most have this) when the sensor is triggered, it specifically saves that segment
Optional but useful features:
• Audio
• Ease of installation
• Ease of access to footage (eg. phone apps)
• GPS – tags the video at a location
One thing to note is that we found the cleanliness of the windscreen and back window hugely impacted the quality of the video. It might seem obvious, but it's a key point to bear in mind if you're going to make the investment, especially if your visits to the car wash are somewhat infrequent; for optimal results, ensuring that your car is well-maintained will be one of the greatest factors in obtaining clear, usable footage.
Dashcam installation
Via 12V socket
Cheap dash cams are often reasonably priced for a reason. This can be because of fewer features or a more fiddly setup. But a cheaper model can certainly be worth the extra effort if you're looking to save money. The same goes for the dash cam installation. You can plug the cam into your cigarette lighter and go, which is what most of us do. It's the easiest option.
Hardwiring
Or you can opt to hardwire the dash cam to take advantage of parking sensor features. The internal battery of some cams may last a little while, but they can never outlast a hardwired cam.
You can hardwire a dash cam yourself with an installation kit or fitted professionally. Service stores such as Halfords offer fitting services from £50. If you buy through them, the RAC can include the fitting as part of the dash cam package.
If you're worried about the dash cam draining your car's battery (possible if you drive infrequently), you can install a battery pack to keep things topped up. These can cost anything from £100-£300, though, so the budget aspect is gone. Instead, you might want to run to the shops once a week to keep your car battery healthy and happy.
For verdicts, scoops, news and analysis from the team, delivered direct to your inbox, subscribe to the CAR newsletter.
You can enjoy CAR in its traditional print format, or one of the swelling number of digital editions, optimised for Apple iPhones, Android devices, iPads, tablets and desktop computers.
Chris Williams is an Automotive Content Writer for Parkers and CAR Magazine, but he also contributes to Live For The Outdoors and What's The Best. He trained as an automotive journalist in New Zealand, prior to which he studied International Relations and History.