At no point do most people go to such extremes for convenience that they want to bring a petrol station home with them. Sure, filling up at the services is often a feculent chore, but it's for that very reason that we don't want domestic petrol stations. And, you know, they can also explode.
However, with the exponential takeover of plug-in vehicles, the prospect of a home charging station is much more appealing.
Here are some wholesome plug-in vehicle statistics for you digest:
The total number of plug-in cars and vans on UK roads was almost one million as of the end of August 2022. The rate of growth is incredible because that number was around 450,000 in February 2021. Of all new cars registered in 2022, EVs and plug-in vehicles accounted for over 20%.
With the number of people buying and considering plug-in cars growing ever larger and the government's announcement last year that new houses and buildings must have EV chargers installed, we're here to help plug-in owners and prospective buyers navigate the new landscape of car charging at home.
Suddenly, gallons or litres and MPG seems a bit last week, and the new language of electricity - voltage, kilowatts, and current - is the thing. Fear not, CAR has an arsenal of guides to help you understand EV tech and terminology:
What you will find below are our recommendations on some of the best home EV chargers you can get.
Home EV charging in a nutshell:
Power (Watts) = Voltage (V) x Current (Amps)
The speed of a charging point depends on how much power output is has (watts). Domestic power supplies have 230-volt, single phase power. And a regular home plug generally has 13 amps of current. A home EV charger can have 16 or 32 amps, in which case the power output for the EV charger is as follows:
For example, a Nissan Leaf with a 40kWh battery, using a 13A home plug, will charge at a rate of 3 kilowatts per hour. Forty divided by three is roughly thirteen, which means it'll take roughly thirteen hours to fully charge the Nissan's battery. Using a 32A charger, it drops to under six hours.
Our recommendation is to look at a professionally installed 32A single-phase setup. This will fully charge a Peugeot e-208 with a 50kWh battery in under seven hours, and Porsche Taycan with a 79.2kWh battery in under eleven hours. This is to fully charge these batteries, remember.
The best home EV chargers
Description
The Wallbox Pulsar Plus is intelligent and compact at 166 x 163 x 82mm. Effort has also been made
In addition, there is a MyWallbox app from which you can get monitor charging sessions remotely. It will give you stats and let you program the unit to charge at off-peak times at cheaper rates, for example.
Pros:
• Stylish
• App connectivity
• Fast charging
Cons:
• Cheaper, more basic options available, if that's what you want.
Description
The Juice Booster 2 looks like just a charging cable, but it's a lot better than that. It can be
It's unfair to compare this to three-pin aftermarket charging cables because the Juice Booster 2 is so much better in every way. It's tougher (IP67 and can survive being run over), safer, more versatile, and can handle up to 22kW of power.
Pros:
• Can be used anywhere
• Fast charging
Cons:
• Expensive
Description
A professionally installed, app-controlled 3.6kW, 7kW, or 22kW (three phase) smart charger for
Pros:
• Single and three-phase options
• Tethered and untethered options
Cons:
• Wallbox is smaller
Description
A professionally installed, app-controlled 7.4kW smart charger for your home. Choose from tethered
Pros:
• Untethered and tethered option
• Fast charging
Cons:
• No three-phase option
Description
Boxt helps you find the best home EV charger for you by filling out its questionnaire, which asks
Plug Types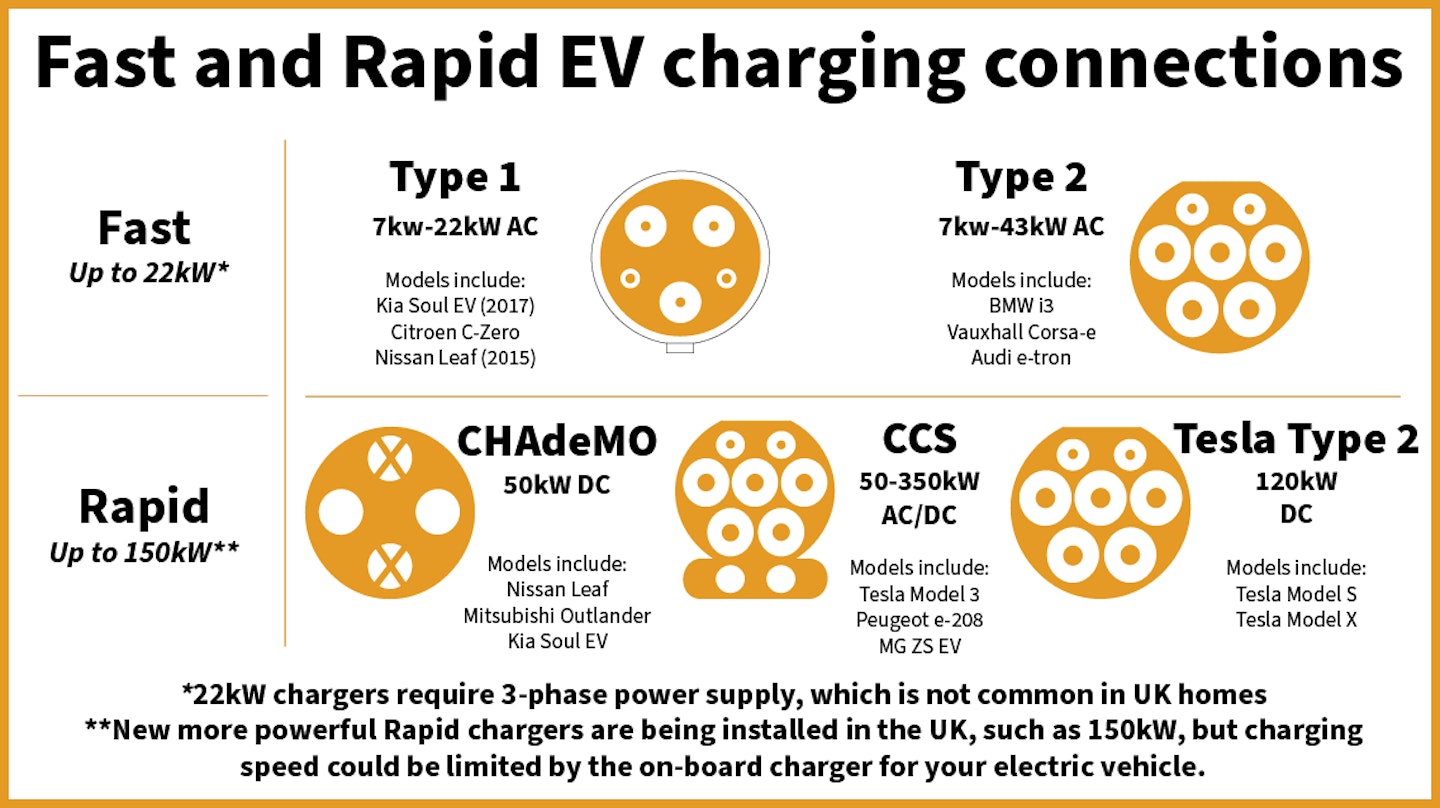 Current plug-in cars are able to be charged in two ways: by slow and fast AC (alternating current) charging, or by rapid DC (direct current) charging. However, some older plug-ins do not have a rapid charge option.
The slow/fast charging cable will be either a Type 1 or Type 2. Type 2 connectors are by far the most common – it's what you'll find on a Hyundai Kona Electric, Renault Zoe, and Jaguar I-Pace to name but three. The Type 1s are usually found on older plug-ins, but they can still connect to a Type 2 charger, because the cable will have a Type 1 connector at one end, but a Type 2 at the other. Thus, we can safely call Type 2 plugs universal.
Rapid chargers come in two types as well. The most common is the Combined Charging System (CCS) socket. This type of socket is a Type 1 or 2 plug with the CCS DC rapid charge connector attached at the bottom. This means you can plug in your car at home on the slow or fast charger using the Type 2 connection, but you can also use the public rapid chargers with the CCS connection beneath when you need to.
The other type of rapid charging socket is the CHAdeMO socket, which you will find on the Nissan Leaf, for example. As we noted before, you won't be able to install a rapid charger at home without a three-phase power supply. You can use Zap-Map to help you find public charge points.
A quick note on EV mileage: You can kind of think of a car's kilowatt-hour (kWh) rating as the size of its fuel tank. A kWh is the amount of energy that a one thousand-watt device uses in an hour. Car manufacturers generally give EV mileage in miles/kilometres per kWh, or watt-hours (Wh) per mile/kilometre. In the case of the former, a mileage figure of, say, 4.2 miles per kWh in a Nissan Leaf with a 40kWh battery will give you a range of just under 170 miles (4.2 X 40).
Electric Vehicle Homecharge Scheme (EVHS)
The EVHS ended on 31st March 2022 for homeowners living in single unit, semi-detached, and terraced properties. However, the scheme remains open to those in rental accommodation and those living in flats. Provided you comply with the fairly simple requirements, the government will contribute up to £350 towards the installation of your new home charger.
EV and plug-in advice
At CAR, we're really sinking our teeth into EVs and plug-ins as they become increasingly exciting, useable, and popular. We have a wealth of content on the subject and want to share our experiences and expertise with you.
What's an electric car like to live with?
It's near on impossible to get a real world feel for EVs from the brochure. They provide lots of numbers and paint pictures of wonderful lifestyles, but what are such cars really like to live with? Our CAR team has been living with EVs on long-term tests ever since the launch of the first Nissan Leaf in 2011. To understand the real advantages and disadvantages of EVs, have a read of our real world experiences with EVs here.
What are the best EVs right now?
An excellent and natural question. Having rigorously tested all-new EVs as they emerge from car factories, we have come to rate the best ones available. We've got the full lowdown on the best EVs here, and the best electric SUVs here. We've also got an article on new EVs with the longest range, for you to read about, too.
Don't feel like you necessarily have to fork out shedloads of cash for an electric car. These days, EVs are getting cheaper, and as they improve, second-hand electrics aren't the risky choice they used to be.
There are some tremendous cheaper EVs available now. For the full list of affordable EVs, head to the link. For second-hand EV buying advice and recommendations, we've got that covered too.
We also have recommendations on the best cheap lease deals on EVs and the best overall lease deals on EVs.
What new ones are coming?
In a word: plenty. And the great news is, most of them look fantastic. Keep up to date with new releases of upcoming EVs on CAR magazine's news page, and also check out our story on the some new EVs coming this year and in the near future.
For verdicts, scoops, news and analysis from the team, delivered direct to your inbox, subscribe to the CAR newsletter.
You can enjoy CAR in its traditional print format, or one of the swelling number of digital editions, optimised for Apple iPhones, Android devices, iPads, tablets and desktop computers.