► Virtual driver-coaching device
► Lap time improvement suggestions
► Buy the Catalyst at Demon Tweeks
Serial sat-nav makers, Garmin, has taken its first steps into the world of motorsport with a virtual driver coach gadget that promises to improve your lap times and technique. Called the Catalyst, it's essentially a Garmin sat-nav unit bundled together with an in-car camera, plus lots of clever tech to pinpoint your location on the track. However, rather than giving you directions to a far-away location, it's programmed to capture your on-track driving in minute detail, then feedback valuable information on how you can improve.
Haven't we seen this before?
Yes, other devices do a similar sort of thing. See AIM Solo and Racelogic VBOX to name but two, however, the Catalyst's main advantage lies in its ease for reviewing your driving data. You don't need to sync it up to your phone or PC (although you can do this if you wish), instead, just hop out of the car and review the detailed breakdown of your laps immediately on the device itself.
How does it work?
In order to accurately measure your position on track, the Catalyst uses 10 Hz multi-GNSS positioning, image processing and a built-in accelerometer. Using this tech, the Catalyst can display your 'true optimal lap', combining your fastest time from each sector and highlight where you're losing time against your 'average lap'.
Then, if you wish, you can connect the device to a Bluetooth headset that relays audible cues as you approach a sector where, for example, you may be braking too early for a particular corner. This is in addition to the Catalyst's 7.0-inch touchscreen showing you a live split of your time, highlighting whether you're up or down against your best/optimal lap.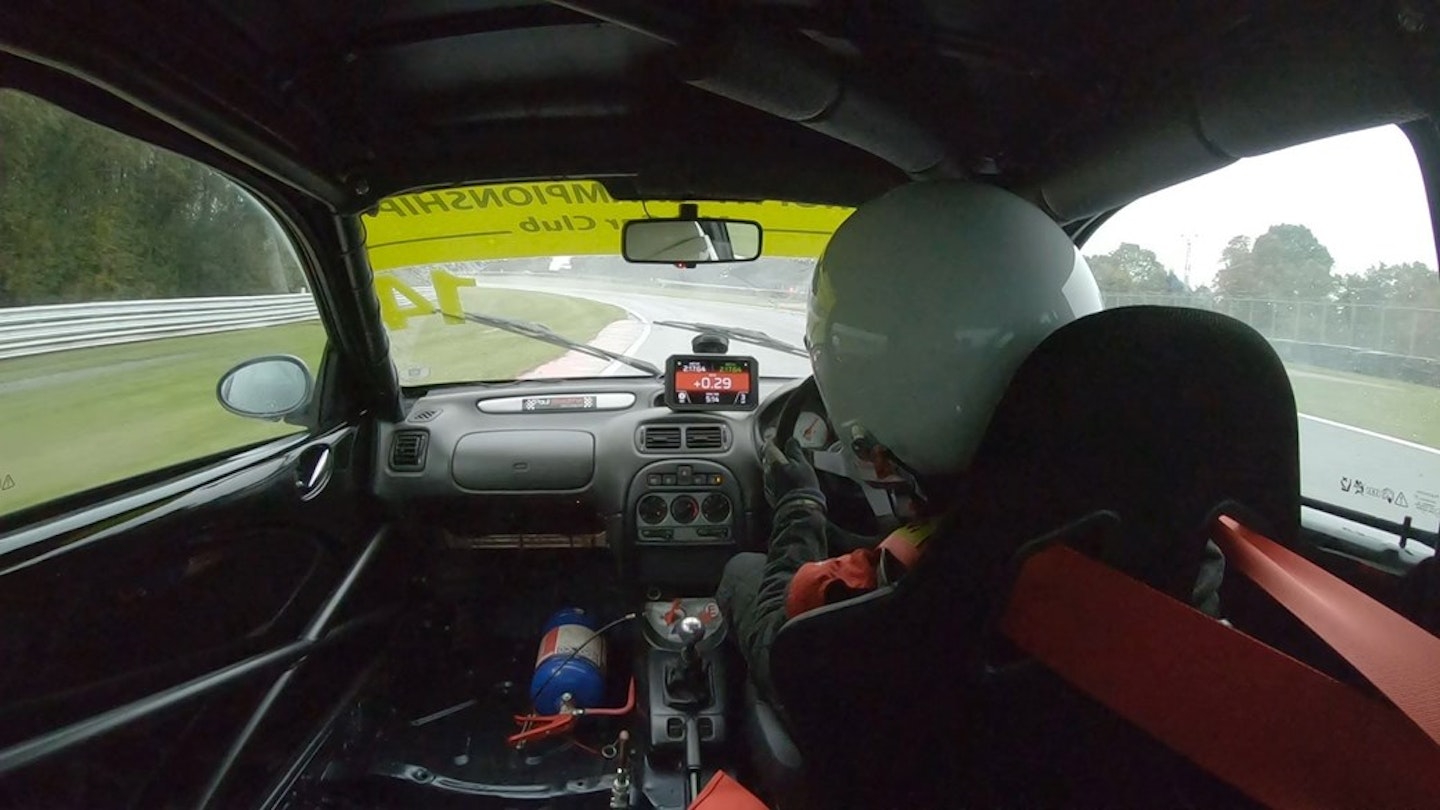 Will it actually help me drive better, though?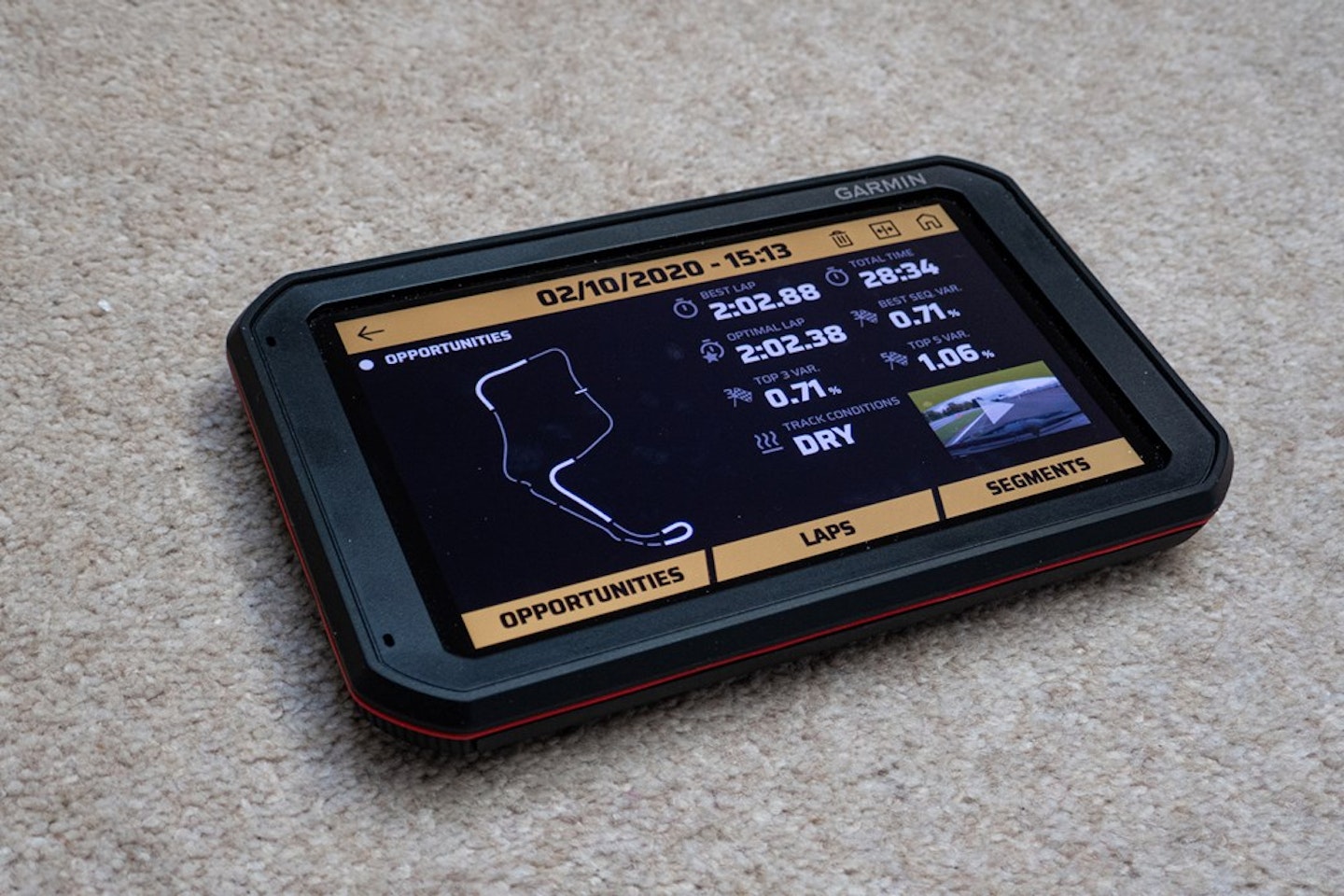 As long as you go in with reasonable expectations then yes, it certainly has the potential to be very helpful. Especially, say, if you let an experienced driver take the wheel for a few laps, capture their data, then compare their best with yours and see where time is being lost.
However, what it doesn't do (like some rival devices) is connect to the car's ECU to show throttle/brake position, engine revs etc. This means you can't see if you're picking up the throttle too late or not applying enough brake pressure, for example. It's also best to use the Catalyst's teachings as a guide, rather than a concrete statement of fact. As in, don't dive into a braking zone 10m later just because the Catalyst says you can. You're better off building up to it and using the device to provide suggestions. All common sense, really.
Do this correctly and it's hard not to be impressed with the level of depth on offer – and the accessibility that the tablet-style touchscreen offers. As we mentioned, the beauty of the Catalyst is in its ability to record complex information and then display it in a way that gives easy to understand 'opportunities' for improvement. You go out, do 10 laps, come back in and there's Opportunity 1, 2 and 3 waiting for you the moment you stop driving.
An example of this would be heading into the Shell Oils Corner at Oulton Park. A tight (ish) right-hand hairpin, a wider entry might seem logical. Yet during our test of the Catalyst, the device suggested taking a tighter (and therefore shorter) line through the bend. This resulted in a small, but very welcome time saving. Apex points, speed, g-force and braking zones are all mapped, so there are endless parameters that can be used to help you save time.
Another handy feature is the video replays you get from said opportunities. Rather than just displaying numbers, the Catalyst will bring up the optimal sector and compare it to your best lap to show you how to do it differently. Again, you could do something similar with rival products, but there's not the same ease of use.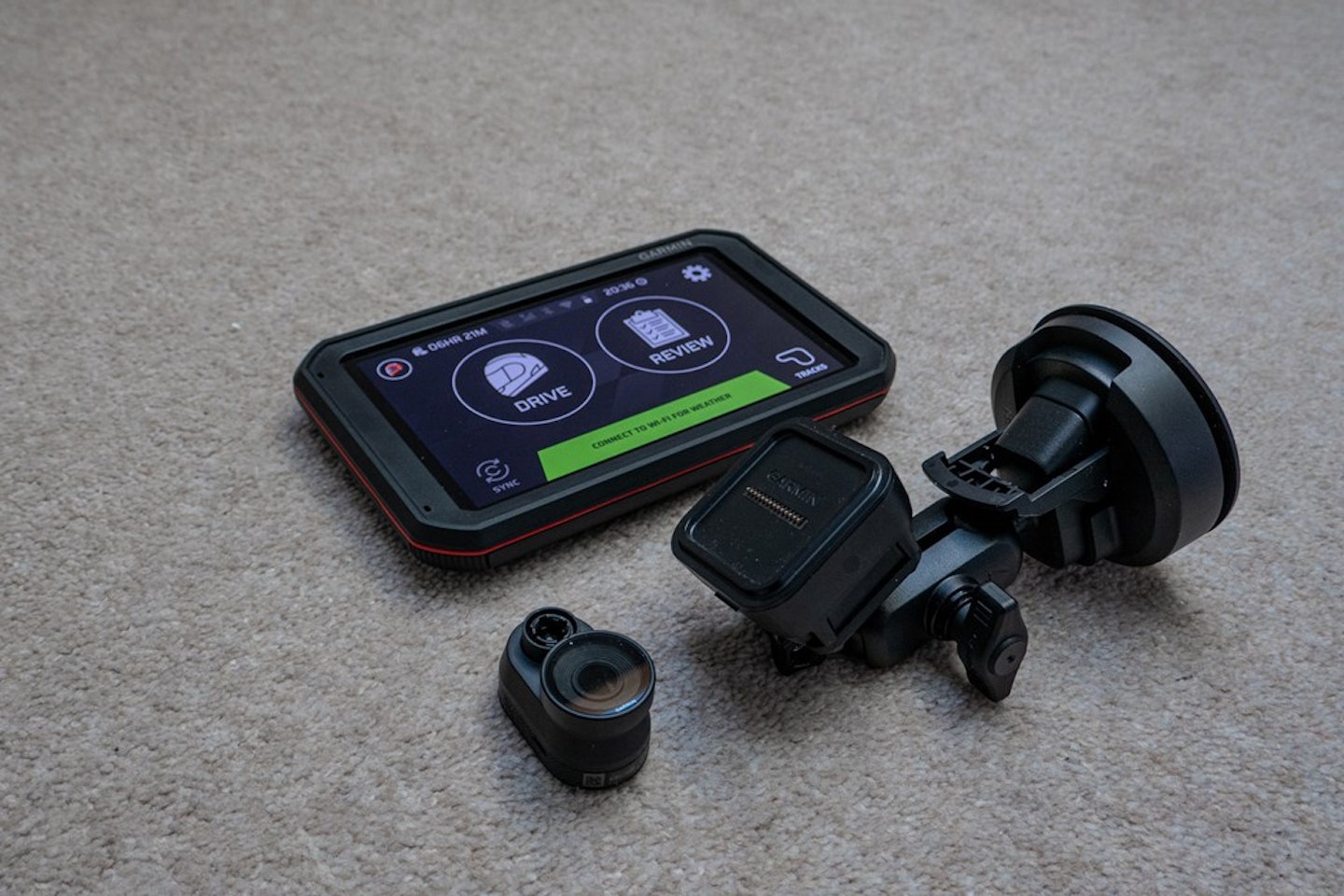 Is it easy to set up?
Yes and no. As you can imagine, the main unit is quite chunky. So you need a relatively clear space at the base of the windscreen to put it. A suction cup is provided, and this is attached to the charging unit (plugs into the car's 12V plug) which then connects to the actual device (up to 2 hours battery life when not charging).
You also need to connect the camera to the charging unit using a thin wire, which can be a little fiddly. Said camera attaches to an adhesive mount that sticks onto the windscreen. It's worth noting that the camera won't capture the movements of the driver (which can be helpful when reviewing driving) due to its position on the windscreen.
Anything else?
Yes, we'd really like to see a mounting point on the device with which you can loop a tether and attach it to the car. A) Because most race day scrutineers will insist on this and B) the device only attaches to the charging unit with a magnet, so in the event of an accident the screen's 437g weight is more than enough to injure someone if it were to come loose.
We also couldn't get the video recording to work initially, but a quick call to Garmin's excellent support line and we figured out that the MicroSD card (32GB – included in the box) wasn't recording. Moving it from the hidden slot to the main slot fixed this. Note, the device also has 16GB of internal storage.
Verdict
It may be pricey at £899, but the Garmin Catalyst offers track driving enthusiasts and amateur racing drivers an accessible window into the world of in-depth telemetry. Granted, it doesn't capture data from the car's ECU, but there's still an impressive range of staggeringly detailed data that's broken down into easy-to-understand areas of improvements – without needing to connect to a phone or laptop.
Track day essentials
Description
A helmet is an essential thing to have if you're heading to the track. All track days will require
Stay in control (quite literally)
Description
You'll be amazed how sweaty your hands become when you first take to the track, especially if your
READ NEXT: