Tamiya is well known for its painstakingly detailed road and track cars, like the Subaru WRX STI I recently spent a week painting and stickering for my son to take racing.
However, sitting at the slightly more approachable end of the range is a collection of vehicles you won't see running up the hill at Goodwood, designed to emulate grass track or off-road buggy racers, like this Tamiya Racing Fighter.
Related: RC rock crawler grouptest
Just because it's not anchored in reality though doesn't mean the car isn't bristling with details, like racing sponsor stickers and even a fuel filler cap.
To make life even easier for newcomers to the hobby, you can even buy it in an almost ready-to-run state known as Expert Semi Assembled, with a painted and decalled body and assembled chassis.
Can you still get it in kit form?
Of course – this being a Tamiya, there is a version you can put together and decorate yourself (using this set of precision screwdrivers), but as a first RC car for a new or young driver the X-SA version gets you up and running much quicker.
The Racing Fighter uses the rugged DT-03 chassis, featuring a strong and simple tub design, with rear-wheel drive and terrain conquering suspension.
It comes with a Torque Tuned 540 motor, which is also located at the back of the car for a super easy build and low maintenance because there is no central driveshaft or front differential.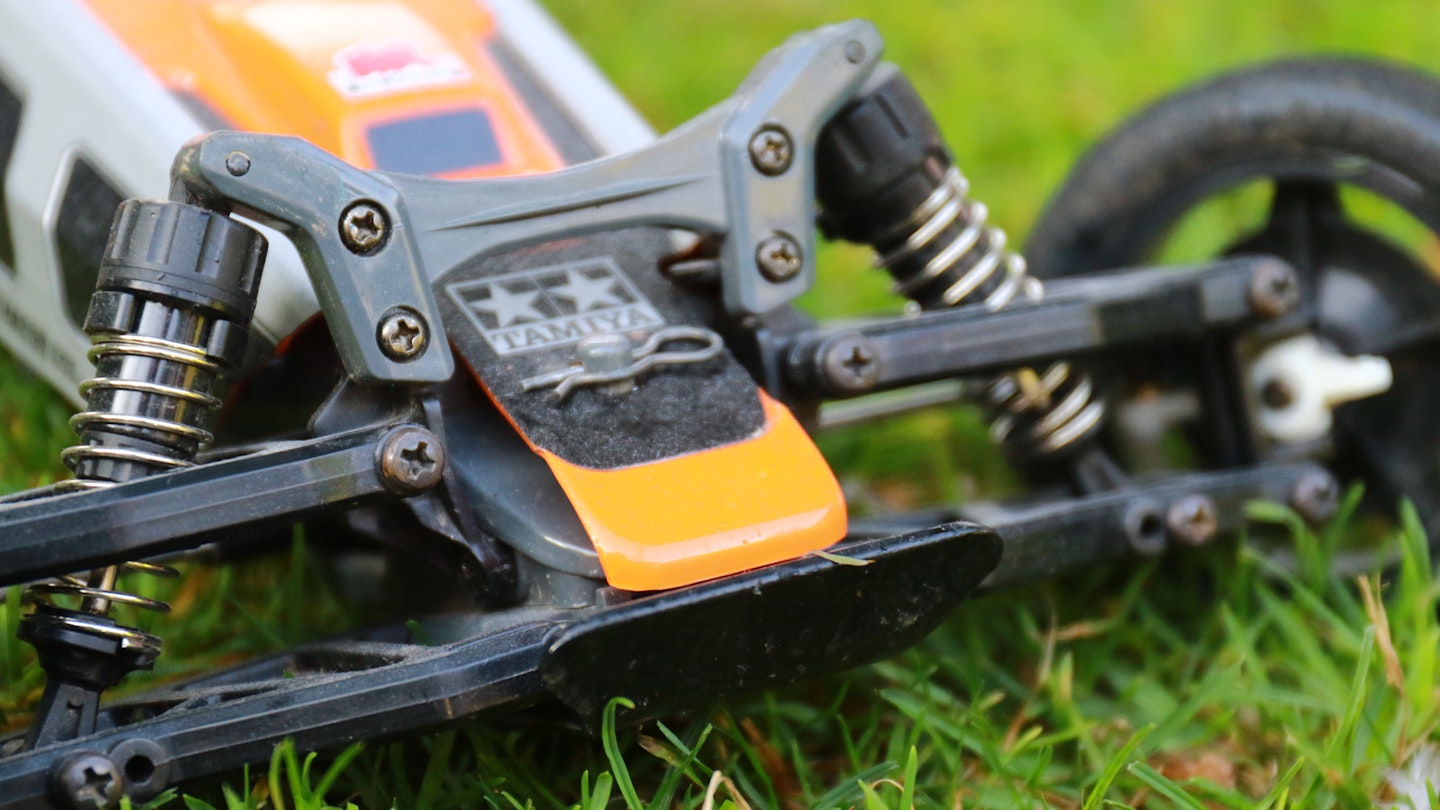 This also means the on/off switch can be rear- and externally mounted, so you don't have to take the body off to get to it.
What's it like to drive though?
Well, having most of the heavy drivetrain elements sitting on the rear wheels means you get plenty of traction off-road, but not a great deal of front-end grip on tarmac.
Blacktop racing is not really what this car is for though (besides that, you'll burn through the knobbly tyres in no time) - on grass or mud the ribbed front tyres find plenty to bite into.
It's most suited to lightweight off-roading on fast and flat, loose dirt surfaces, rather than tackling steep and technical terrain like a rock crawler or trail truck.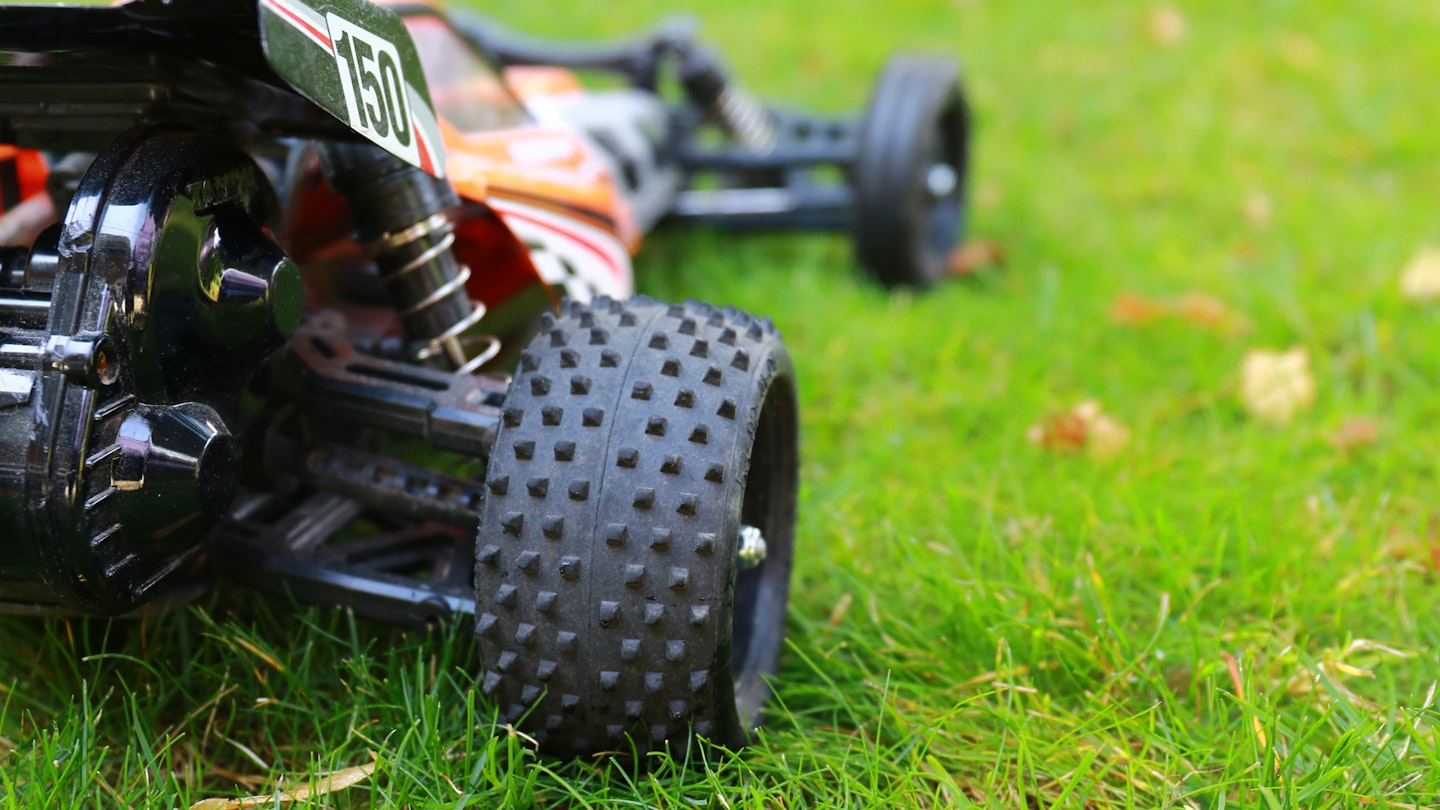 A long wheelbase gives plenty of stability – although you can get the front wheels to lift if you reverse and then quickly drive forwards on a grippy surface.
Meanwhile the long-travel CVA oiled filled shocks are great at soaking up small jumps and drops, but we wouldn't recommend subjecting this car to any extreme bashing.
Is it robust?
At first glance the largely plastic construction might cause concern, particularly the wishbones and shock towers, but the Racing Fighter has flex in all the right places and this helps it bend rather than snap when put under stress.
The tough tub chassis shakes off knocks and bumps with ease though, and provides a well-insulated tunnel in which to store the battery so it doesn't rattle around.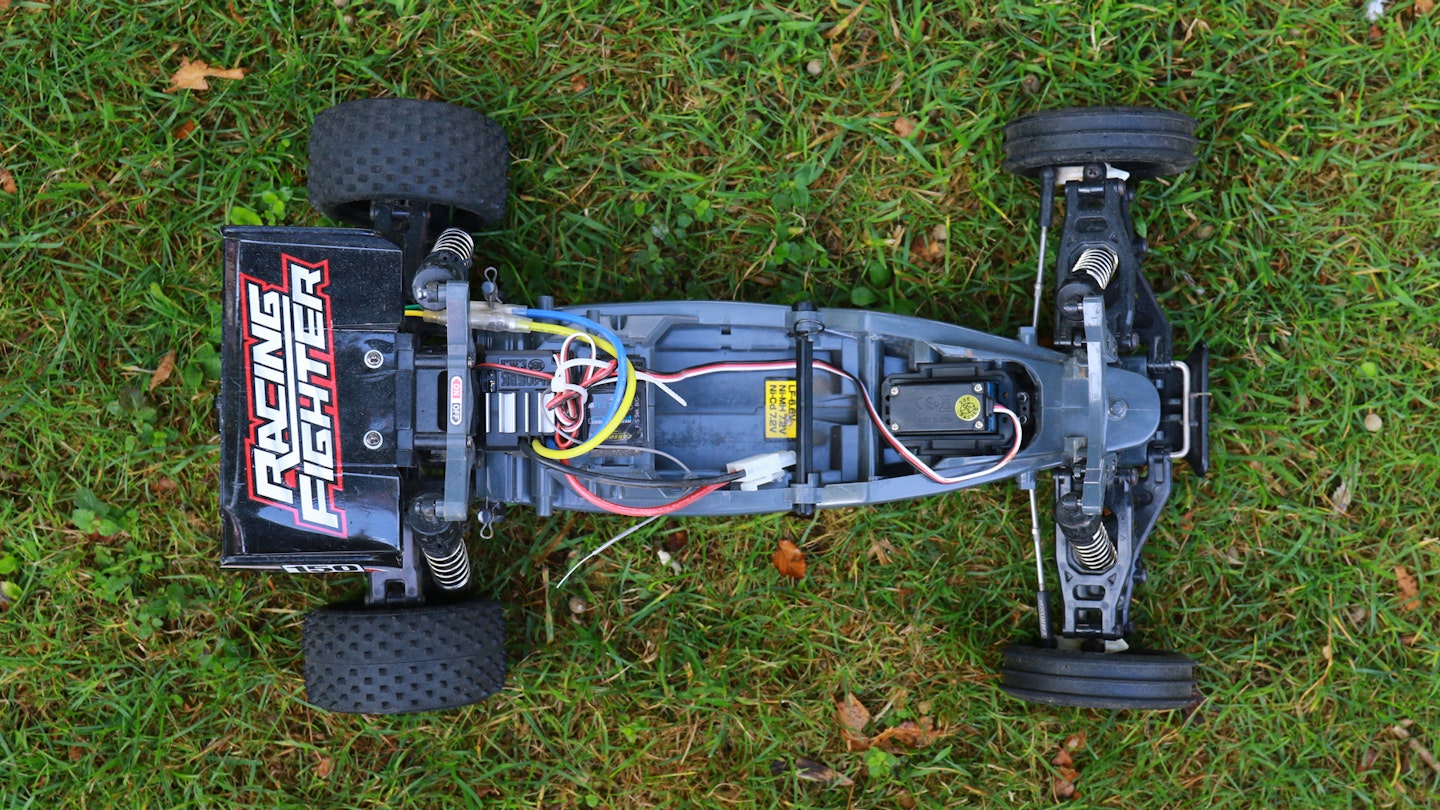 This also places the battery's mass centrally and low down, to help shift the weight distribution forward a little bit, away from the components hanging over the rear axle.
The polycarbonate bodyshell is quite minimalist with hardly any of it overhanging the chassis, and few exposed panels to pick up knocks and scrapes. It's all contained well within the wheels, so if you do have a huge crash it's unlikely to be the first thing to make contact with the ground. Looks great too.
What's not to like?
Mounting the motor externally helps with cooling (you spend a lot of time at full throttle churning up massive rooster tails on loose surfaces) but it does get quite hot, and you have to be careful not to touch it when you pick the car up.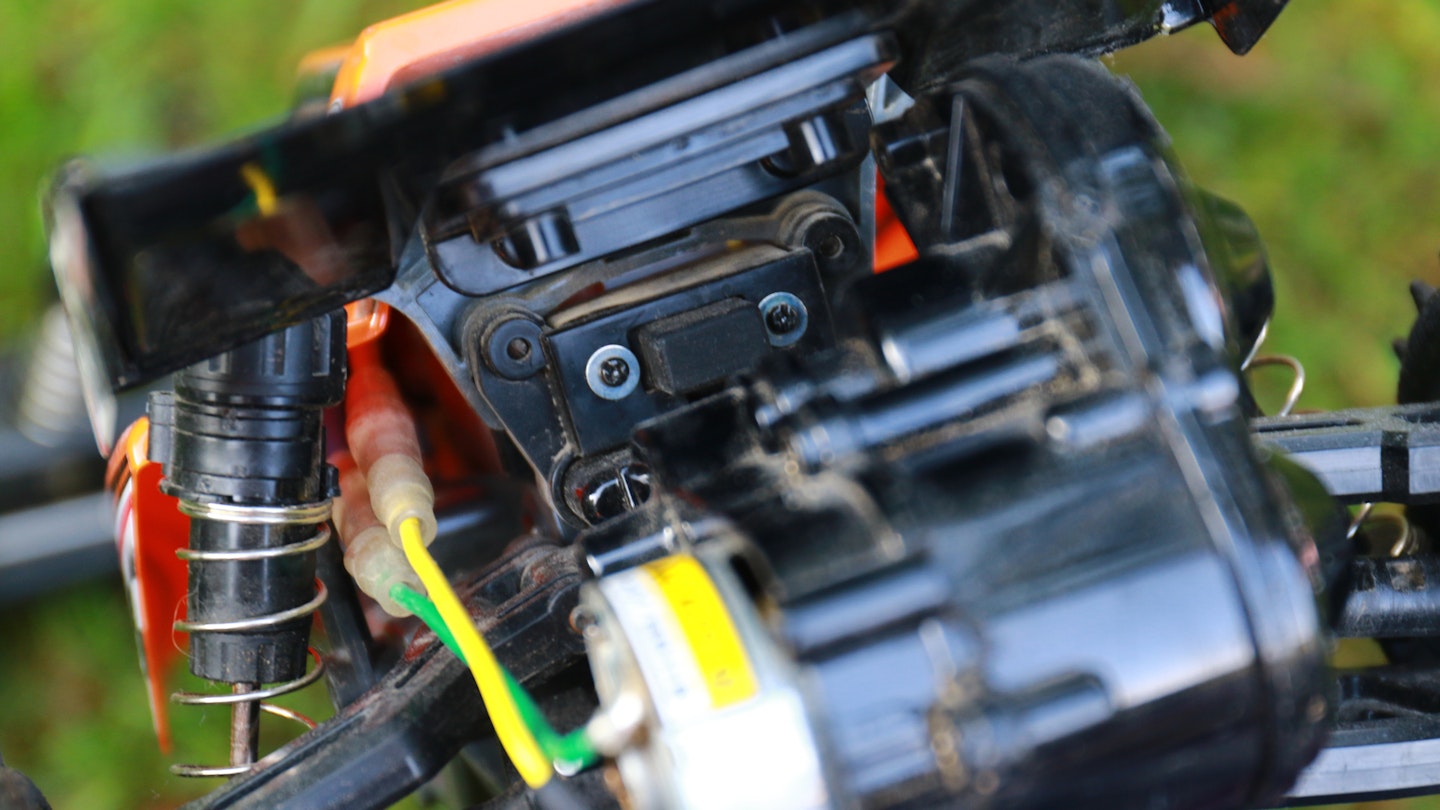 There's also a small amount of play in the wheels and suspension – but this is unlikely to make a huge difference to steering accuracy and could probably be shimmed out anyway.
It's also worth bearing in mind that with open front wheels, you have to be even more careful about catching them on trees or kerbs, which could potentially damage the steering.
And finally (while this isn't really a complaint) if you buy the semi-assembled version you still need to provide radio gear and a battery, so factor that into the cost, and don't think of it as a true ready-to-run RC.
Verdict
Fun to drive, durable, and easy to master and maintain, the Tamiya Racing Fighter is a brilliant first toe dipped into the world of off-road RC. I let my six-year-old loose on it and it remained in one piece. High praise indeed.
There are ready-to-run, all-wheel drive rivals at this price, but the Tamiya version comes with the option to assemble it yourself and a massive spare parts and upgrades catalogue.
Plus, starting out with a rear-wheel drive car like this (albeit a very stable one) will teach you all kinds of car control techniques that you'll miss on an AWD RC. Just stick to grass or dirt tracks to get the best out of it.
I want to build one! What do I need?
Read next:
Playmobil Porsche 911 GT3 Cup: The lightest Porsche ever tested
[FTX Outback Texan RC long term test](https://products.carmagazine.co.uk/car-accessories/technology/ftx-outback-texan-review/Lego Technic Land Rover Defender hands-on review)
For verdicts, scoops, news and analysis from the team, delivered direct to your inbox, subscribe to the CAR newsletter.
You can enjoy CAR in its traditional print format, or one of the swelling number of digital editions, optimised for Apple iPhones, Android devices, iPads, tablets and desktop computers.