The usual ways to strip weight out of a car include, but aren't limited to; thinner glass, the removal of the rear seats, luxury features and even door locks, increased use of aluminium and/or carbon fibre and the usual ditching of the aircon system. However, there is another way of shedding pounds, a more extreme example that might be a bit of an inconvenience.
One example of this extreme weight saving is the Playmobil Porsche 911 GT3 Cup. Weighing in at just 485g it's substantially lighter than a real 911 GT3 Cup (which weighs 1200kg) thanks to a dramatically downsized shell and lack of any mechanical parts whatsoever.
While the real 911 GT3 Cup is made from aluminium-steel composite, the Playmobil example is entirely plastic in its construction and does without the 4.0-litre flat-six. It also shares the lack of ABS and traction control with the racer.
Any cool features?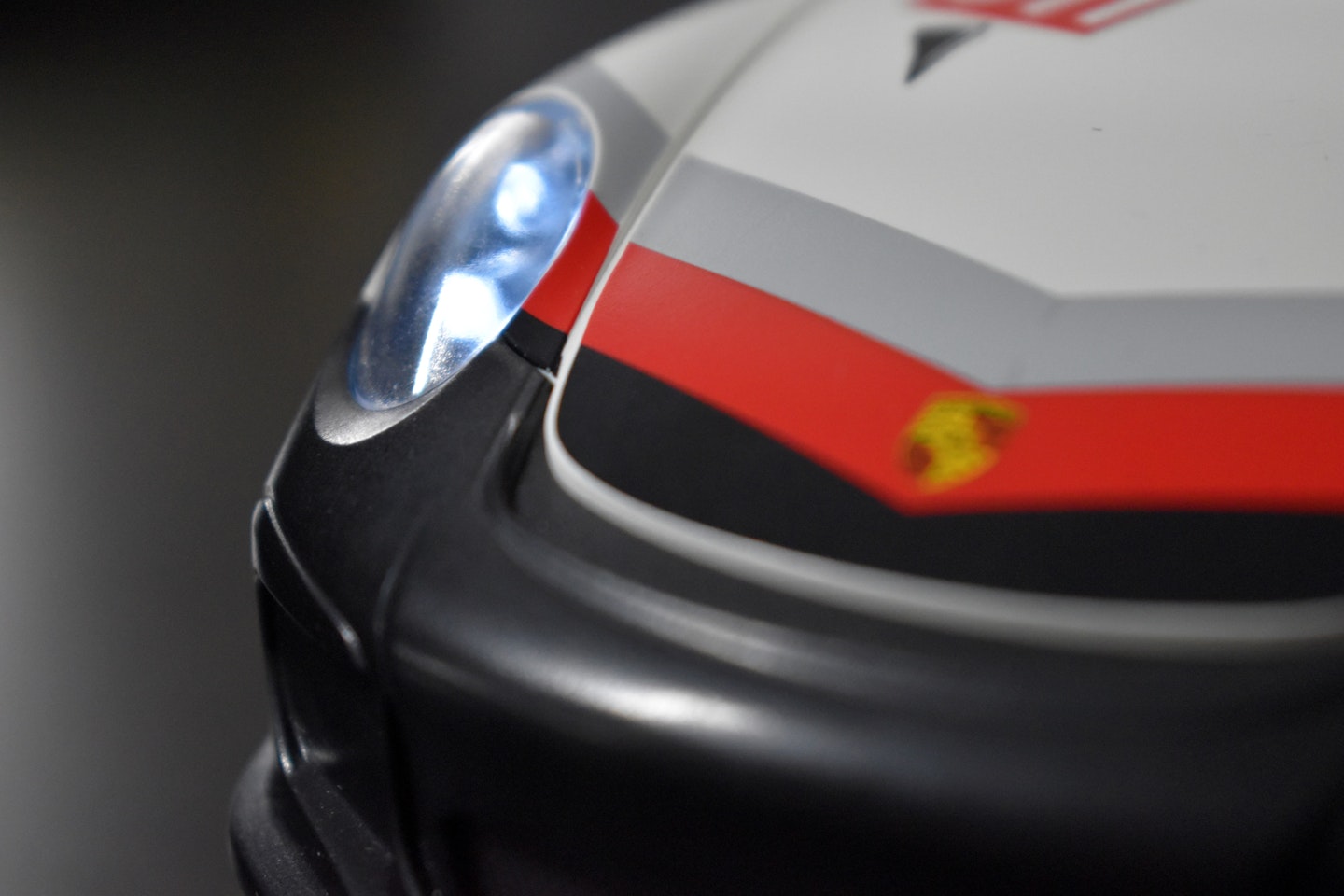 Definitely. Look at those wheels for a start. Not only do they feature some grippy-looking racing slicks, but those centre-lock nuts need torquing like on the real car. Over-torque them and the wheels won't turn, leave them too loose and they can fall off. You get a toy impact wrench that can be used to tighten or loosen the wheels, a great way to get a young'un interested in racing and tools.
The car requires some assembly besides the wheels which is a fairly impressive way of showing how a car is prepared for racing. The giant (and adjustable) rear wing has to be assembled and added to the car, the roll cage added and the final touch is a large (toy) fire extinguisher. Away from this the wing mirrors and front bumper also have to be attached alongside about a million stickers.
The finished car does look incredibly impressive, a perfect toy replica of the real deal, complete with working lights.
Wait, is it an EV?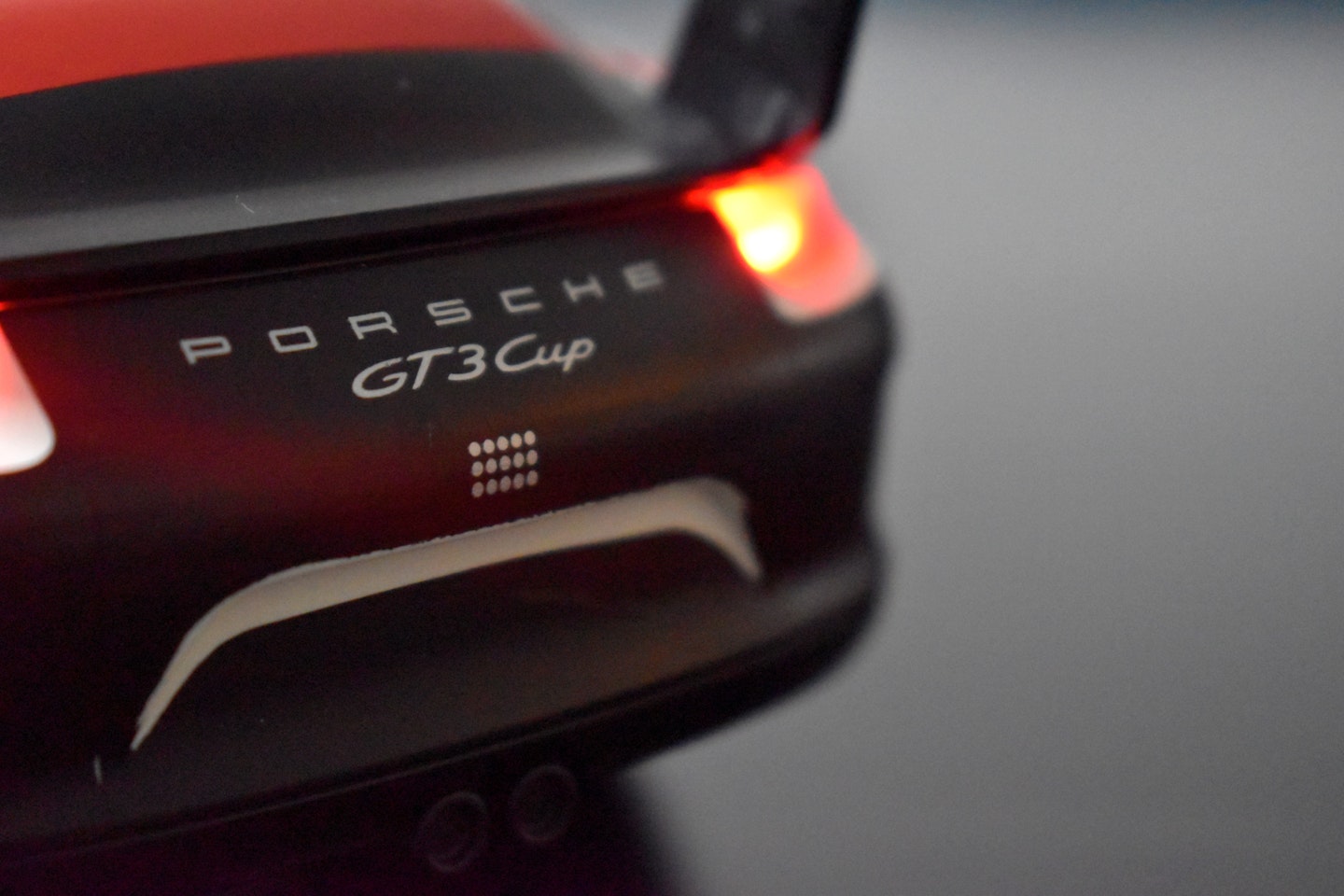 Kinda, Playmobil has taken a leaf out of Everrait's book and filled the 911 GT3 Cup with batteries (although batteries aren't actually included, you need to source them yourself).
Insert three AAA batteries into the nose of the 911 and you'll be able to toggle headlights, rear lights and an interior light too While all forward momentum is definitely human-powered the working lights are a really neat feature for this car.
What's it like on the track?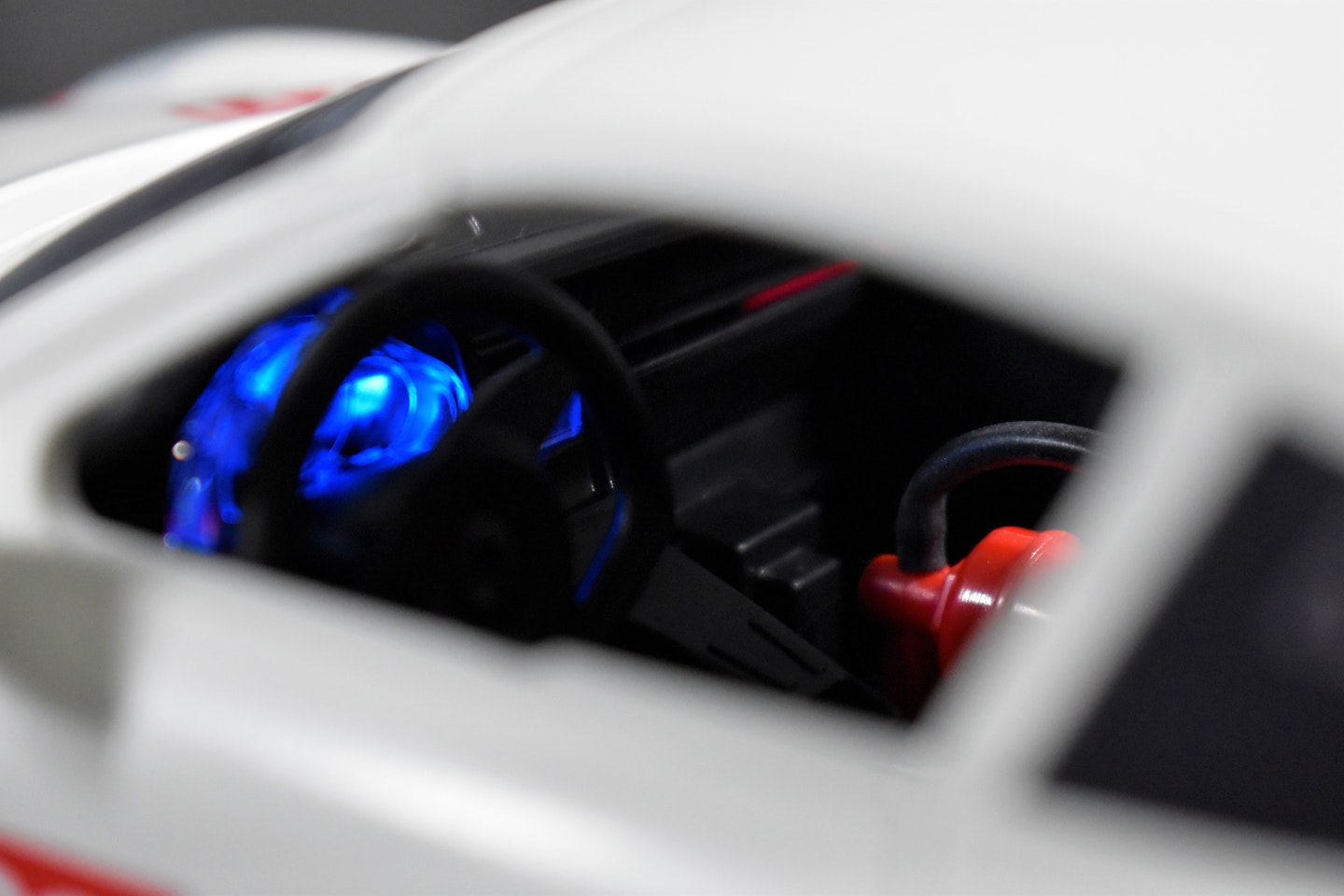 If you asked most people to name their top 10 drivers' cars of all time, it's pretty safe to assume a variant of the 911 would feature on the majority of those lists, meaning it's time we put this 911 on a track and see if it's any good.
To test it I took it around the exclusive Club Gilmore racetrack. Here lies a track intertwined with long sweeping bends, tight hairpins and a long straight interlaced with a chicane made from carefully placed shoes. Like the other German rear-engined Playmobil car we tested a couple of months ago, the 911 lacks and suspension, forward propulsion or steering.
The fat, slick tyres make low-speed manoeuvrability a nightmare but the lightweight means that it's easy for even a child to skim the car across the ground. Like the Playmobil VW it does at least have axles front and rear, allowing for the car to freewheel.
Is it any good for children?
Any child over the age of five can play with this car safely and like all other Playmobil, it's clearly designed for children and excellent. Access to the interior is good thanks to the removable roof and while there are a handful of small parts, the choking risk remains small if you supervise a younger child playing with it.
The electrics are safe for children to use, all they will have access to is the on/off button unless they know their way around a screwdriver. The only slightly disappointing with this set is that there aren't that many accessories that come with it, you get one figure (with race apparel), the impact wrench and that's it. Compare that to the old set and you'll see how much more you get.
Verdict
It's an undeniably good set and an ideal gift for any car fan, but for a couple of quid more you could buy the old set and enjoy pretty much the same car (including locking wheels and lights) and get a load of extra toys to play with too.
For a slightly updated livery and different alloys, it's simply not worth it. Get your mitts on the older example while you still can and enjoy the extra toys thrown in.
4/5
Pros
Cons
• Fantastic quality
• The older set had more stuff
• Guaranteed hours of fun
How we tested it:
As it's a toy we approached testing from both a parent and child's perspective. We examined how easy it was to assemble and decorate while also examining how safe it was for a child to play with, examining quality, small parts and whether it could easily break apart.
We then tested how much fun we could have with it by unlocking the childish imagination and playing on the living room carpet testing to see how durable it is.
READ NEXT:
For verdicts, scoops, news and analysis from the team, delivered direct to your inbox, subscribe to the CAR newsletter.
You can enjoy CAR in its traditional print format, or one of the swelling number of**** digital editions, optimised for Apple iPhones, Android devices, iPads, tablets and desktop computers.