Beyond the realm of sponsored Instagram people basking in their travel stories, rooftop tents are a very good idea for many campers.
Why use a rooftop tent instead of a regular one?
You'll note there is a considerable price difference between regular tents and rooftop tents. This comes down to design. A standard tent requires durable waterproof fabric, some zips, and some poles, and while models vary considerably but that is the baseline. Rooftop tents need tougher fabric to cope with the stress of road speeds and grit, in addition to UV and rain. Some rooftop tents even employ the use of hardshell materials for extra durability and improved aerodynamics.
Rooftop tents also need extra parts, such as fixings for roof racks, and many use gas struts instead of poles for fast pitching. It all adds to durability and practicality but means rooftop tents cost more than regular tents of equivalent size. However, they're still much more affordable than a campervan.
Rooftop tents are much faster to pitch than a regular tent, and because they're up off the ground, can also be a more attractive accommodation option in the winter months. During frosty weeks, views are spectacular, but temperatures aren't exactly jolly - pack a decent sleeping bag.
Who is a rooftop tent for?
In terms of capacity, one or two people, as rooftop tents offer similar space to a two-person tent. They're not super spacious, but they are highly practical and very comfortable for sleeping in at any time of year.
This type of tent isn't meant for long stays in one place, but more for the grand traveller and weekend-camper. They suit the former because you can pinball from place to place and set up camp within minutes. They suit the latter because the quick setup makes them easy to take away for a short trip too.
Rooftop tents also suit keen day hikers. With a rooftop tent back at base, people can embark on isolated and exciting day treks without having to carry all the sleeping equipment they would need if trying to access more remote walks on foot.
The best rooftop tents
Description
A hardshell model is more expensive than those without, but the improvements to durability and
Pros
Hard shell design
Gas struts
Good internal space
High wind resistance
Cons
A considerable investment (but worth it)
Description
The TentBox Classic is superb but over £2,000 is a lot of money - period. In addressing this issue
Pros
Excellent value
Lightweight
Durable fabrics
Good internal headroom
Cons
Quite chunky when packed down
Description
As with many luxury items, taking the plunge is often met with hesitancy. TentBox's Lite model is
Pros
Spacious sleeping quarters
Reasonable value
Suitable for small cars too 
Cons
Front Runner better value 
Best budget rooftop tent for vans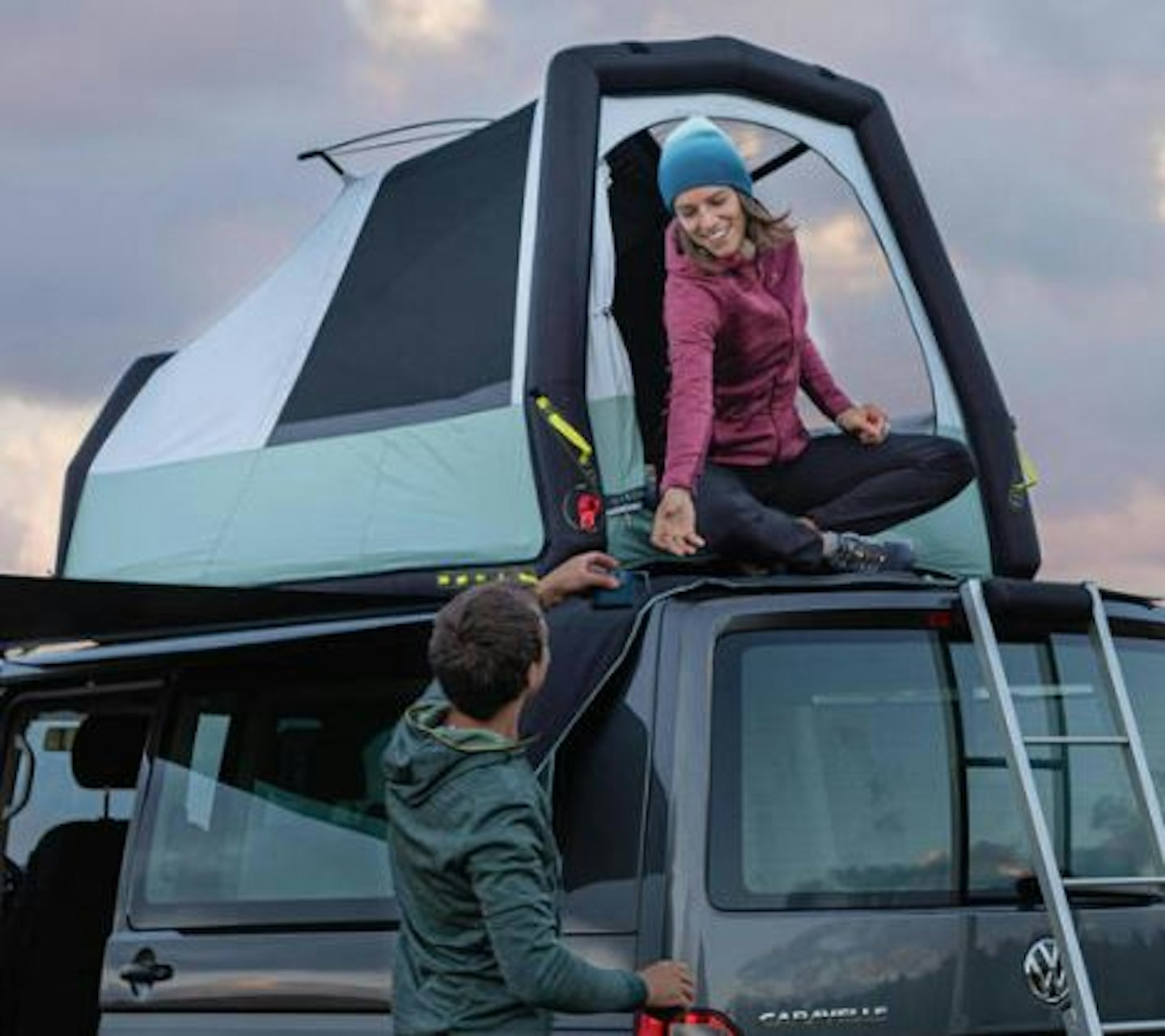 Decathlon
Description
Decathlon has taken a different approach to roof tents with this Quechua model. Diverting from the
Pros
Great value
Stable design
Good internal space
Buying advice for rooftop tents
In cooperation with our colleagues at Live For The Outdoors, we've produced a useful checklist of what to consider before buying a rooftop tent.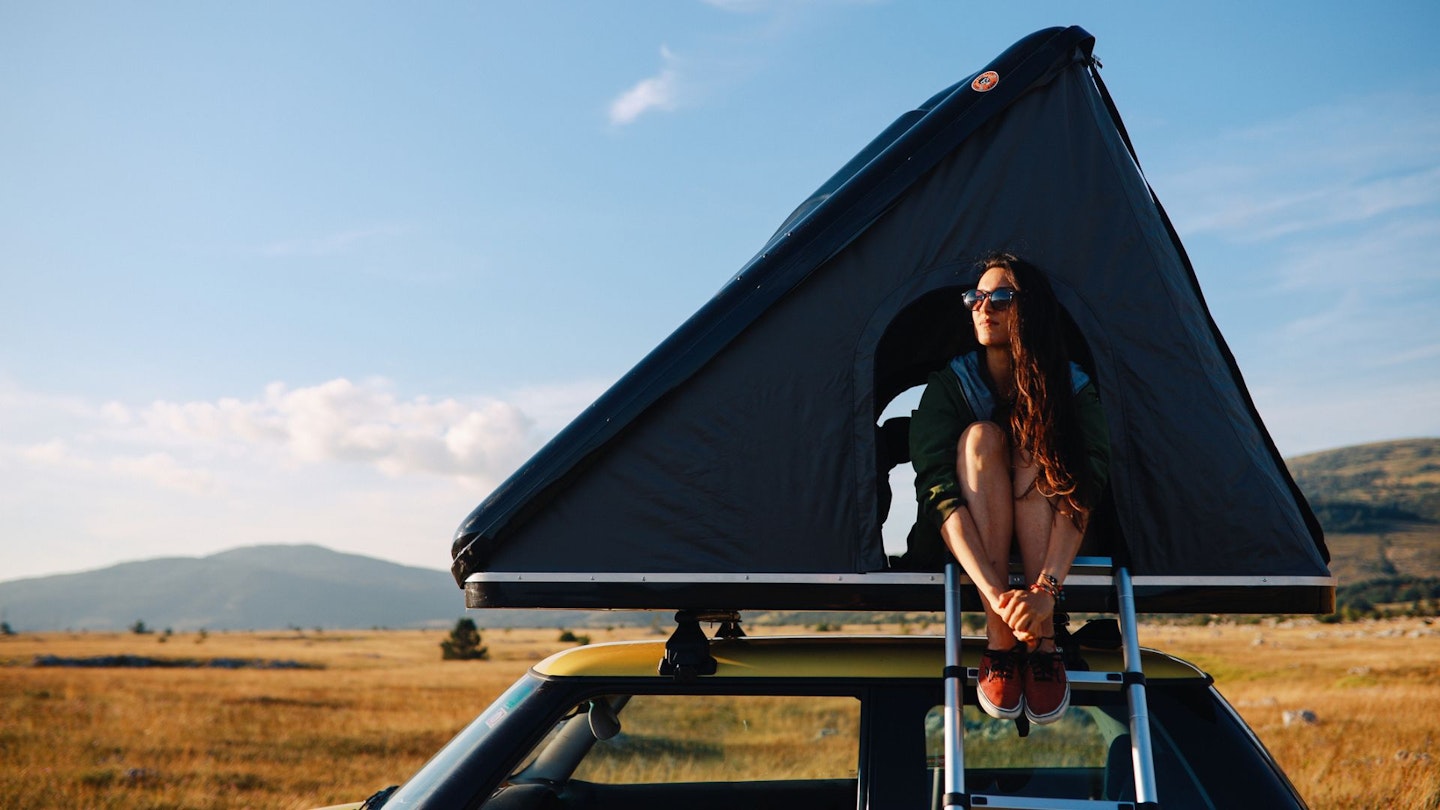 Roof load limit
Vehicle roofs all have a dynamic roof load limit and you need to know what this is before putting any significant weight on your car roof. The dynamic roof load limit refers to the maximum weight a roof can bear while being driven. When parked, the load limit is several times higher.
Size
Roof tents vary in size and some are suitable for bigger vehicles only. Roof tents that have folding bases can often be fitted to small cars, while single-piece roof tents might require at least a medium-sized car.
Mounting system
Most roof tents must sit on lateral roof bars (not just factory-fitted side rails), so you'll need these too. It's easy to find the correct ones for your car by using the online search filters provided by retailers such as Halfords and Autodoc.
Installation
Though roof tents try to be as light as possible, they also have to balance that with durability. Therefore they tend to weigh between 45 and 70 kilograms. You're not going to want a roof tent permanently affixed to your roof so bear in mind you'll want a helping hand to get these things on and off your car roof.
Internal space
Roof tents tend to have about the same bedroom space as a two-person hiking tent, give or take a few centimetres. Generous windows and skylights are also very useful for creating a feeling of more space.
Durability
This is usually what price reflects most. High-quality fabrics are more durable but inevitably cost more. Even if you're a first-timer, it pays to invest in a top-quality roof tent. You'll enjoy better use from it and if you decide to sell it down the line, get a reasonable second-hand price for it.
Hard or soft shell
Roof tents that collapse into a sleek hard shell are more aerodynamic and aesthetically satisfying than those that sit under a heavy-duty cover. The latter will also save you a little bit on fuel too, but they cost more to buy.
Access
Roof tents come supplied with a telescopic ladder that allows you to easily and safely access the tent. Though, if you're climbing and descending in the dark, you might want a head torch.
For verdicts, scoops, news and analysis from the team, delivered direct to your inbox, subscribe to the CAR newsletter.
You can enjoy CAR in its traditional print format, or one of the swelling number of digital editions, optimised for Apple iPhones, Android devices, iPads, tablets and desktop computers.