Unless you plan on only riding the roads or trails within a half hour pedal from your house it's likely that at some stage you'll want to put your bike on (or in) your car and go to a more exotic location, like South Wales, or Mont Ventoux.
There are seemingly endless options here, whether it's investing in a roof or tow bar mounted bike carrier or simply chucking it in the boot. We've transported bikes in dozens of cars, and since they're not ours (the cars) the highest priority has been causing zero damage in the process.
So if you want to know how best to transport your pride and joy in your other pride and joy, we are quite literally the biggest bike-bores in the business. Here's our guide to the best bike carriers, ranging from the most low-rent methods to the most expensive.
Load it into the boot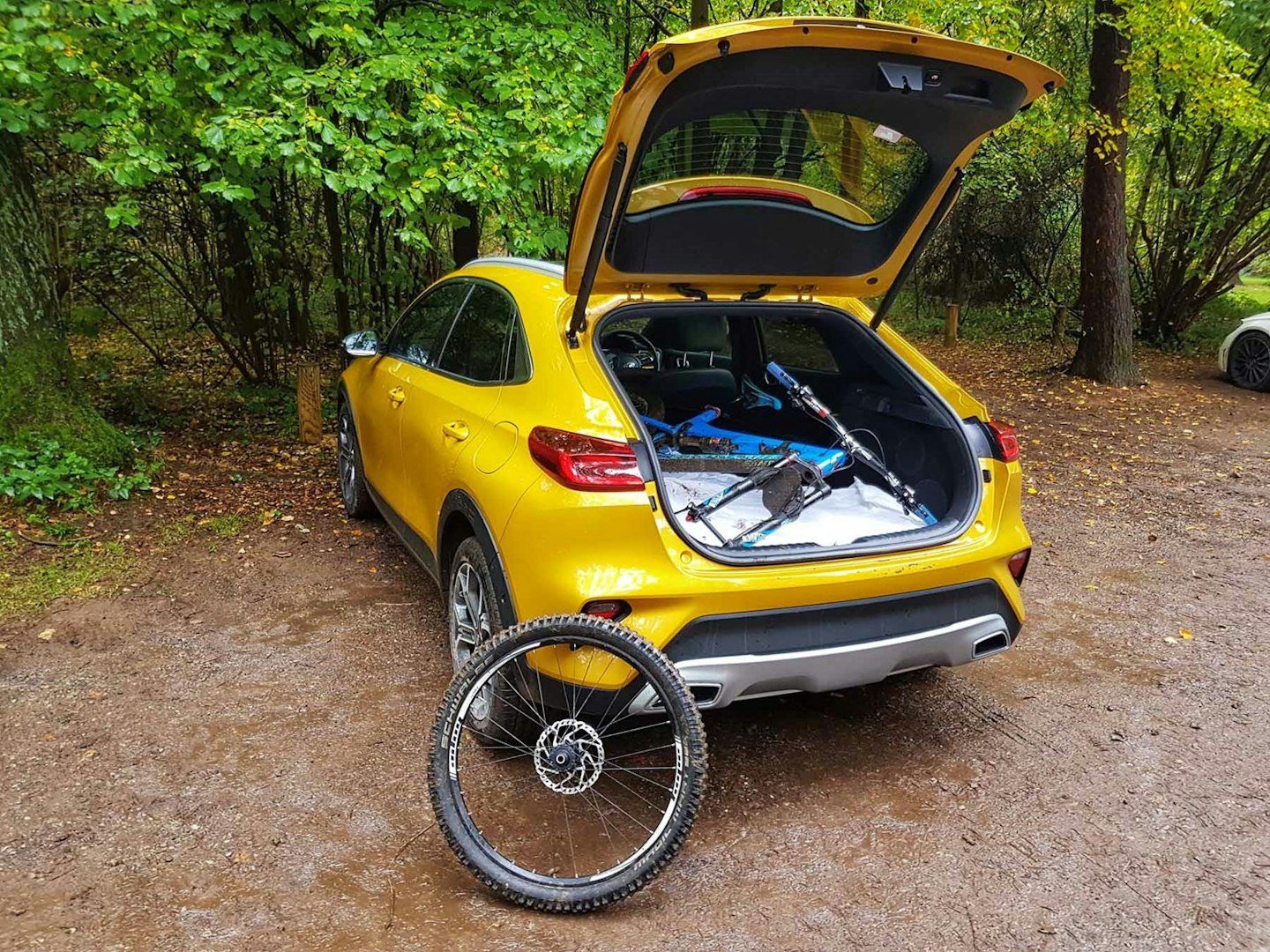 This is the simplest of all methods and requires almost no additional equipment, but does come with a few major drawbacks.
First of all (and apologies for being overly simplistic) but you will need to ensure your boot is large enough. Bikes – like furniture items – look quite small when parked up in a large garage, but very quickly grow in size when you try to wedge them in a car. A child's BMX or svelte road racer will be reasonably easy; a large downhill mountain bike with 29-inch wheels or an e-bike, maybe not so much.
Regardless it's likely to necessitate folding the rear seats and taking off the front wheel (we've yet to find a model that takes an entire bike with all chairs vertical) which adds a small amount of faff to your pre-ride preparation. Particularly if you need tools to remove the wheel.
More concerning - particularly for off-road cyclists - is the almost inescapable amount of mud likely to find its way onto your upholstery when loading up again. Makes sure your car vacuum cleaner is at the ready, and it's worth purchasing a hose-down rubber mat or boot liner to protect your car's delicate interior fabrics - sheets and the like tend to get caught and dragged around on pointy bits of bike during installation.
On that point – be very careful when hauling your bike into the boot as it'll have many sharp edges (pedal pins, chain rings, brake levers etc) that could easily damage you or your car's interior.
Tailgate-mounted
We've deliberately not tested a tailgate-mounted bike rack - we actually damaged one of our own cars with one quite badly (sorry again Mum) and also they're the least convenient.
Not only do they take the most time to install but they also make the boot lid very heavy and technically inoperable. That said, they are often very cheap and if fitted to a car with less than spotless paintwork, can be a useful solution.
Roof-mounted bike racks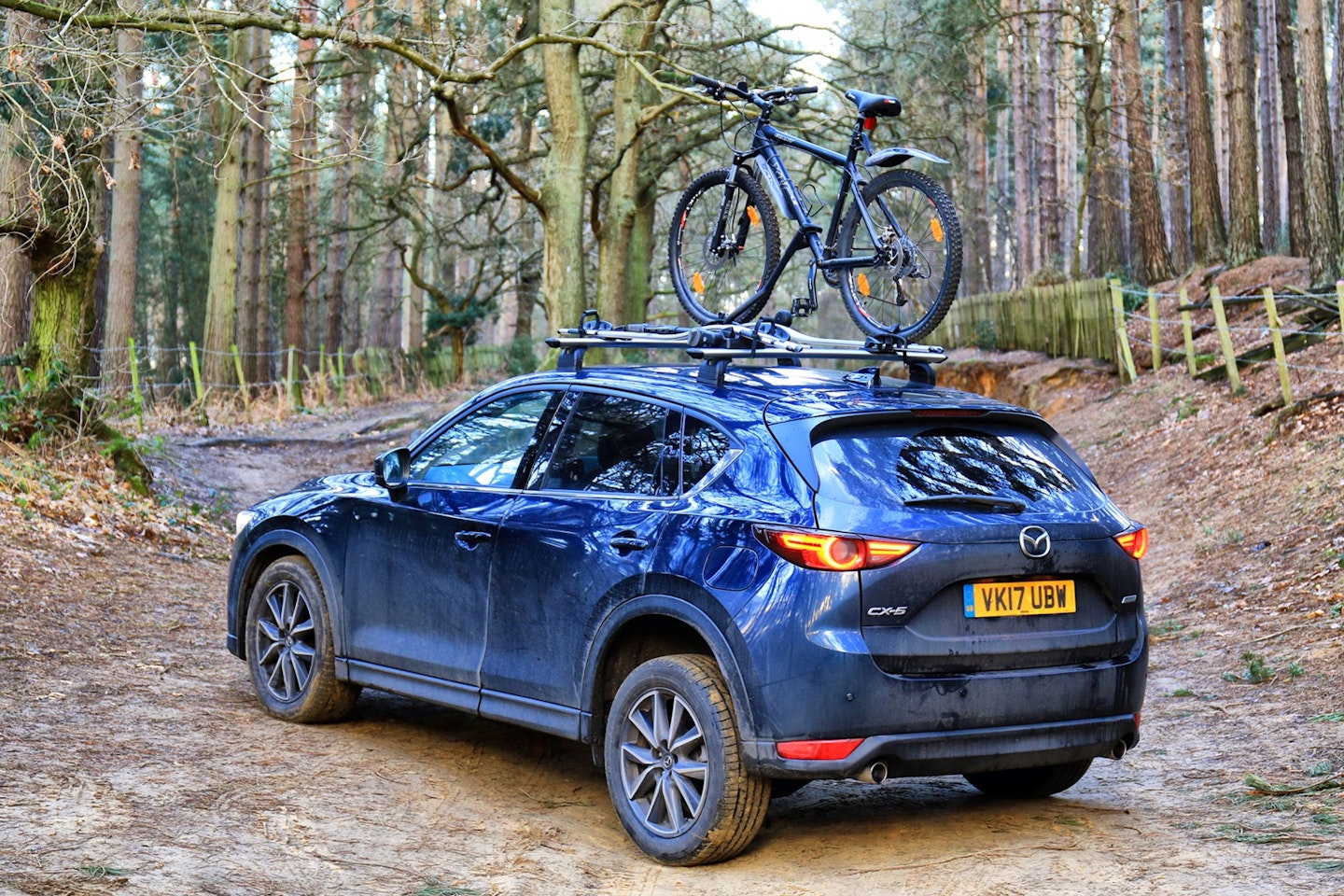 The most obvious way to transport you bike is on the roof. With the exception of sports cars and convertibles, most models have either a pair of roof rails fitted or an aftermarket system than clamps around the bodywork, which you can then attach a bike carrier to. You can also get a suction-mounted version, but we've yet to test one of those.
We've tested this system on a number of different long termers, of all different shapes and sizes, and found it to be incredibly simple to use. Once installed, of course.
That's because in general when we've had roof-mounted bike carriers we've just left them on, ready for whenever the next ride is. Just clamp the upright bar around the bike's downtube and tighten the wheel straps and you're away.
This sounds incredibly lazy (and it is) but we go on a lot of bike rides and in general there's been only a small increase in fuel consumption and wind noise – without a bike fitted, of course, because as soon as you attach one there's a notable increase in both.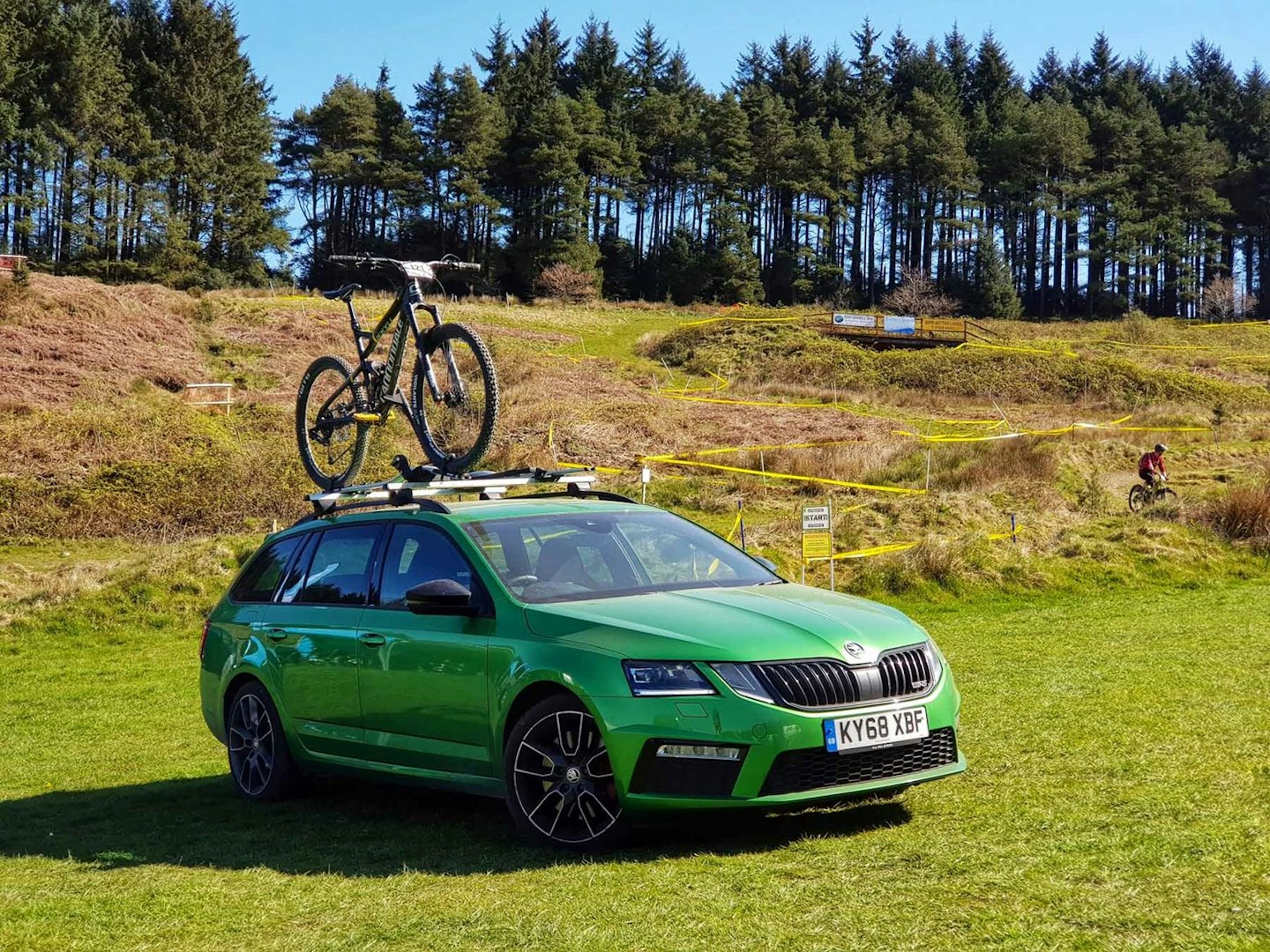 Installation differs slightly between models – most use a pair of bars that clamp to the roof rails and then a bike carrier that clamps to those. However, our Mazda CX-5 was slightly different in that it didn't have any rails, so needed clamps to be screwed into the roof – you can read this update for more information on how we did this.
Anecdotally there was more wind noise on the Mazda than other SUVs we've tested that had roof rails already, like our Skoda Kodiaq, and a drop in economy of 7mpg.
It's the same story for our Audi A1 Sportback, which also required some additional scaffolding in order to carry roof bars, although in fairness that is a small hatchback more normally suited to city driving, so that's hardly surprising.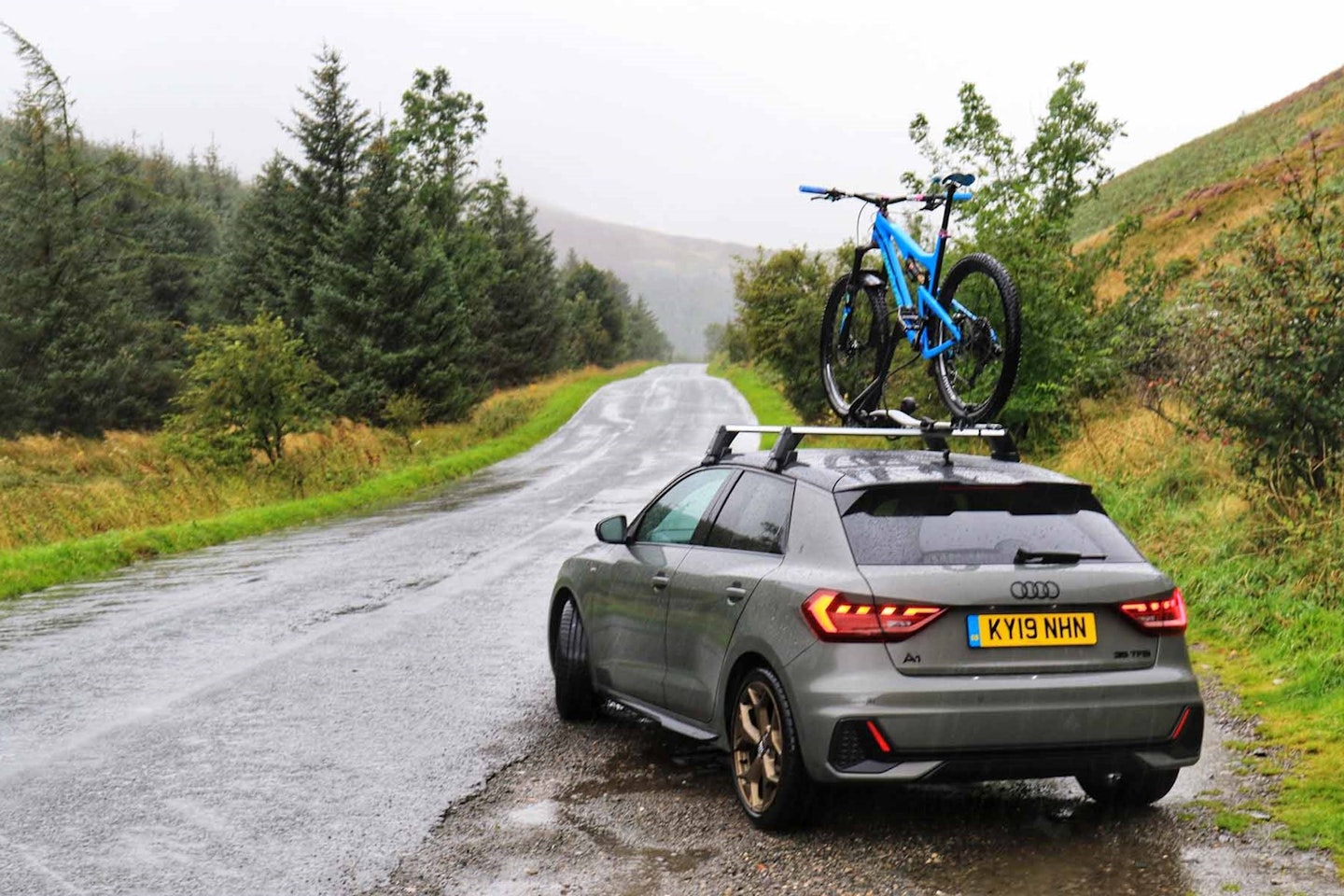 That is a neat segue into the biggest drawbacks of this type of system – firstly, although the actual bike carrier will generally fit on most roof racks, the actual rails are often not interchangeable between cars, so you'll have to purchase a new set when you change vehicles.
You also have to carefully install some bars – while the Kodiaq's could only go in one place, those on our VW Touran needed to be located using a measuring tape, which was very boring.
The main issue though is how much work it can be to load a heavy bike onto a tall car like the Mazda CX-5 or Skoda Kodiaq, particularly if you are not very tall.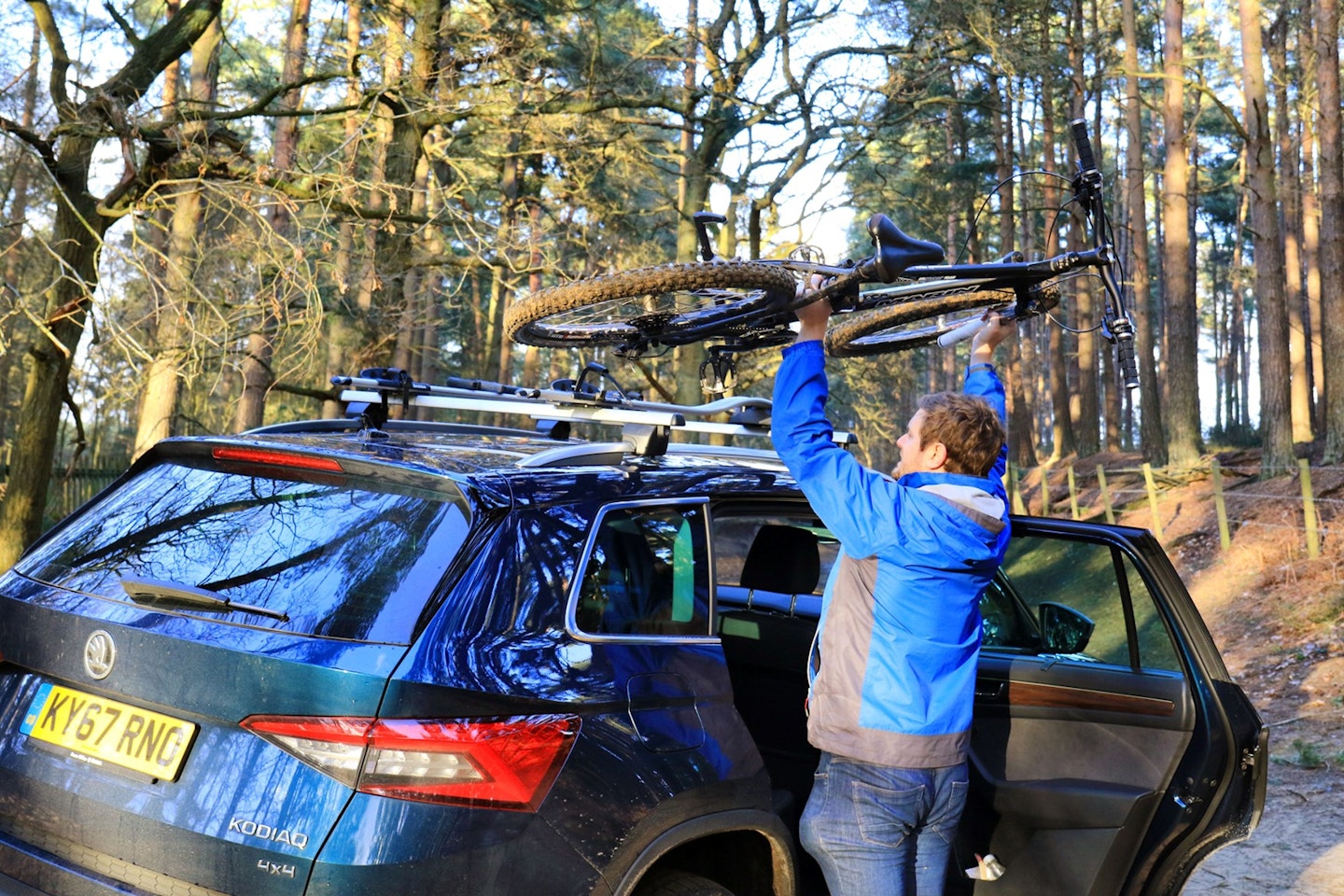 We've used this system on a number of estate cars (Skoda Octavia, BMW 3 Series and Volvo V60) and found that to be the happy medium – low enough to get a bike on easily but large enough for boot storage if necessary and in general equipped with roof rails as standard.
For you mountain bikers though that does mean missing out on the associated SUV benefits of good ground clearance and all-wheel drive for those more remote rides in the countryside. Although the latter isn't a given.
Tow bar bike carrier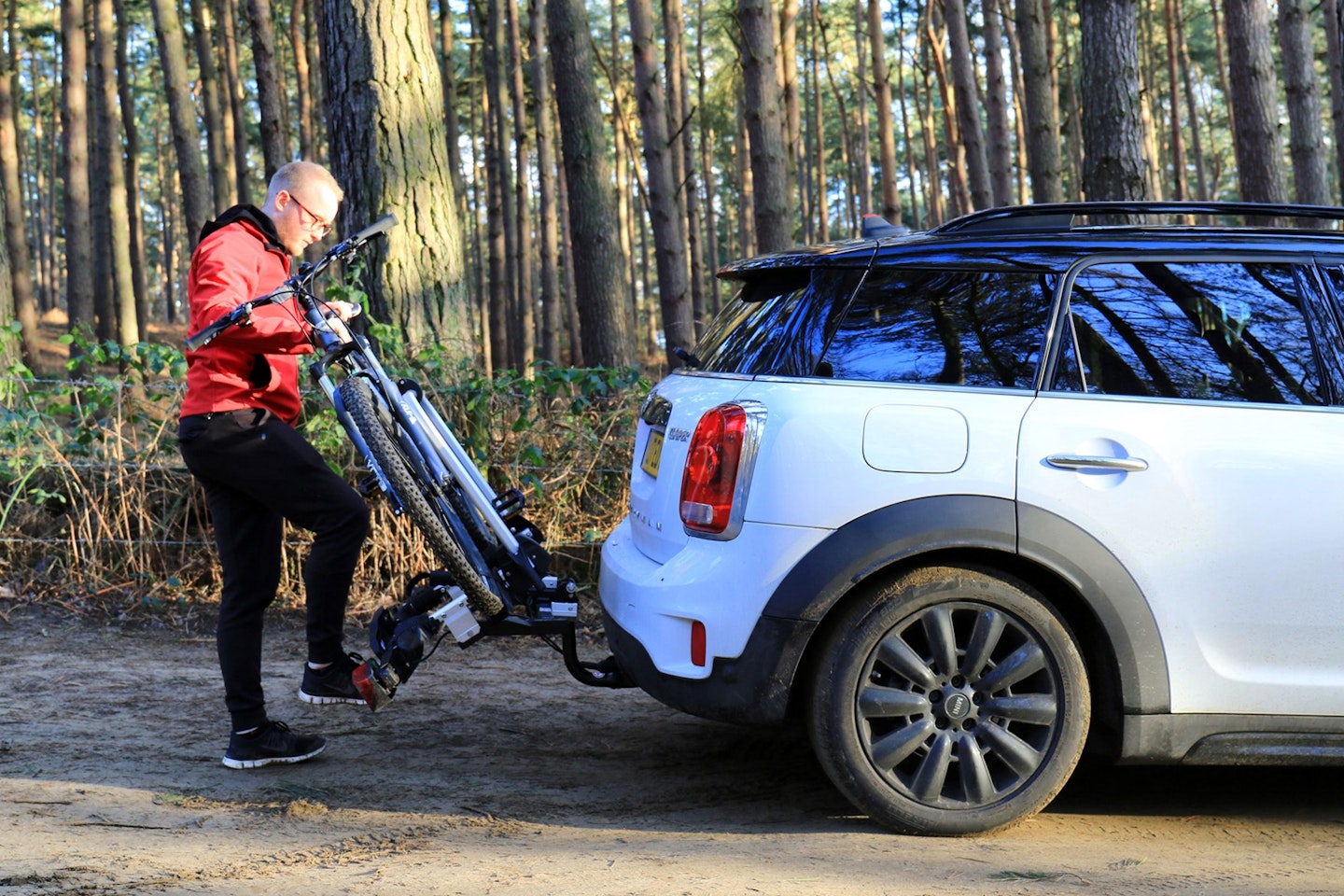 Solving all of these problems is our favourite method – the tow bar mounted carrier. In a stroke it is easier to take on and off the car, lower down for simple bike installation, less wobbly and both quieter and less punishing to your fuel economy with cycles attached.
Having such a system means you can buy a go-anywhere SUV and still attach your bike even if you are very short, and the Thule version we used tilts out of the way to allow boot access.
Putting a bike on is a very similar process to the roof system. There's a clamp that holds onto the frame and two ratchets for the wheels. On paper this is very simple but it does require a bit of rejigging if you want to install two bikes, and one of them has a very unthoughtfully placed rear suspension shock that gets in the way.
Our MINI Countryman had a clever system that packed away under the boot floor, and our more standard item fitted perfectly in our Volvo V60 (although took up most of the storage space) but otherwise you'll need to find a spot in your garage or shed. It also came with a little ramp you can use to wheel your bike onto the rack, although our fat mountain bike tyres are too wide for it.
Best of all this type of bike carrier has lights fitted and can be used on any car with a tow bar and associated electric socket (you just need to swap the number plate when moving it to another car) but that should be reasonably simple as cars use a standard plug.
That brings us on to the main disadvantage of course, which is the overall price – you'll need a tow bar fitted to your car for a start and the actual carrier is quite expensive to buy. Ones without lights are cheaper but then you'll need a separate light bar.
It's also a bit less flexible than the roof system – your tow bar will have a weight limit (although in fairness so will your roof) which we've found is very close to two heavy mountain bikes. Plus you have to thread the carrier's frame clamps through the bike frames and this can get quite complicated.
It's also worth mentioning the additional length you'll add to the car, and the fact it'll disable your rear parking sensors and block the reversing camera. On our V60 it also turned off the useful Pilot Assist driver aid when cruising on the motorway.
Bonus method – buy a pick-up truck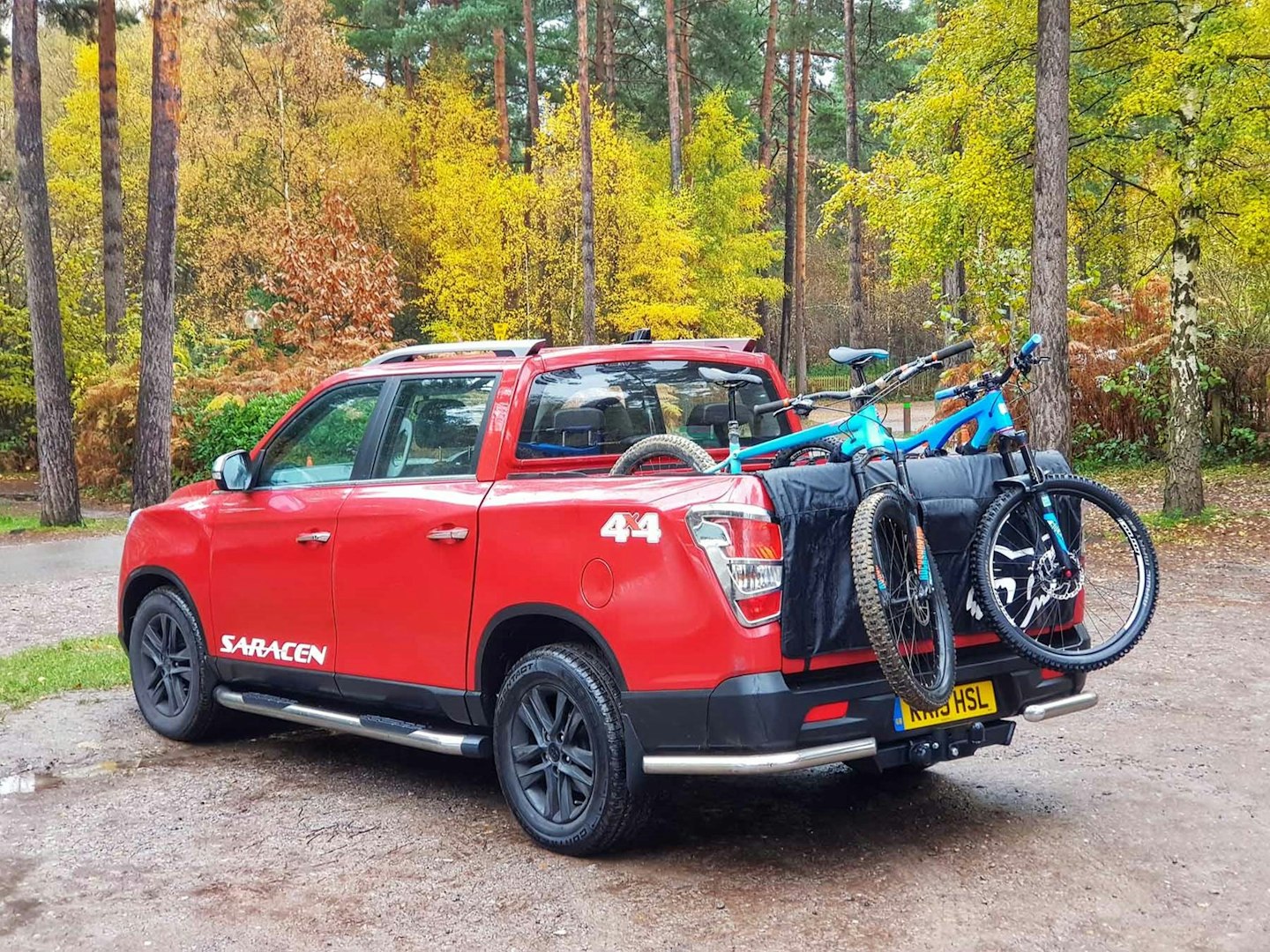 By far the easiest, cheapest (sort of) and most convenient method we've found is to purchase a protective pad for £40 off eBay, strap it to your colleague's SsangYong Musso pick-up truck tailgate and then sling your bike's front wheel over it. After asking whether you can borrow it, of course.
Obviously this is a very expensive solution if you don't already own a pick-up, and there are other complications too such as the front wheel potentially obscuring your numberplate or light cluster, and the ease of which someone could run off with your bike while you're in a traffic jam, but for short journeys this is by far and away our favourite technique.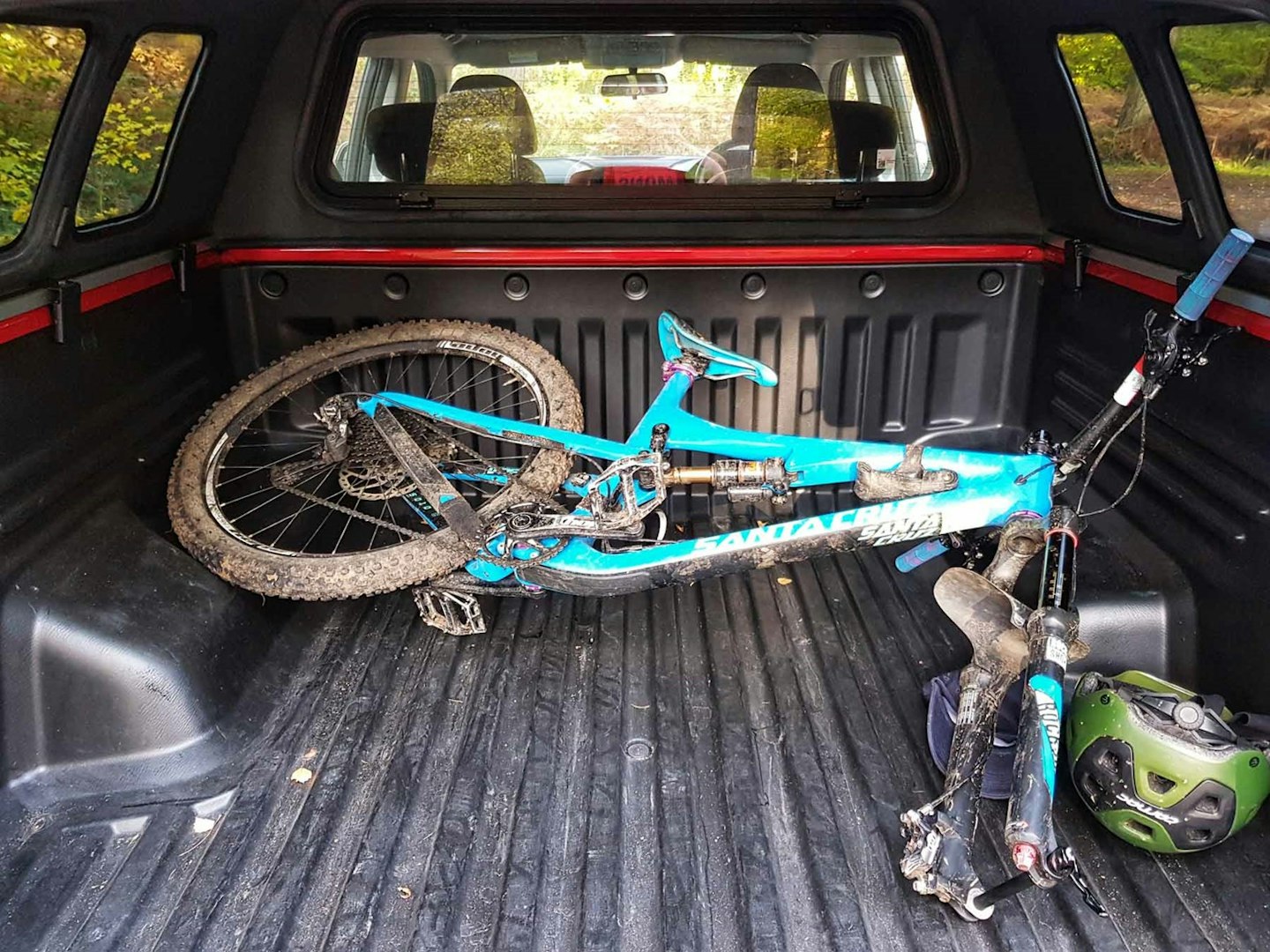 It might be a bit trickier with a road bike as the front wheel is closer to the frame but you could always just drop it into the load bed. You might even get away with leaving the front wheel on, unlike our mountain bike.
Our Verdict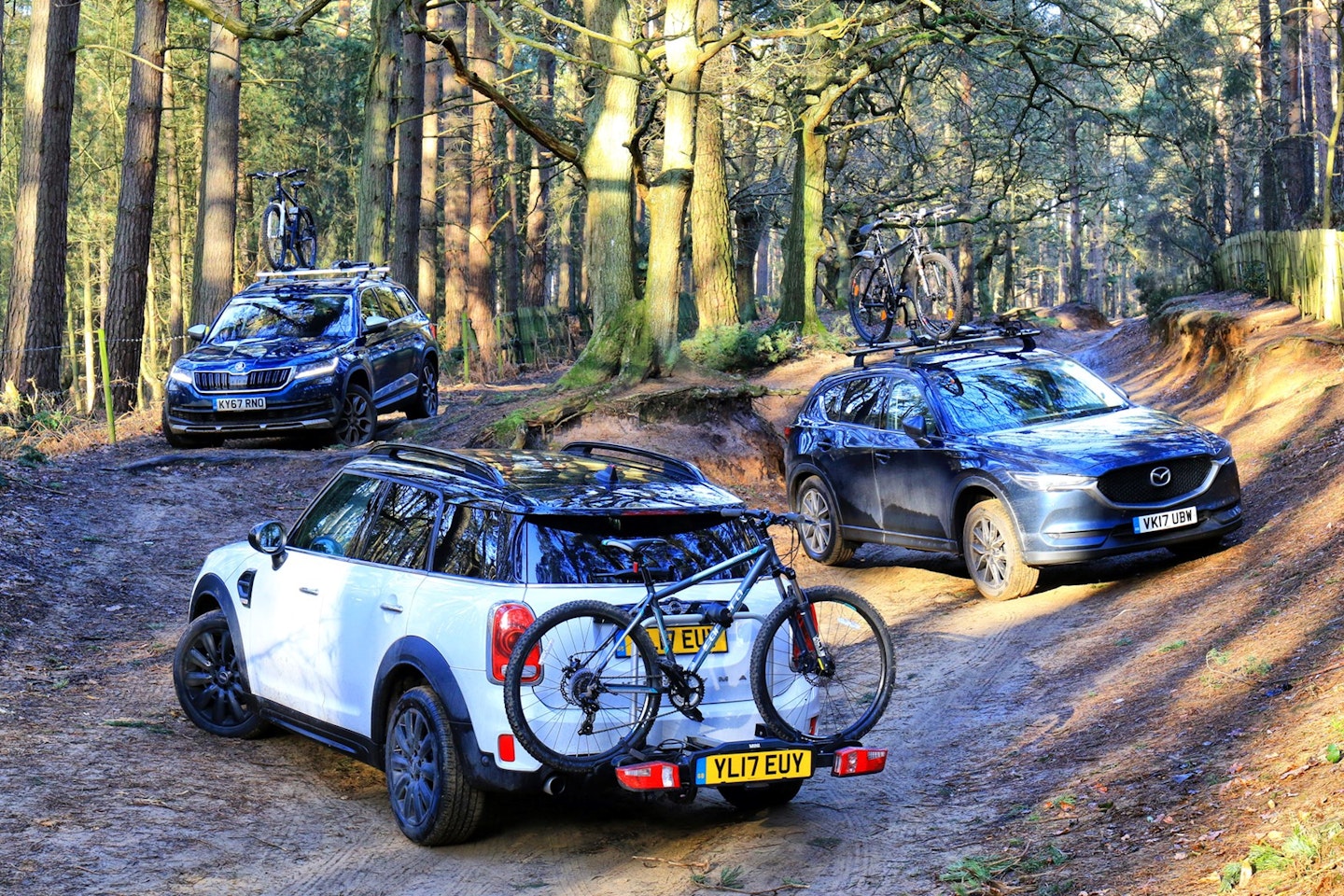 If the budget allows, buy a pick-up truck. It's the perfect system in that it's super easy to use and doesn't require any noisy or economy reducing accessories to be installed, plus comes with the advantage of go-anywhere all-wheel drive.
For everyone else though (or roadies) a tow bar mounted system is a great luxury that doesn't have to be installed on your car all the time, holds your bike very tight and is easy to load up. You can use one on any size vehicle with a tow bar and even hold onto the carrier when you choose to move onto another car. On the flip side, it makes the car a pain to manoeuvre and is expensive.
If you ride a lot (enough to warrant leaving a roof rack on all the time) or very infrequently (so you won't mind taking it on and off) then a roof mounted system is a cheaper and more flexible choice. The type of car you have and your height and strength will play a bigger factor though – smaller cars might be easier to load up but will suffer from wind noise, while a larger car's roof will be harder to reach. We'd pick an estate (like most Tour de France teams) as the best compromise, plus the associated boot space.
Finally there's the age-old solution of just lobbing it in the boot. Fine if your car is big enough and you don't mind whipping the front wheel off (fine with a disc brake and 15mm thru-axle, less so with an old fashioned bolt hub and cantilever brakes) and as long as you don't mind your car smelling of mud and chain lubricant. Plus collecting interior scratches left, right and centre.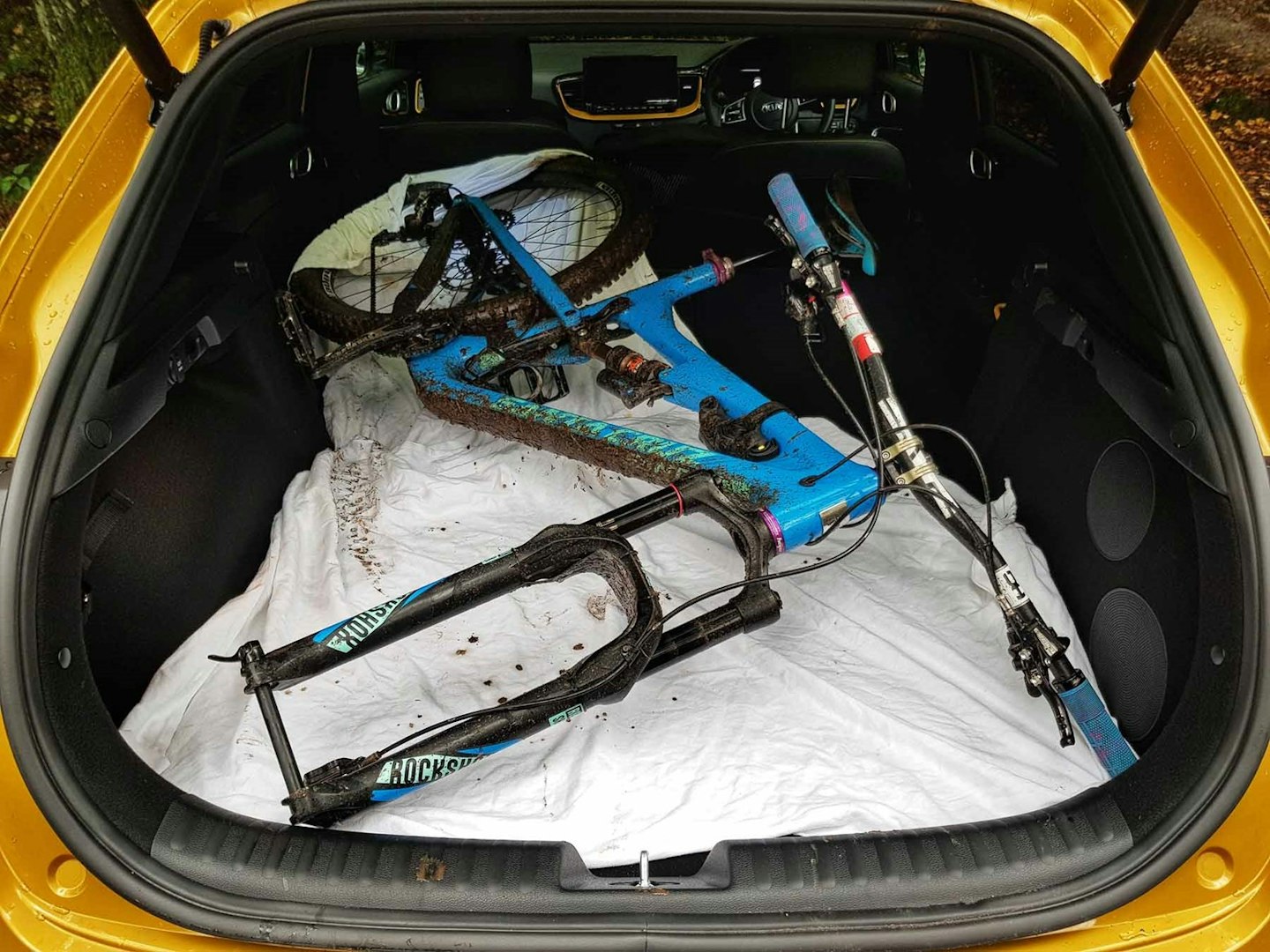 By way of a bombshell on which to finish – the one type of vehicle we haven't covered is a small van like our long term Ford Transit Courier. That takes a bike securely with both wheels attached, although only offers two seats.
Perfect if it's just you and one other rider, not so much if you have a family of cyclists to transport.
Read next:
For verdicts, scoops, news and analysis from the team , delivered direct to your inbox, subscribe to the CAR newsletter.
You can enjoy CAR in its traditional print format, or one of the swelling number of digital editions, optimised for Apple iPhones, Android devices, iPads, tablets and desktop computers.