Of everything we take for granted, air is probably the most obvious when it's lacking. It's an essential component of human life and your car needs a fair amount of the stuff to stay in good health. It's a well-known fact that a Bugatti Chiron sucks through 60,000 litres of air a minute, and while admittedly that's on the higher end of the car spectrum, every car needs air.
This is especially true for tyres. Every few years the big tyre companies will showcase a magical new airless tyre at Geneva or Shanghai, but we all know they'll never reach production and we're left dependant on air to keep going. And if the air is to escape your car's tyre, it's game over unless you own a decent battery recharger.
That's why we're testing this Sealey Compact Rechargeable Tyre Inflator, to see if it's the best portable tyre inflator to keep in your car for an emergency.
What is it?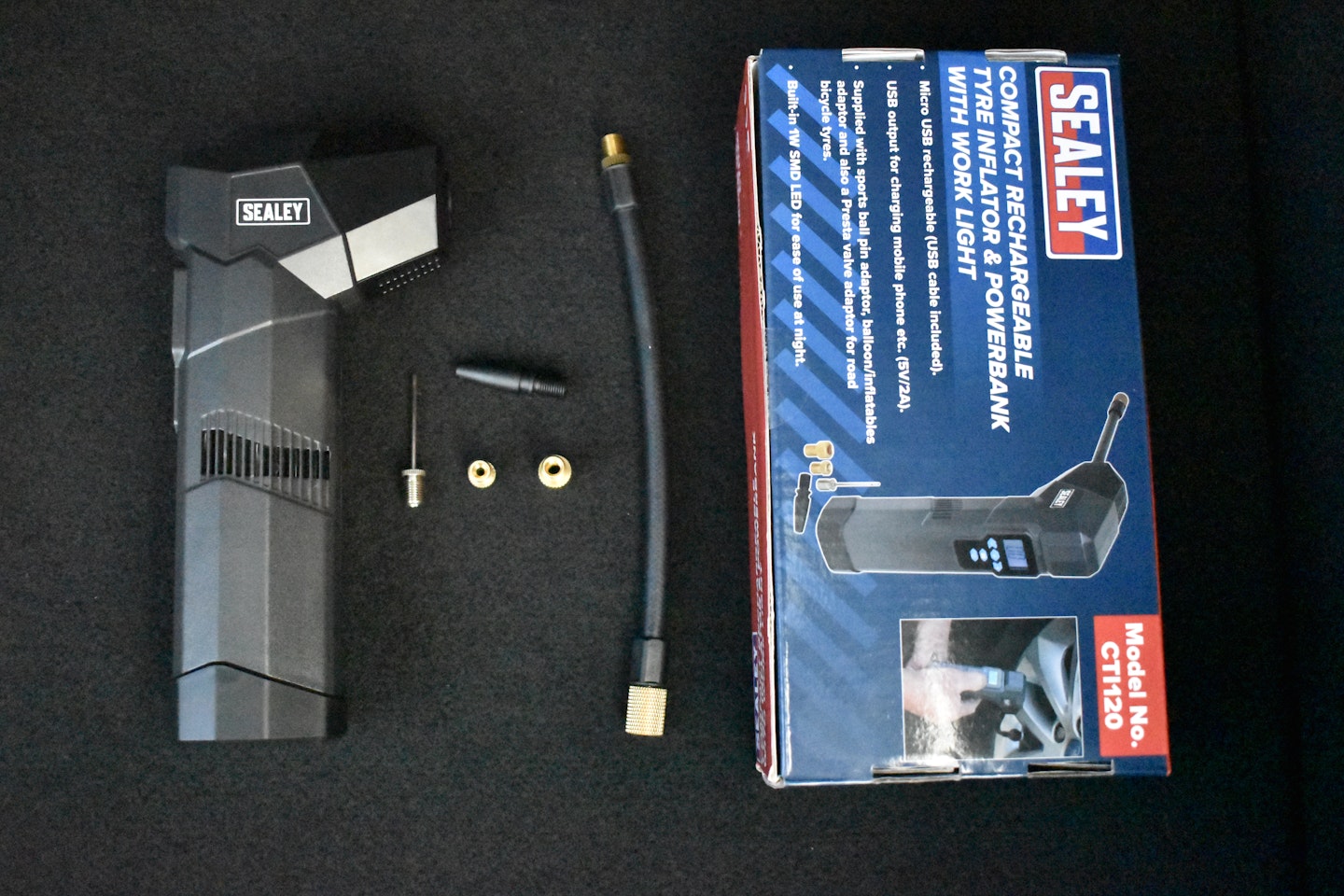 Well at its core it's a small tyre inflator, but one with a couple of added extras. For a start, it comes with several attachments for inflating bike tyres, balloons and sports balls. It also can be charged using a USB slot meaning any modernish car should be able to charge it no problem.
The really clever extras are the inclusion of a powerful LED light for night-time emergencies and a very handy built-in power bank, ideal for keeping your phone charged up should you break down.
It's also nice looking, isn't it? The sharp lines are stylish and purposeful, it's ergonomic and there's a clear display that's easy to configure and offers readings for psi, kPa, kg/cm² and bar. It's also deceptively small and comfortably fits in any conceivable car storage area, including the door pockets.
Is it any good as a tyre inflator?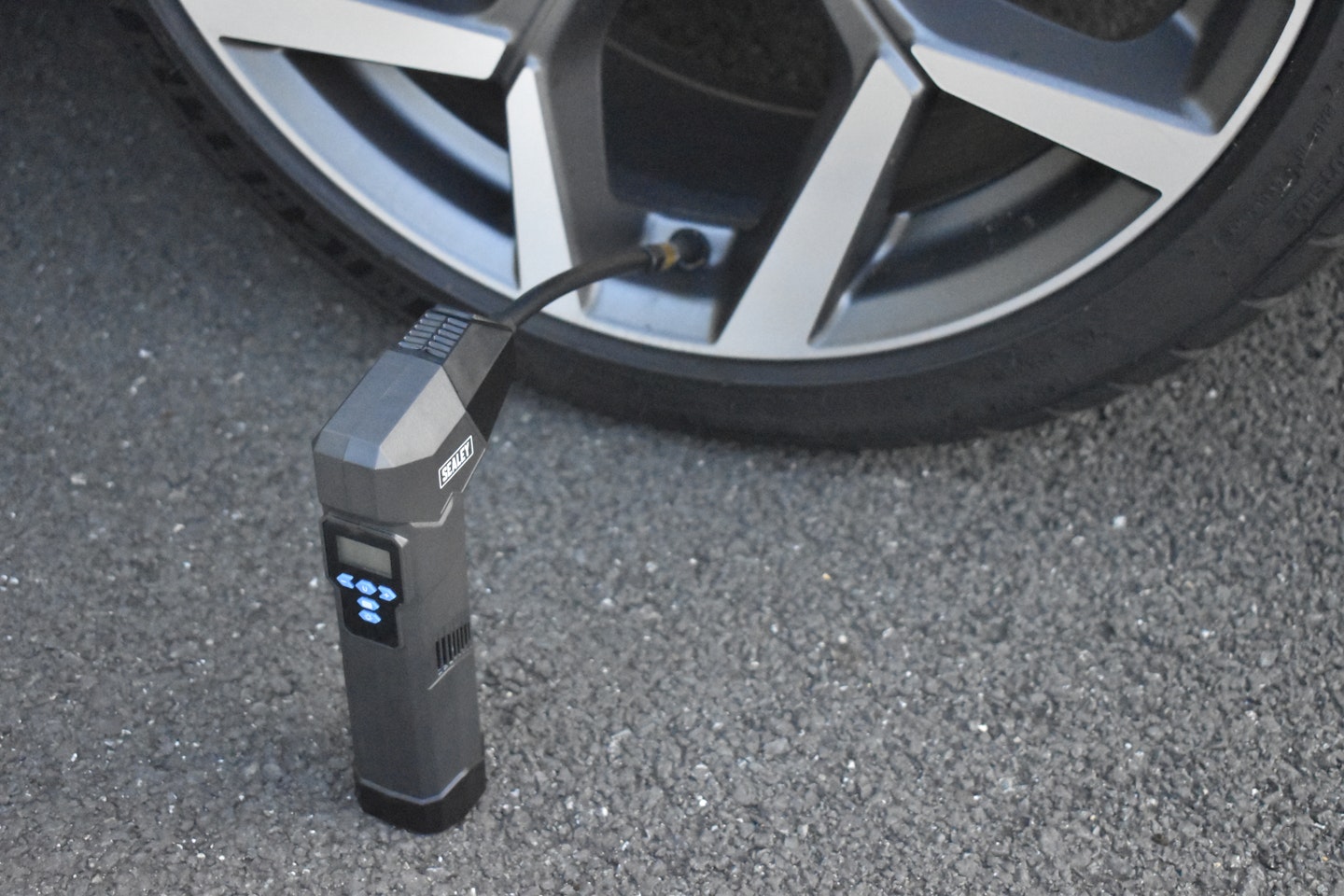 The core duty is what we're testing first. What we did was let some air out of the tyre from this Ford Puma ST, checked what the recommended PSI was in the car's handbook and set about reinflating it, using the preset feature to stop inflating once the desired pressure is reached.
It's fairly loud when in use, but at 12L/minute the ordeal is over quickly. As well as an automatic cut-off when it's reached a set pressure, it will cut out should the hose become kinked to prevent damaging the motor. It's impressively powerful for such a small device and had Ford's tyre filled with air in no time, reassuring news for anyone considering buying one.
What about the extras?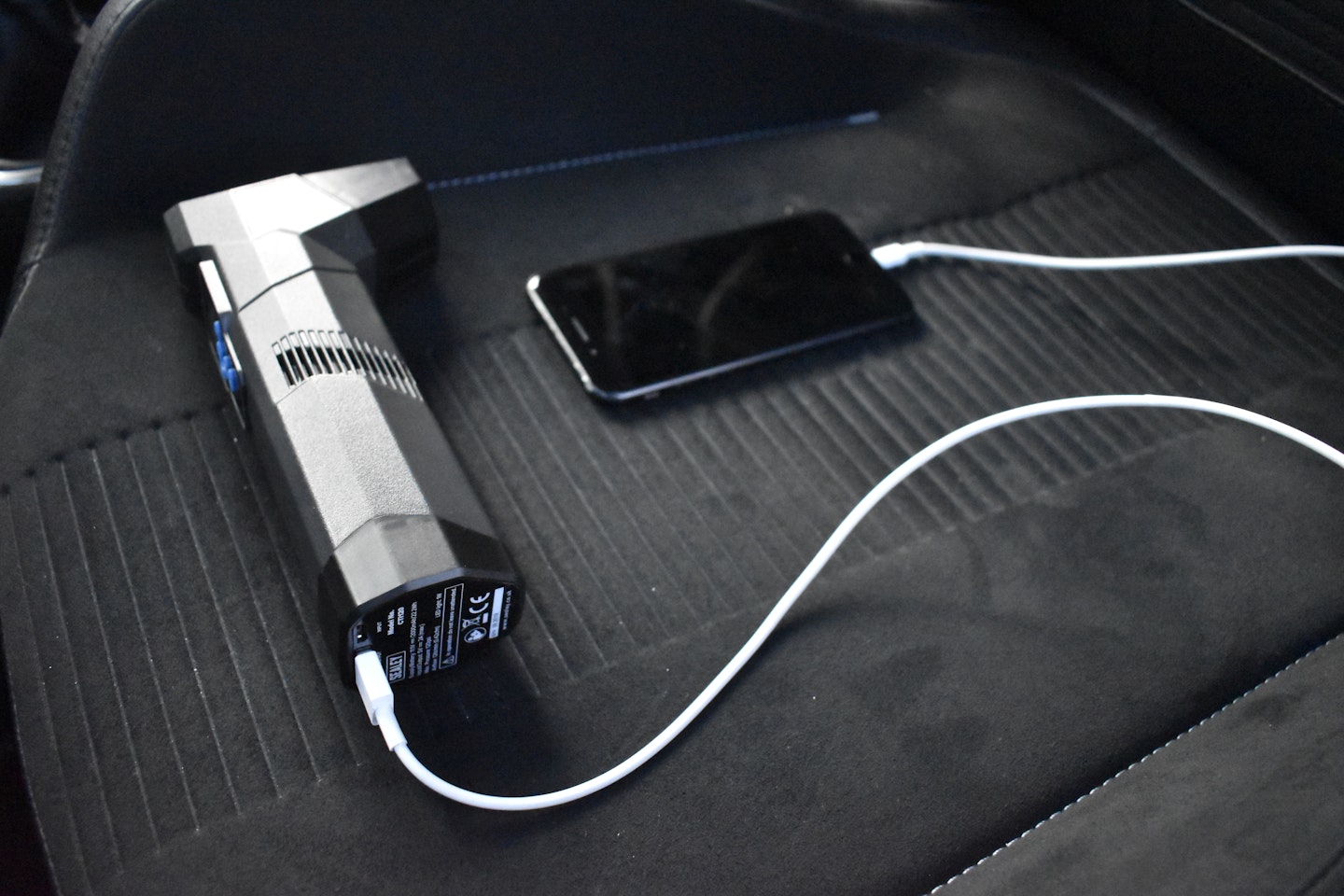 The 1W SMD LED light is certainly powerful enough and will be appreciated when forced to reinflate a tyre on the side of a poorly lit road during those long winter nights. There are three light settings; solid, slow flash and an SOS-style flash.
The power bank is perhaps the best addition to the tyre inflator, especially when it comes to winter breakdowns and is really simple to use, just plug your charger into the bottom of the device. Like it or not but mobile phones are an essential part of our lives and very handy in the event of a breakdown which means a method of keeping it charged up is a worthwhile investment.
While I didn't have a chance to inflate a lilo, balloon or rugby ball with the nozzle attachments, the build quality of the attachments was clear.
Is it worth it?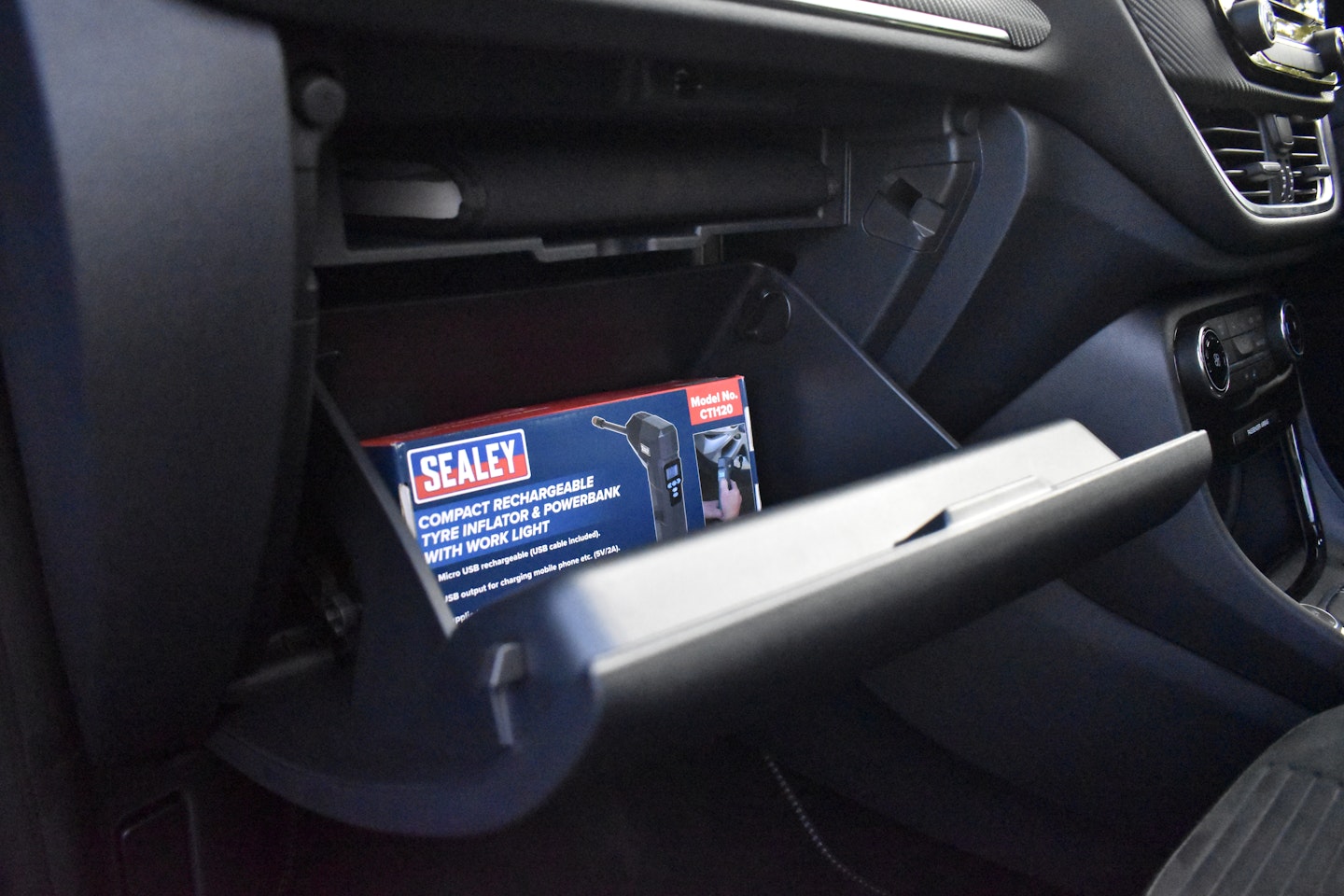 How much does total peace of mind cost? This three-in-one device from Sealey is an impressive breakdown tool that'll provide air, power and lighting from something no larger than a banana. It may be slightly more expensive than other tyre inflators, but it comes with Sealey's legendary build quality and is the smallest tyre inflator we've seen that's actually useful. If you're in the market for a quality tyre inflator that won't eat up valuable space in your car this winter, look no further than this.
5/5
Pros
Cons
• Really good at inflating tyres
• Loud when on
• Handy extras
• A touch pricy
• Unbeatable quality
The best alternatives
For verdicts, scoops, news and analysis from the team, delivered direct to your inbox, subscribe to the CAR newsletter.
You can enjoy CAR in its traditional print format, or one of the swelling number of digital editions, optimised for Apple iPhones, Android devices, iPads, tablets and desktop computers.