If you've ever cleaned a slightly neglected oven tray, you'll quickly learn how much of a pain in the neck grease can be to clean, especially if you're using water.
The same is true for your car's engine bays. They get incredibly dirty over time, with muck and road grime being constantly thrown into the engine bay while deposits of oil and grease build up too. And while most other surfaces can simply be blasted with a pressure washer, it's not a good idea to fire 100 bar directly at your alternator or distributor.
This is why a good degreaser makes so much sense. Simply spray it onto your engine, agitate it with a brush for a few minutes and wash off with some water (be careful with that mind). We've researched and found the best examples currently for sale and some useful information so your engine bay can sparkle.
The best degreaser
Best degreaser and APC
Description
A combination of degreaser and all-purpose cleaner (APC), Bilt Hamber Surfex-HD Cleaner is our
Best degreaser and detergent
Description
An effective spray-on engine cleaner, Autoglym's water-based Engine And Machine Cleaner is a
Best degreaser for really mucky surfaces
Description
The big guns of degreasing, this heavy-duty engine degreaser from STP will penetrate and dissolve
Best bulk degreaser
Description
Offering a more than generous five litres of degreaser, this Granville Gunk solvent-based
Best degreaser for small areas
Description
This solvent-based degreaser comes with WD-40's excellent 'Smart Straw', which makes it a great
Best degreaser for general use
Description
Not as powerful as the other options here, this degreaser from Meguiar's can be used on more
You'll probably want some brushes for your engine bay too:
What you need to know about degreasers: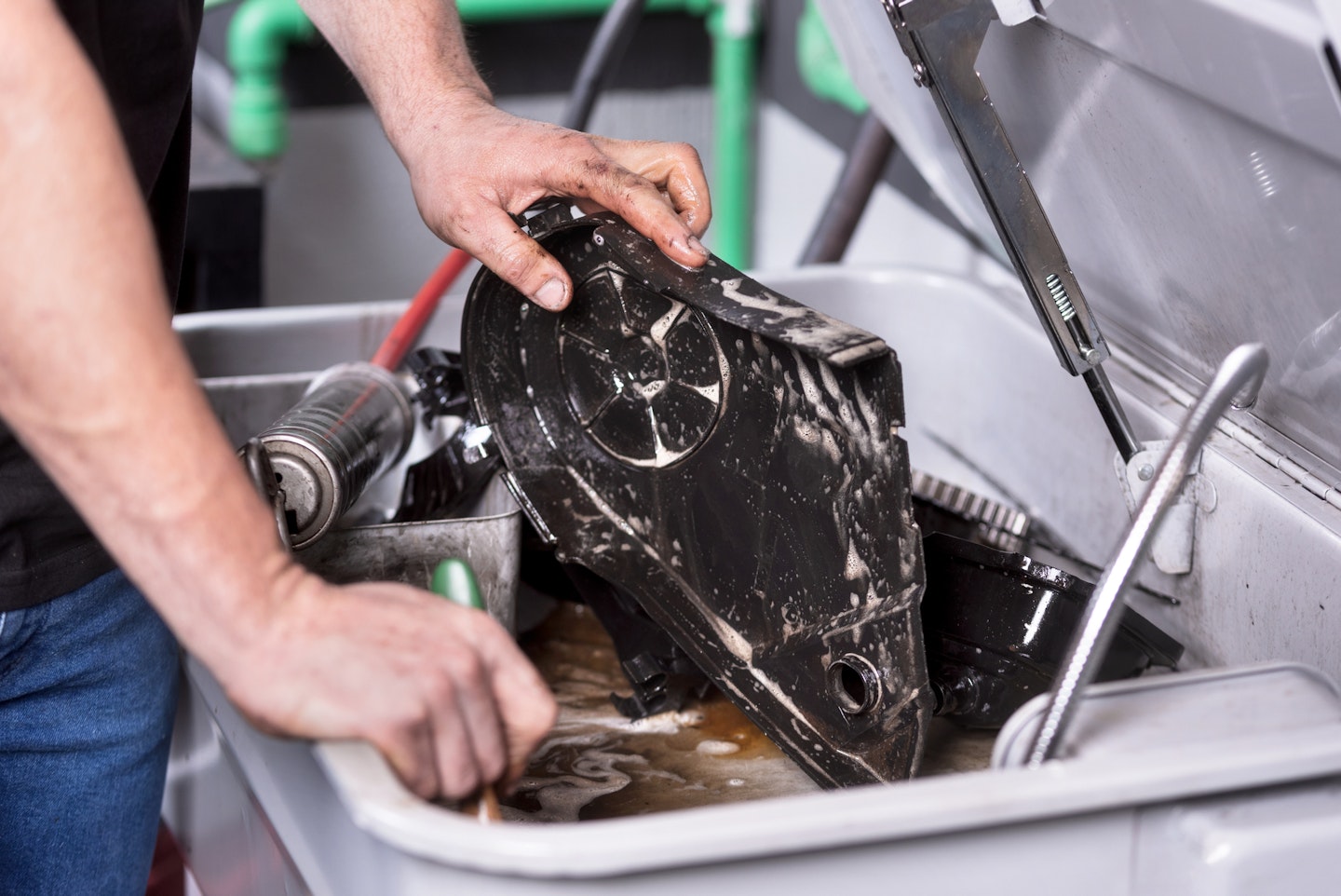 How does degreaser work?
Dust out the GCSE chemistry books - degreasers have everything to do with hydrophobics. Old and grease are hydrophobic, and as such, degreasers make use of both hydrophobic and hydrophilic molecular chains that dislodge the oil.
Why should I care about a mucky engine bay?
Not only will it look a lot nicer if your engine bay is looking clean, but it can also help you spot any issues that may be developing quicker. A split in your exhaust manifold or perished rubber, for example, will be a lot easier to spot and catch if your engine bay is clean.
Not to mention that when it comes to sale time, a clean engine will undoubtedly net you a few extra quid.
What should I look for in a good degreaser?
The most important consideration to make with degreaser depends on where you plan on using it. If you're wanting to clean your engine bay, look for a water-based option if possible. Solvent-based degreasers can break down rubber and vinyl, which could potentially spell disaster for your engine.
Water-based degreasers are also better for the environment. Several of the degreasers we've selected are biodegradable too, a far cry from the kerosene-based degreasers of old.
READ NEXT: