How annoying is it trying to find the right part for your car? Especially when you order a part only for it not to fit. Especially if you own an older, more obscure car. Thankfully there is a tool offered by Amazon that will filter products so you only see what fits your car.
We've put together a guide on how to use Amazon Garage to save you time and find the best parts for your car.
How to add your car to Amazon Garage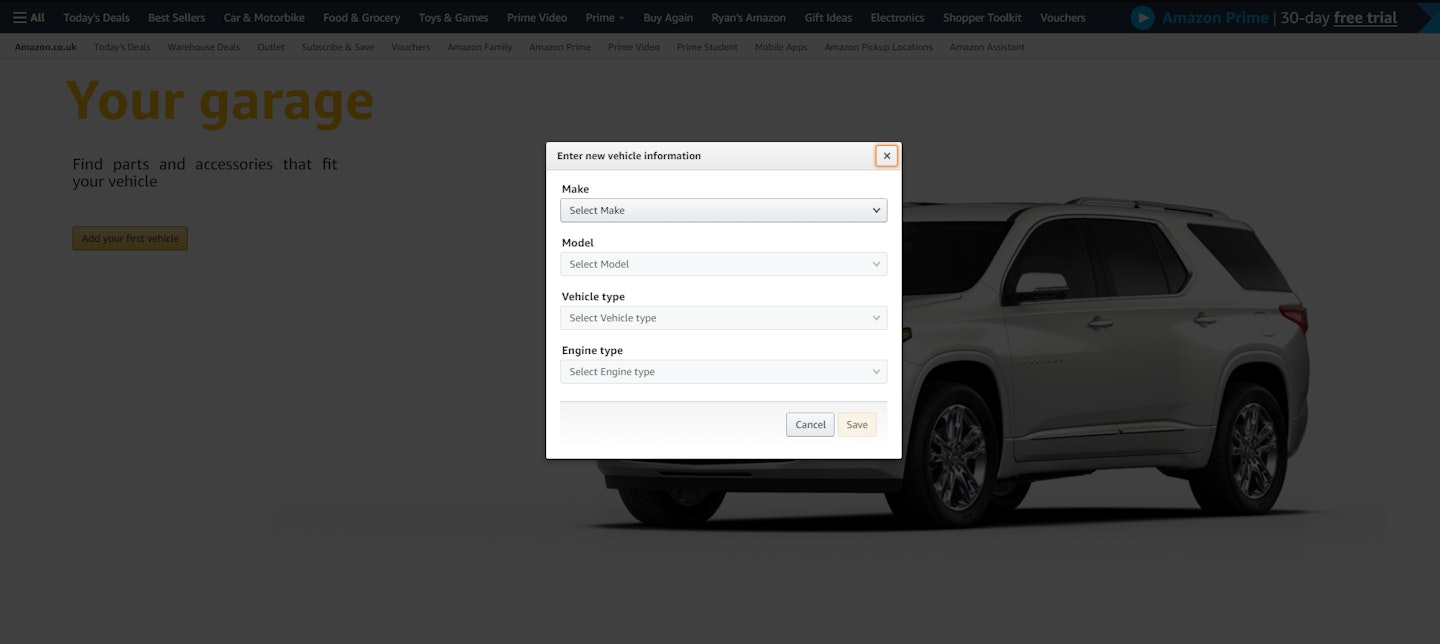 Once you load up the Amazon Garage page you'll be asked to enter your car's details. This is simply a case of adding the relevant details for your car (make, model, engine size) and your car will be saved for you to use.
If you go on the Amazon Automotive site then you can add your details even easier. Simply input your car's registration number and you'll be able to filter the correct parts for it.
Once you've added your car (or cars, you can add more) they are saved in your garage ready for you to select and filter parts that will fit them.
How to filter spare parts for your car

Once you've added your car to the Garage you can now easily filter parts that fit your car. There are two options for finding parts, using the search feature or using the Amazon Garage page.
If you use the search feature and search something car related (e.g. pollen filters) you'll see an option to filter results by your vehicle. Selecting this will only show products that fit it (although be warned, sponsored products will still show up).
If you're on the Amazon Garage page you can scroll down and there are a number of parts categories to choose from.
As an example, we added a 2018 VW Golf GTI and searched Amazon for wiper blades. We filtered the results and found several wiper blades that were specifically designed for the car.
What you need to know about Amazon Garage: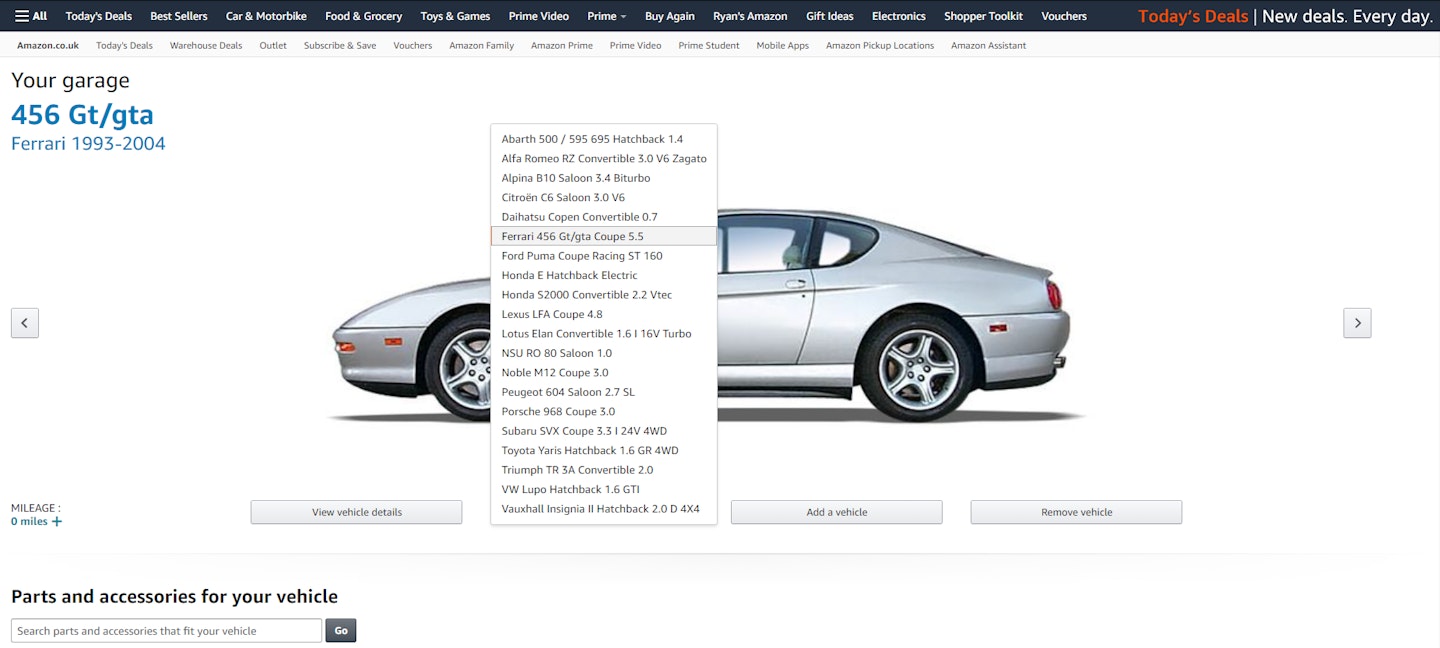 How many cars can you add?
Amazon says that multiple cars can be added and during our test, we had as many as 20 cars in our garage and we could still add more cars if we needed. This means the feature can be used if you own a large fleet of cars or if you're planning on buying a car and want to see parts availability. We've also discovered it can be used for dream car collection planning.
Do they cover every car?
Own an incredibly rare car that struggles to show up on most websites? Amazon Garage should have your car in its database.
We searched several nearly-extinct cars to see if there were any gaps. All the cars we tested had less than 20 examples registered on UK roads (according to howmanyleft.com) and yet all of them were featured in the Amazon Garage database. And while the stream of parts for a Talbot-Matra Rancho, Sao Penza or Daihatsu Applause may be next to nothing, the fact these cars are listed in the database is commendable.
In fact, the only real gap in the Amazon Garage line-up is any car produced before 1950. And if you are driving a pre-war Duesenberg or a BMW 328, you're probably not going to be shopping for spares on Amazon Garage. There is also a noticeable gap in JDM oddities but there are plenty of specialist suppliers that already cater to these cars.
Amazon Garage is also updated very frequently; the recently launched Toyota GR Yaris already features in the database, as does the even newer BMW M3 Competition.
What vehicle-specific parts can you buy?
We looked at the products available for several cars and found that for nearly all of them, Amazon stocked the following parts for them:
Tyres
For some cars we found various spare parts including suspension parts, belts and even gaskets. While we couldn't find any body panels, we were impressed with what was offered.
Does Amazon cover more than just cars?
The American Amazon Garage site allows you to add motorcycles, ATVs and scooters to your garage and filter parts for these. The UK version currently doesn't cover anything more than cars.
For verdicts, scoops, news and analysis from the team, delivered direct to your inbox, subscribe to the CAR newsletter.
You can enjoy CAR in its traditional print format, or one of the swelling number of digital editions, optimised for Apple iPhones, Android devices, iPads, tablets and desktop computers.