Unless you vacuum your car as regularly as your house it's likely that its various cracks and crevices will soon become filled will all manner of dirt and crumbs, unless you protect them with a car seat cover.
But dragging out a large, corded cleaner from the understairs cupboard and trying to make the accessory nozzle stretch from the driver's seat to the rear passenger bench is an annoying and time-consuming task.
The ideal solution would be a small, handheld version that can be deployed quickly and regularly to keep on top of the dust. Historically though portable vacuums have come up short on suction and run-time. Is the Proscenic S1 any different?
Tell us how you tested the Proscenic S1 vacuum cleaner…
If you insist on people taking off their shoes before getting in your car, and refuse to even entertain the idea of a mid-drive picnic, it's likely you can leave reasonably long intervals between vacuuming.
My Volvo XC40 has two young children to contend with, not to mention the regular storage of a used mountain bike (or two) so it's always harbouring sand, mud, crumbs and other unidentified objects. It's basically the ultimate vacuum testing ground.
Is the Proscenic S1 the ultimate car vacuum?
I picked this model out for a more thorough test because it costs the same as our current favourite lightweight car vac from our roundup, the Hoover H-Handy 700, but has better figures on paper.
Weighing in at just 630g, it has three 2200mAh batteries, which add up to a 30-minute run time and provide 12,000 Pa of suction power via a brushless motor. So on paper at least, it looks impressive.
Neither it nor the Hoover H-Handy can compete with the 25,000 Pa my household Dyson vacuum puts out, but outright power feels like secondary criteria to convenience in this case.
That half-hour run time requires the Proscenic S1 to sit in its plastic dock for a two-hour charge. This also houses the tools and can be powered by a three-pin plug or even a USB-C cable.
This (in theory) means you could just leave it charging in your boot, ready for use at any time, but as there's no Velcro to stop it sliding around, it's probably better off in a garage.
Still, with a 630g kerbweight the vacuum is certainly wieldy and balanced in your hand, and more powerful and quieter than you'd imagine.
What about the tools though?
A pretty standard set including a rectangular nozzle for large surfaces and a crevice tool with a brush that can be slid into place. It's the latter I found most useful, particularly for cleaning awkward areas like the bit between the seat and door sill.
Although not huge the 120ml dust container had enough capacity for a thorough cleaning of my carpets and a washable H12 HEPA filter is said to capture 99.99% of what the vacuum sucks up.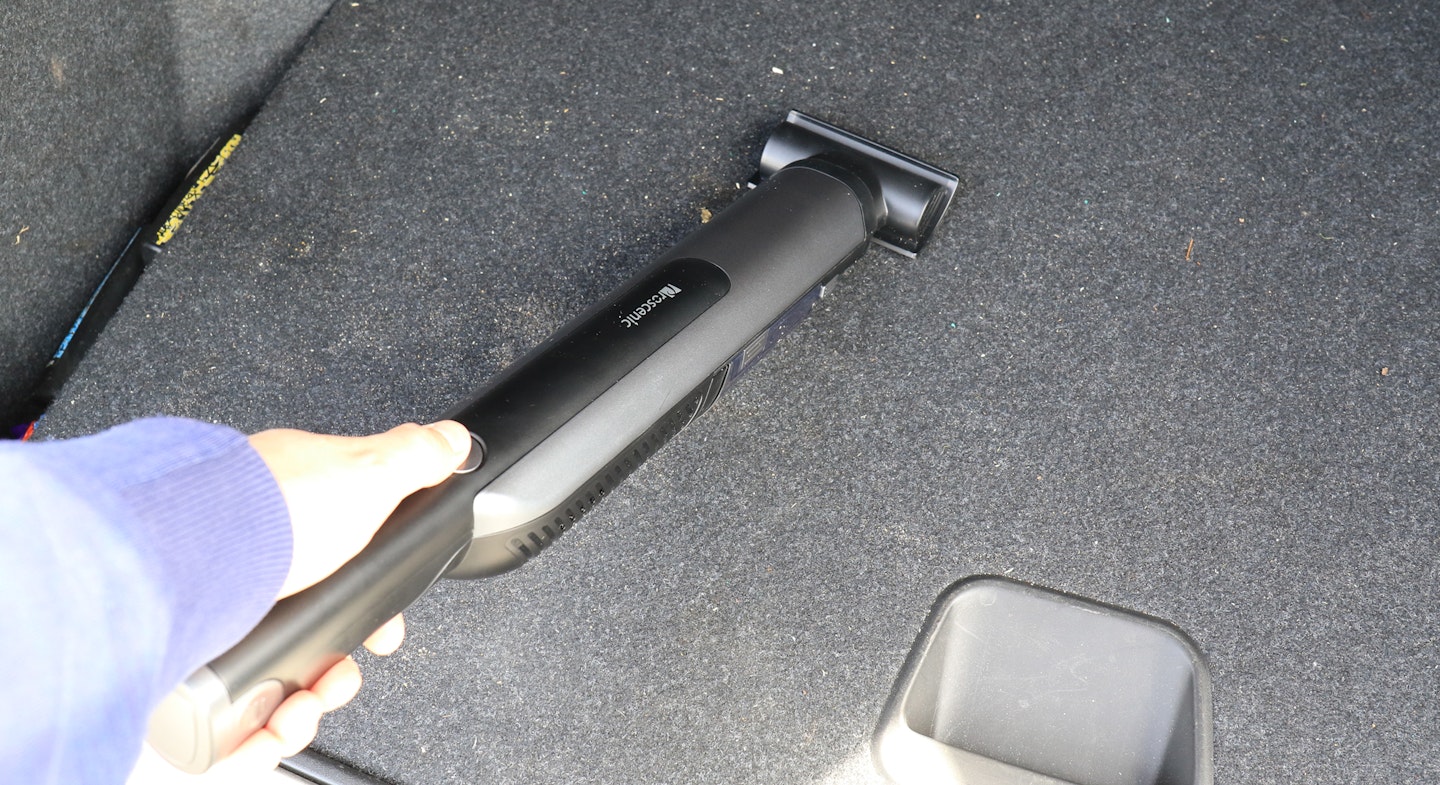 The Hoover H-Handy 700 has a marginally larger container, which might come in useful on larger cars, but the Proscenic's doesn't feel like a downgrade.
Verdict
I've found the Proscenic S1 vacuum cleaner more than up to the job of fire-fighting the regular build-up of dirt and crumbs in my car. Some jobs do still require the additional power of my household vacuum, but I've been really surprised by how flexible this cordless cleaner is.
Because the majority of its heft is centred near your hand it feels much easier to manoeuvre in cramped conditions than my larger vacuum, and it feels substantial and solidly built. It's a shame the same can't be said for the charging dock, which is made from cheaper looking plastic, but it's worth remembering it's only a charging dock. It sits in my garage where I rarely look at it and charges the vacuum. I don't need it to be a modern art piece.
It's a combination of all of that and the compact crevice tool, which makes this small vacuum so effective. No crumb is safe from its surprisingly powerful suction.
Altogether I've been really pleased with the Proscenic S1 – it offers a lot for its £79 price tag, which is cheaper than its major rivals. There are cheaper versions still, but none offer as much power or runtime as this one.
READ NEXT: