You know those ads for life insurance or low-fat yoghurt, where a family and the dog jump joyously into their family car (often in slow motion) and make their merry way to the beach? They never show you the aftermath of such a trip. Carpet and fabric stains from muddy paws and shoes; greasy food smeared into the upholstery.
There are many people who simply accept that as inevitable and aren't too bothered about it. However, for those of you who do like to maintain your car in a tidy and orderly fashion, such stubborn stains and spills may well get your goat. Where even the best upholstery cleaners fail, portable spot cleaners step in. These machines use water mixed with cleaning solution and vacuum extraction to first loosen, then lift stubborn muck.
Is a portable spot cleaner different to a steam cleaner?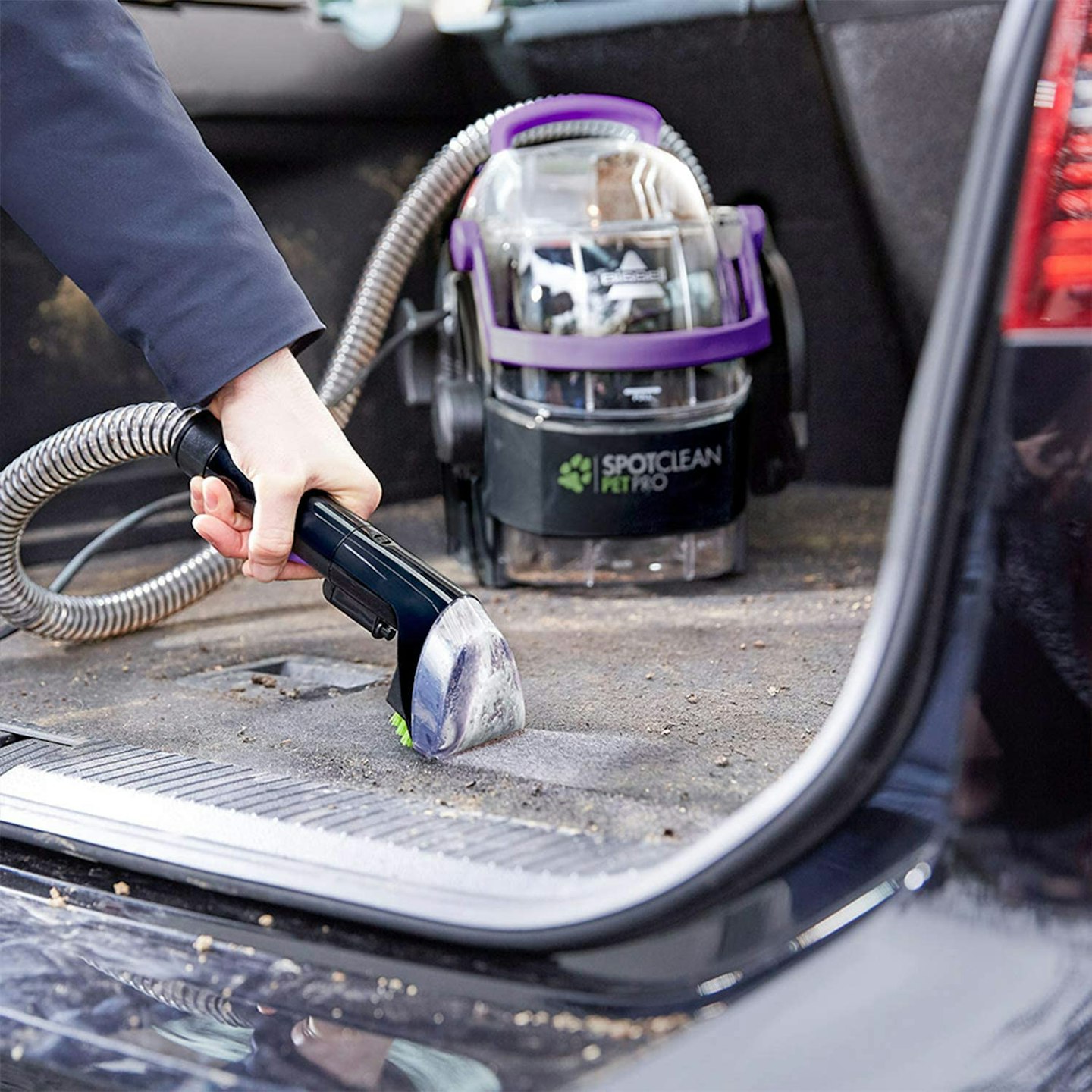 Yes. Spot cleaners use water, cleaning solution and vacuum extraction, whereas steam cleaners only eject super-heated water. Household-grade steam cleaners are not generally so effective at cleaning fabric because they are not powerful enough to lift carpet and upholstery stains. Plus, they quite often damage fabrics because of the hot steam. They sanitise very well, but that's about it. Thanks to the way spot cleaners work, they're ideal for fabric and upholstery stains.
The features of spot cleaners that matter
The most important thing to note about portable spot cleaners is that they are designed for fabric and carpet only – not for use on leather or natural fibres. If your car has a leather interior, see our guide about caring for leather car upholstery and trim. For Alcantara trim, the best cleaner we recommend for that is Sonax Xtreme Upholstery & Alcantara Cleaner.
Cleaning performance is a vital judgement factor. The cleaning solution the machines use, coupled with efficient extraction, should remove stains very quickly. The extraction needs to not only suck up the lifted stain but also the cleaning solution in order for the fabric or carpet to dry as fast as possible. The machines here have all been chosen on merit first and foremost, not size or price.
Cleaners like these can be quite bulky, but it just so happens that the best available are all of a relatively compact size. They don't take up much room to store and aren't a burden to carry around on the job. Their dual-tank systems make them very easy to use as well.
The best portable spot cleaners for car carpets and fabrics:
Description
Like all the spot cleaners here, it has two water tanks. One for clean hot tap water and cleaning
Description
Very similar to the SpotClean unit; similar in size and weight, but with a slightly larger water
Description
A bigger unit that is great for pet owners. It has a larger water capacity, so it gives you the
Spot cleaner care
The key to tools and machines living up to expectations and lasting the distance is not overworking them. Just like living things. A power tool will come to a burning end when pushed too far; a horse or a human will collapse like a sack of potatoes in a puddle of sweat and saliva.
Before using a spot cleaner in your car, give the area in question a vacuum or wipe it down in order to remove loose dirt and leave just the stain for the machine to tackle. It is much more effective that way, and the machine will thank you for it.
You might have a concern about mineral build-up over time, having to add tap water to the tanks. Using as little clean water and cleaning solution as possible will go a long way in mitigating this scenario. It's unlikely for car interior stains that you'll need to fill up the whole tank anyways. Giving the tanks and suction gate and occasional clean is very useful, too.
We have saved the best piece of advice for last: read and follow the blasted instruction manual.
What to read next: