If you want to give your car's paint that extra protective coat, you need a car wax. This hardy substance adds a protective layer to repel rain and keep it looking smarter for longer. There are hundreds of products on the market, so we've put together a guide to help you pick out some of the best.
Wax and polish are not the same?
Good Lord, no. In truth, they are polar opposites that complement each other like peanut butter and pickles. Most of us use wax and polish terms interchangeably, and that's fair enough because even some product labels get it wrong.
Wax acts as a protectant to your paint. If you've ever been gifted some artisan waxed cheese you'll be familiar with the protective qualities of a wax casing; it'll protect the cheese from water, sun and other contaminants. Car wax works the same but on a much larger scale and the layer it forms is invisible. A good car was won't wear off easily and will protect your paint from heat, UV rays, water and other contaminants. Some of the more expensive waxes will also provide a nice deep shine.
Polish on the other hand, is abrasive and therefore the complete opposite to wax. It works to create a shine on your car's paint by gently removing the top layer of paint protectant in order get rid of scratches and gloss up dulled colours. Good polishing products do not have to be used frequently.
I see, but which car wax should I buy?
Cleaning enthusiasts who attend Concours d'Elegance events get terribly in-depth on the subject. That's fine, but their recommendations are frequently too expensive for regular Joes. But don't worry, we know of effective car wax that doesn't cost you an arm and a leg.
What we've done here is include a range, from quick spray-on cheat products to stuff that's a bit more serious. In either case, we strip away the intimidating mystery of the world of the best car wax and point you to some of the finest products available.
Application
Naturally, each product will come with its own instructions, and they are generally the same:
Most detailers will recommend using a clay bar first if you're wanting to apply wax to your car. This will keep your paintwork free of any contaminants so you get a better overall finish. If you want to know more about this process, we've written a guide to clay barring.
• Make sure your car is as clean as possible and towel dry. Inspect the paint to see if polishing will be needed before you apply your wax. There isn't much point waxing a scruffy, stone chipped mess of a car. If your paint is looking good then all you need to do is make sure your car isn't in direct sunlight before you set to work waxing it.
• Add a few drops of wax to a microfibre cloth or pad and apply it to your car by working your way over the body panels in small, overlapping circular motions. That way, you get an even and full coating on your car.
• Let it dry to a haze then wipe off with a clean microfibre cloth. Then all you need to do is stand back and admire.
CAR's recommended car waxes
Best synthetic wax
Description
Meguiar's is a famous name in the world of car cleaning. This storied American brand has been
Pros
Well respected brand
Easy to apply
Cons
Limited places to buy in the UK
Best value wax
Description
This is a bona fide wax that is popular among enthusiasts. It's a paste that will simply provide a
Pros
Has good durability
Quick drying time
Cons
Not very big so may not last more than a couple of applications
Best classic car wax
Description
Carnauba wax from the most recognisable brand in easy-to-apply liquid form. This is a quality
Pros
Well respected brand
Easy to apply liquid
Cons
Be careful of over application being a liquid
Best premium wax
Description
Beyond the obvious expense, this wax is superb. Both in terms of finish and durability, this is
Pros
Great finish
Fantastic durability
Cons
Only 150gm so won't last long!
Best ceramic spray
Description
Perfect for a quick top-up, this ceramic wax spray contains silicon dioxide to give an even
Pros
Super easy to apply
Well respected brand
Cons
Only a short-term solution
Best cheat wax
Description
Autoglym Rapid Aqua Wax is a really clever product. You wash your car as normal, rinse off the
Pros
Well respected brand
Durable
Easy to apply
Cons
Can be quite difficult to get that 'shine' right
Best wash & wax set
Description
For an all-in-one, it's Autoglym once again. Instead of the quick spray wax, this includes
Pros
All in one kit
Well-respected brand
Cons
Shampoo isn't as foamy as we'd like
What you need to know about car wax: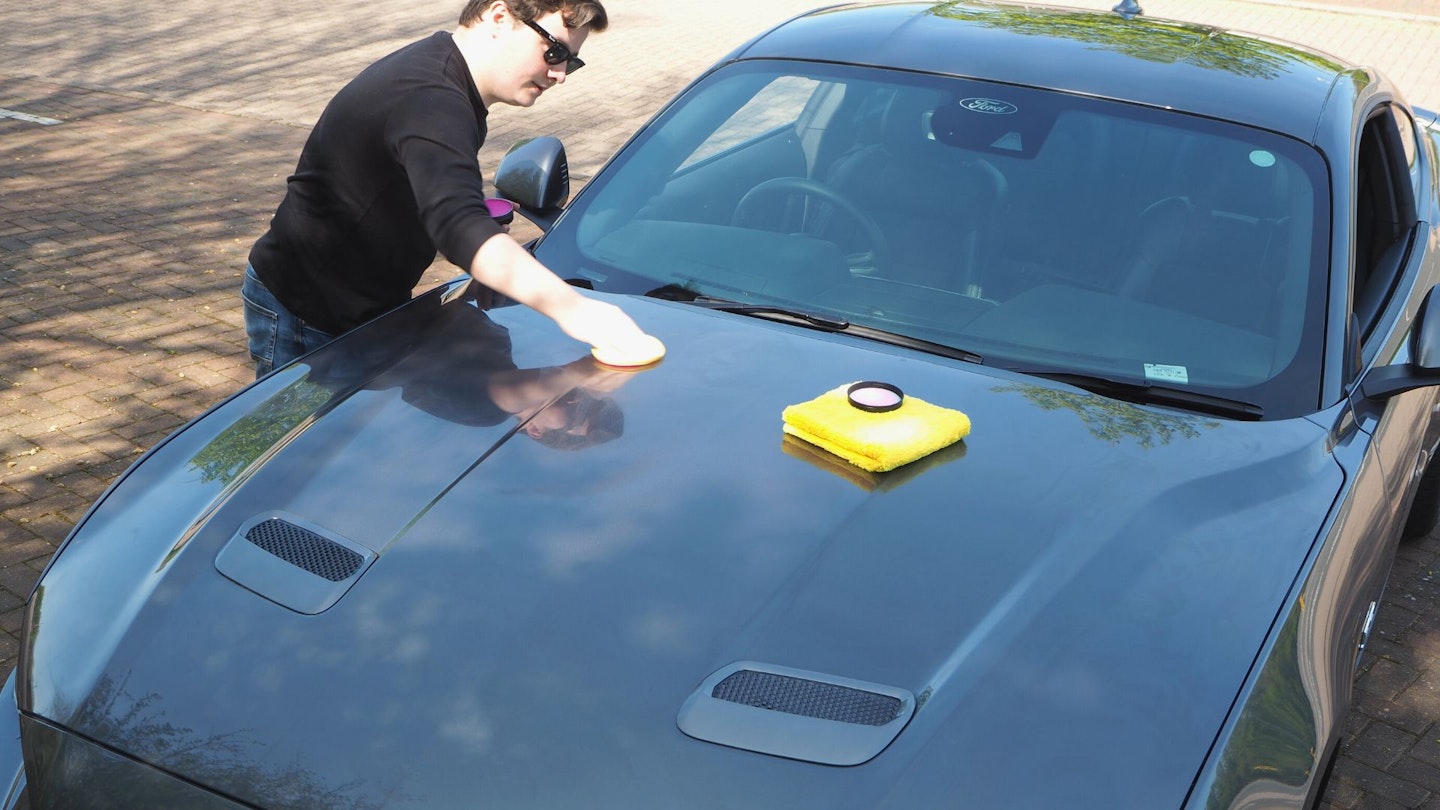 Are there different types of wax?
Not all wax is the same and it's worth knowing the different types so you can get the right results:
Carnauba wax is an organic wax that is often regarded as the only 'proper' car wax available. Extracted from the leaves of the carnauba palm tree it's the hardest natural wax in existence and is incredibly effective against water.
Pure carnauba wax is yellow in colour and expensive but will give a deep shine and excellent protection. White carnauba wax contains additives including beeswax and turpentine and is cheaper to buy but will still protect your paintwork. Both types are available in paste, spray and liquid form.
Both will create a protective layer for your car's paint from UV rays, water and other contaminants but do not last as long as synthetic waxes. You'll typically need to wax your car every six weeks if you use carnauba wax.
Synthetic wax is also referred to as paint sealant. Making use of synthetic polymers that bond with your car's paint to create a tough layer of protection. They can last up to 12 months but won't offer the same shine as carnauba wax.
Ceramic wax is the next big thing in car wax. Proper ceramic waxing is best left to the experts thanks to the long curing time required, but it will leave a hard coating that can last for years. There are also hybrid ceramic options that blend synthetic wax with silicon dioxide ceramic to give you similar results that you can do yourself. Available as a paste, spray or liquid it won't last as long as proper ceramic coating but it's far easier to apply.
If your car is particularly old and lacks the two-stage paint of modern cars (a clear coat on top) then there are speciality dyed waxes that will enhance your classic car's colour while also protecting it.
How you apply them can differ too:
Paste wax will take the longest to apply but will give the best overall coverage. It will provide a much deeper shine and finish but can easily eat up an entire afternoon.
Liquid wax is much quicker to apply and will still give excellent results. These are primarily synthetic waxes and will provide a good layer of protection while also being quick and easy to apply.
Spray wax is more of a top-up product and won't last anywhere near as long as the others but it's still useful if you're in a rush.
Chris Williams is a Senior Product Writer for CAR, also working for Live For The Outdoors. An expert in camping and muscle cars, he spends most of his time up a mountain or laying rubber.
For verdicts, scoops, news and analysis from the team , delivered direct to your inbox, subscribe to the CAR newsletter.
You can enjoy CAR in its traditional print format, or one of the swelling number of digital editions, optimised for Apple iPhones, Android devices, iPads, tablets and desktop computers.