Having a vacuum specifically for the car might be a bit OTT, but there's certainly no harm in having a household vac that lends itself perfectly to car cleaning. After all, using a heavy, bulky corded vacuum in the tight confines of a supermini can be a real pain - especially if it's an upright vac, or one without convenient accessories.
We're testing the Worx Cubevac, a cordless vacuum that lends itself perfectly to said tight spots. It doesn't claim to be specifically for cars, but Worx makes lots of outdoor and garden equipment so it's got experience in making products that can take on mucky jobs.
Also read: Best car vacuums
With its cordless form factor, useful extendable hose and swappable battery packs it also lends itself perfectly to a car clean. But how does it compare with our current favourite portable cleaner, the GTech Multi?
What is the Worx Cubevac?
The Cubevac is a form factor we've not really seen before. The cuboid body holds a battery pack on the back, a dust compartment underneath, storage for two cleaning tools in cubbies on the top, and an L-shaped handle and flexible, stretch hose that both wrap around the carry handle when not in use.
Magnets hold the handle close to the side of the unit so it doesn't flop about, and the whole affair is tidy to look at and super-compact to store.
The two included tools are an all-purpose nozzle with a lint-picker strip and soft dusting brushes, plus a clever crevice tool that has an extendable, flexible section. With the use of an easily-purchased adaptor, most household vacuum tools will fit on the end should you want something different.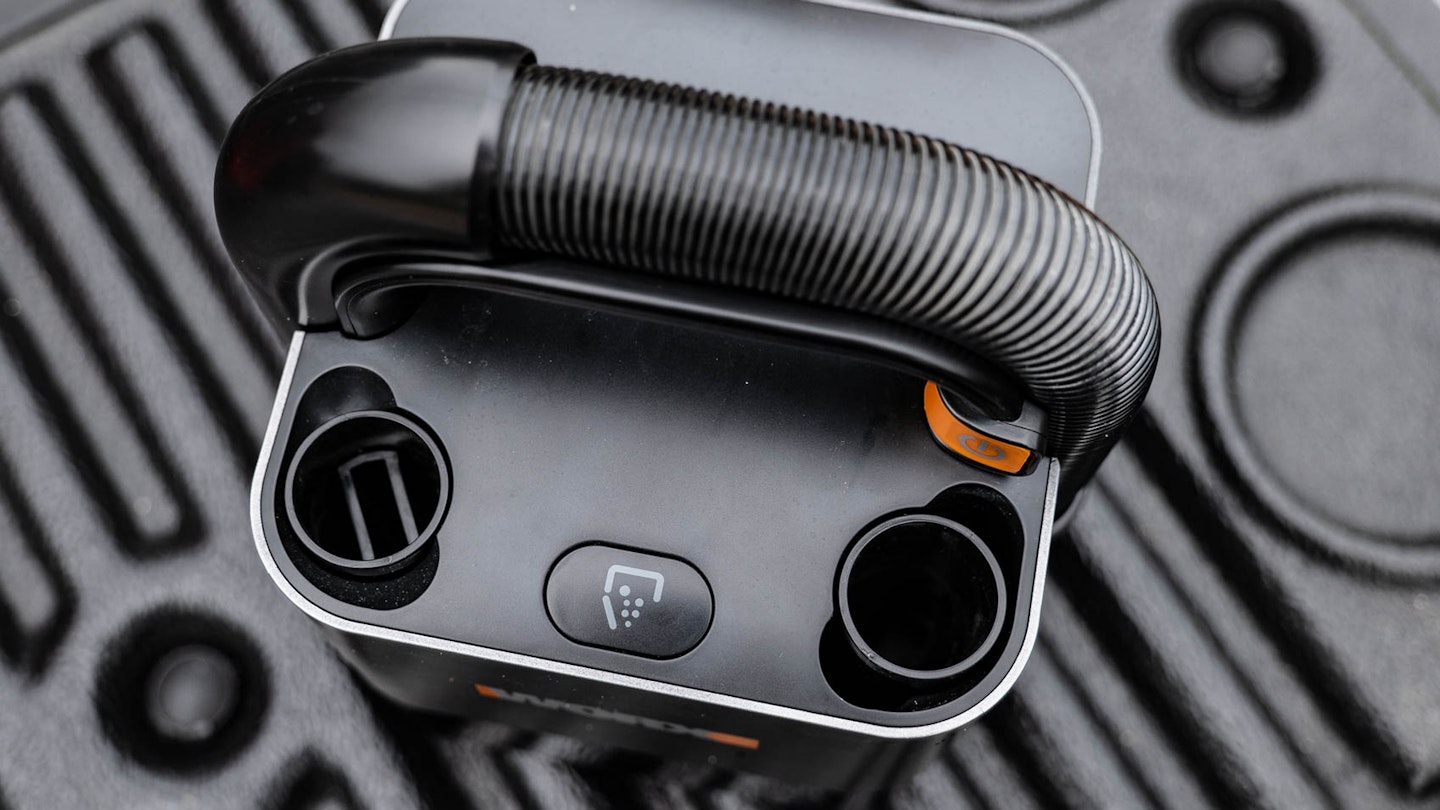 The controls are very simple. On the handle you'll find a power button - press once for low power, press again for high, and press again to turn it off.
Next to it there's a release for the dirt bin catch. Having it on the top of the machine is great because you can lower the Cubevac into the bin before you empty it, minimising the dust cloud you often get when disposing of the dirt from a bagless vacuum.
Inside the dust compartment you'll find the Cubevac's fairly rudimentary pre-motor filtration system - a mesh shroud over a pleated paper filter. They both twist out as one unit then separate for cleaning. There's no post-motor filter accessible to the user.
How did you test the Cubevac?
To put it simply, we cleaned a car. The Cubevac got a full and thorough test, vacuuming out nooks and crannies as well as dealing with fluff and grit from the floor mats.
We also tested how good the Cubevac's supplied attachments are on more stubborn dirt, or in more awkward areas such as down the side of seats or inside cupholders.
What's good about the Worx Cubevac?
Cordless vacuums always have an advantage when it comes to cleaning a car. You don't have to drag your mains-powered machine out into the driveway, or fumble with extension cords. That's especially advantageous if you have to street park, since you don't need to wait for a space outside your own house.
The Cubevac uses the same swappable battery packs as many of Worx's cordless power tools - it's part of the brand's Powershare system (like theWorx pressure washer we tested). The standard battery with this cleaner gives a 20-minute runtime - but you can buy just the body if you've already got a battery from a different product and want to save some cash. Conversely, you can stock up on batteries to extend the runtime further.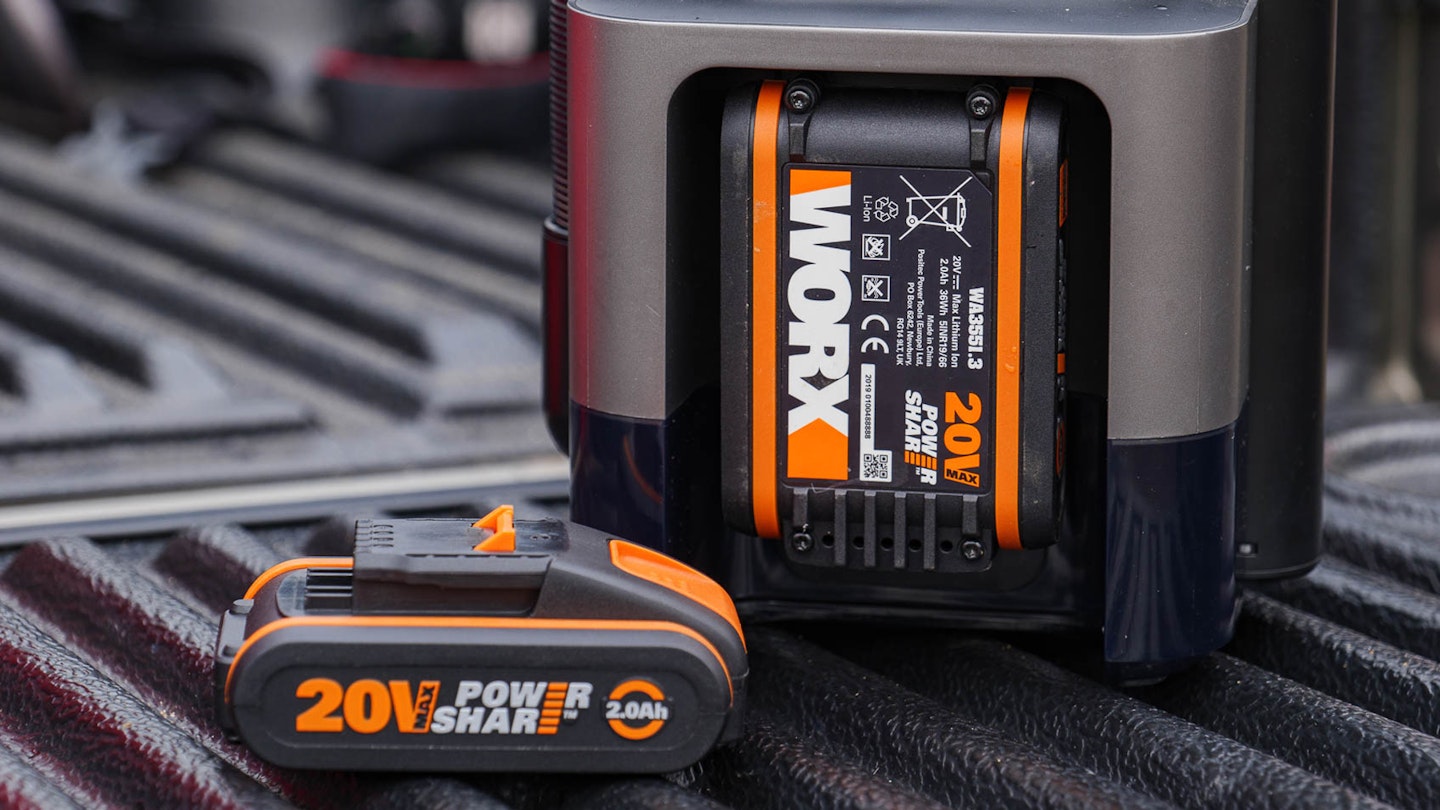 Not that we think you'll need it, as 20 minutes is more than enough to give even a fairly large car a good once-over. And if you're planning a real deep-clean, you'll probably be using a mains-powered machine.
The Cubevac's extendable hose is its most useful feature, making it so much more convenient to use than most handheld vacuums. You can leave the main unit on the floor or on a seat, and simply manoeuvre the handle and hose around - instead of having to hold up the whole motor and dustbin unit.
Another plus is the crevice tool, which extends out to a good length and has a flexible tip to curve into the smallest nooks and crannies. We found it ideal for getting errant crumbs out from in between the seat and the centre console. It's also great for sofa cushions in the home.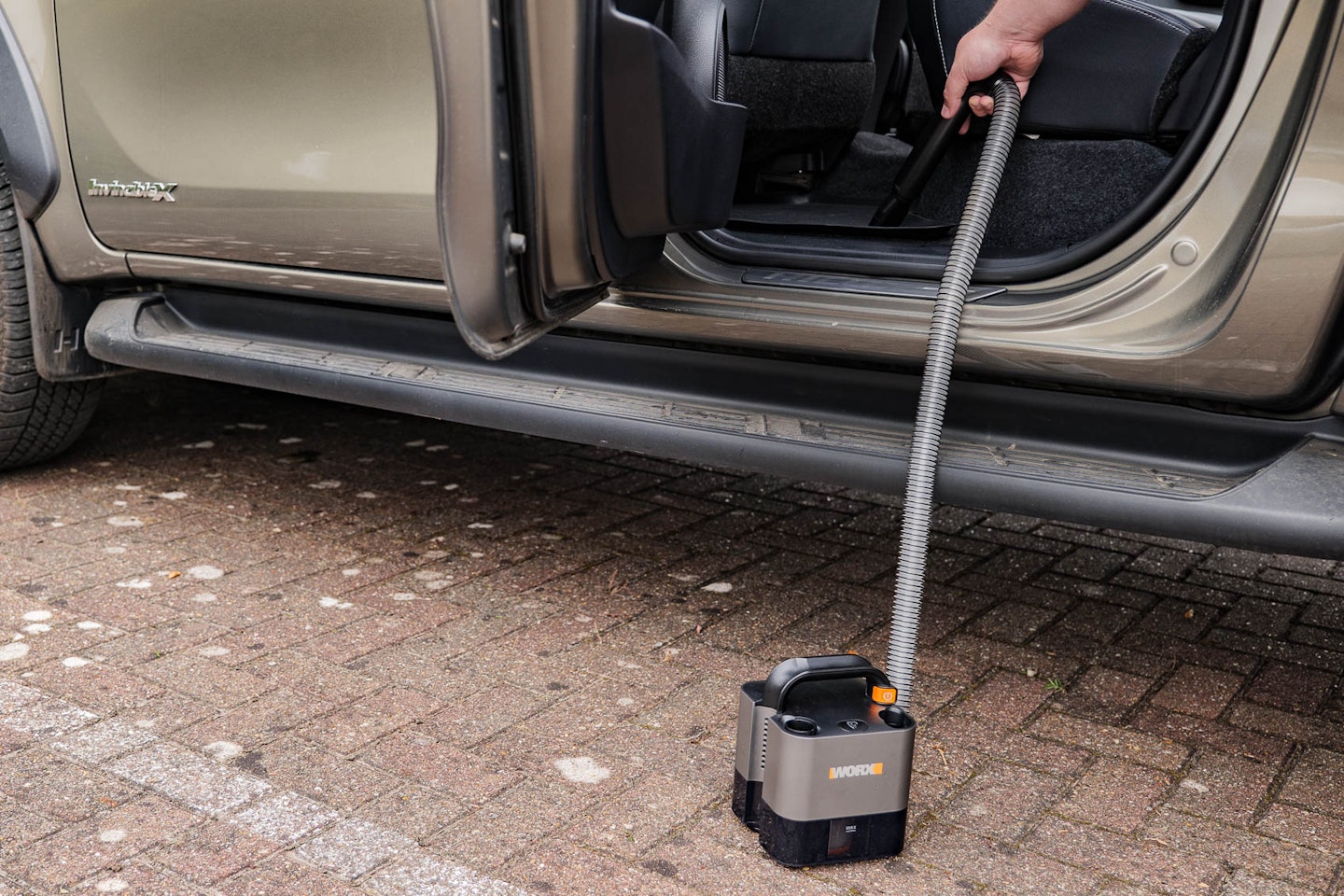 Build quality is also a pro. The Cubevac feels as though it'll handle some hard use, and it's very solid with a reassuring weight and a positive click to its controls.
What's bad about it?
This isn't a powerful cleaner, even on its 'High' mode. This was shown when we tried to extract sand from a car mat - we had to go over it several times to get the last bit out, where a more powerful cordless cleaner - or one with a spinning turbine tool - would extract it with ease.
The supplied all-purpose nozzle has a very small cleaning path, which means cleaning larger areas, like the boot floor, takes a lot longer than it should. And unlike some full-sized cordless vacuums, there's no option for a powered turbo tool, which means you'll need to manually agitate stubborn dirt like pet hair.
Emptying the Cubevac isn't as easy as we'd like, either, because the metal filter shroud tends to cling onto fibrous dirt, pet hair and fluff. That means that the dirt doesn't always fall out on its own - you'll need to put your hand into the dustbin to pull it out, which is messy. We resorted to using a mains-powered vacuum to simply suck out the muck.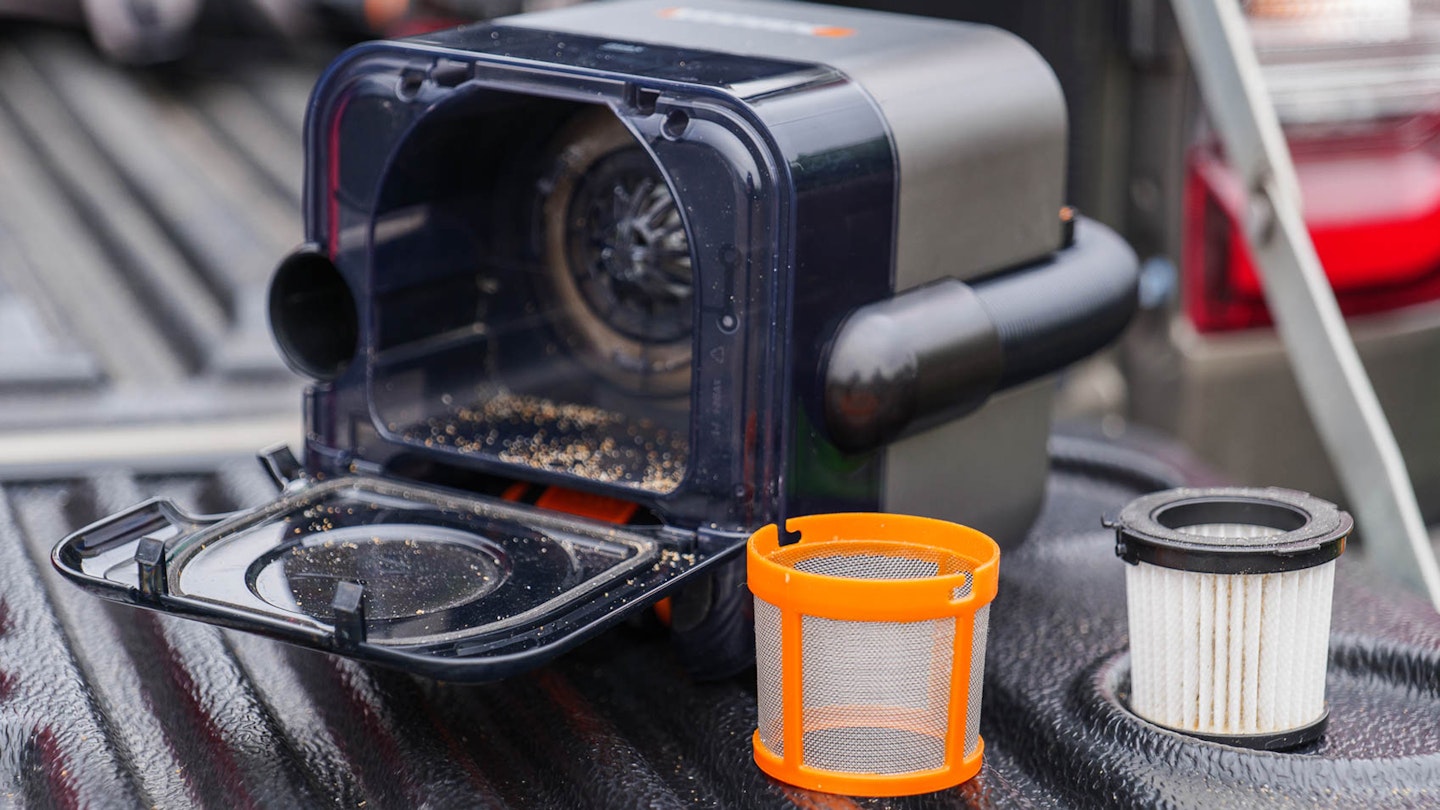 It's also necessary to clean the filter at least every couple of uses if you don't want to impact the already meagre suction, running it under a cold tap and letting dry for at least 24 hours. The lack of dirt separation holds the Cubevac back here, and so it can't claim 'no loss of suction' or anything similar.
Verdict
The Worx Cubevac is perfect for 'little and often' type cleaners. It's versatile, easy to use, and high-quality, so it feels like it'll last for a long time. Its compact size means it's great for tight spaces and small cars.
Having the tools store onboard is a masterstroke, as it's all too easy to lose the attachments for a cordless vacuum, while we really like having the stretch hose to make it easier to manoeuvre around the interior.
The basic filtration and lack of outright power means this isn't the vacuum for heavier car cleaning jobs. Most cheap cordless cleaners are the same, though - you'll need to shell out for a pricier, more sophisticated cordless cleaner or simply lug your mains-powered machine out to the kerb for that.
3/5
READ NEXT:
For verdicts, scoops, news and analysis from the team, delivered direct to your inbox, subscribe to the CAR newsletter.
You can enjoy CAR in its traditional print format****, or one of the swelling number of**** digital editions****, optimised for Apple iPhones, Android devices, iPads, tablets and desktop computers.