Who remembers the rouge clampers that prowled car parks in the early 2000s, praying on little old ladies whose Rover 25 had exceeded its Pay and Display time slot by 30 seconds? Effectively seizing cars with a wheel clamp and demanding exorbitant amounts of cash to release them.
That gave car clamps a bad reputation, even though they are a great deterrent against theft. If these rogue clampers were able to totally immobilise a car, then so can you to keep thieves at bay. Stick one of these over your wheels and there is almost no way a car thief will be going far with your ride without the aid of some serious (and loud) power tools.
We've looked at the best wheel clamps on the market currently, so you can leave your car safe in the knowledge it isn't going anywhere.
Best wheel clamps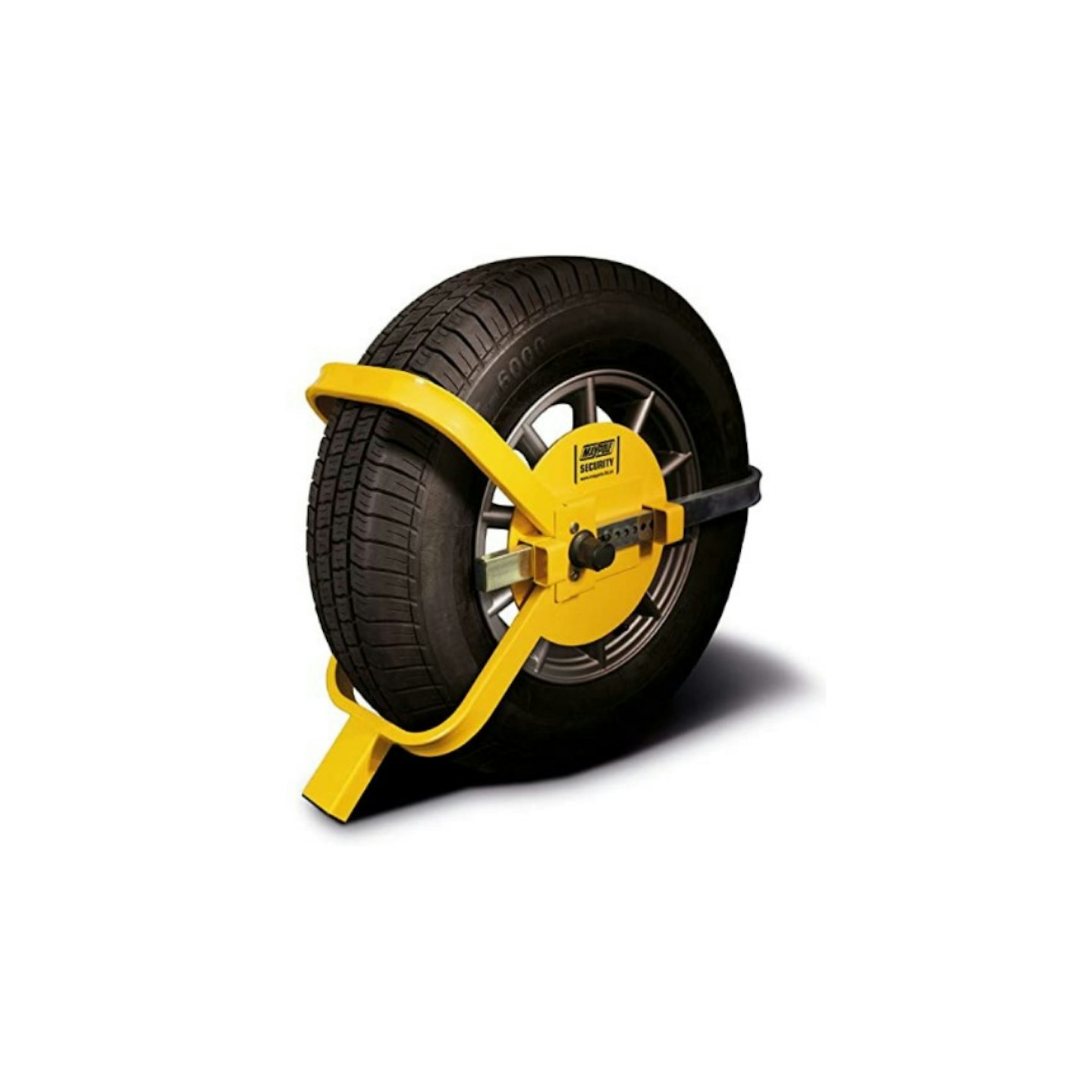 1 of 6
Maypole MP9065 Car Clamp
Suiting wheels up to 17", this offering from Maypole is a great way to secure your car. Designed for everyday use, this wheel clamp is manufactured to be corrosion-proof and has a rubber pad to prevent scratches on your car's wheel.**Pros:**Wheel nut protectionTamper-proof lockWeather-resistant Protects your wheel **Cons:**Not suitable for larger wheels (17"+)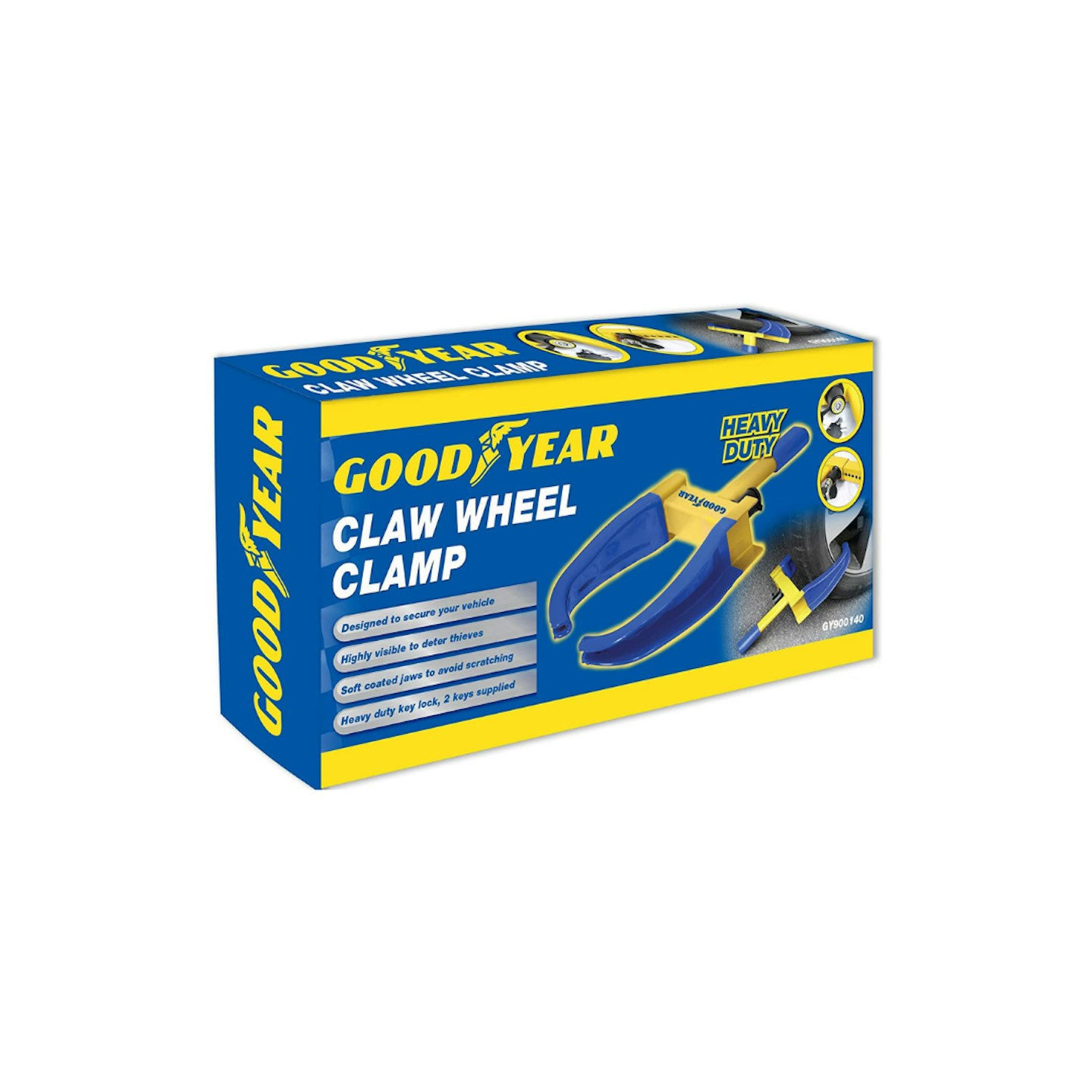 2 of 6
Goodyear Claw Wheel Clamp
A simple tyre claw clamp like this one is ideal for cars fitted with larger wheels as it doesn't cover the wheel nuts. Obviously, the lack of wheel nut protection doesn't make it as secure but in a world of ever-increasing wheel sizes, over-wheel clamps that fit are hard to find. Thankfully, this option from Goodyear should keep your car protected. **Pros:**Fits a wider variety of wheel sizesSoft-coated jaws prevents damage to the wheelsCan even be used on motorcycles **Cons:**No wheel nut protection Not the most obvious visual deterrent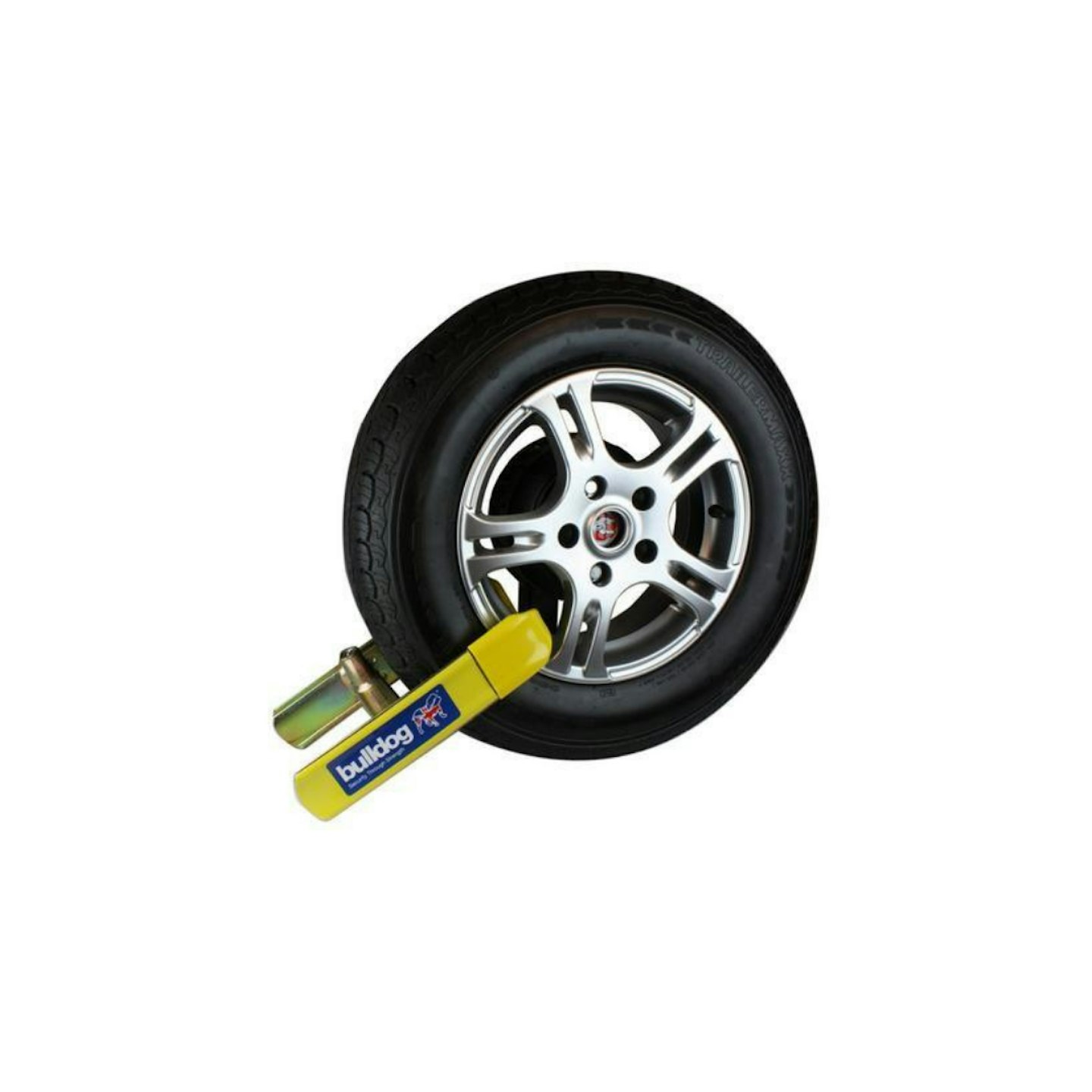 3 of 6
Bulldog Euroclamp Security Wheel Clamp
Speed is the biggest plus point with this clamp, it can be attached and secured in under 10 seconds. As it's only a tyre clamp, it may not offer as much protection as other clamps, but it's brilliant for light use. **Pros:**Easy to attachLightweight option **Cons:**Designed for caravans, motorhomes and trailers No wheel nut protection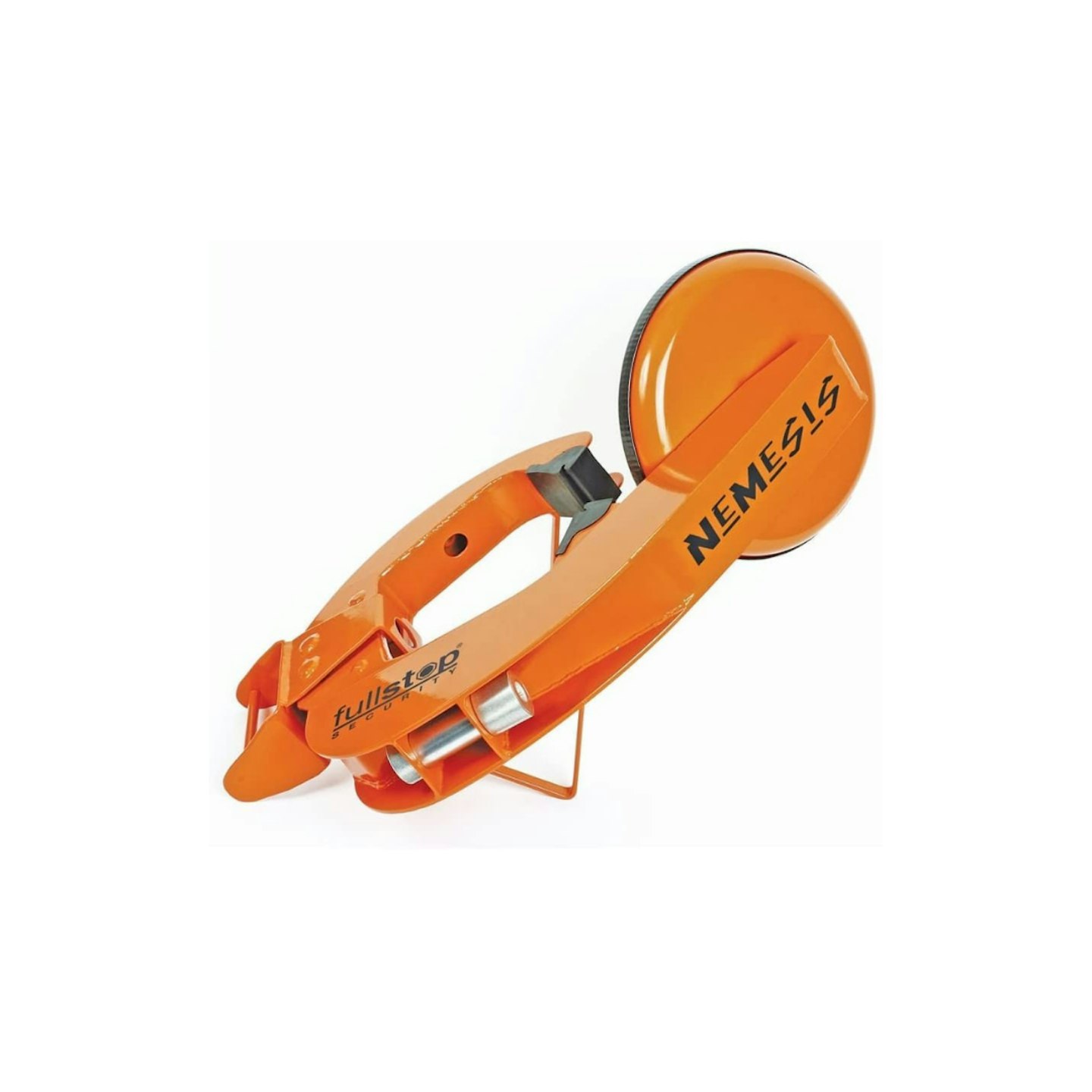 4 of 6
Nemesis Wheel Clamp
For total peace of mind, you can't go wrong with a Nemesis wheel clamp (just the name should scare some off). Anyone who wants to give it a go will be met with a sturdy tyre claw and full wheel nut coverage. A rubberised finish will protect your wheels from scratches, too. **Pros:Ultimate protection including wheel nuts Protects wheels from scratchesCool nameCons:**Designed for caravansExpensive option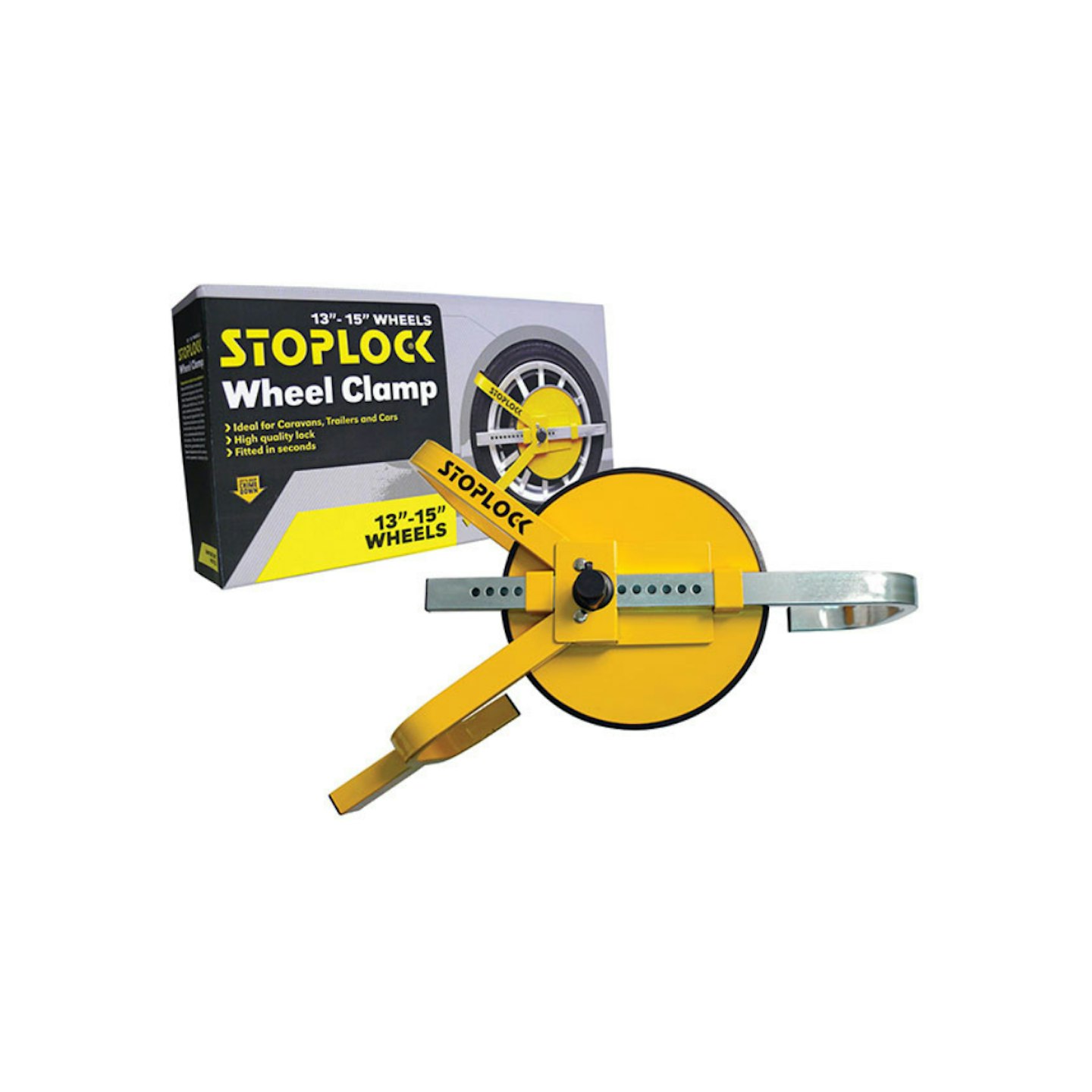 5 of 6
Stoplock Wheel Clamp
This wheel clamp may not be the beefiest, but it will still offer excellent protection to your car, caravan or trailer. The smaller size of this clamp makes it easier to fit, perfect if your vehicle is in regular use (a heavier one would just become irritating). **Pros:Offers wheel nut protectionGood value optionTwo keys suppliedCons:**Only suitable for up to 15" wheels, not ideal for an Audi SQ8, then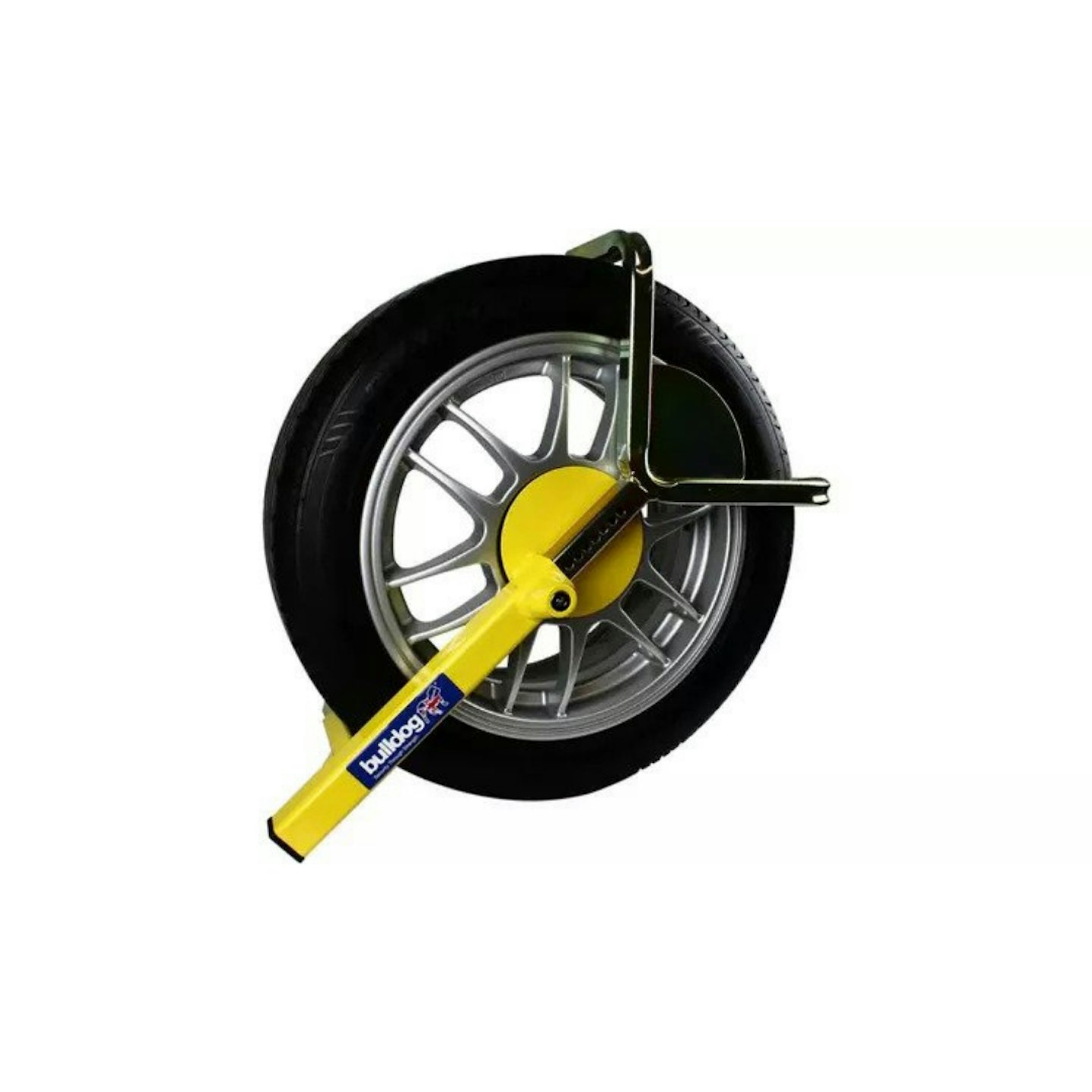 6 of 6
Bulldog Wheel Clamp
Designed to cover wheels from 18" up to 25", this wheel clamp from Bulldog is well suited to more modern and high-end cars. It immobilises the car, while also protecting the wheel nuts. This clamp also comes with Sold Secure approval, meaning it's gone through independent testing to prove it's a tough clamp. **Pros:**Wheel nut protection Fits larger wheelsSold Secure approval ConsPricy option
What you need to know about wheel clamps:
What are the different types of wheel clamp?
Most car-based wheel clamps will clamp to the tyre to effectively prevent the car from moving, these are known as tyre clamps. Some caravan clamps bolt directly to the axle, but these aren't ever found on cars.
Ideally, you'll be wanting a clamp that also covers your wheel nuts, but this isn't essential. It will, however, give you better peace of mind (it makes it harder for a would-be thief to remove the clamped wheel and steal your car - ridiculous I know, but never underestimate someone's determination).
What features will you want from a good wheel clamp?
Aside from the wheel nut protection, you'll be wanting rubber pads or soft jaws on your clamp to avoid ugly scratches all over your wheels.
Weather-protection is a must if you're leaving your car outside.
The ultimate feature is Sold Secure approval, independent testing to prove that the wheel clamp is as safe as possible.
READ NEXT: