Like most car enthusiasts, I spend an unhealthy amount of time building my dream car garage. Swapping one car for another, changing model variants and continuously scribbling down the worrying amount of money it'd cost to buy them. I'd give my top ten right here, but it'd be outdated in 10 minutes' time.
And while I've accepted I'll probably never have the cash for a Facel Vega, BMW M3 CSL or Citroen SM, it's always nice to dream. I think that's why Hot Wheels has a hold on most petrolheads, the range of cars available, easy storage and affordable prices means that a dream garage can be assembled in miniature for under a tenner.
So that's what we've done
We've gathered six totally random Hot Wheels, the perfect way of showing the variety of models available and showcasing how Hot Wheels is now catering to the more serious collector. Up first are the two McLarens, a classic F1 and the new Speedtail. There's also a rather nice Audi R8 Spyder, the brick-like Mercedes 500E, drift-ready Toyota AE86 and finally, a Land Rover Defender 110. So get ready for the oddest car group test in CAR's illustrious history.
Run-of-the-Twin-Mill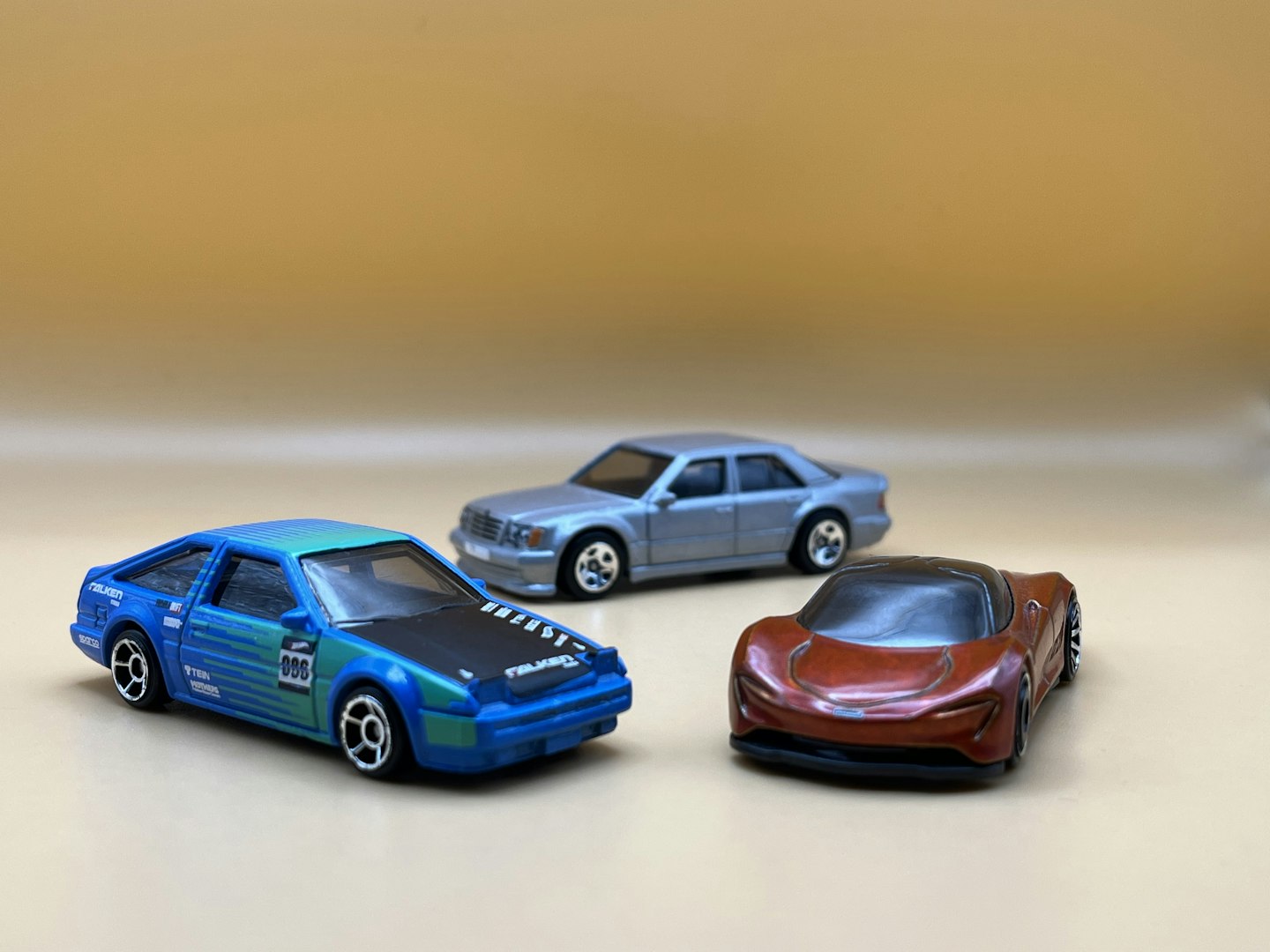 First out the box is the McLaren Speedtail, a homage to the iconic F1 and an ultra-exclusive hypercar, complete her in 1:64 scale and finished in Volcanic Orange. As part of Hot Wheel's Mainline series, the Speedtail is the most basic Hot Wheels model you can get your hands on, as well as the cheapest. Despite this however the quality is solid for a toy, right down to the front wheel aero covers and expertly detailed roof.
Here lies the issue with the Mainline Hot Wheels, the cheap price and accurate design features will have you wanting more and more models, it becomes nearly addictive.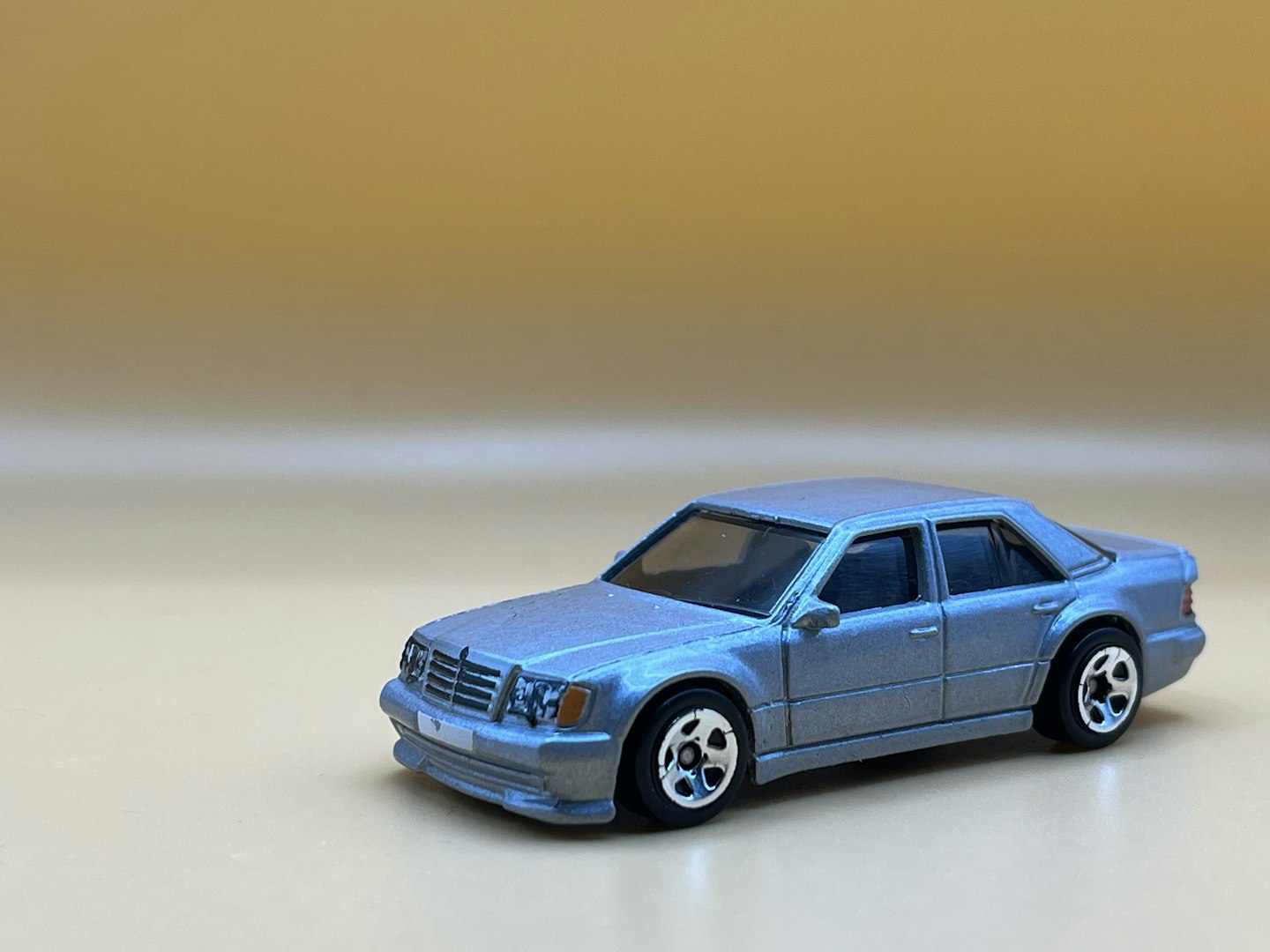 Take the 1:64 Mercedes 500E, a super saloon that is actually fairly easy to overlook when you consider this was the era of the dominating Lotus Carlton. But take a look at those plumped wheel arches, subtle rear spoiler and tiny 500E badging. This may be part of Hot Wheels Mainline models, but the details are all there, right down to modelled headlight wipers. It may lack the 5.0-litre V8 of the real thing and be assembled in Malaysia as opposed to by Porsche, but if you hand this to any petrolhead their imagination will be able to fill in the blanks, even if they just sit and look at it. It's given me a new-found appreciation of the 500E and the overwhelming desire to drive one, a common feeling with Hot Wheels models.
What about the Premium models?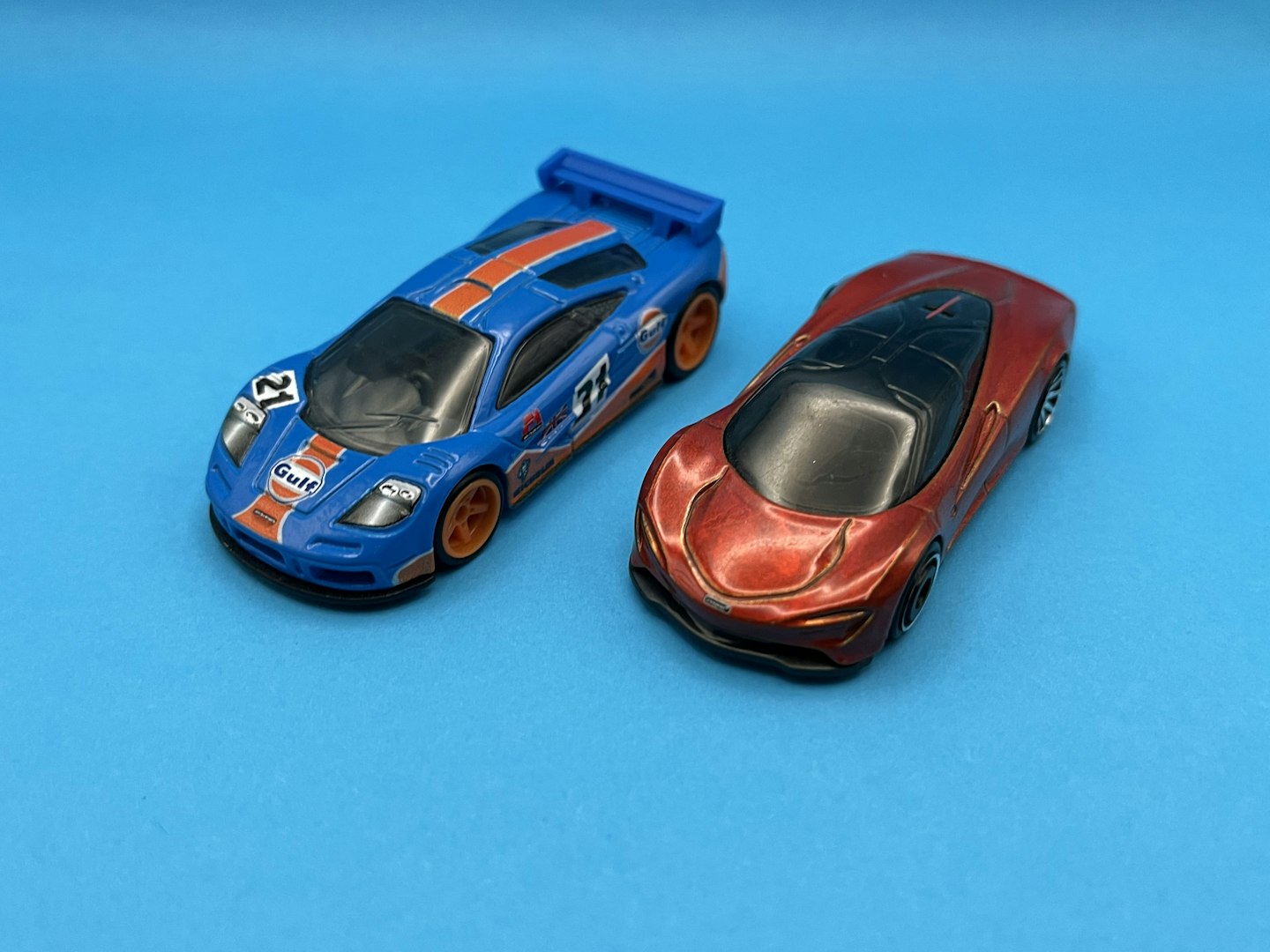 You may have noticed the McLaren F1 looks a bit different to the Speedtail, a little sharper in appearance it'd be fair to say. This is because the F1 is part of the Hot Wheels Premium collection, a series aimed at the more serious diecast collector.
There are a couple of key differences between the Premium Hot Wheels models and the Mainline examples. For a start, it's heavier thanks in part to a metal chassis, but the real differences are in its overall attention to detail. The wheels are properly modelled, complete with rubber tyres, while the Gulf livery is more delicately applied. If anything, the model is such good quality that it installs a sense of guilt every time you play with it, fearful of scratching it. Thankfully it's easy to ignore that guilt and treat it like any other Hot Wheels after a while.
The biggest change is the swap from plastic wheels to proper rubber tyres and properly formed wheels. While this means the cars don't roll as long as Mainline Hot Wheels, they're more planted which is a curse for playing but a blessing for displaying the car, safe in the knowledge it won't roll away at the smallest provocation.
The Premium Land Rover Defender 110 is equally impressive and features the same attention to detail. It too features a full metal chassis, complete with modelled differentials, transfer case and even rear mud flaps. The old Defender was never exactly a complex piece of styling but Hot Wheels get it bang on, even modelling the rear rivets and fuel filler port correctly. It too comes with proper rubber tyres complete with a knobbly tread.
Which type is right for me?
This simply depends on whether you prefer quality or quantity. The Mainline has a greater variety of cars, more than decent designs and is cheap enough to not sweat giving them the odd scrape or two. They're perfect for children and adults alike and fun. If you're not worried about the smallest of details there really is nothing wrong with the Mainline models.
What's the point of this?
It's easy to dismiss this entire article as taking a bunch of toys too seriously, but that would be to miss the point. Without wanting to sound all pious and pretentious, it's fair to say that diecast toys like Hot Wheels have done more to democratise cars and performance more than any blue-collar sports car. I've never owned a Mazda MX-5 or VW Golf GTI, but I've owned dozens of Hot Wheels over the years, most petrolheads will have. And while the case can be made for video games like Forza Horizon and Gran Turismo surpassing toy cars as the foundation block for car appreciation, they lack the same emotional response as holding a toy car and don't offer the same limitless playground of imaginative play.
All I need now is for Hot Wheels to start offering a Citroen SM and I'll be happy for the rest of time.
Ryan Gilmore is the Deputy Autos and Tools Editor for CAR, specialising in car cleaning and hand tools. With an MA in Automotive Journalism, when he's not testing buckets he can be found looking at old Porsches.
For verdicts, scoops, news and analysis from the team, delivered direct to your inbox, subscribe to the CAR newsletter.
You can enjoy CAR in its traditional print format, or one of the swelling number of digital editions, optimised for Apple iPhones, Android devices, iPads, tablets and desktop computers.