The F1 2021 season has been a close one, and part of it is down to new, last-minute stop-gap regulations introduced by the FIA. In order to improve safety, efficiency and the overall spectacle, F1 cars this year are essentially adapted racers from 2020, with cuts to the floor and diffuser designed to slash downforce. And why are we talking about this? Because the 2021 version of F1 also feels like a slightly cut-down version of what came before.
Before you even dive into the game, it's evident from the trailers and the gameplay clips. Shadows might be darker, there may be a touch more detail – and all the cars, teams and tracks are updated for the 2021 season – but it looks very familiar, even on PC. That's because F1 2021 is the seventh game to use Codemasters' Ego engine.
Also read: The Best Racing Games
Pick a Red Bull, Silverstone and you'll hardly feel the difference between this game and the last. The driving feels very similar to the previous game. It's possible there's less downforce than before, but the braking and traction (as well as the feeling when you lose grip) gives us déjà vu. It's the same whether you're using a controller or a Fanatec steering wheel.
Description
Also available on PS4, Xbox and PC
As for the single races? Decide to share the track with 19 AI opponents and you'll see them making all the same mistakes as they did in F1 97. Robotic competitors will almost always concede the corner – whether they're on the inside or outside of it – and they'll all telegraph their moves with a mechanical jink beforehand.
The AI's shortcomings are particularly noticeable after watching the real Silverstone race: where Hamilton and Verstappen weaved around like boxers, defended, and set themselves up for overtakes, your opponents in F1 2021 form an orderly queue and almost indicate before passing.
What is different, however, is the way you need to treat the kerbs. In F1 2021, they are not your friends. Thanks to the reduced downforce (or perhaps marshals putting butter on them overnight) all kerbs in the game can cause race-ending skids. And it doesn't matter if you're flying through at high speed or tiptoeing over them slowly, they can cause disaster.
Still, all the updated cars, tracks and drivers are here at least; but somewhere along the way, we've lost the classic cars that appeared in F1 2020. Legendary cars were, without doubt, one of the best things about the previous F1 games.
A huge bonus for longtime fans and something of an education resource for newcomers, they allowed you to go back-to-back between legends of the sport, and essentially feel and hear how F1 has evolved. It's a huge loss.
So, what do we get instead?
Since the release of F1 2020, Codemasters has been acquired by EA games and we can't help but notice similarities between F1 and FIFA in 2021. Partly due to the lack of extra functions or content, the F1 2021 has had a hard focus on a new story mode called Braking Point.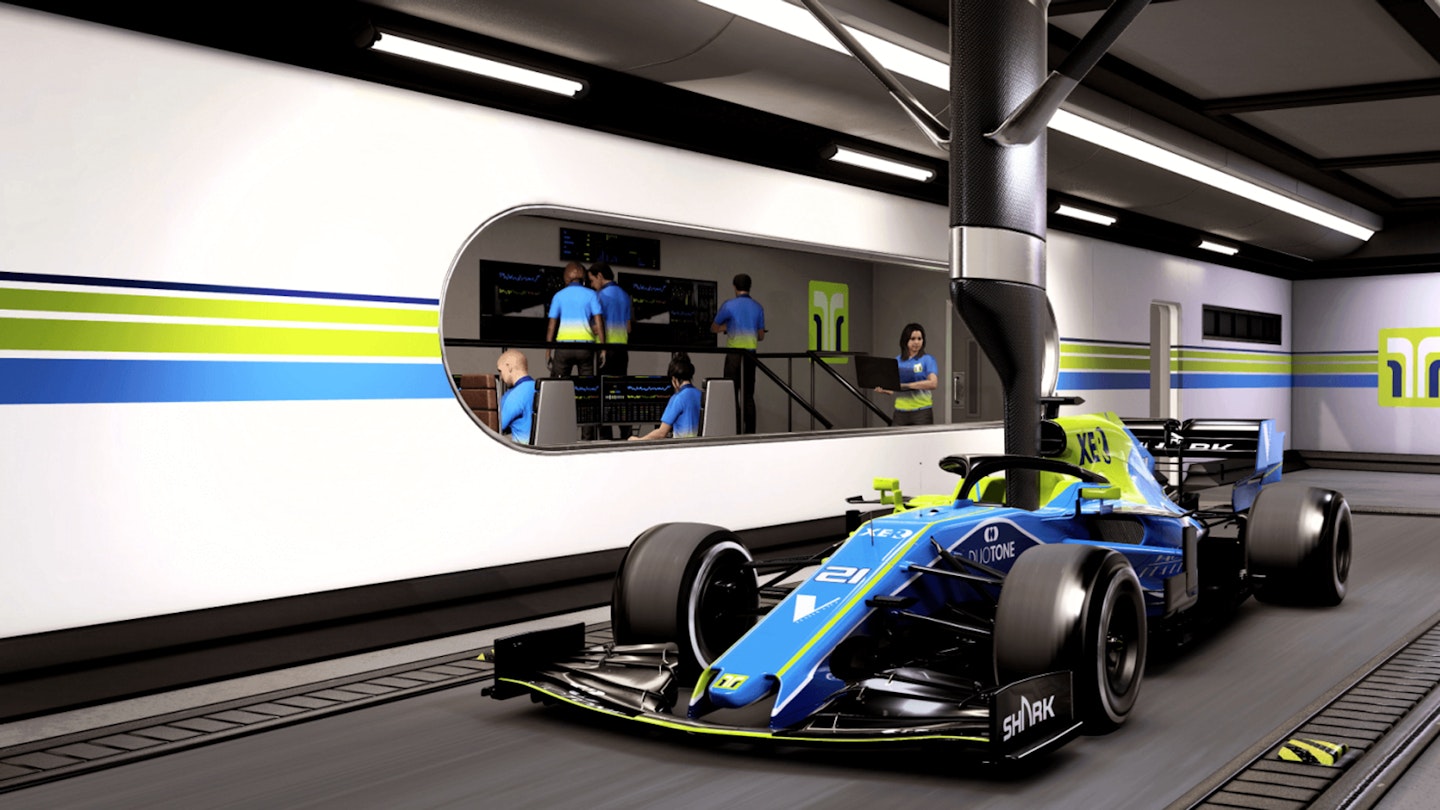 It's not something we've played a great deal of, but it's clearly something both EA and Codemasters hope will persuade people into buying F1 2021. You'll also find yourself randomly gaining XP every so often, but where it's supposed to go and why you should be bothered is less obvious.
The rivals time trial mode (where the game shows you the next fastest person's lap, and even gives you a ghost of it) remains, which is a good thing.
Verdict
The F1 2021 season and its regulations are a stop-gap before we see some huge changes in 2022, and we're hoping the same can be said for Codemasters' F1 franchise. While handling and physics should feel similar due to the nature of this year's cars, the new, weird kerb mechanics and the loss of classics cars are a step backwards.
Description
Also available on PS4, Xbox and PC
At the time of writing, we've not tried the games' Braking Point mode and despite what the marketing for this game suggests, we're not convinced it's the first thing people will flock to either.
Is it worth buying? Casual fans keen on the campaign, and those willing to get the best graphics possible will have already bought F1 2021 by now – but everyone else can probably make do with the previous game for now.
3.5/5
READ NEXT:
For verdicts, scoops, news and analysis from the team, delivered direct to your inbox, subscribe to the CAR newsletter****.