► Almost Lynn Hill levels of rock climbing ability
► Four wheel drive and waterproof
► Could, perhaps should, be faster
CAR's Rating: 4/5
Who doesn't like value for money? And who doesn't like mountain goats? Combined, it's something to get majorly excited about, like mini hotdogs.
As a participating member of CAR's RC rock crawler group test, the FTX Mauler put in a stellar performance, with only a couple of minor niggles. One was that the Mauler's motor sounded like a mating tortoise, the other was that it would benefit from some more punch. In that group test we discovered that the Mauler was good, but we didn't go too much into the why and that is what we want to do here.
The group test was the game, this is the post-match analysis. Or rather, this is the post-match analysis if such things were interesting. We have no screen animations or contractually obliged ex-sportspeople here, which is a good start.
I like the looks but I'm not superficial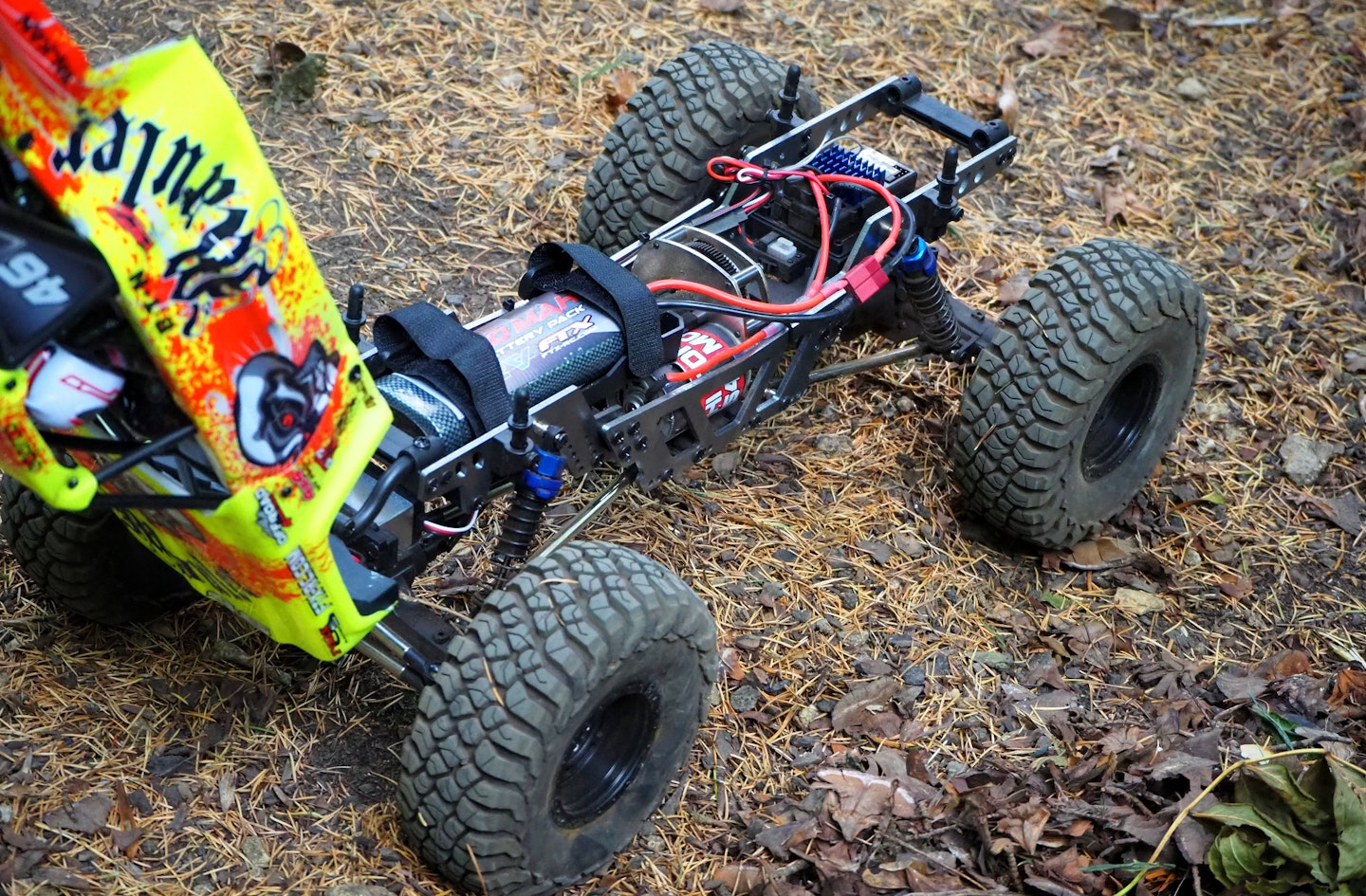 Naturally, you wish to know the intimate components that lie beneath the athletic figure. What is it that makes this machine tick?
Working upwards, the squishy all-terrain tyres are chunky 2.2-inches in size with memory foam inners. Crucially, they protrude at the Mauler's corners rather than behind bumpers. This means the Mauler can approach or depart any slope at any angle with headbutting it or scraping its bottom.
Imagine having your body's extremes – nose, ears, fingertips, toes, knees, etc – covered in protective padding. You'd have immeasurably more confidence to parkour, play rugby, and take part in all the extreme and contact sports you felt too exposed for previously. That's how the Mauler is set up, only it wears this protection better than we would.
The Mauler's chassis is a multi-piece frame, rather than two parallel rails. It's still metal and very strong but is adjustable. The motor is a brushed 540 20T unit (the culprit responsible for the tortoise moan), which I would describe as sufficient. It powers the Mauler along, backwards, up, and down, but given the rest of the machine is so capable, more power wouldn't go amiss.
All the other components are up to scratch. The electronic speed control (ESC) is waterproof, and so too is the steering servo. Four-wheel drive? Yes indeed. Suspension? Multilink and serious travel. Does it come with a battery and charger? Praise be, yes it does. The Mauler really does come prêt à rouler (I've been reading the side of the box printed in French).
Enough. What's it like to drive?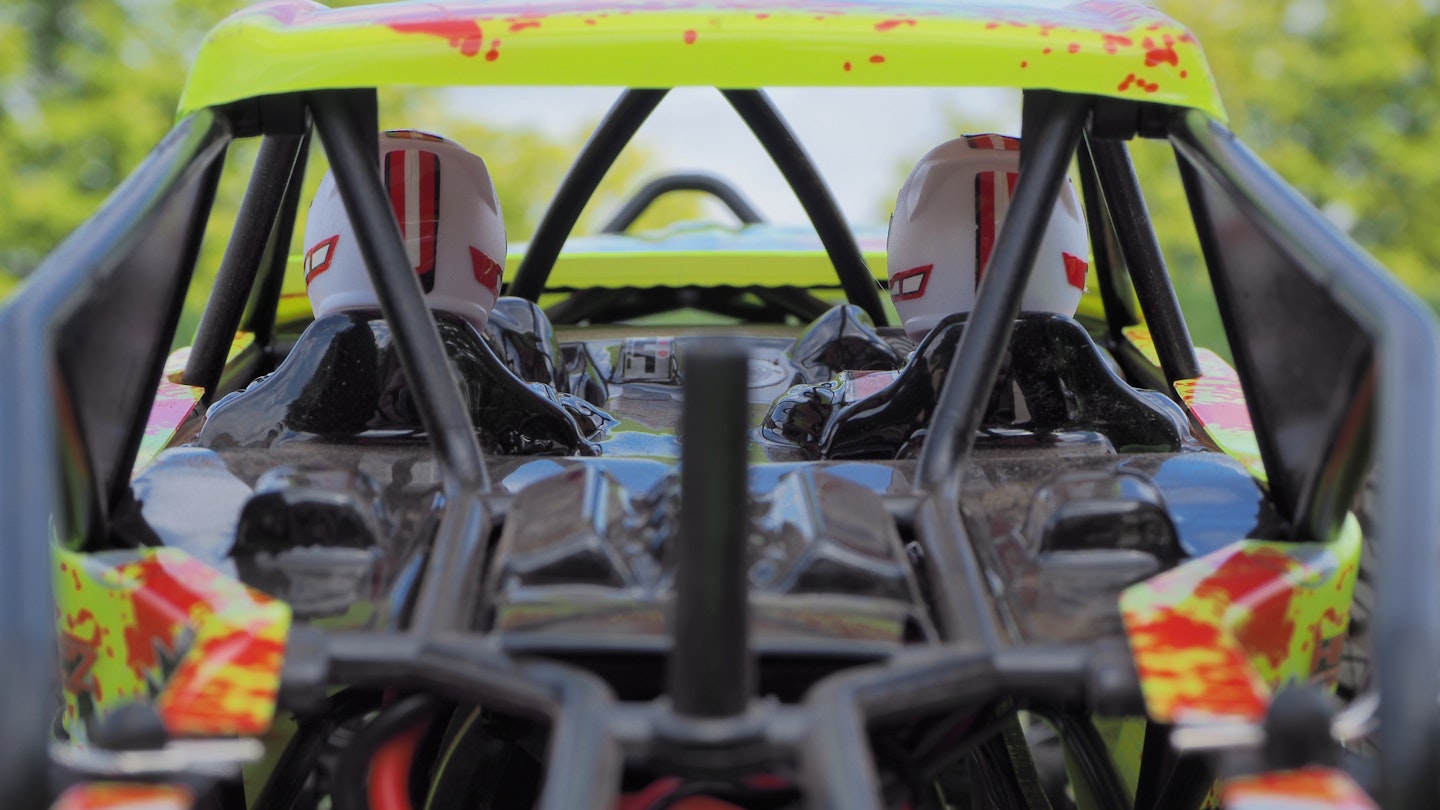 We can skip the questions surrounding infotainment ergonomics and interior quality and whether perhaps the driving position is a little off-centre. Indeed, the Mauler provides the novel opportunity to drive from the outside, or from several metres away. You can't do that in a Porsche 911. And if you do want an interior view, slap on an action cam.
Judging on appearances alone, the Mauler looks to offer extreme performance. It does but only in its comfort zone. You see, the Mauler is set up for rock climbing and fast downhill runs but you'll be disappointed should you try and undertake some drifting on loose pine needles.
As standard, the Mauler has too much grip and not enough power for that. It may seem strange that the Mauler struggles on the easy surfaces and excels on the tough stuff but that's good because it shows intent. A Jeep Wrangler is exactly the same: poor on the road, incredible up a mountain. The best machines are not beset by compromise.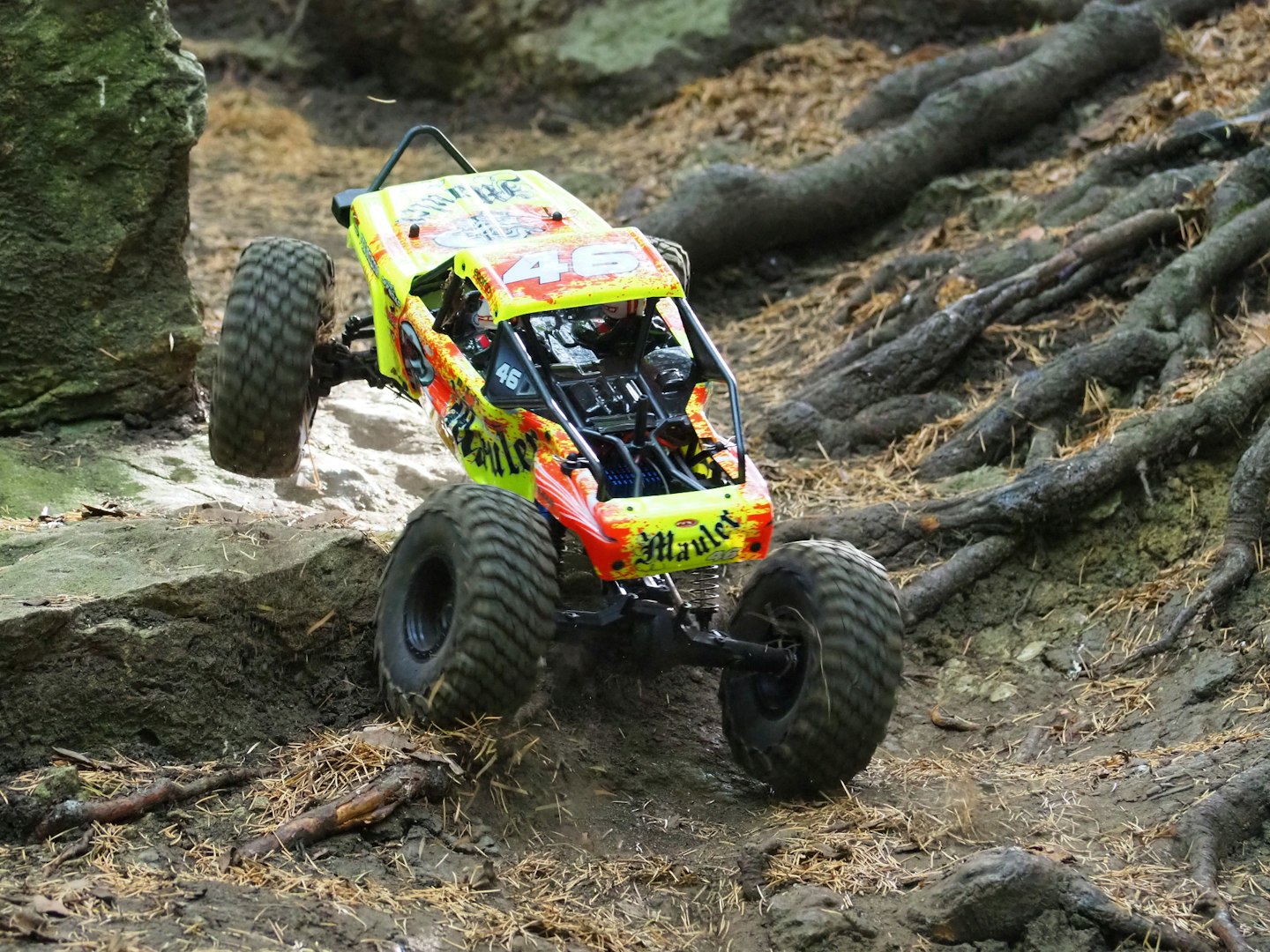 Centre of gravity plays a pivotal role in rock crawlers' climbing ability. It's simple: if the centre of gravity is too high, a rock crawler will topple too easily. We found this to be the case with the Jeep-style FTX Outback Fury during our group test. The Fury was fast and had ample grip but it was too wayward, which meant it fell over constantly like a running toddler.
By contrast, the Mauler was lower and fantastically stable. This meant it was happy to be flung at the rock faces and tree roots until the battery ran out. Overzealous driving caused a couple of rolls but if timed right, you could catch the Mauler as it somersaulted onto its wheels with a burst of throttle, allowing you to charge up the terrain in an immediate counterattack.
You know that entitled, whinging character that goes to cafes not for a coffee, but to complain about the coffee? The Mauler is the antithesis of that condition. The Mauler is happy to do whatever until it runs out of charge and never complains. There are times where extra power would be advantageous, though – it comes in handy with the Mauler's headlong style of climbing.
What about upgrades?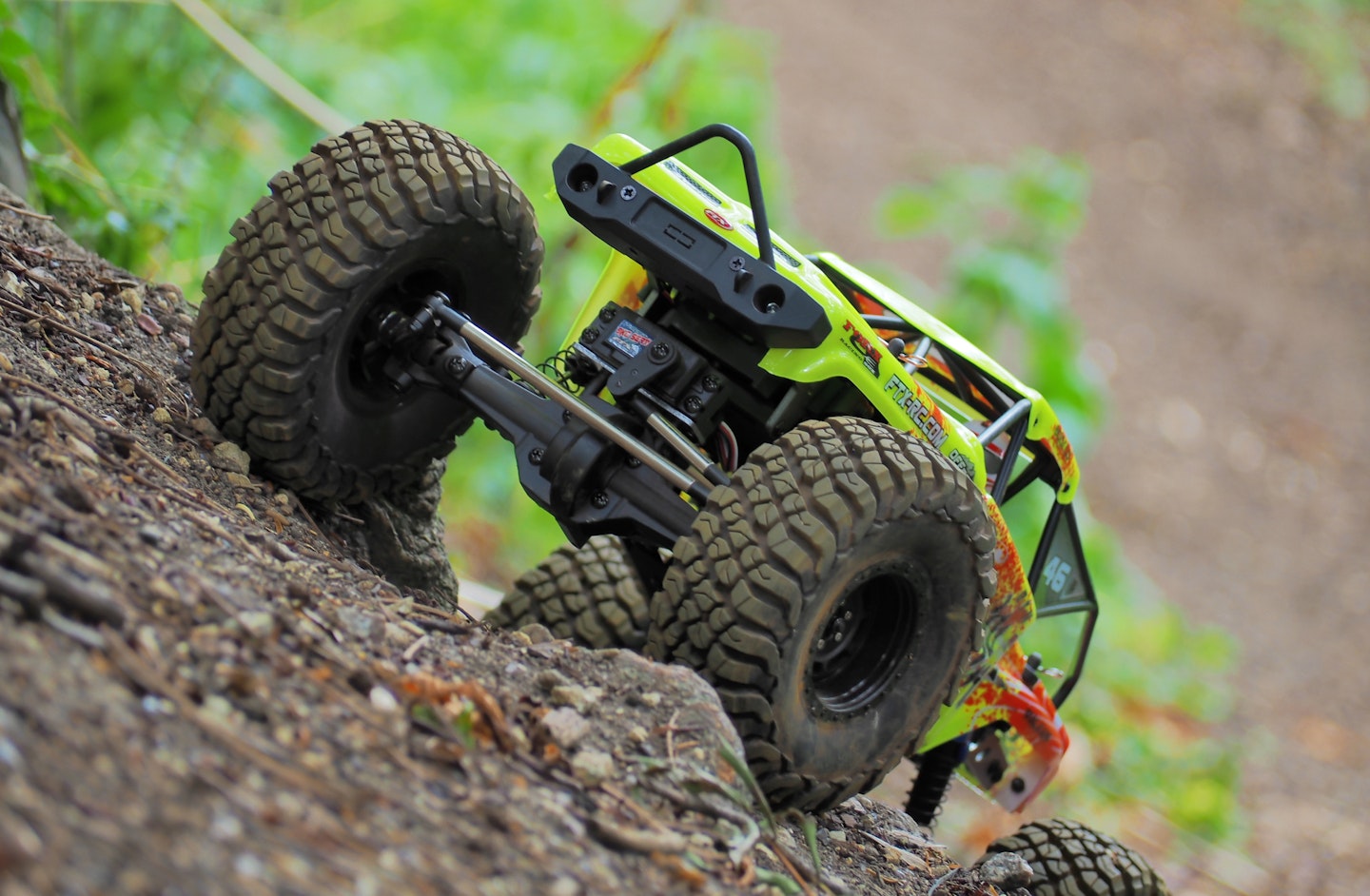 Many enthusiasts are more into modifying their rock crawlers than they are about driving them. Clearly there is something innately pleasurable in whipping out the precision screwdriver set and soldering iron.
You may be drawn to this or you may not. If you are not, the Mauler is great as it is. If you are, there could be basic things you wish to change such as the wheels and tyres, or more complicated procedures like changing the ESC or steering servo. There are certainly opportunities to make the Mauler even better but requires some research.
Verdict
The question was why is the Mauler such a good rock crawler? Its success primarily lies in its shape. Many rock crawlers are miniatures of actual vehicles, such as the Ford Bronco and Toyota Forerunner that appeared in our group test.
While they look tremendous, the scale bodies sacrifice some stability and climbing ability thanks to added height and body overhang. By contrast, the Mauler's centre of gravity sits lower and its wheels are in front of the bumpers, to the benefit of everything regarding tough terrain. And one can hardly argue it doesn't look good. If you don't like the way the Mauler looks that's your problem, not the Mauler's.
But quality components are crucial too, and the Mauler would not have been able to perform as well as it did against its more expensive rivals if it possessed rickety underpinnings and ailed electronics. There are pieces you may wish to upgrade but as a prêt à rouler rock crawler – especially given the value – it's rather wonderful.
| Specs | |
| --- | --- |
| Official price | £179.99 |
| Motor | Brushed 540 motor |
| Weight | 2.8kg |
| Dimensions (L/W/H) in mm | 480/280/210 |
Description
A larger capacity battery pack with the correct connector.
Read next:
FTX Outback Texan long term test: A trusty steed or my lovely horse?
For verdicts, scoops, news and analysis from the team, delivered direct to your inbox, subscribe to the CAR newsletter.
You can enjoy CAR in its traditional print format, or one of the swelling number of digital editions, optimised for Apple iPhones, Android devices, iPads, tablets and desktop computers.