To the uninformed, an R/C rock crawler is just a regular R/C car with some big wheels and suspension springs from a big biro, but this couldn't be further from the truth. Even the most basic modern rock crawlers are sophisticated products.
Take this FTX Outback Texan I'll be running for the next few months. It may look like a stubby Dodge Power Wagon with nothing more than some oversized tyres added, but in reality, it's far more complicated and advanced.
Take the suspension for example. Steel multi-link suspension at the front, a cantilever set up at the rear. Aluminium oil-filled shock absorbers all around and locked differentials are all incredibly impressive in a 1:10 scale model. Factor in the Etronix 15kg metal geared waterproof servo and 550 brushed 17 Turn motor and the Texan is shaping up to be an impressive rock crawler.
It's important to add that I'm a total novice when it comes to rock crawling and, as evident by my escapades with the FTX Fury, that I lack any form of mechanical sympathy when using a controller. I was therefore the ultimate test for any rock crawler. If I can master it without breaking it then it's surely the ultimate beginners rock crawler.
My rock crawling essentials
Update One: The muddy trails of Texas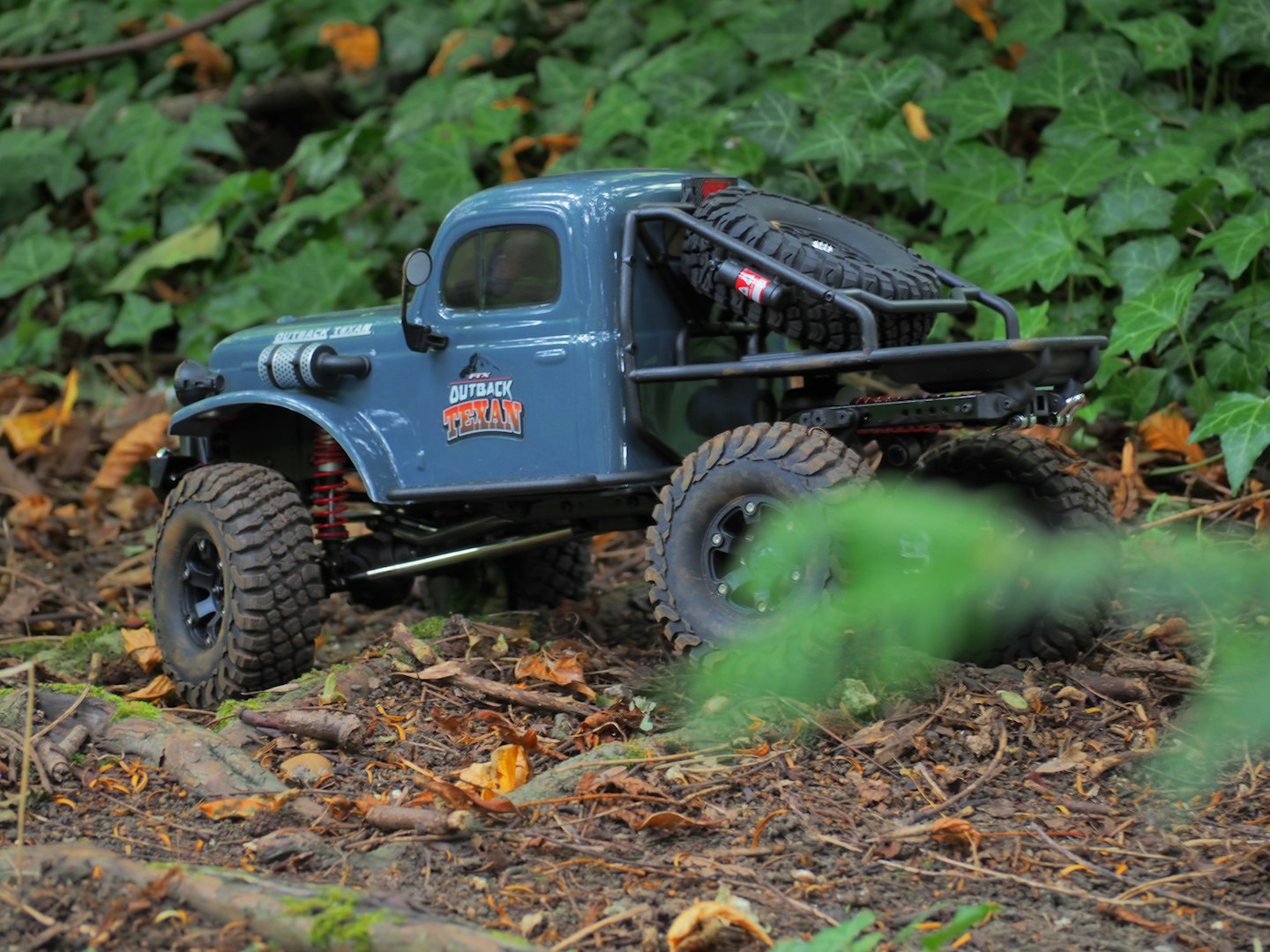 It was a real trial by fire for the Texan, introducing it to the roughest terrain the area surrounding the office could offer. Here there were plenty of rutted tracks, steep inclines, and loose terrain to test even the best rock crawlers to their limit.
Our in-house R/C expert Alan Taylor-Jones was immediately wary of the rear-mounted tyre, adding that it would raise the centre of gravity and make It unstable on the steepest of inclines. And I'll confess that you could feel that the centre of gravity was a touch higher than the other rock crawlers I tested. It would be unfair to conclude the Texan struggled (it came second in the group test), but it could always be improved upon.
The trips up steep hills also hammered home how much my control needed finessing. Time after time the Texan lost its footing and tumbled back down to land by my feet before dusting it off, rolling it onto its wheels, and setting it off again.
And for something that clattered down more slopes than the Minis from The Italian Job the Texan took the punishment remarkably well. Aside from a few scratches here and there and a missing headlight cage, there was nothing really to report damage wise.
My slightly spam-fingered driving style did lead to a much more annoying issue, however. Namely that the tyres came off the rim and then wouldn't go back on properly. The standard units are beadlocked and filled with memory foam but once they came off the rim, the excessive flex meant they needed replacing. Certainly, new wheels and tyres will be my first upgrade job, along with removing that spare wheel.
Read next:
For verdicts, scoops, news and analysis from the team, delivered direct to your inbox, subscribe to the CAR newsletter.
You can enjoy CAR in its traditional print format, or one of the swelling number of digital editions, optimised for Apple iPhones, Android devices, iPads, tablets and desktop computers.