Now look, there is something immensely satisfying in detail cleaning a car. Don't listen to anyone who tries to disparage you about your insatiable car cleaning habits. They're just jealous. Well maybe not, but you've found a friend in CAR because we understand the pleasure.
The main cleaning of a car is like showering yourself – it's pleasant and functional, but car detailing goes one step further and into the realm of therapy. Sweeping away the dust from your air vents is to clean your mind; with each stroke of the detailing brush, you also clear the chemical debris that accumulates inside of your head.
You come away from the experience feeling more zen - and with a fabulously clean car.
It might sound like we're off with the fairies and gone a bit Cheech and Chong, but the fact remains, there is a great use for car detailing brushes. As with practically any car cleaning accessory, the sheer volume of detailing and cleaning brushes is nuts.
What we've done here is give you a shortlist of the best car detailing brushes.
You're welcome.
Recommended detailing brushes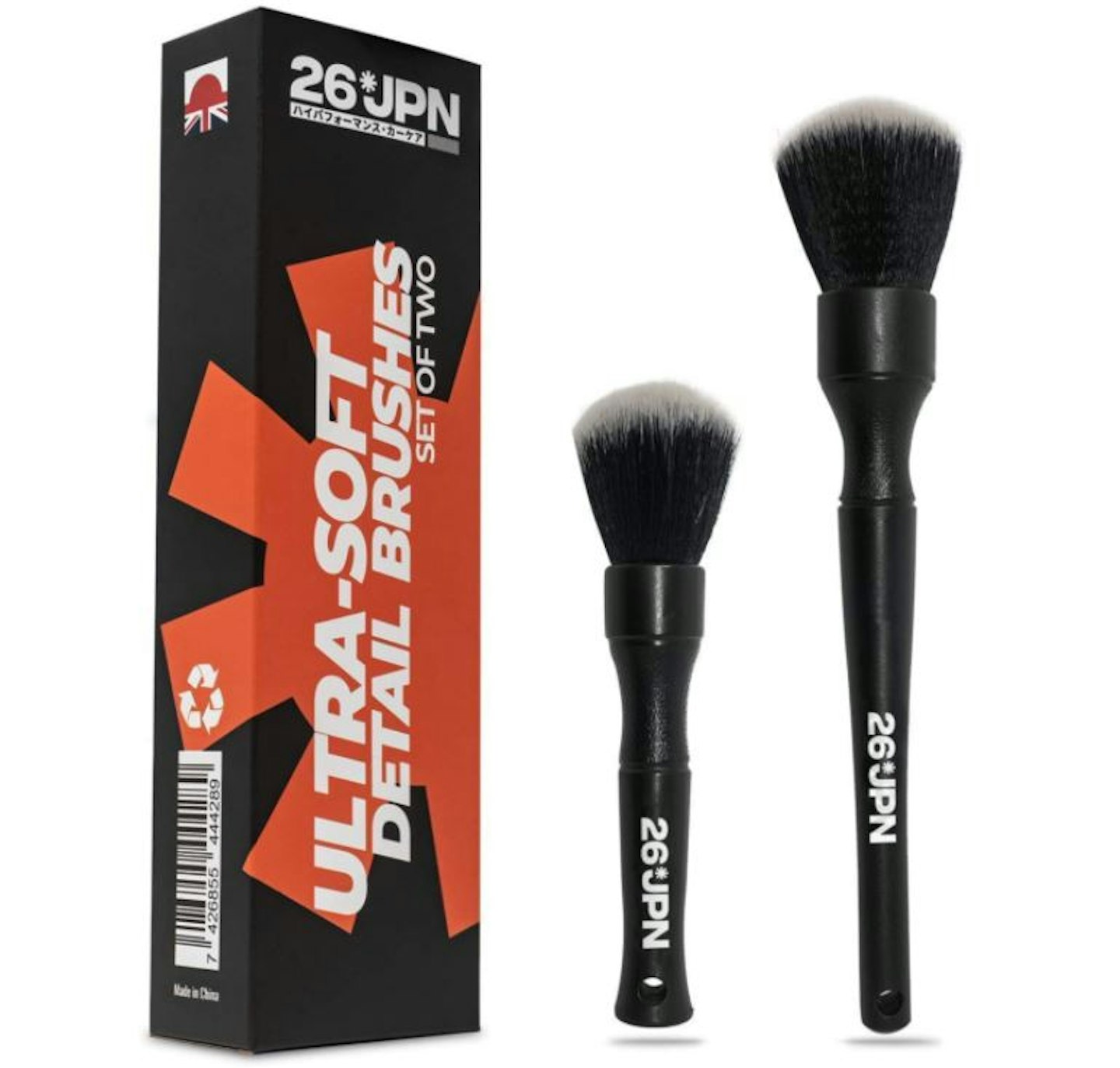 1 of 7
26JPN Ultra-Soft Detail Brushes
Top of our list is a product from a British company that uses a Japanese ethos and whose detailing brushes are made in China. There are a number of reasons why we rate 26JPN's detailing brushes, other than the multiculturalism. Firstly, the bristles are boar's hair and are wonderfully soft and don't scratch surfaces. Secondly, we like the slightly textured grip and the lack of any metal parts that could mark surfaces. If you want a pair of detailing brushes you can use on car interiors or exteriors, it's hard to past this quality pair. Great for yourself or as a gift.
2 of 7
Meguiar's Interior Detailing Brush
Specifically for detailing interior trim, this brush from Meguiar's has an adjustable slide-lock collar which allows you to touch up both shallow areas and deeper crevices, such as inside air vents. The bristles are synthetic but are brilliantly soft and durable. To really top it off, the handle is rubber-coated, which makes a remarkably big difference to comfort and ease of use over the smooth plastic handles.
3 of 7
Autoglym Wheel Brush
In the same way, the Meguiar's brush above is dedicated to interior trim, this Autoglym wheel brush is a wheel cleaning specialist. Generally speaking, specialists in anything aren't great pub hangs, but luckily, the Autoglym wheel brush can't talk. The handle feels great to hold, and the tapered bristles rid wheels of grime without a sweat. Autoglym claims that the bristles won't mushroom over time either.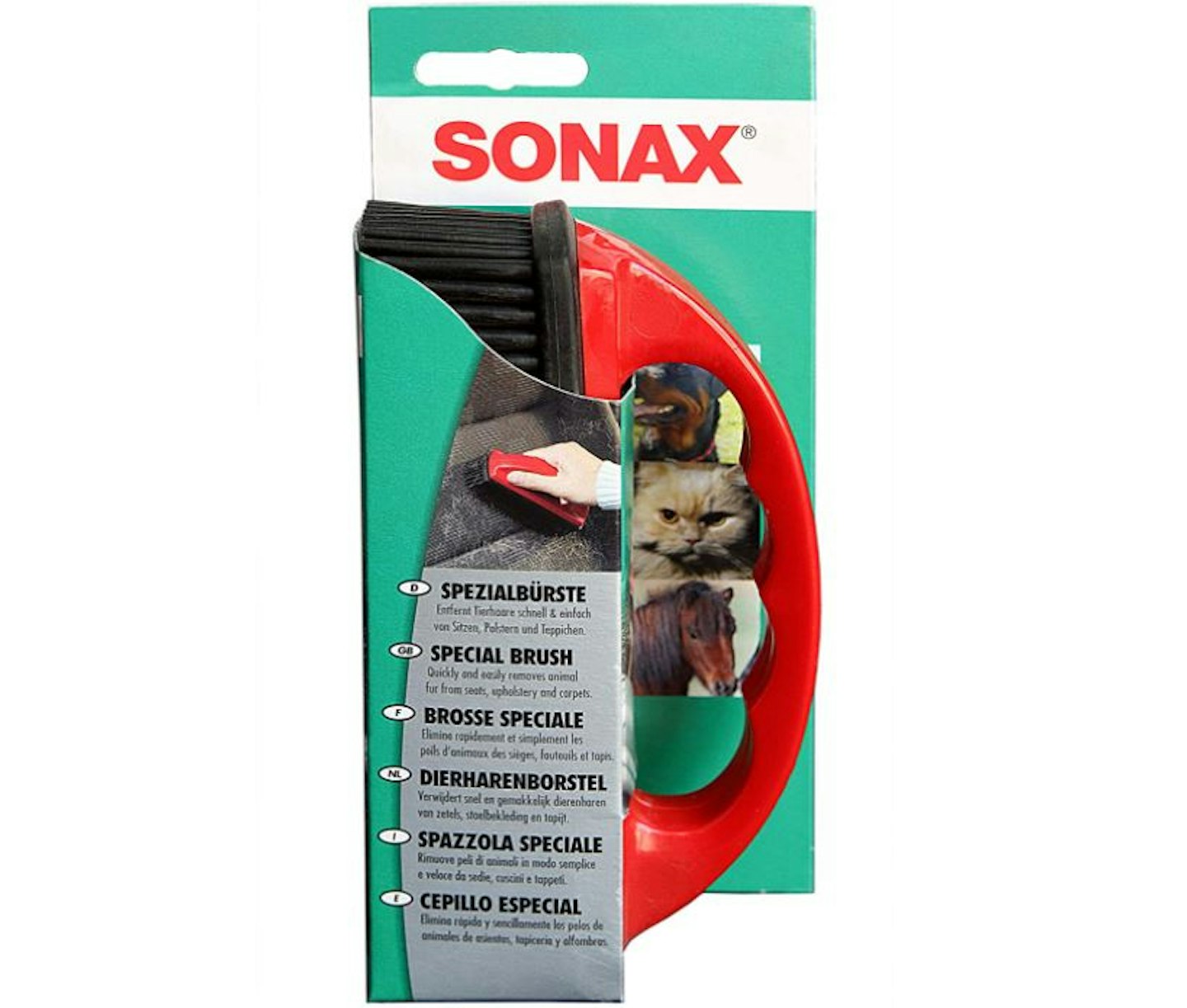 4 of 7
Sonax Fur and Hair Brush
We all know how hard removing pet sheddings are from carpets and textiles. Even vacuum cleaners with the suction power of quasars seem to struggle. The German-made Sonax brush comes to the rescue in this department. It has rubber bristles that collect pet fur from carpet and upholstery with ease. Terribly simple to clean too, just rinse it with water.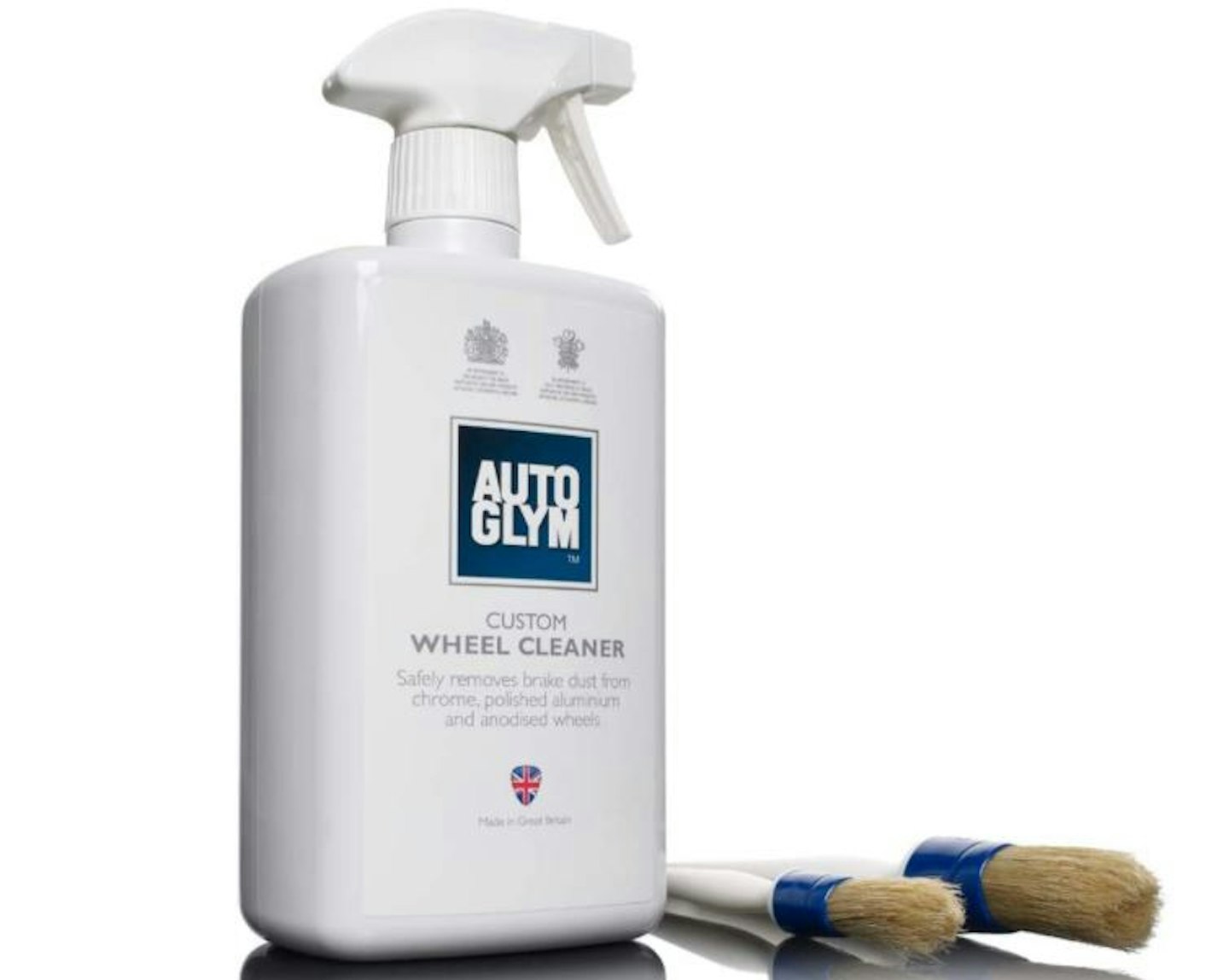 5 of 7
Autoglym Wheel Cleaner Kit
We finish with Autoglym's wheel cleaning kit. It includes a pair of detailing brushes and a wheel cleaner solution. As with all Autoglym's gear, it's a quality cleaning set that actually does the job. This set will suit those who enter their cars in competitions and the like. Or, those who need a full-on zen-cleaning therapy session.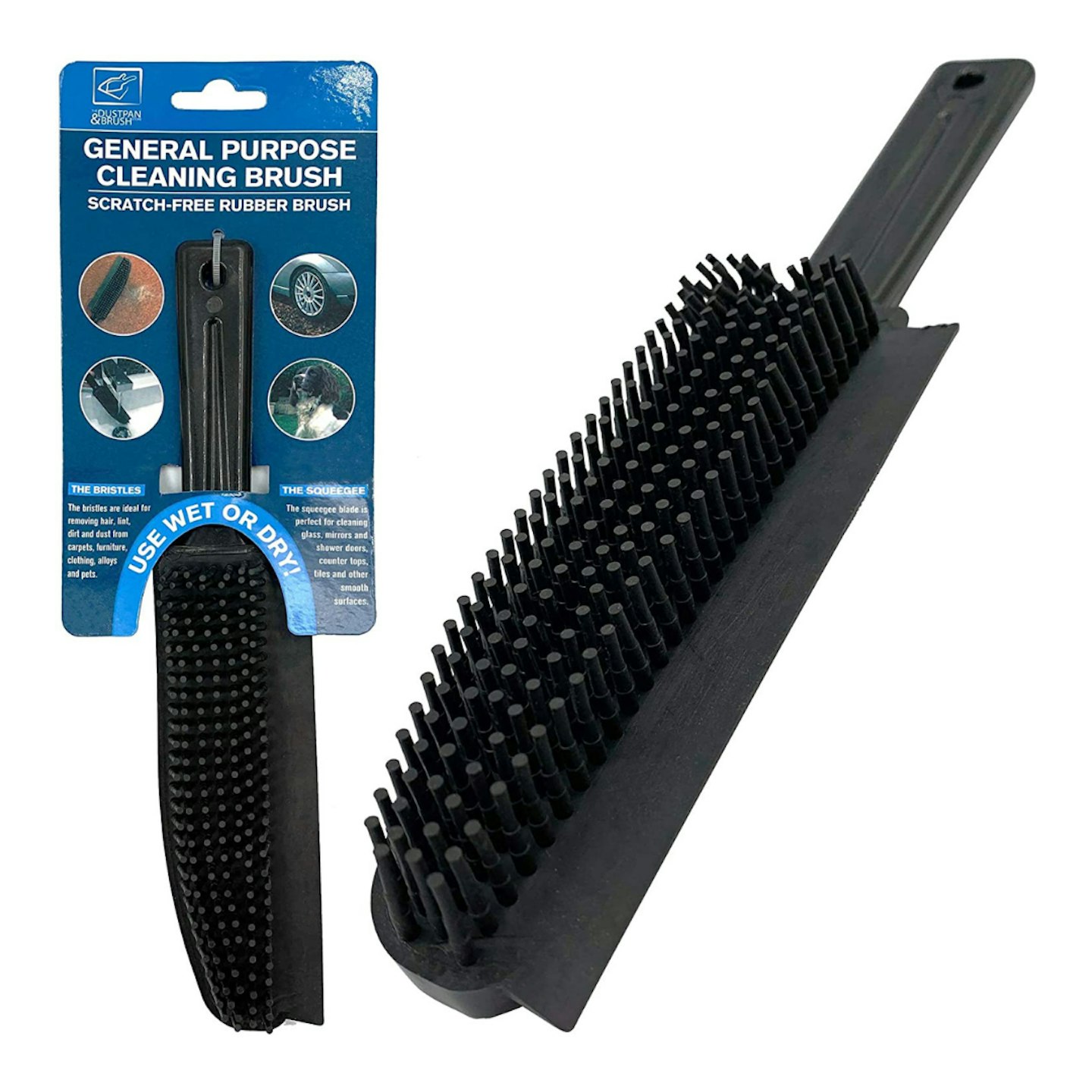 6 of 7
The Dustpan and Brush Store 2 In 1 Rubber Hand Brush
We're very fond of this rubber brush and it'll be very useful for dealing with your car's carpets. The rubber bristles help remove deeply embedded hair and dirt but will not damage the fabric. The built-in squeegee blade will also come in handy if your car suffers from condensation. It's easy to clean (run it under a tap) and has a real quality feel to it. We found it to be a top brush if you like clean carpets on the go. There's even a broom variant that's perfect for home use.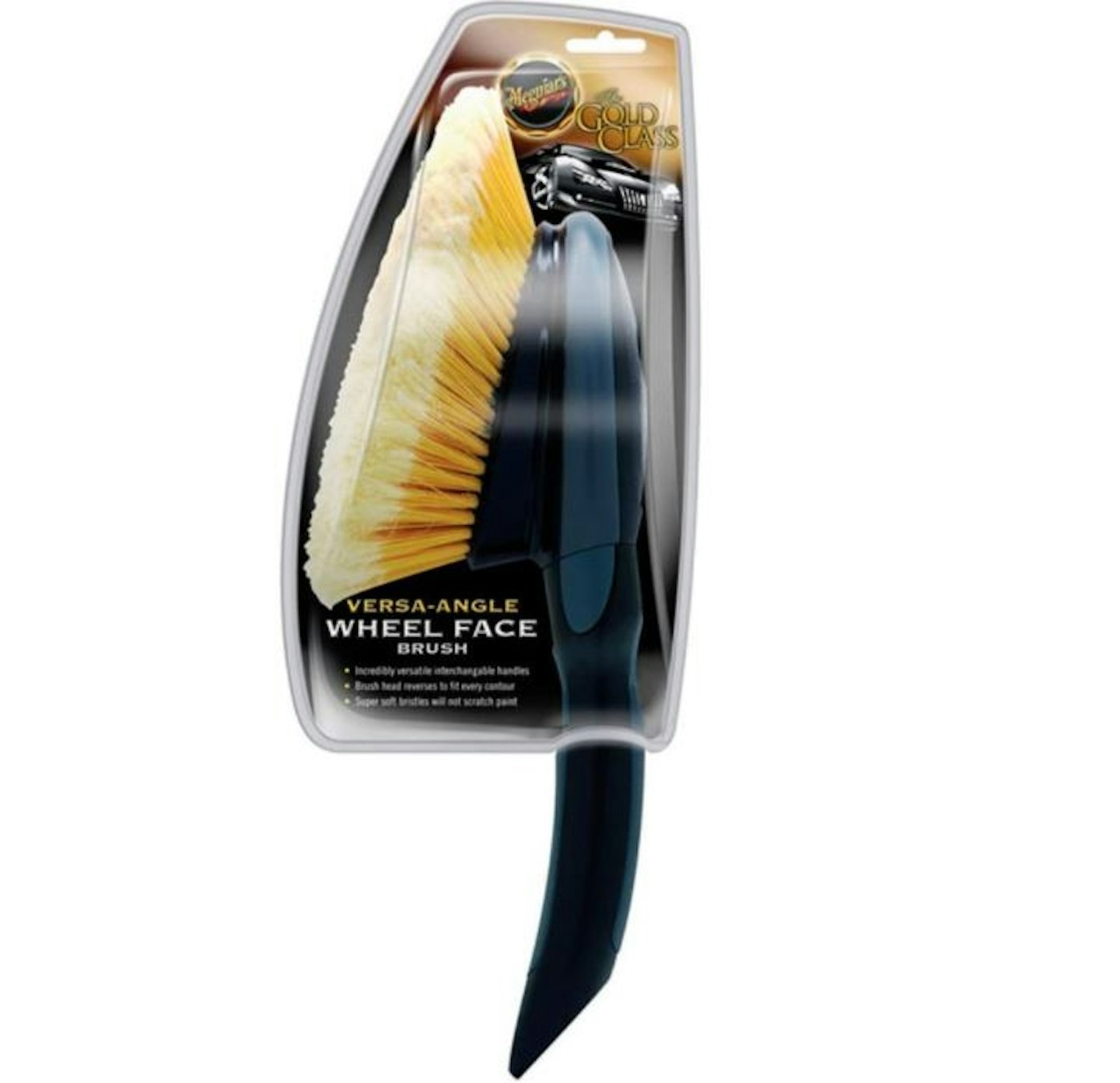 7 of 7
Meguiar's Wheel Brush
The alternative to the Autoglym brush is the larger option from Meguiar's. If you aren't so fussed about spot detailing, this is better for you. The Meguiar's brush lets you scrub wheels more quickly, and with its soft bristles, you don't have to worry about scratching either.
What you need to know about detailing brushes:
What areas of my car can I detail?
Exterior:
The outside of your car is the best place to start. Once you've washed your car (using a wash brush) you can set about detailing pretty much any surface. With older cars, you have acres of chrome detailing, elaborate bumper designs and even hood ornaments you can delicately dust but even the most modern cars will have grilles and areas that'll accumulate dust that you can remove. We recommend using a soft brush on these surfaces.
Related: The best car polish | Invisible shield: The best paint sealants for cars
Wheels:
Your alloys are another obvious spot you can detail. Another focal point of any great car, you'll be wanting them to look as good as possible. You can get proper wheel brushes to use in tandem with alloy wheel cleaner to remove large amounts of dirt and brake dust residue before using a long-bristled detailing brush to make them look spotless.
If your wheels are particularly intricate (think BBS cross spokes) then you'll be needing a smaller detailing brush to get into the nooks and crannies. We've got a comprehensive guide to wheel brushes here.
If in doubt, you can always rely on one of the best car pressure washers to blast off the first few layers of grime.
Interior:
The most obvious place to detail on the inside of your car is the dashboard. For most cars, this is the best place to use your softest detailing brushes as most of the time you'll only be removing dust and a gentle touch should be all you need. If your car is more modern and uses an infotainment system it may be worth also looking at getting a screen cleaner to wipe away those grubby finger marks you'll inevitably find.
There is more you can detail beyond the dashboard, however. Look at your seats, for example, these will feature little nooks that collect crumbs and dust over time and are therefore perfect for detailing. We recommend first using a vacuum cleaner on the seats to collect larger crumbs before diving in with a
If you're a fan of American '70s land yachts and have a car filled with 'tasteful' velour then you'll need a special fabric brush to keep it looking clean. The same goes for fans of Alcantara. This expensive faux suede may look excellent in a Porsche 911 GT3 RS but is notorious for soaking up sweat and being a nightmare to clean. Thankfully you can buy a leather brush that'll scrub the fabric without damaging it.
You can even extend your detailing to the boot compartment. Vacuum it first but then you're free to detail your factory-included toolkit with a soft-bristled brush.
Description
This brush may be designed for clothes but it'll come in useful if your car is full of soft
Description
Like the brush in a shoe polishing kit, this is designed for cleaning leather. It's also great for
Description
This set will remove both nasty bacteria and greasy finger marks from your car's infotainment
Engine bay:
Yes, believe it or not, you can detail the oily piece of metal that sits under your bonnet. Use a tough bristle brush (rubber or nylon will be best) and you'll easily lift ingrained oil and dirt. Perfect for restoring the chromed inlet pipes on an Alfa Romeo Busso engine.
Description
This brush is ideal for engine bays thanks to its tough nylon bristles.
For verdicts, scoops, news and analysis from the team, delivered direct to your inbox, subscribe to the CAR newsletter.
You can enjoy CAR in its traditional print format, or one of the swelling number of digital editions, optimised for Apple iPhones, Android devices, iPads, tablets and desktop computers.