The single best way to improve your car washing routine is to invest in the best pressure washer possible. Using a water pump to build pressure and fire it through a nozzle, a pressure washer provides a strong jet of water that's perfect for blasting away dirt without damaging the surface you're meant to be cleaning.
Pressure washers used to be fairly big investment pieces, but now there are plenty of pressure washer deals available. They may not have all the fancy bells and whistles of premium models, but they'll still deliver better car cleaning, all while using less water than a conventional garden hose.
It's not just car care where a good pressure washer can be useful; patios, garden furniture and even your garden shed can be cleaned thoroughly using a powerful jet of water. Most manufacturers will even offer pressure washer accessories that are designed to specifically tackle gardens.
The best pressure washers at a glance:
Best for powerful cleaning (Editor's pick): Nilfisk Core 140 Pressure Washer - Buy now from Amazon UK
Best pressure washer for car care: Ava Smart P50 - Buy now from Amazon UK
Best compact pressure washer: Bosch EasyAquatak 110 - Buy now from Amazon UK
We're breaking down the best pressure washers with a sharp focus on car care. Each included pressure washer will effectively blast away dirt and grime but won't be so powerful they'll strip away protection or even paintwork. Whether you're after an upgrade or your first foray into the world of pressure washers, pick up one of our favourite pressure washers for car care.
The best pressure washers for cars
Best for powerful cleaning (Editor's pick)
Description
Nilfisk has an enormous range of cleaning equipment for both commercial and domestic use. This
Pros
Durable and reliable
Powerful motor
Cons
Karcher K4 has a longer hose
Best pressure washer for car care
Description
For those perhaps wanting something a bit more serious, capable of handling all tasks on a larger
Pros
Suitable for any domestic task
Foam cannon is very good
Cons
Potentially over-engineered
Best compact pressure washer
Description
For those on a tighter budget or after a reliable pressure washer for light duties, Bosch has
Pros
Highly portable
Easy to store
Cons
For light cleaning tasks only
Best cordless pressure washer
Description
Ditching the power cord is a clever idea for a more portable pressure washer and reaching areas
Pros
Brushless motor
Lightweight
Can be used almost anywhere
Looks cool
Best budget pressure washer
Description
Ryobi is best known for its massive 18V cordless range, but its pressure washers are pretty good,
Pros
Powerful motor
Internal detergent tank
Cons
Not as heavy-duty as AVA or Nilkfisk
Car pressure washers: What you need to know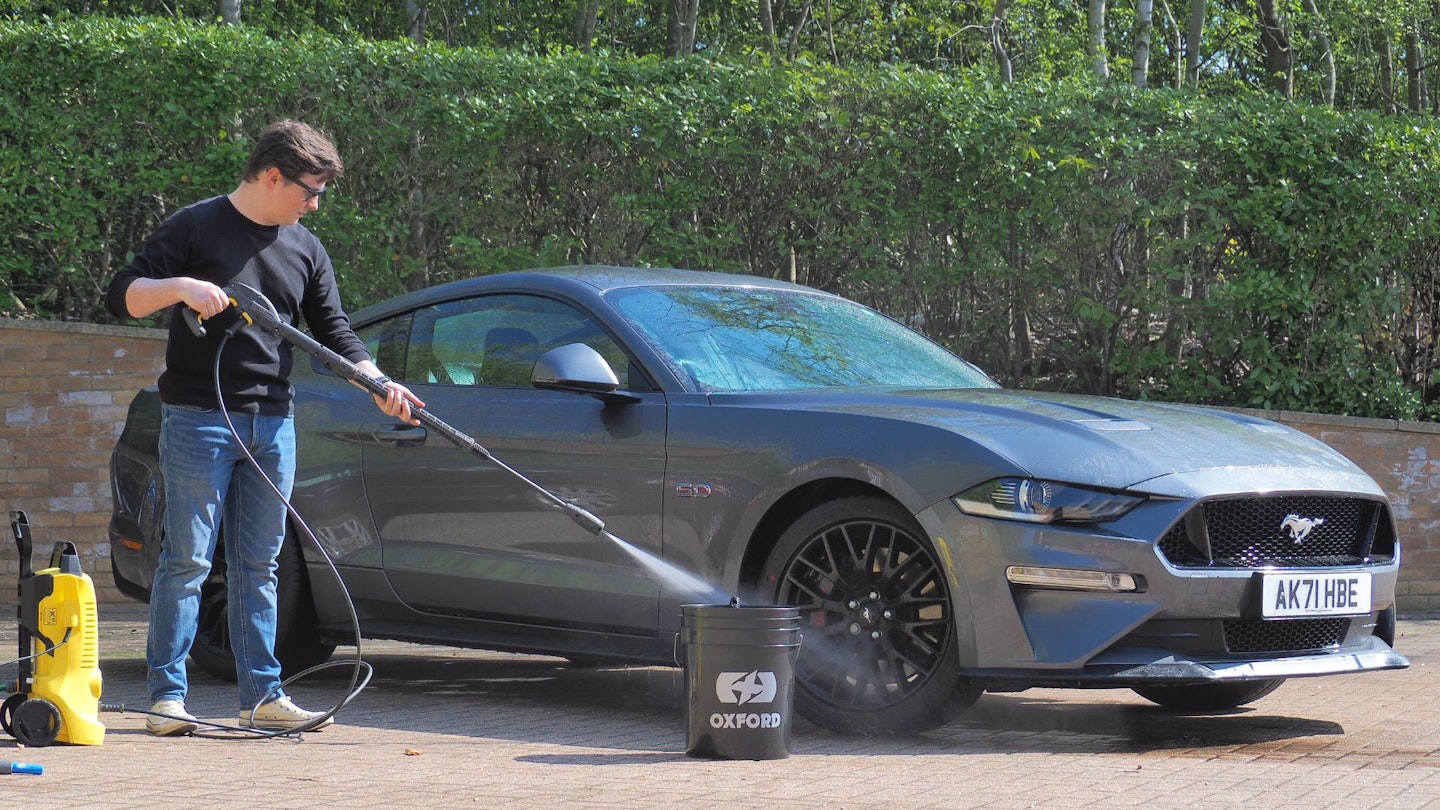 What features should I look for?
There's more to buying a car pressure washer than simply choosing the cheapest pressure washer possible. Too much pressure, and you could strip the paint from the bodywork. Too little pressure, and you'd be better off with a wash mitt and bucket. An ideal unit will enable you to select a nozzle setting that's appropriate for washing a car. A pressure washer that comes with a lance with adjustable pressure, foam gun, or brush makes the whole exercise faster and more effective. Also, consider that you'll need to store the product. Compact pressure washers are an increasingly popular choice.
You need to consider the proximity to a power supply. Check the length of the power cord and hose before adding a pressure washer to your basket. Most units work from a standard hosepipe, but others can draw water from almost any container, including rainwater collected in a butt or bucket. These are ideal if you haven't got access to a tap.
Finally, you should take into account the flow rate and pressure. A higher flow rate will ensure you're not spending too long cleaning the car, while a higher pressure will make it easier to remove dirt and grime. As a guide, 110 to 130 maximum bar should be fine for most people, without the fear of damaging your precious paintwork.
How often should I use it?
Every time you wash your car, if you want your money's worth. Used correctly, a pressure washer is the fastest way to wash a car. It will remove dirt, grime and mud without damaging the paintwork and remove soap suds without leaving a residue. In short, it'll give you a very deep clean every time you use it.
What grade of pressure washer should I go for?
There are different variants of pressure washers that are designed for different tasks. If you want to wash your car and maybe give your patio a jet wash every now and again, you'll be fine with a light-duty pressure washer such as the Bosch EasyAquatak 110 or Worx Hydroshot.
Medium-duty options such as the Nilfisk Core 140 and Karcher K4 Power Control will make cleaning larger areas quicker. You only really need one of these if you have other suitable jobs in mind in addition to car cleaning.
Heavy-duty options can be very expensive but clean just about anything, including moss-ridden static homes. These pressure washers can even come with petrol engines, which are for commercial use and overkill for most domestic applications. The Karcher K7 Premium or equivalent Nilfisk Premium 180-10 is as heavy-duty as domestic users need to go.
What else can I use a pressure washer for?
After you've cleaned your car, you can turn your pressure washer onto pretty much anything outdoors. Fence panels, sheds, patios, and even garden chairs can be cleaned with a pressure washer. If they're looking grimy, you can easily blast away the caked-on mud and moss. It's really satisfying to cut through years of dirt in seconds.
For verdicts, scoops, news and analysis from the team, delivered direct to your inbox, subscribe to the CAR newsletter.
You can enjoy CAR in its traditional print format, or one of the swelling number of digital editions, optimised for Apple iPhones, Android devices, iPads, tablets and desktop computers.
Ryan Gilmore is the Deputy Autos and Tools Editor for CAR, specialising in car cleaning and hand tools. With an MA in Automotive Journalism, when he's not testing buckets he can be found looking at old Porsches.