Healthy paintwork really makes a car, in the same way, spice really makes a curry. A madras is incomplete without a dollop of fire; likewise, your efforts at caring for your car's paintwork must include paint protection of some kind.
That's what we are looking at here: options for car paint protection. It's hard to know what is best for you, not least because everyone has a different opinion on the subject. Therefore, we've put together an informative guide that aims to be as impartial as possible to give you a clear idea of which paint protection product suits you best.
Jump to
Should you bother?
If the appearance of your car matters to you, then yes, you should. Paintwork takes a hammering from a culmination of harsh UV rays, acidic substances, and muck and grit. In addition to helping protect against this ceaseless offensive, paint protection will make it harder for grime, muck, tar, bird droppings, and other substances to adhere quite so firmly to paintwork. Consequently, your car becomes easier to clean.
Be wary that a lot of paint protection products claim to generate a shine on your car. Most of these products have to be applied to a car that is already clean, so that is a little misleading. If you want to get a glossy finish from your paintwork, you must thoroughly clean and polish your car before adding a layer of paint protection.
Paint protection is an important step in car cleaning. It's the final piece of the puzzle that seals in all your hard work with a car shampoo and polish. Without it, all that will be undone in a jiffy once the car is used. To employ another food analogy, it's like doing a pot roast without searing the meat first in order to lock in the flavour.
You might imagine it's the hobby and weekend cars that should have paint protection most urgently. But these are only used on occasion, and it is, in fact, the everyday cars and high-milers that demonstrate the benefits of paint protection more obviously.
Your options for paint protection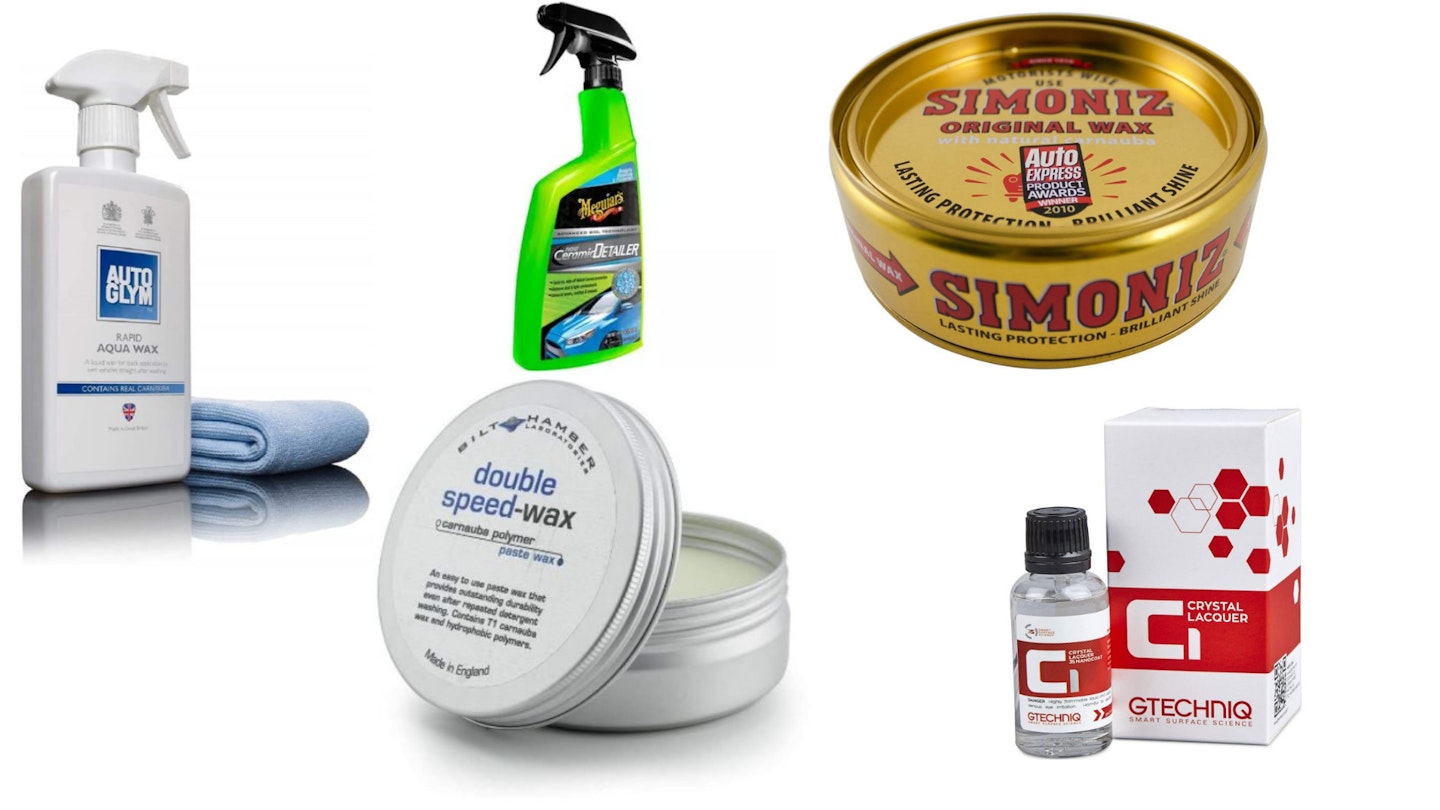 For DIY options you can easily use at home, you are looking at car wax (both natural and synthetic), ceramics, and graphene alternatives. Before we go into each thoroughly, below is a brief summary of each.
Car waxes are the traditional steak and kidney option, particularly natural carnauba wax. It is a tried and tested method that these days comes in both liquid and paste forms. Pastes take longer to apply but create a heavier layer of protection. Liquid forms are kind of the reverse: faster to apply but less durable as a protectant. Waxes provide good all-round protection, are hydrophobic, and work well in tandem with a polish to generate that lustrous glossy finish.
Ceramic coatings and products are more recent arrivals in paint protection. Such products use liquid silicon dioxide (SiO2) polymers (long chains of molecules), also known as silica and found in nature as quartz. Following application to a car's surface, the liquid forms a very strong bond to the applied surface. Ceramics' strong suits are longevity and UV protection. It's also highly hydrophobic, making it harder for substances to cling to paintwork, allowing for easier car cleaning.
Graphene is essentially an upgraded, even newer version of ceramics. Graphene car care products use graphene oxide that also bonds very firmly to a surface, but further improving UV protection and the like.
Important note: What none of these options can do is protect fully against scratches and chips. They can all, to a point, protect against light scratches from jacket zips, for example, but if you want a higher level of scratch and chip protection, you need to investigate a professionally fitted paint protection film. This is often an optional extra on new cars too.
Editor's Choice:
Wax
Carnauba wax is the most common natural car wax you'll find. It's durable and tough, with a melting point of over 80°C. It also pairs well with polish to make paintwork gleam. There are synthetic alternatives that often come in a liquid form. Predictably, you can also get synthetic-natural blends that can come as either a paste or a liquid.
A liquid is easier to apply than a paste, and a spray is easier still. But a paste creates a thicker layer. It's up to you what matters more – convenience or hardier protection. A liquid can be a good middle ground.
Applying a wax takes time, with the exception of spray-on options. Cars must be cleaned and dried, and waxes need to be applied carefully with a pad out of direct sunlight, ensuring all parts of all panels are covered. Leave them for five or ten minutes before buffing with a microfibre cloth.
Below are our favourite car waxes.
Best wax paste
Description
The Bilt Hamber wax is a blend. It is just as durable as some of the more expensive waxes you'll
Pros
Easy to use
Highly water repellent
Best synthetic liquid wax
Description
This synthetic sealant from Chemical Guys is so easy to apply and generates some of the best
Pros
Delivers a durable high gloss shield
Gives a mirror-like wet finish
Best pure wax
Description
Take the time to apply it properly and you will be rewarded for your efforts. A polished car looks
Pros
Brilliant shine
Made with natural carnauba
Best spray wax
Description
Pros
Can be used to protect all exterior surfaces, including paint, plastic, rubber and glass
Includes 2 x blue microfibre cloths
Ceramic products
Ceramic products come in liquid form, either as a lacquer or as a spray. As such, they are all easy to apply and are very durable – lasting years in some cases. Many establishments offer professional applications of ceramic coatings. They are very good, but there are options you can apply yourself.
Ceramic coatings are essentially an upgrade to wax, not so much in terms of post-polish shine, but certainly in terms of protection and durability. Even sprays can last for months.
While the bottled ceramic products tend to be for paintwork only, some sprays demonstrate one of the major advantages of ceramics over traditional wax in that they can be used on any exterior surface, including glass, plastic trim, wheels, and headlights.
Sprays are fast to apply but often still require clean, dry surfaces. Some do not, but we suggest you do anyway for best results. Ceramic lacquers are more like the wax pastes. They need to be applied carefully, buffed following application, and some require a curing time. It's not difficult, but you do need to take care, and application can take a while.
Below are our recommended ceramic coating products:
Best ceramic coating
Description
If you want a true ceramic coating, this Gtechniq C1 Crystal Lacquer is our recommendation. It
Pros
Simply wipe on and buff for a slick finish
UV protection
Cons
Application pads are not the easiest to use
Best ceramic wax
Description
This is the ceramic product most similar to standard liquid wax. It's quite quick to apply, thanks
Pros
Seals paint for long-lasting protection
Easy to apply
Cons
Doesn't last as long as others
Best ceramic spray
Description
This simple panel-by-panel spray and buff option lasts up to nine months while protecting your
Pros
Offers excellent beading and sheeting
Long-lasting finish
Cons
Can leave streaky if not applied correctly
Best ceramic detailer
Description
This is one of those wonderful sprays that you can use on any non-porous exterior part of your
Pros
Waterless Cleaning
Scratch free
Graphene
Graphene really is a later, greater version of ceramics. There's lots of hype over extreme water beading and all the other things enthusiasts get excited about. But the main benefits of graphene products are its durability, ease of application, and reduced heat absorption.
For these reasons, our suggested graphene options are very user-friendly ones. One being a multi-surface spray, the other being a familiar three-piece paint care kit. For what they are, they perform amazingly. And the thing is, if you want an extremely durable paint protection, the ceramic lacquers will do just that. The options below offer very high levels of protection and also offer ease of use, which suits most of us perfectly.
Best protective spray
Description
This is the graphene product we'd recommend with the most enthusiasm. Like the ceramic spray, this
Pros
Able to use on chrome, wheels, trim, and glass
Reduces water spotting
Cons
The nozzle spray is quite flimsy
Best graphene paint care kit
Description
Turtle Wax's full graphene kit gives you the latest in paint protection. There is a compound for
Pros
Ultra-fine polish
Three pack
Cons
Not as long-lasting for the quality
Verdict
The best of the sprays is the 303 Graphene Nano Spay. It's long-lasting for a spray, quick to apply, and versatile.
In terms of the more dedicated options, the Gtechniq ceramic coating offers the best protection, but it takes time to apply, and it's not cheap. Meanwhile, the waxes you'll likely be very familiar with, know how to use, and what to expect - Bilt Hamber's is our favourite of those.
We refrain from telling you which is best overall because that ultimately depends on your wants and needs, but we hope that this guide has clarified things for you and made your decision easier.
For verdicts, scoops, news and analysis from the team, delivered direct to your inbox, subscribe to the CAR newsletter.
You can enjoy CAR in its traditional print format, or one of the swelling number of digital editions, optimised for Apple iPhones, Android devices, iPads, tablets and desktop computers.