► CTEK CS Free review
► Very easy to use
► Is the price justified?
Such is the steadfast reliability of modern cars that the rare occasion when the battery fails, it causes considerable consternation. Over the course of the Covid era, cars have been sitting around for far longer than they have been previously, causing batteries to drain. Winter in particular is a harsh time for idle batteries.
A remedy to Dead Battery Anxiety can come in the form of a trickle charger, or now potentially the CTEK CS Free. It's a portable battery pack that can trickle charge your vehicle battery and also be powerful enough to boost one that's flat to avoid jump starting altogether.
You can also order the CTEK CS Free with the solar panel charge kit for when you're out and about separately, which we've also tested here.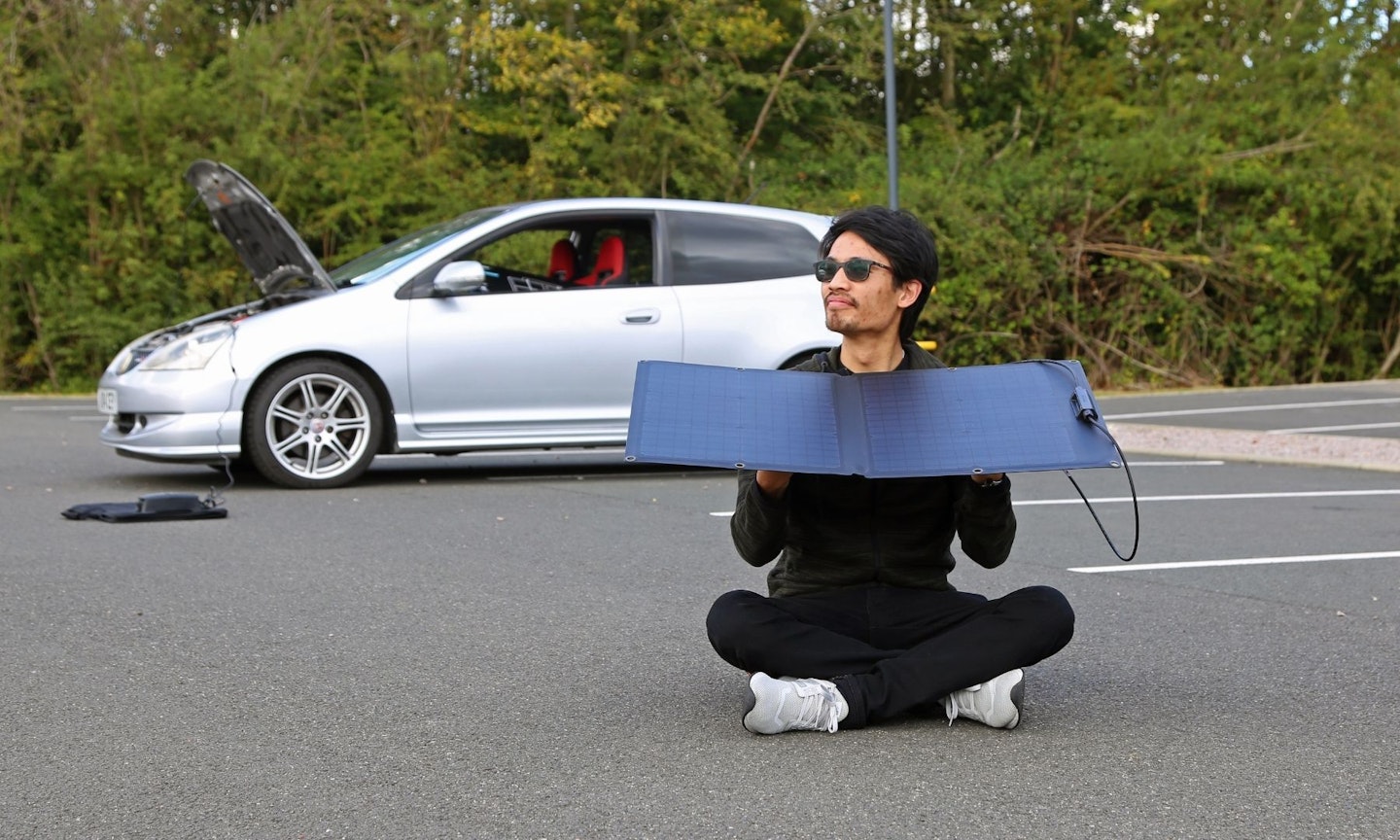 Installation
It's certainly easy to charge the CTEK CS Free. It comes with a USB-C cable and wall plug with adaptors for UK, EU and US sockets, plus of course the battery clamps. The solar panel charger comes with a storage bag and charge cable. Thus, whether you're undertaking some global circumnavigation or just up in Giggleswick (near Wigglesworth), the CS FREE can be charged.
The CS FREE itself looks and feels quite beefy, made with seemingly tough plastic and fitted with neat rubber grips on the base of each corner to stop it sliding about on a smooth surface such as for instance, a painted metal panel. Nice touch.
It might feel chunky compared with a power bank for your phone, but this is a different beast – it's a charger (and booster) for your vehicle and for multiple electronic devices, thanks to the additional USB A and C ports on the side.
In keeping with the theme, the instruction manuals are heavy too, so you do need to spend time decoding what they're all trying to convey. But it's otherwise very straight forward and fool proof to set up and use.
With clearly labelled rubber tabs for the output and input sockets, you'd struggle to attach the cables at the wrong end - there's a USB-C socket for the input side and a completely uniquely shaped port for the output. Setting up the solar panel is just as easy. The storage case doubles up as a stand, and while it can be a little tricky hooking the panel onto it initially, this is as fiddly as it gets.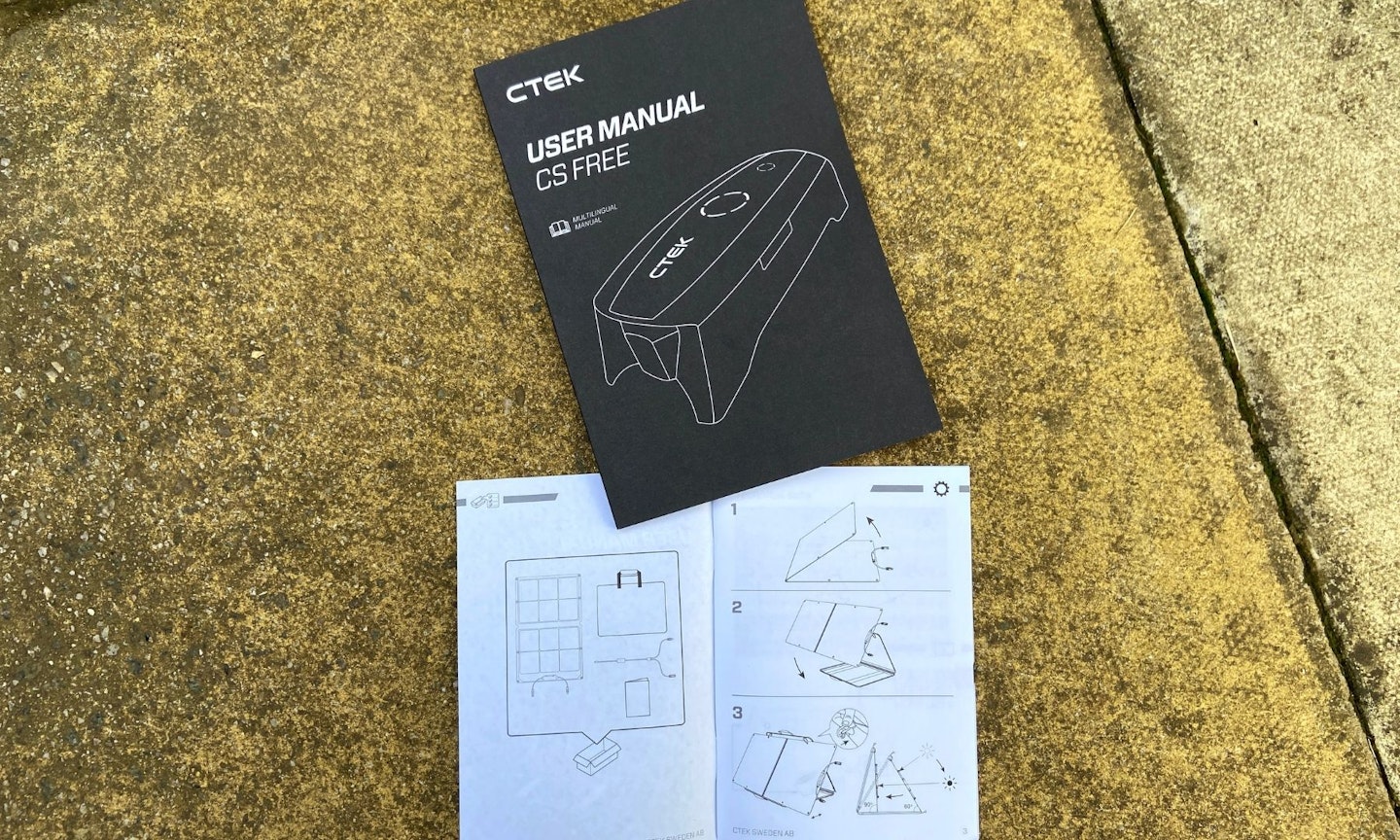 Usage
We'll start with getting the CS Free battery pack charged up.
Naturally, we opted for the solar panel in order to charge the CS FREE in order to test the worst-case scenario for when a mains power source is out of reach.
On a typical English day with patchy sunlight, it took roughly three hours to fully charge the CS FREE's battery. Even if you needed just enough juice to start the car once, this wouldn't take much time. The ring of four lights surrounding the CS FREE's power button indicates how much charge remains (maths fans will work out that each segment accounts for 25%). Of course, it's not as quick as jump-starting using cables or a portable power pack from NOCO, for example. Instead, it's designed to balance getting your vehicle battery revived soon enough without damaging it in the process.
Ideally, when using the solar panel, just leave it out while you do something else - barbecuing or playing volleyball or something. Alternatively, you can charge via a three-pin plug, a 12v socket or even from a service battery, provided you have the correct accessory cable. Predictably, the wall socket is quickest, with charging time claimed to drop to an hour for a 0-80% charge. The pack will hold a charge for up to a year and has a life span of 300 cycles.
Resuscitating
With the CS FREE charged, you simply connect it to the vehicle battery in the standard procedure of using the clamps. You then switch it on and the CS FREE automatically assesses what to do, opting to use Adaptive Boost if your battery is as flat as a dead star. The larger ring of lights in the centre indicates how much time you need to get a full battery.
A single flashing light under Start means the vehicle battery is flat and the charger will use the Adaptive Boost to try and give you enough charge in as soon as 15 minutes. For us, it indicated it would take eight hours before it got our EP3 Type R's battery up to full health.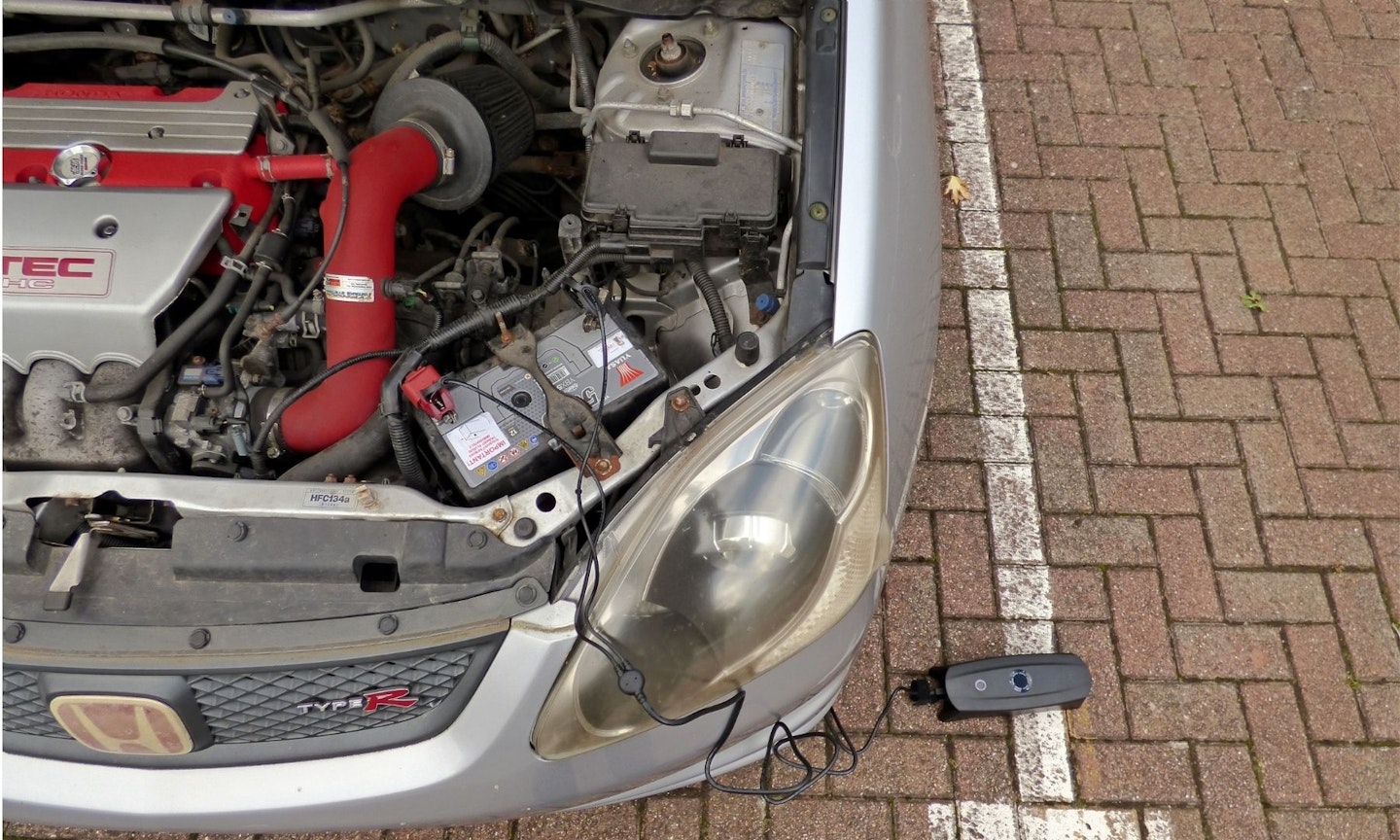 Any drawbacks?
The clamps. They're made to be small and portable, and in doing so don't feel as though they bite onto the battery terminals very firmly. It's fine for a quick charge, but if you plan to leave them on there for a longer period, you may wish to attach them to a slimmer section.
The pack is smart enough to protect against reverse polarity, though, preventing damage in case the clamps are attached to the wrong terminals. The clamps themselves are also spark free.
Verdict
The CTEK CS FREE is pricey, especially when coupled with the solar panel. It's overkill in some circumstances, such as if your car's flat battery was a one-off incident during the Covid-19 pandemic. If you know your car usage is going up again, a cheaper trickle charger (we recommend CTEK's Time To Go or MXS 5.0 chargers) will do just fine.
However, if your brief work commute has permanently turned into an occasional trip, this is more than up to the task. If you keep it in the car, you've got the adaptive boost function to fall back on if you ever get caught out.
That's still questionable value, though. The CS FREE really shines for users who tend to spend more time away in remote places.
If you're an avid camper, for example, this CTEK charger is more than a one-trick pony, also serving as a power bank for multiple electronic devices when a three-pin plug socket is far out of reach.
Read next:
For verdicts, scoops, news and analysis from the team , delivered direct to your inbox, subscribe to the CAR newsletter.
You can enjoy CAR in its traditional print format, or one of the swelling number of digital editions, optimised for Apple iPhones, Android devices, iPads, tablets and desktop computers.