The Nilfisk Core 140 pressure washer is certainly a luxury for those who favour a traditional bucket and shammy to get a very mediocre chore done. Tired arms and incredibly wet clothes are the results, especially when you lean against your soaked car after just dousing it in soap, and no matter how much you try and buff it at the end, the shine isn't quite up to showroom scratch.
Choosing to invest in a pressure washer for your car is something you probably won't regret, not only can you stand a fair distance away and not get soaked, you'll find the time it takes pretty much cut in half. That is unless you like to buff the shine to your heart's content.
CAR has put the Nilfisk Core 140 Pressure Washer to the test, which promises a "durable, powerful and exceptional performance", with a maximum 140 bar pressure that can be achieved allowing you to clean up to 40m² per hour.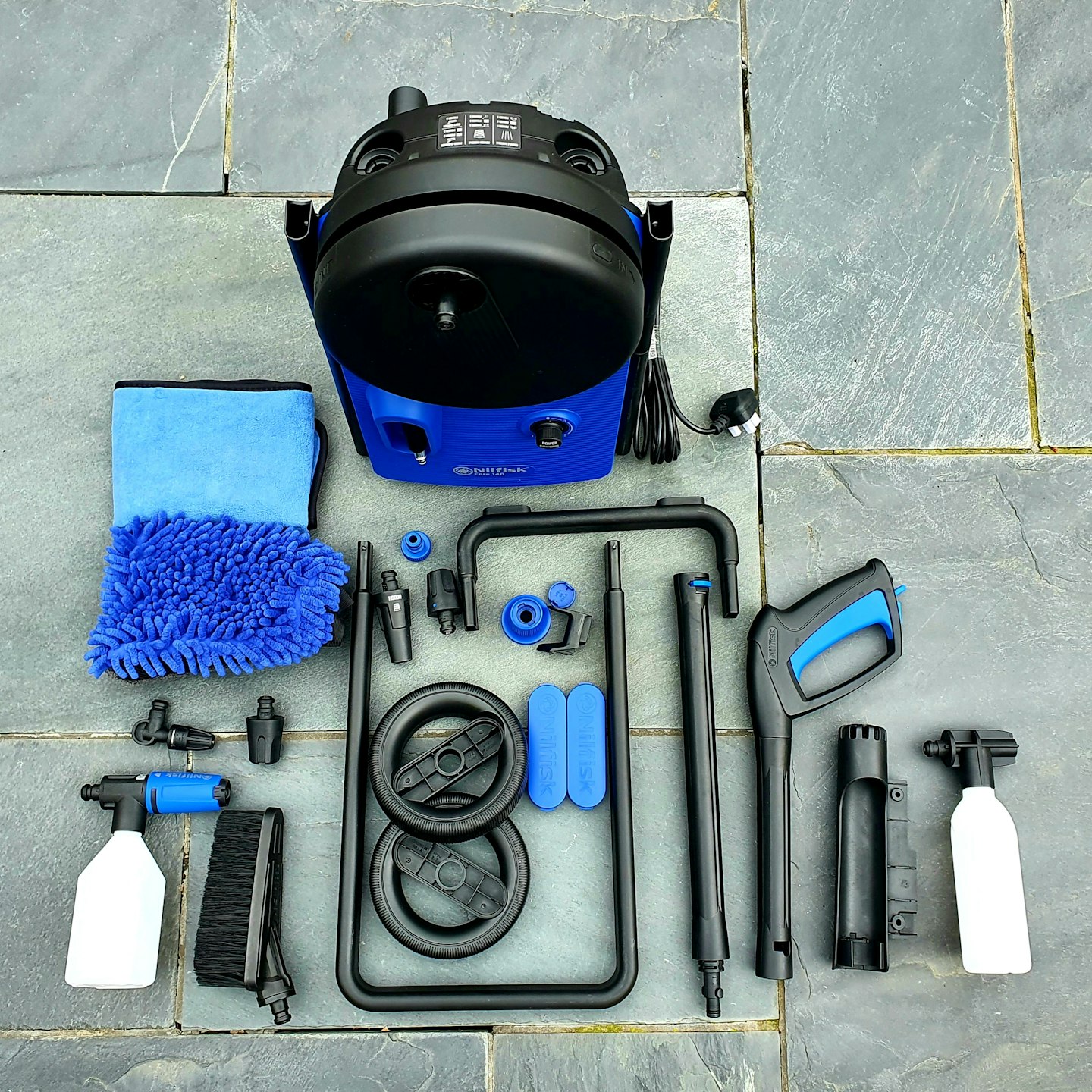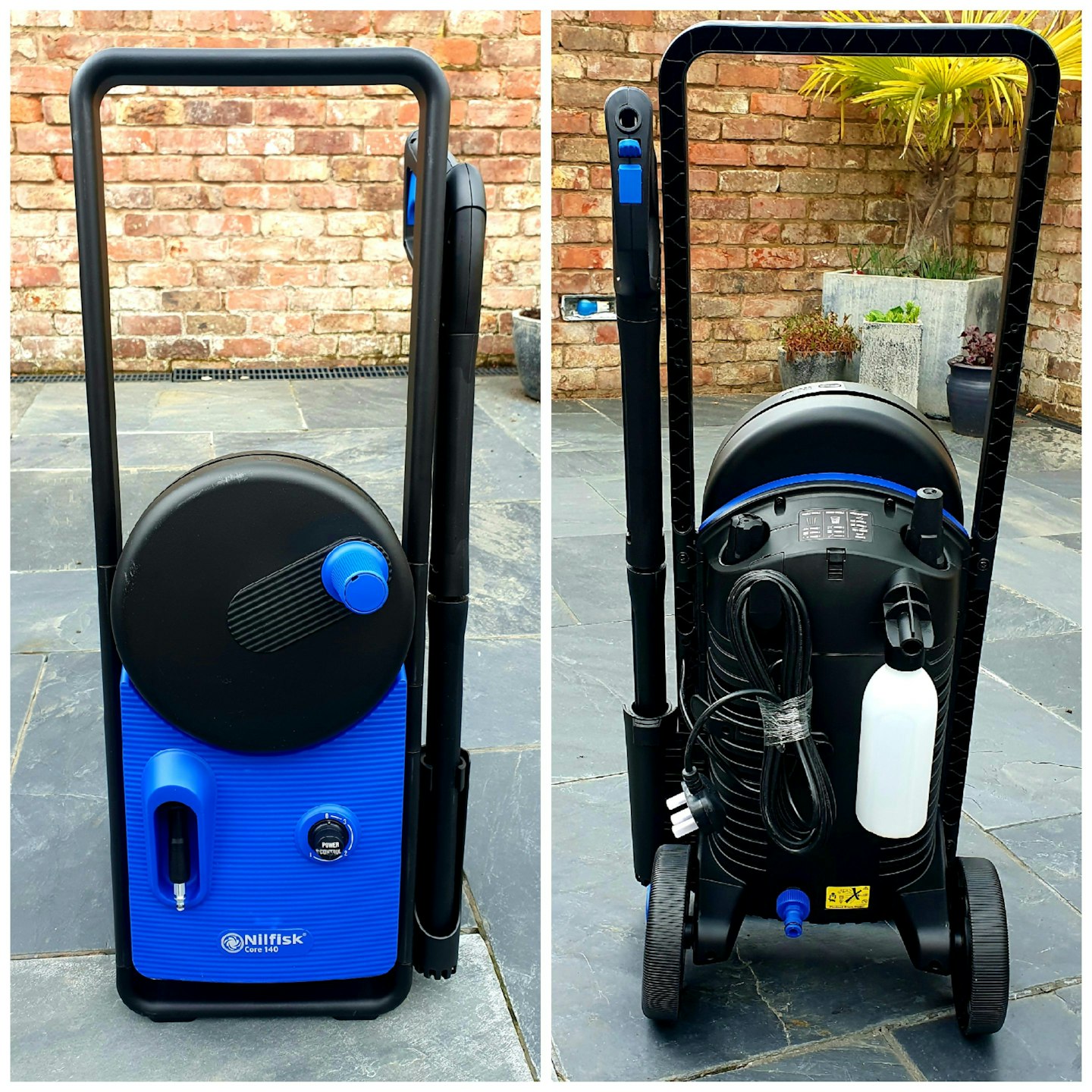 CAR/Natalie Corner
Description
Specifications: Hose Length: 6m Power Output: 1800W Cleaning Speed Index: 40mu00b2/h Max.
What's Included: 1 x Pressure Washer (140 bar) 1 x Gentle Nozzle 1 x Rough Nozzle 1 x trigger gun
How easy is the Nilfisk Core 140 Pressure Washer to use?
As someone who would rather pay to get their car washed, I was pleasantly surprised by how easy it is to use a pressure washer.
The most challenging part of the Nilfisk Core 140 Pressure Washer, however, was opening the box to discover that I would have to put it together myself with screws and a screwdriver. It wasn't ready to go, so for the uninitiated, like me, please set aside sufficient time to do this as you can't just immediately jump into hosing down your car.
I laid everything out to check I wasn't missing any pieces and the assembly time took me roughly 15 minutes, following the relatively easy picture-led instruction manual. My dog also tried to help out but proved useless, alas, the pressure washer was good to go.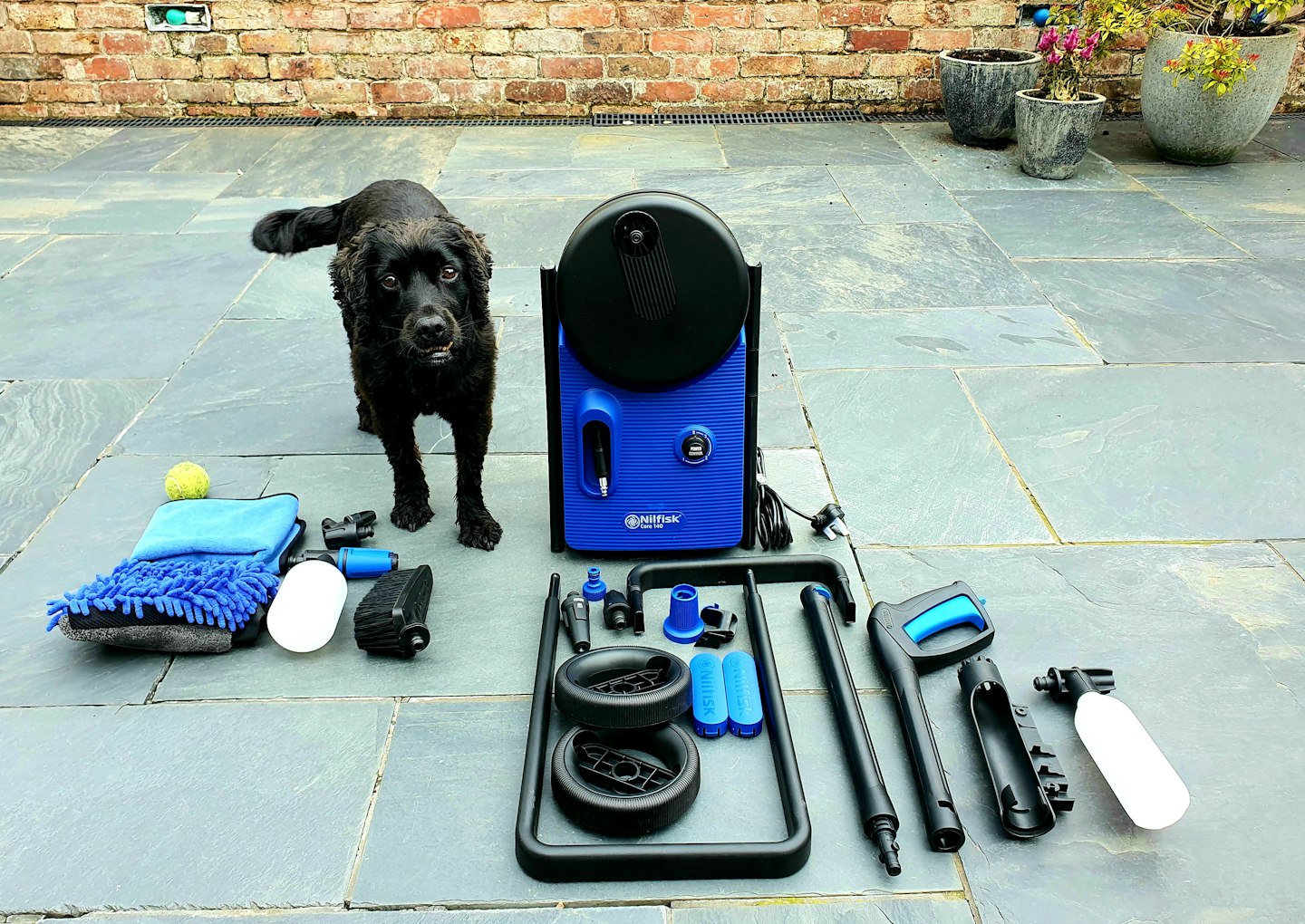 Depending on your home setup, you will likely need an extension cable to plug it into the mains and to give yourself a bit of extra working room while washing your car. You also need to take into consideration the hose pipe connections.
While the autos kit comes with an impressive array of accessories like a foam spray bottle, three nozzle heads, a brush, a shammy and a polishing rag, it only comes with a one size hose pipe connector and that size did not fit my existing hose connection.
A quick message to Nilfisk customer service and they were able to suggest a suitable hose adaptor - but this would be an added extra that you will need and may delay your car washing chores.
How well does the Nilfisk Core 140 Pressure Washer perform?
After unrolling Nilfisk's neatly packed 6m long ultra-flex hose, connecting it to the water and switching on the power, I realised I didn't need a high amount of pressure to clean the car.
Leaving it on the lowest setting out of three, one being the lowest and three being the highest, it was supremely easy to handle with one hand. After wetting the car, I fixed the 90-degree hose attachment which allowed me to get right under the wheel arches of the car without bending down at any awkward angles - a huge bonus.
However, because of how close the hose ends up being to the chassis of the car, you need both hands to manage the pressure, otherwise, it spins around.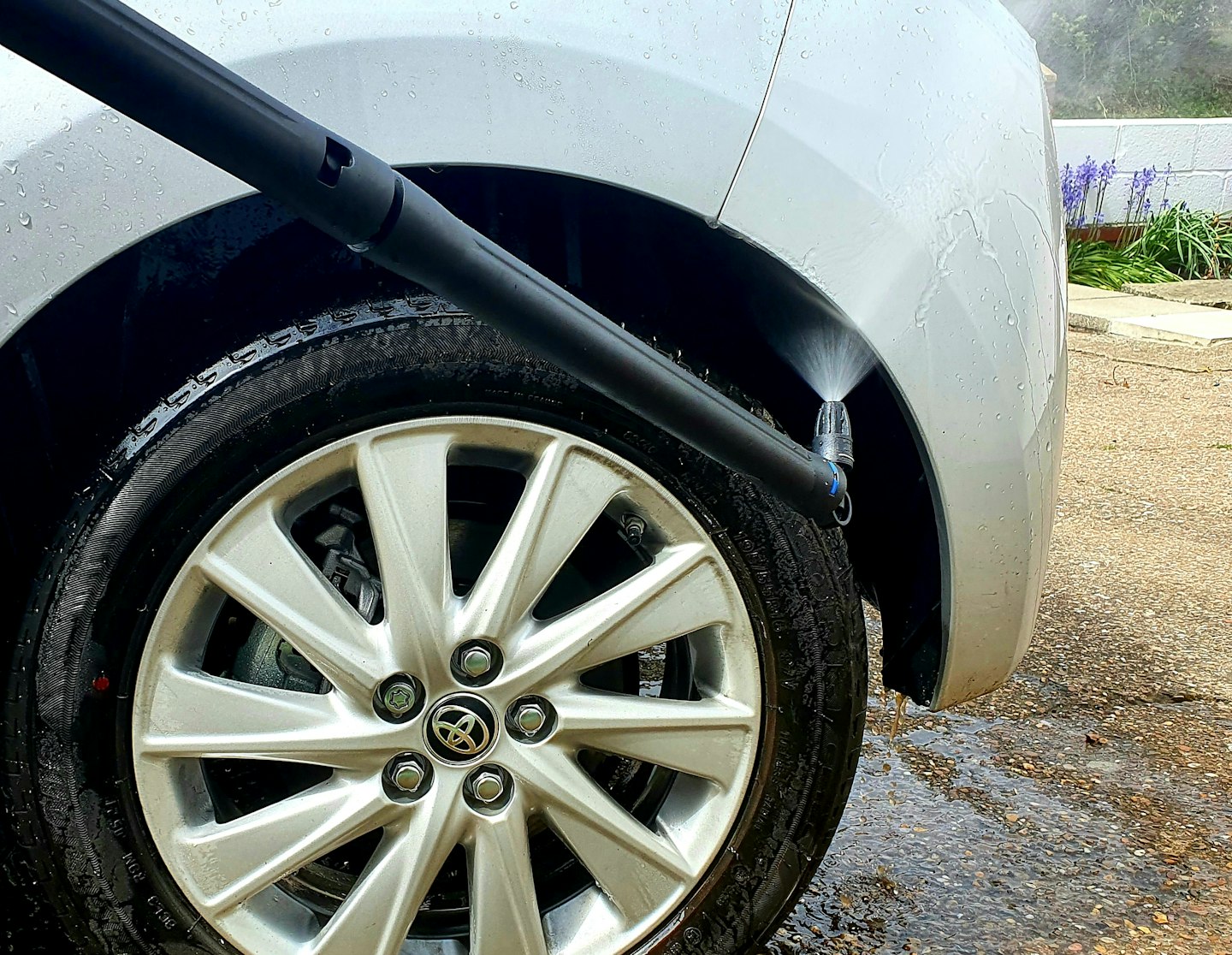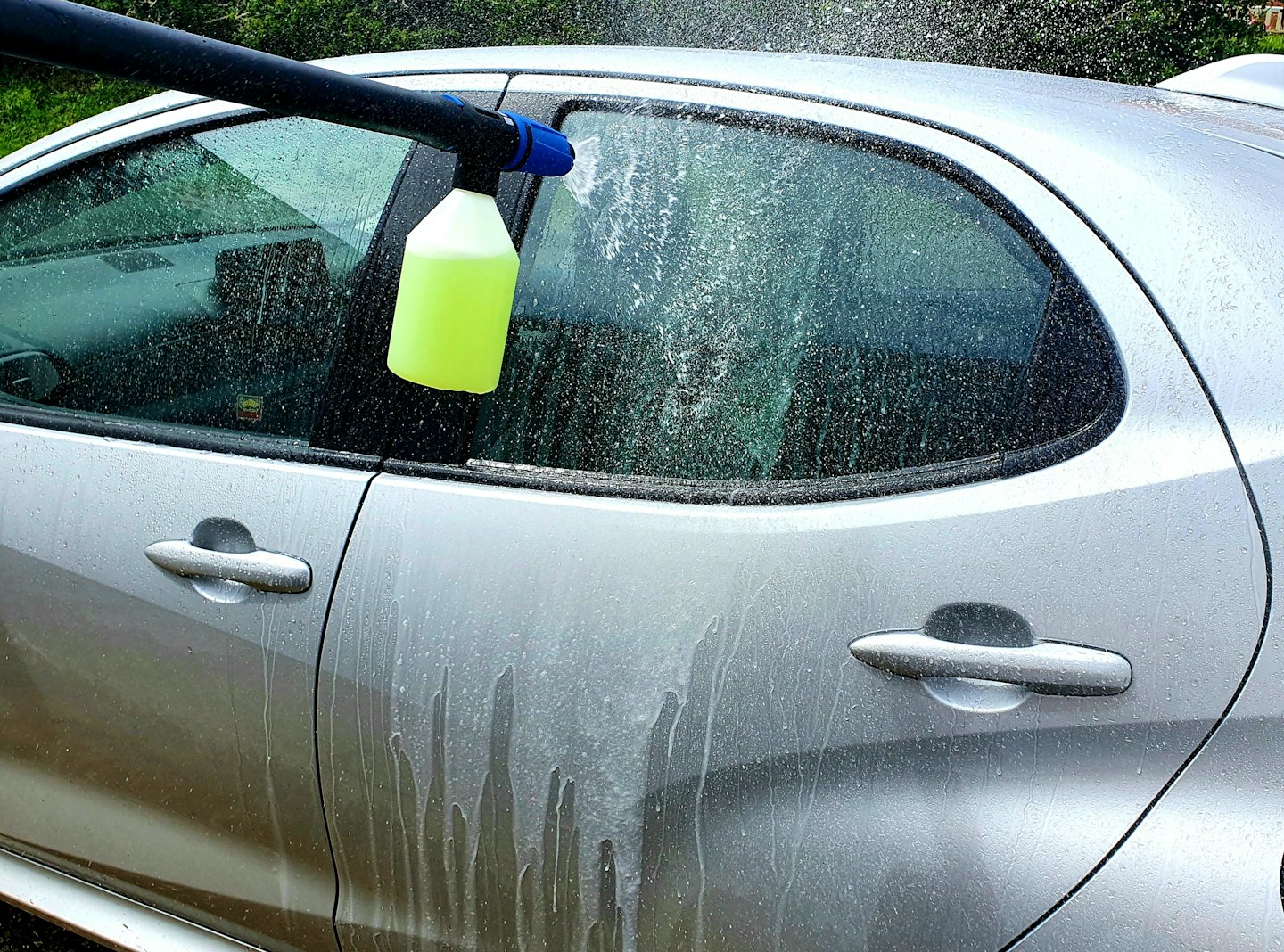 The foaming spray bottle was up next, quite frankly I have to admit, I found this a little bit of a waste. The amount of car shampoo I needed to get it really foamy was too much, and also spraying it onto the car had to be a super speedy operation because it dried really quickly.
I personally think the pressure of the washer and the brush attachment was enough to get it clean. But then I'd probably be cleaning the car the wrong way, according to professionals. It's a neat addition to the autos accessories pack for those who like to get stuck into a deep clean.
Anything else?
As a first-time pressure washer user, I'd say this was a straightforward and impressive introduction. The only thing I found a little clunky was the positioning of the wheels to the hose pipe connector.
Using the pull handle to wheel it around, it struck me odd that it tips backwards onto the fixture where the hose pipe connected and scraped along the ground. It was much easier to lift than to use the wheels.
On the G3 trigger gun, it appears as though you can lock the handle into place so that you don't need to squeeze it on longer washing jobs. However, when clicking the lock button, I realised after I got drenched that this was the lock for the hose connector.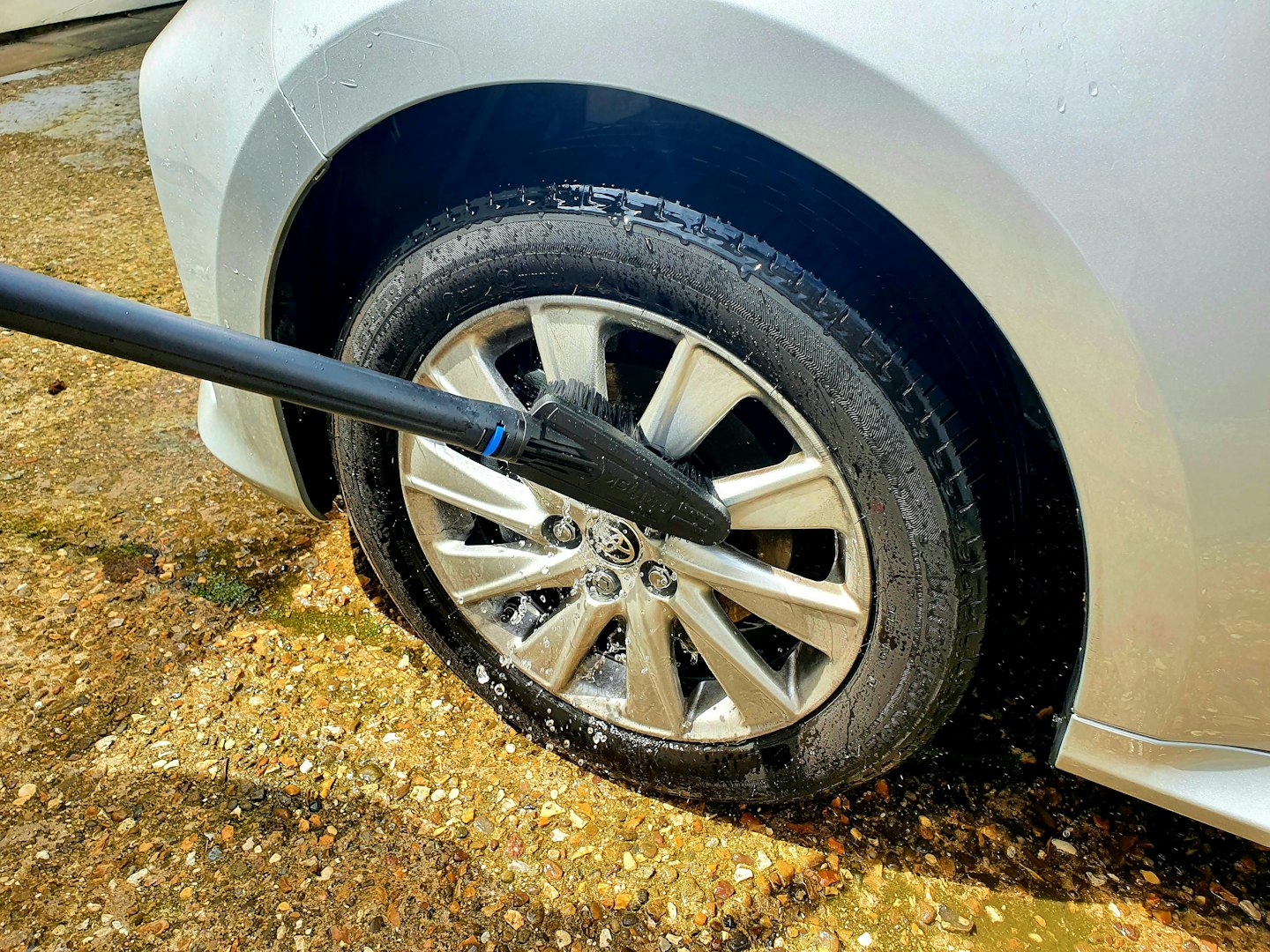 Verdict
I was seriously impressed with the compact nature of the Nilfisk Core 140 Pressure Washer; it had slots for everything. The extra hose attachments, a dock for the G3 trigger gun on the side of the washer and the hose reel neatly rolled up at the front.
A cleverly thought out piece of kit, with only a few small niggles, but something a seasoned pro would have no issue with. Well worth adding on the autos accessories purely for the 90-degree angle hose attachment and brush to get your chassis scrubbed clean.
Description
Nilfisk have the total package when it comes to cleaning your car, which you can add on when
What's Included: 1 x Pressure Washer (140 bar) 1 x Foam Sprayer 1 x Gentle Nozzle 1 x Rough Nozzle 1 x 90-degree Nozzle 1 x Short Fixed Brush 1 x Shammy glove 1 x Polishing rag
Description
Not looking to splash out on the whole kit? Then you can pick up the foam sprayer for the Nilfisk
Description
The Car Gods 54 Arctic Storm snow foam is designed to dislodge debris and contaminants from
Description
Coming in a 5-litre bottle only, Bilt Hamber Auto Foam prides itself on producing quality results
Description
Make the most of your pressure washer investment to do more chores around the house. Pick up this
READ NEXT: