If you think about aftermarket air filters, especially performance ones, and it isn't hard to imagine badly modified cars with ridiculous sound systems and exhaust pipes bigger than a domestic bin. And for years, claims that they added 50 bhp and could turn a Vauxhall Corsa B 1.2 into a Porsche 911 beater were met (quite rightly) with ridicule.
But are we all too quick to discount them? Performance air filters do have some tangible benefits over a regular filter. For one, there is less maintenance required with them. While normal air filters need replacing regularly, a performance one only requires cleaning out. Evidence also suggests that they can add a little more power and torque thanks to the increased airflow.
We've found a selection of the best universal performance air filters available that should liven up your engine bay and may even add a horsepower or two.
The best performance air filter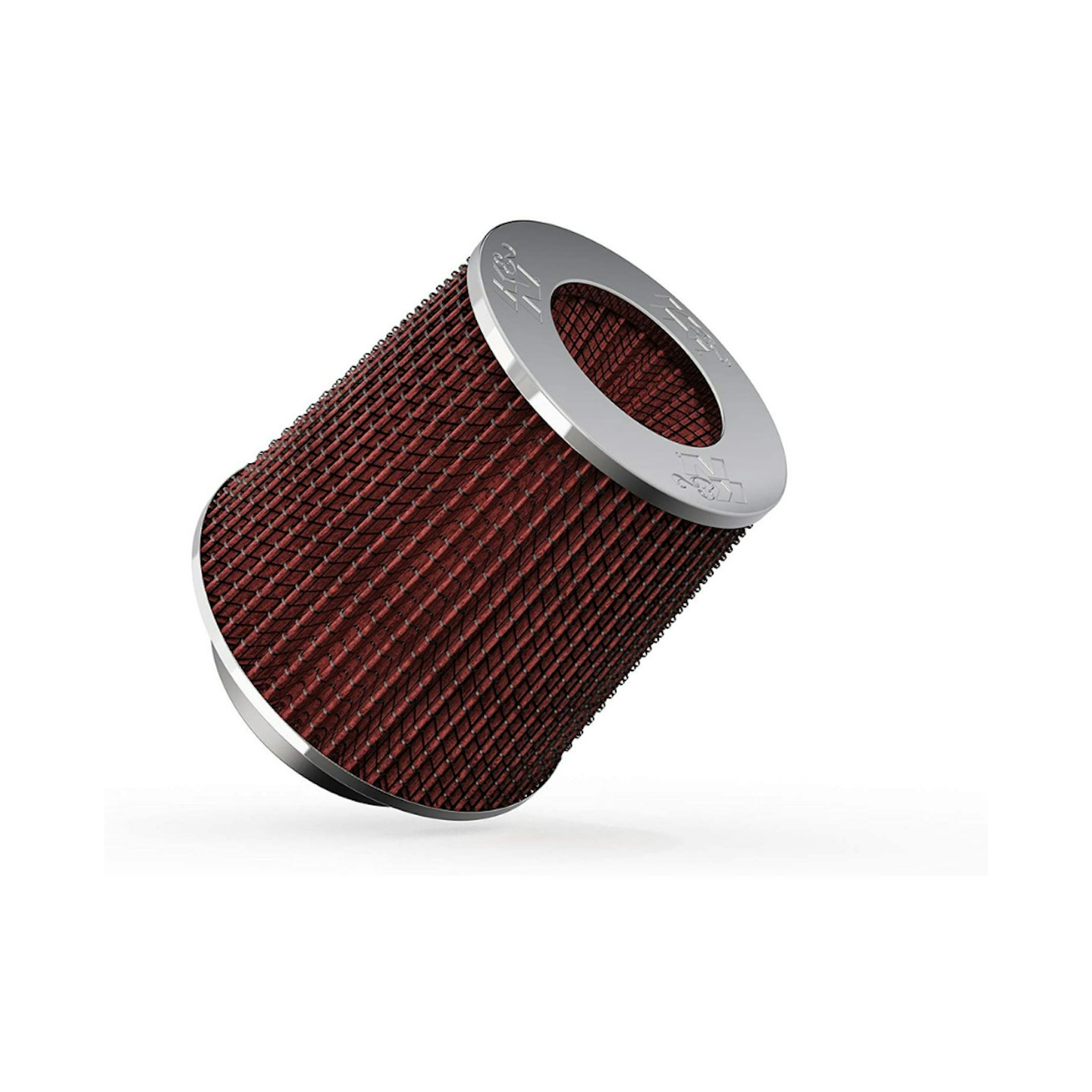 1 of 5
K&N Universal Clamp-On Air Filter
If you're in the market for a simple performance air filter for your car, this is a safe bet. Finished in a stylish red, it will not only boost how much air your car can take in, but will also reduce the need to replace your air filter. This filter can be cleaned out when needed .Pros: Reusable example Cons: Rather large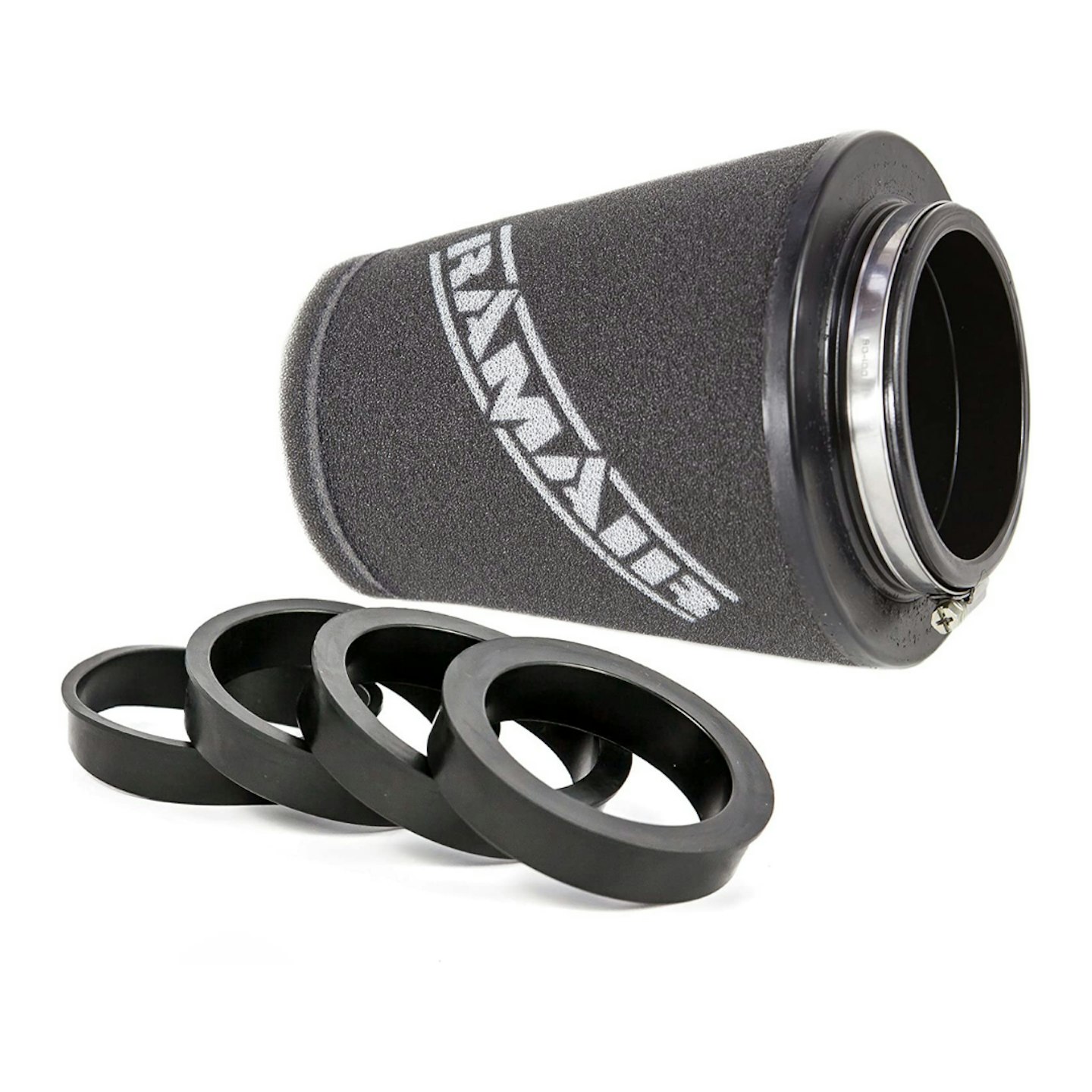 2 of 5
Ramair Filters Universal Neck Performance Cone Air Filter
Made of foam and steel mesh, this clever performance air filter is a great way to boost power in larger engines. Fitting larger 70-90mm intakes, it not only helps increase power and torque but also improves the noise. **Pros:Better noiseIncreaased powerCons:**Only fits larger intakes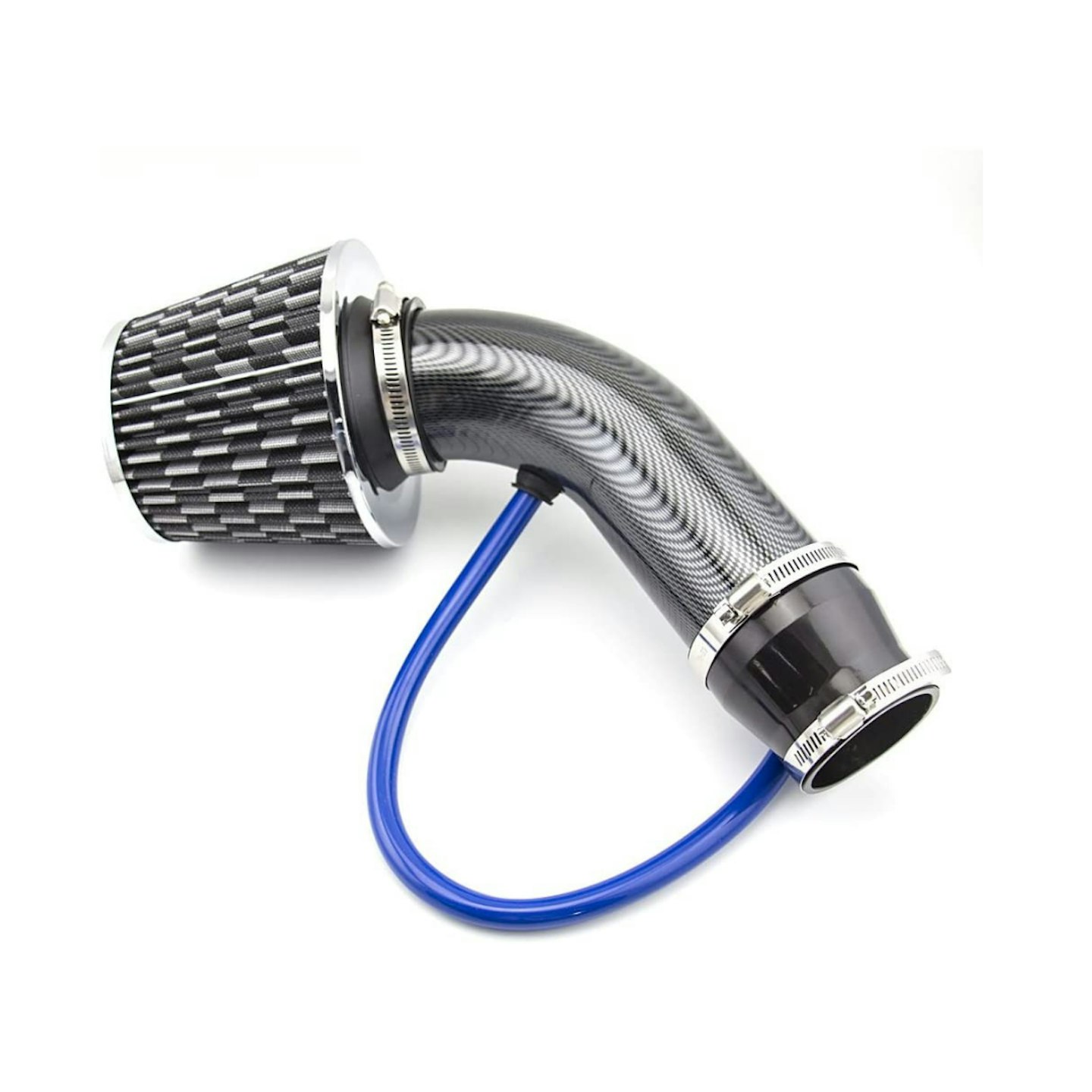 3 of 5
Universal Performance Cold Air Intake Filter Alumimum Induction Pipe
Cold air intakes are the most effective option for boosting power and engine efficiency. These are mounted outside the warm engine bay and pull in cooler, denser air which is more effective in engines. They are a bit fiddlier to install but should help power and fuel efficiency once installed. This one is made from aluminium and will fit any diameter from 64mm to 76mm. **Pros:**The best way to boost power and fuel efficiency **Cons:**More of a struggle to fit than other air filters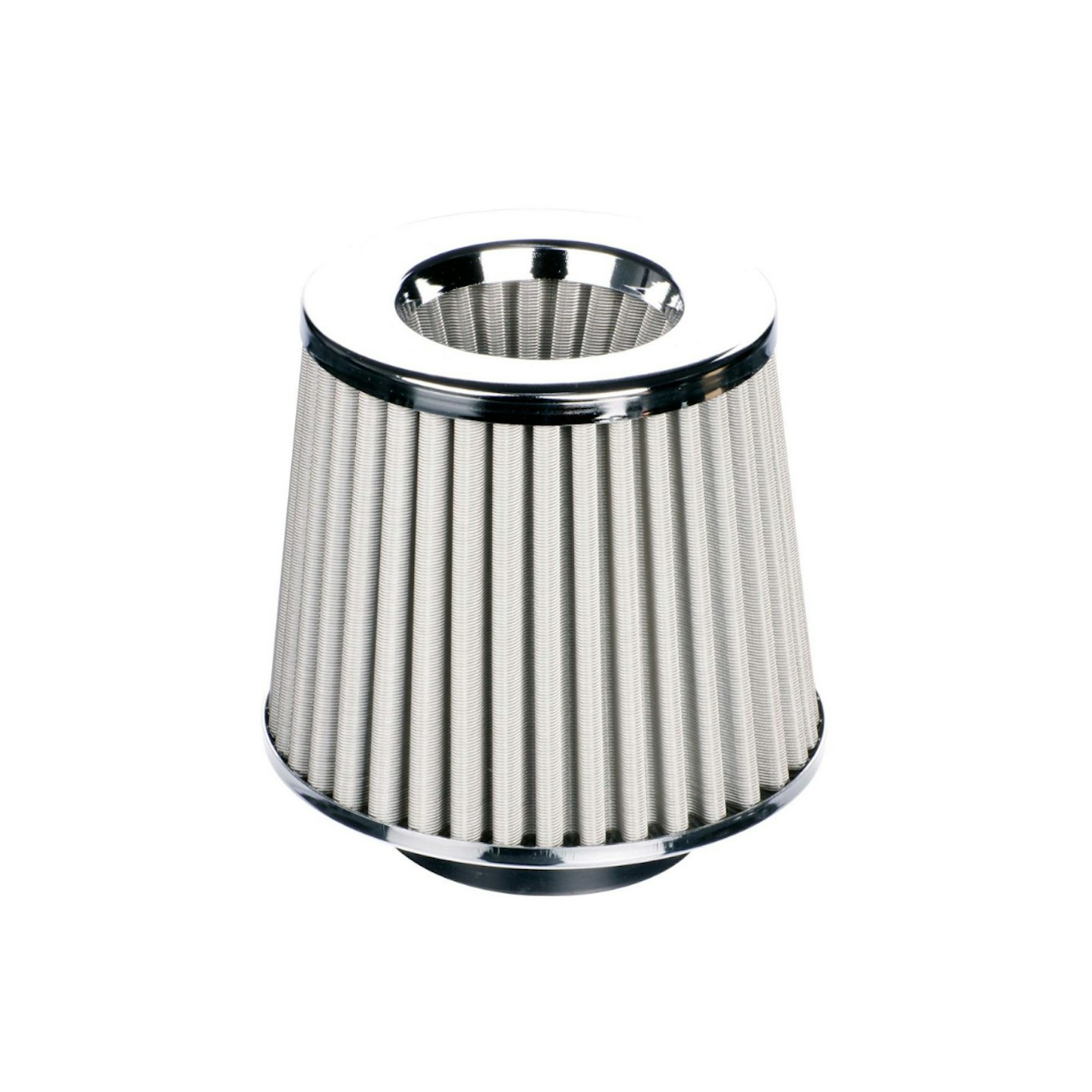 4 of 5
Ripspeed Universal Filter
Any boy racer will be aware of the Ripspeed brand. Flick through an old copy of Max Power and each car will feature at least one Ripspeed product. This stainless-steel air filter isn't as gaudy as the brand's previous efforts but will inject some new style into your engine bay. It features a twin cone design to increase performance and features a set of spacers so it fits a range of vehicles. Pros:Double cone setup will help powerCons: It may be too gaudy for some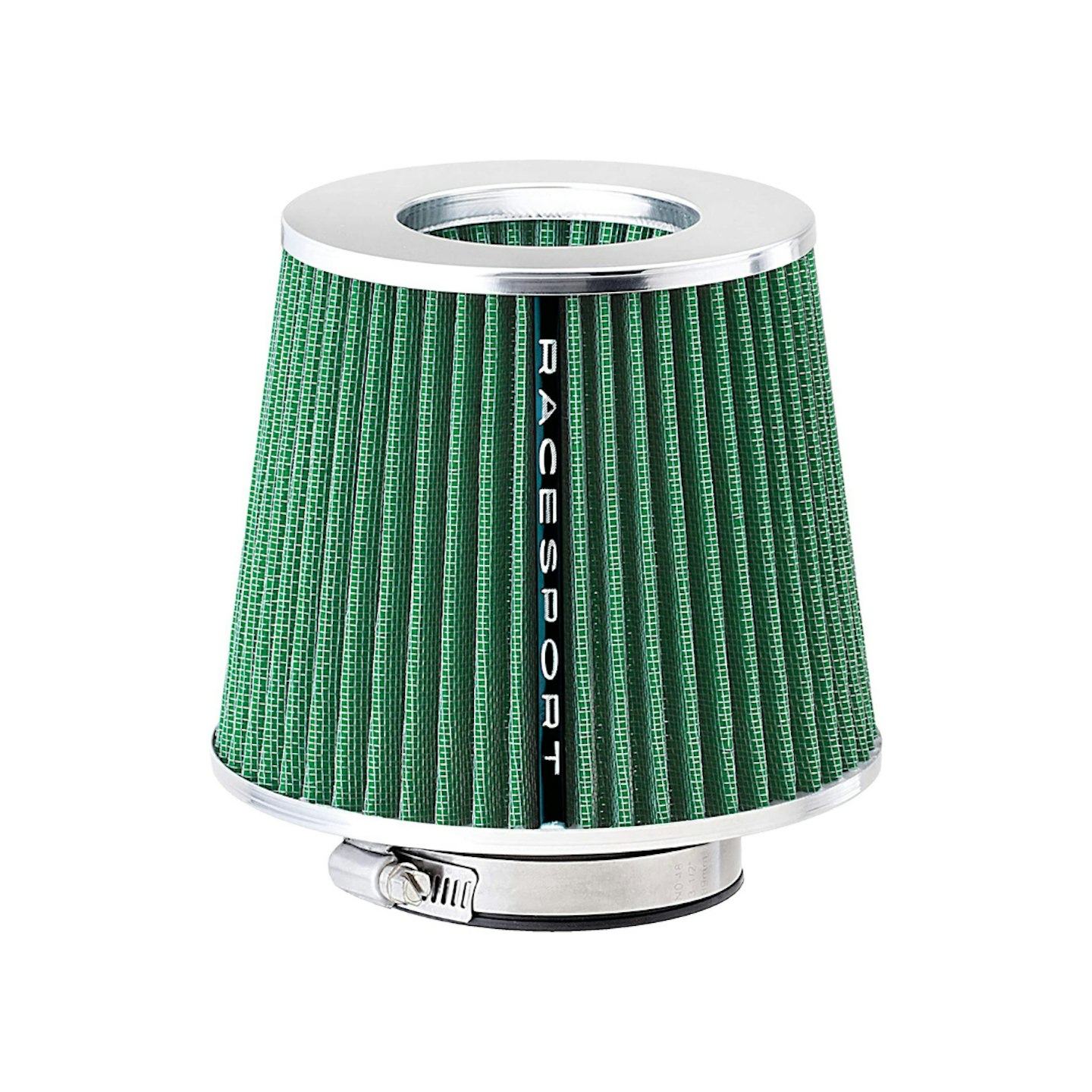 5 of 5
Sumex AIRSTGR Universal Sports Air Filter with Adaptors
Another simple filter, this model is smaller than others but should still help both performance and sound. It will fit intakes from 60mm to 77mm and comes in a stylish green finish. **Pros:Perfect for smaller engine baysCons:**Doesn't boost power the most
How to buy a performance air filter for a specific car: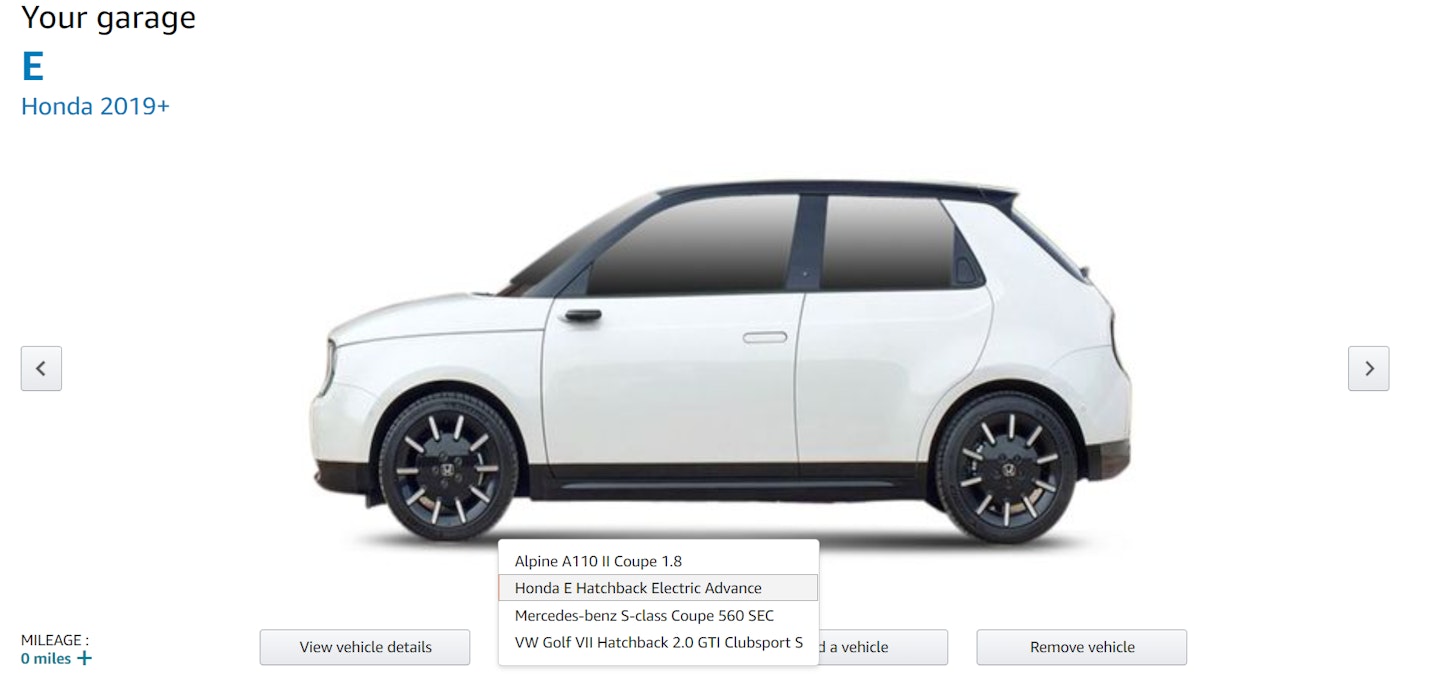 You can easily find the correct air filter for your car using Amazon Garage. This feature allows you to input your car's registration number and Amazon will tailor products specifically for your car. It's very conclusive, we looked for air filters for several cars (new and old) and found plenty of air filters for each car (although the Honda E was a poor choice considering it doesn't need a traditional air filter).
A similar service is also offered by Halfords.
What you need to know about performance air filters:
Will they fit my car?
All the universal car air filters will fit any car with an internal combustion engine, even PHEVs. If you're running a BEV or fancy hydrogen car, you've no need for an air filter.
Most of these filters either come with spacers or a reducer so they fit your car's intake. Double-check before buying, however, just to make sure it will fit your car.
How do I fit an air filter?
Fitting an aftermarket air filter is a rather simple affair and can be done on your driveway. All you'll need is a screwdriver, socket set and some patience.
The first thing to do is to prepare your car for the air filter change. Make sure your engine is cool and disconnect the battery.
Locate where your air filter box is. This can be found in your car's handbook but is generally a very visible black box with a black tube leading to the engine.
The top of your airbox is usually held in place by some clips, undo these and take the cover off. You'll then be able to see your existing air filter. Take this out, too.
Using a socket to remove the bolts holding the airbox to the car. Then, loosen the hose clamp holding the tubing to the engine with a screwdriver. After this, it's just a case of removing it all and setting it aside. (We recommend not throwing it away, just in case).
Follow the manufacturer-specific guidelines for installing your new performance air filter. This will generally involve using a hose clamp to secure it in place.
Ensure everything is secured and that it fits under the bonnet. After this, all you need to do is reattach your battery and you're ready to go.
What else do I need to know?
Performance air filters don't need changing as often as traditional air filters but do need cleaning out occasionally (every two years).
One potential drawback with performance air filters is that water can soil them and even allow moisture access to the internals of your engine. A neat solution for this is to buy a hydro shield cover that will prevent this from happening.
One noted drawback to performance air filters is the potential to wear your engine faster. The increased airflow may help performance and fuel efficiency but can expose your engine and oil to more contaminants, speeding up wear to your engine's internals.