It is nearly inevitable that at some point, something horrible will be spilt in your car. Whether it be some shopping leaking onto the boot carpet or a child smearing their lunch into the seats. The type of stains that can't be fixed with a vacuum cleaner alone. You need something a bit more powerful.
Sure, you can take it down to your local hand-wash but the price for a proper interior valet can be hard to swallow, and a full-sized carpet cleaner will be too big to fit in anything smaller than a Volkswagen Grand California.
This is where a spot cleaner could be so useful. Just as powerful at removing stains as a carpet cleaner but in a more compact and portable design. The Vax SpotWash Spot Cleaner is one such example, a smaller way of cleaning fabrics and upholstery that we've put to the test.
Renowned for vacuum cleaners, Vax's range of carpet cleaners are also prized for their cleaning power. Its smaller spot cleaners are designed to offer the same level of cleaning but with the addition of portability.
Related: Car carpet cleaners for carpets and fabrics: the saviour of the soiled seat
Is it well designed?
When considering a spot cleaner for your car the top concerns should be about portability. Ideally, you'll want a compact size, low weight and it to be battery operated without sacrificing suction power. And on this front, the Vax SpotWash Spot Cleaner hits two of these targets with a compact size and low weight.
The 3.9 kg dry weight is impressively low for the product, but also a rather redundant figure considering you need water and solution for it to work as a stain remover. At full capacity (with 1.6 litres of water and solution included) the SpotWash weighs 5.5 kg which is still very impressive and makes the SpotWash easy to carry around.
The 24 x 36 x 38 cm dimensions make this a very compact option for a spot cleaner but still far larger than the smallest car vacuum cleaners for sale. Cars with limited interior space (think Lotus Exige) or awkward doors may struggle to accommodate it without some scrapped knuckles and mild swearing.
This being said, portability is hampered by the reliance on mains power. The SpotWash lacks any form of battery which means you'll need to remain near a power source for it to work. The 4.5-metre power cord does help a bit but a cordless model would be more portable.
Vax does offer a cordless spot cleaner but the trade-off is that this one will only work for 15 minutes at a time between charges while the corded one can work until you run out of cleaning product.
What makes the SpotWash unique is the clever self-cleaning function. Simply place the hose into the labelled self-clean port and turn the machine on to flush out the system. Not only will this help remove nasty deposits that build up, this feature will also keep the vacuum running as powerful as possible while also keeping it sanitary.
As standard, the SpotWash comes with two heads, one for hard floors and another multi-surface head. It also comes with a 250ml bottle of solution that you'll go through very quickly.
Related: The best car cleaning kits for comprehensive car care
Is it any good for your car?
The SpotWash can be used on your car's carpets and fabric upholstery (avoid using it on leather) and it was incredibly effective at not only removing visible stains but also refreshing the overall look of the fabric.
The best thing about the spot cleaner is that you can easily control how much solution you want to use thanks to the hand-operated trigger. On surfaces that only needed to be vacuumed the spot cleaner could be used as a regular vacuum and on surfaces that were stained the trigger allowed the SpotWash to properly clean the surface with the solution.
The suction was powerful enough to clean whatever was thrown at it and the multi-surface tool was good for bringing up more dirt. The 1.5-metre hose also makes the SpotWash good for reaching nooks that larger cleaners would struggle to reach, even if there are no crevice tools.
The self-clean function is also a very welcome addition. Once the car is finished it's a very simple and quick process to plug the head into the clearly marked hole and it'll flush everything leftover into the dirty water tank which can then easily be emptied down a drain. It's also interesting for the morbidly curious who want to see just how dirty their car interior can be.
The only real problems came because of the reliance on mains power. This wouldn't be a problem if you have a garage and driveway way but does become problematic if you live in an apartment or street-park your car. It's also incredibly loud compared to other portable vacuum cleaners, which isn't ideal.
Also, remember that the SpotWash is not waterproof in any way so you'll need to keep an eye on the clouds before starting to clean your car's interior.
Related: The best car vacuum cleaners
What about your home?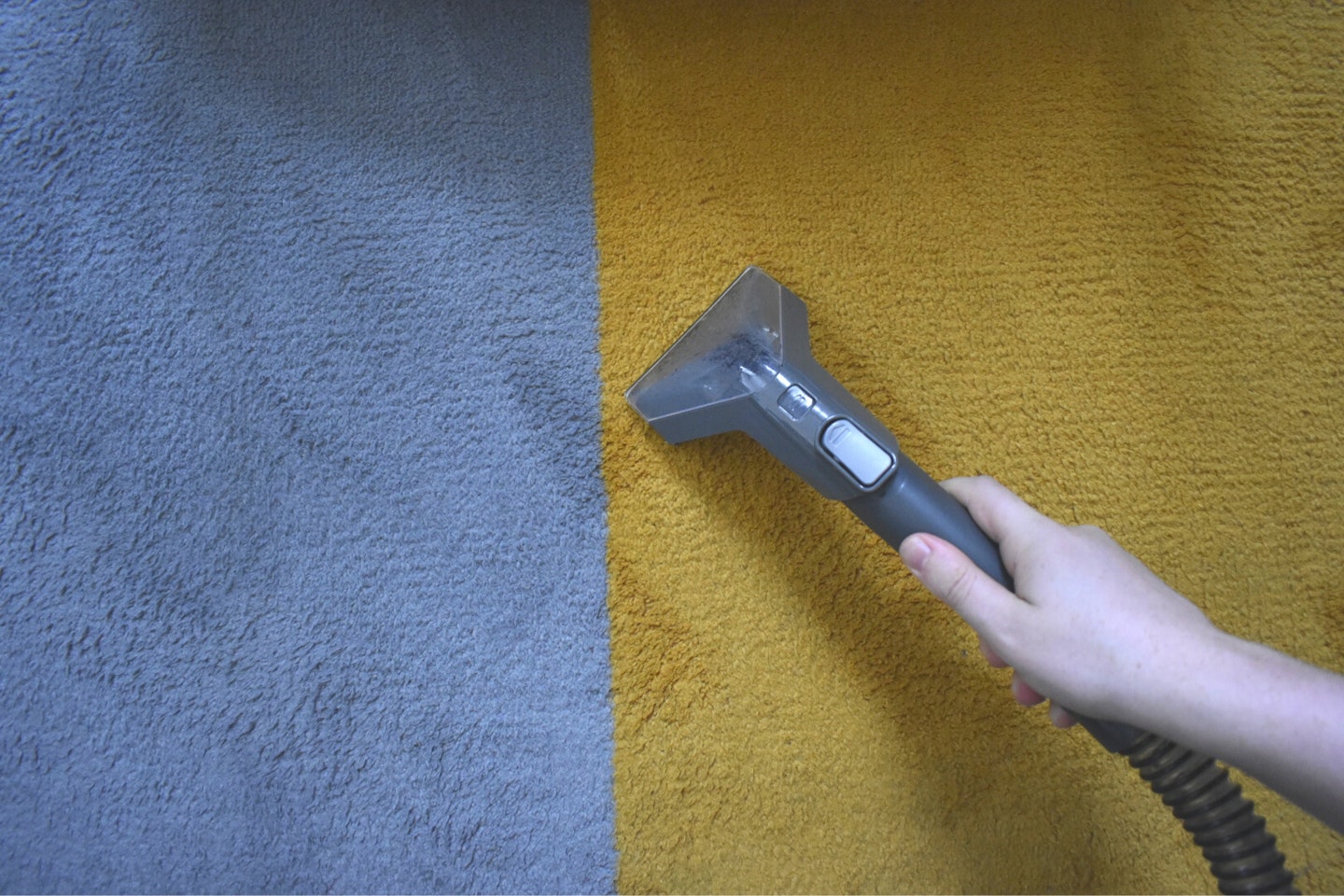 This is where the SpotWash feels most comfortable. Here the need for a plug socket isn't so much of a problem and the weight becomes a non-issue too as you can easily leave it on the floor.
The only real issue stems from its compact design. As it's designed for cleaning smaller areas, you'll probably spend longer cleaning a floor with this than you would when using a more traditional carpet cleaner. However, the obvious upside to the spot cleaner is that you can use the SpotWash to clean fabric sofas, upholstered chairs and even cushions, something that isn't easily done with a traditional upright carpet washer.
The hard floor tool head helps remove stubborn stains from hard floors meaning this tool is useful for also cleaning a kitchen, bathroom and even garage. In short, if you want to give pretty much any surface a deep clean and don't mind spending a bit more time cleaning then the SpotWash is a clever purchase.
Related: The best drying towels | The best alloy wheel cleaners
Final Verdict
It's all too easy to write the SpotWash off on the basis that you need a plug for it to work, and in some scenarios, it isn't the best spot cleaner for a car. However, if you look beyond this then the SpotWash is a very impressive cleaning option for both your home and car.
The fact it can also be used for so many household tasks as well as giving car interiors such a deep clean makes it a worthwhile investment. Add in the clever self-cleaning function and clever, ergonomic design and it becomes a very tempting appliance to keep your interior looking factory fresh.
While it may also come across as a niche product in a world of multi-purpose vacuum cleaners, the SpotWash will produce better results 100% of the time, especially if your car is often filled with young children, pets or shopping. Having said that, a spot cleaner is no replacement for a standard vacuum cleaner and works best as a supplementary product for the occasional deeper clean.
| Pros | Cons |
| --- | --- |
| • Powerful cleaning | • Corded |
| • Compact design | • Noisy |
| • Easy to clean | |