Take a look at any diecast model of the VW T1 Camping Bus and the prices can quickly leave you breathless. Even tiny 1:43 models can near the £100 mark if you opt for some good quality models.
And these toys are no good for children to play with, either. They're too heavy and delicate to be safe and aren't much fun to play with compared to a tiny toy car. And while there's nothing wrong with these small cars, they aren't the most detailed models. Surely, there must be something accurate enough for a petrolhead to enjoy, but robust enough for a child to play with?
RELATED: Love hertz: VW ID Buzz vs VW Microbus twin test review
Enter Playmobil
Playmobil, the German company which makes brilliant plastic toys for children has recently turned its attention to creating some tasty cars. Playmobil currently offers a nice selection of fully-licensed Porsches and two classic VWs, the Beetle, and the very cool T1 Camping Bus you can see now.
Made from plastic and suitable for children aged five and up, this VW T1 Camping Van should be able to bridge the gap and make an accurate model that is genuinely child-friendly. Away from the actual van, the set also includes two Playmobil figures and a load of camping accessories such as food, toothbrushes, cushions and even a (non-functioning) camera.
It looks good, doesn't it?
Once you've slotted all the pieces together (don't worry, it only takes about 20 minutes) and added all the stickers (a right pain for the smaller objects), the VW looks incredibly accurate and detailed, finished in red over white. While it isn't the top-spec 21-window Samba unit, it is a fully-furnished camping bus that comes in at roughly 1:17 scale.
It features a roof rack with working restraints and a removable sunroof that allows for some open-top motoring. And while there are no options to change the wheels or bumpers, they do look fantastic, and the clip-on VW hubcaps are a particularly nice touch.
Is the interior up to scratch?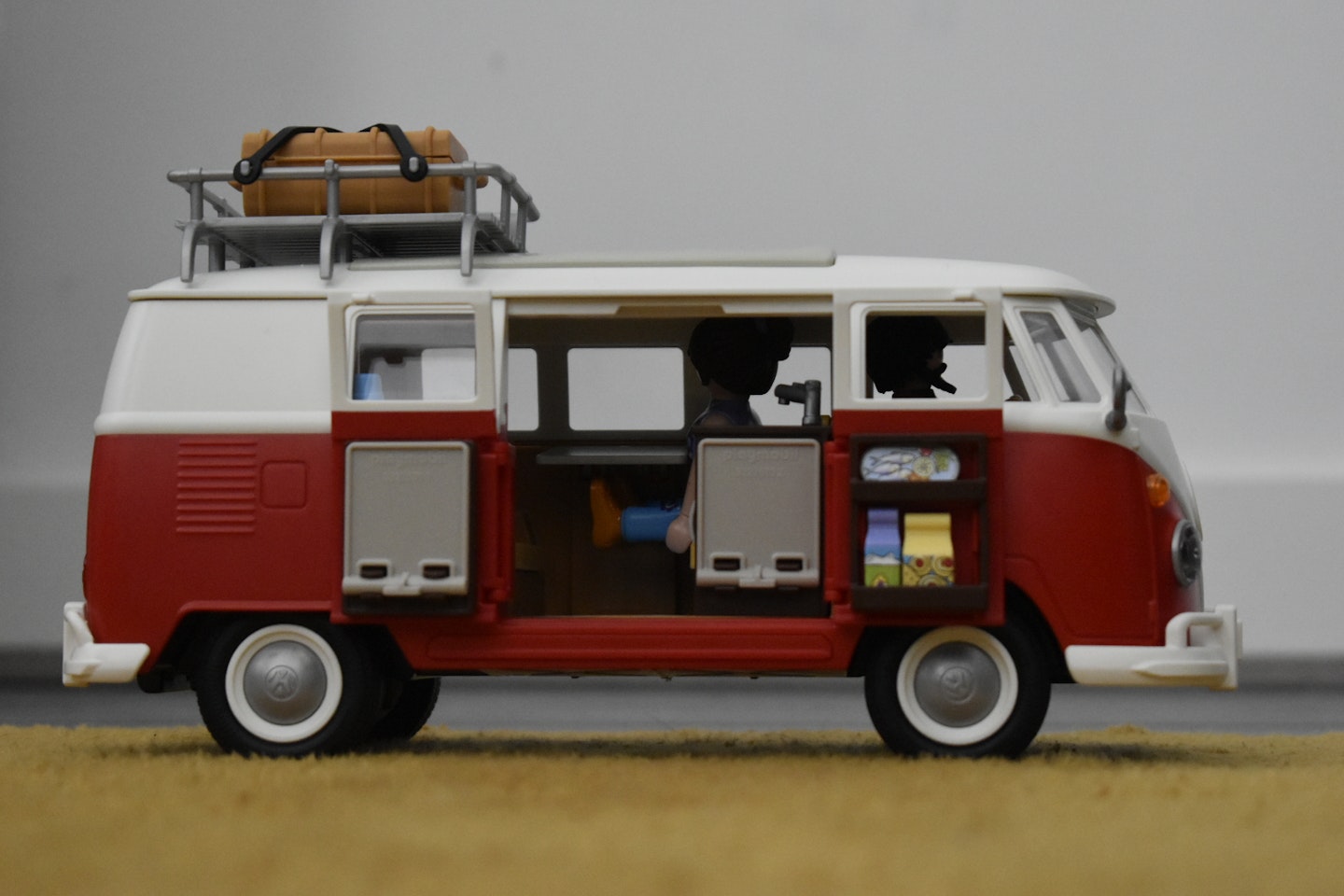 The interior is the best part of this model. Access to the interior is easy thanks to the removable roof and opening side doors, and Playmobil makes good use of the available space.
The dashboard is surprisingly well modelled, featuring the curved vents and single instrument dial of the original T1. The steering wheel is also accurately positioned almost horizontally like on a proper bus and finished in white. It also features a small knob, like a forklift, to allow the Playmobil character to grasp the wheel.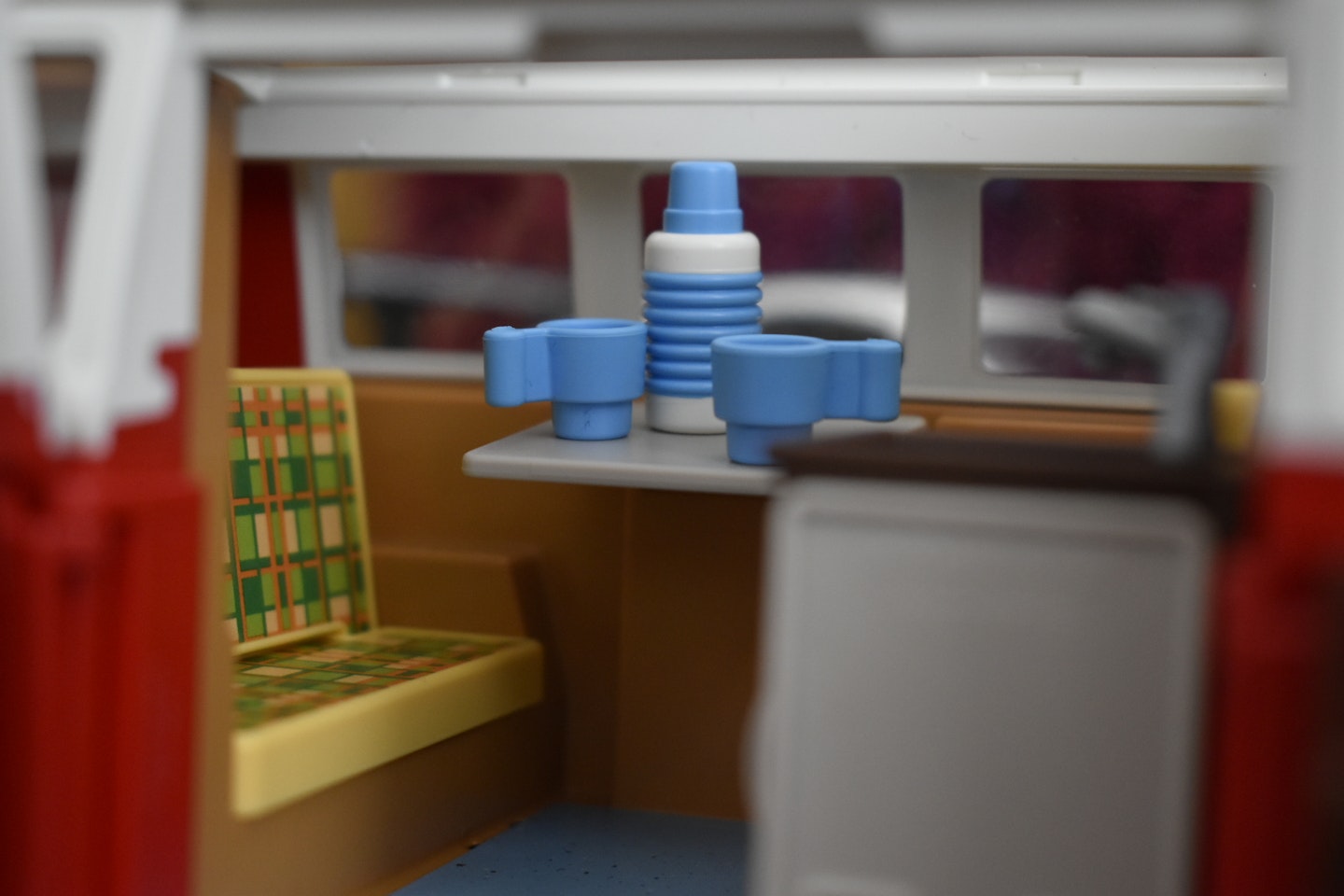 The real highlight of the interior is how efficiently the rear space is utilised. Not only does it come with seating for three Playmobil figures as standard (and a fold-up table), but it also features several clever storage options perfect for camping accessories. There are three integrated shelves and the sink unit (kitchenette?) features a cupboard.
Both rear doors feature storage options, too. One has a shelving unit, the other a fold-down table and mirror. The sink unit also features a fold-down table you can use with the side doors open. The rear seat folds out to make a double bed making this a proper camper, even if it's missing essentials like a toilet or oven.
The only real issue with the interior is that anyone with larger fingers will struggle to navigate the area with ease. Also, some of the smaller objects can be hard to pick up and will go missing over time.
How does it drive?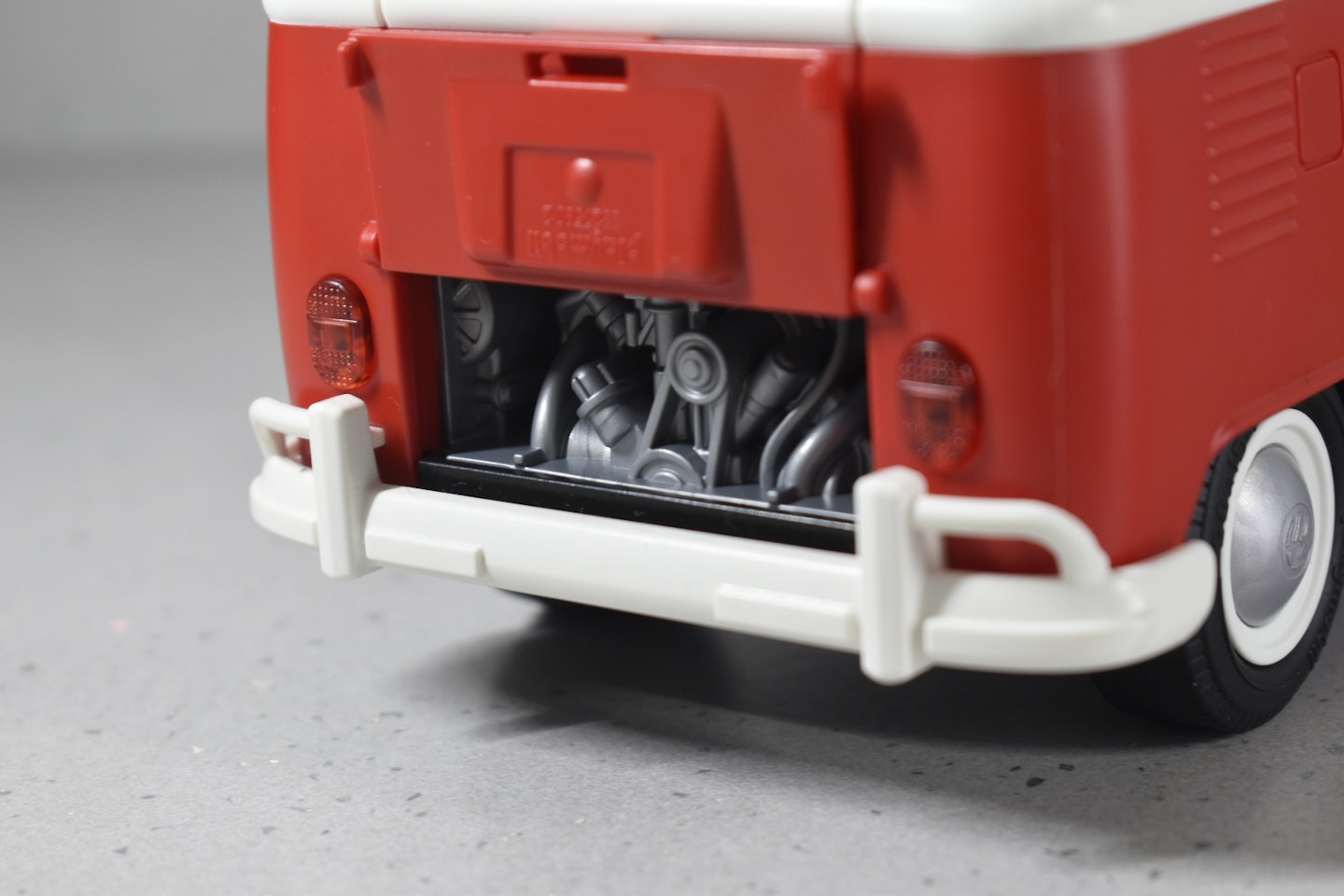 Despite having a fully modelled air-cooled engine in the rear, you may be surprised to find out that the campervan doesn't actually move under its own power. It also lacks steering of any description, which can make navigating around the coffee table a bit tricky. At least it features a rudimental set of axles that allows it to freewheel - as any good toy car should.
The campervan also lacks any form of suspension and the ride is simply atrocious. Despite the generous 38x15/1 tyres (yes, they do have that inscribed on them), any trip this camper takes on anything other than a flat surface is sure to rearrange anything not secured down. Expect to see cups, cushions and food littered across the floor of the bus, after even a short journey.
Is it good for children?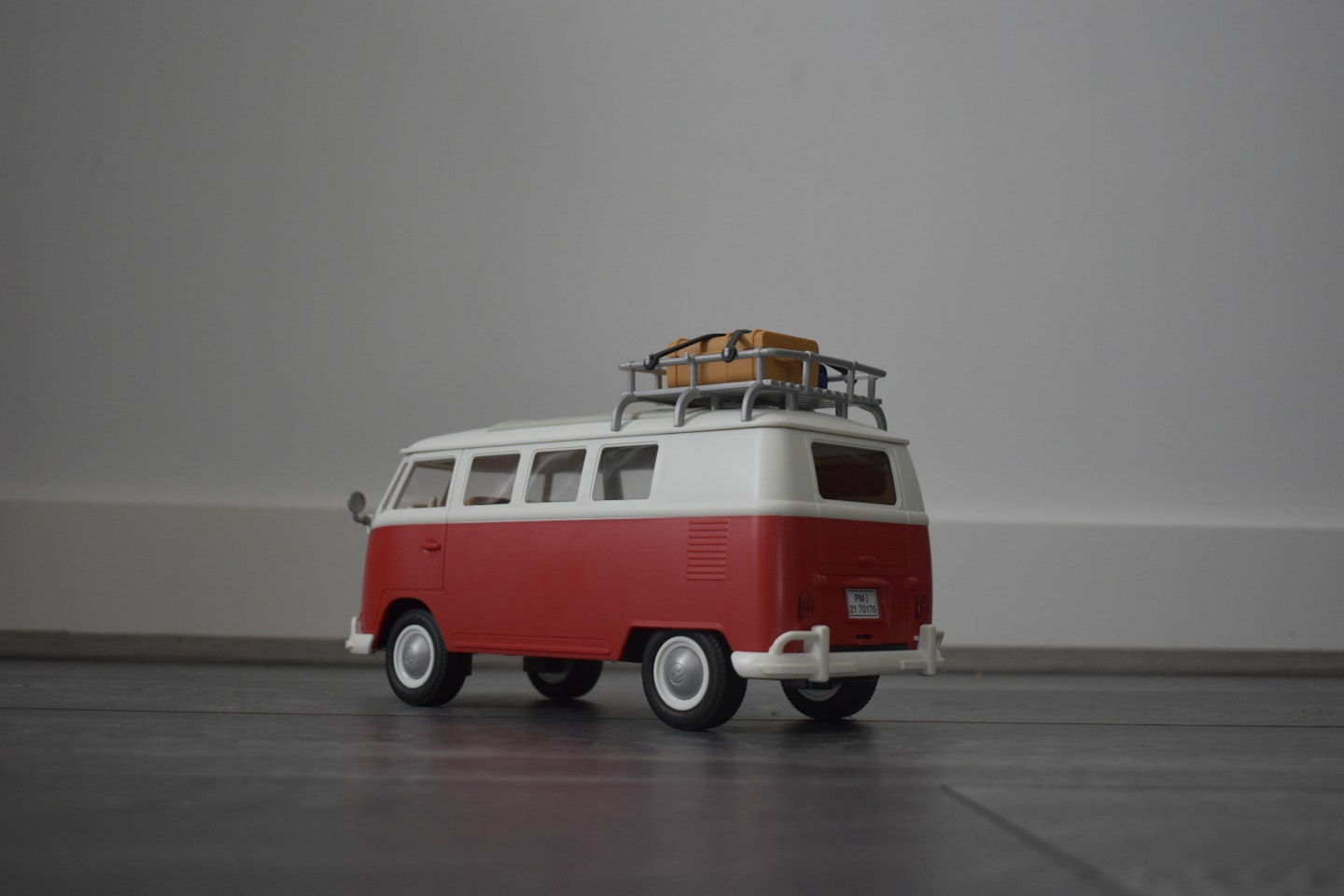 As a toy designed for children over the age of five, it's an excellent toy. Not only is it well made and packed with cool features, but it's fun and inspires imaginative playing as any good toy should.
Some of the very small accessories may not be suitable for very young children, but even if you take those away for safety reasons, the actual campervan remains an excellent toy. The robust plastic construction also makes it a good choice for when they inevitably throw it off the sofa or try and feed it to a dog. It's also easily rebuilt when they do manage to disassemble it.
Verdict
Even with the tongue-in-cheek jabs at its driving characteristics, we were thoroughly impressed with this campervan. Packed full of fun extras and impressively detailed for its price, this is an ideal gift for any child or adult interested in old VWs.
| Specifications | |
| --- | --- |
| Pieces | 74 |
| Features | Removable roof, Opening side doors, modelled engine |
| Age | 5 plus |
| Pros | Cons |
| --- | --- |
| • Great for kids | • You need small fingers |
| • Good build-quality | • Easy to lose small pieces |
| • It's fully licensed | |
Two-month update: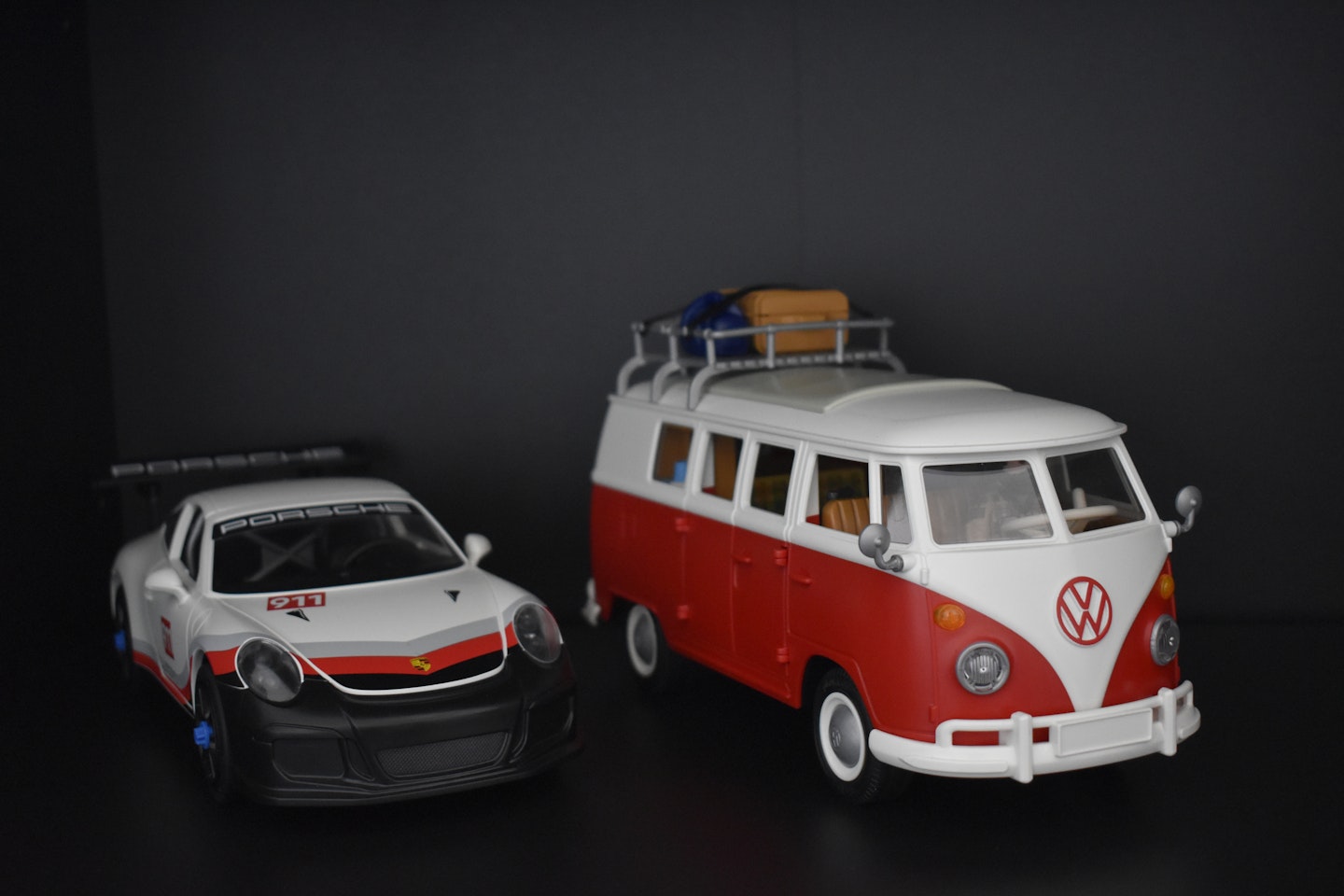 I've owned this Playmobil VW T1 for two months now and I'm happy to report that it hasn't broken or disintegrated even a little bit. It's proved itself as something that can easily survive a child's playtime and I haven't lost a single piece yet.
While I'll admit it hasn't had the same extensive usage that one wielded by a child would but it has been fiddled with and used for more than one photo shoot. When not in use it's taken residence on a bookshelf and elicited at least one compliment. In short, whether you're an adult or a child this T1 Camping Bus will be a sound investment.
As for the future, I am currently eying up this super-sized slice of Americana.
READ NEXT: