The adage 'never buy a car in the dark' is said for a reason; poor lighting is a dodgy car dealer's best friend. It'll hide blemishes and dents in paintwork and should mask the worst rust until it's too late, and you're halfway home in a car with non-existent door sills and more dents than a wrestler's skull.
Lighting is your ally when looking at a used car and you can never have too much of it (unless it's pointing directly in your eyes). It'll show up even the smallest of imperfections, and you can use a magnet to test and see if that suspicious-looking body panel is made entirely of filler.
Inspection lamps can be used for far more than just looking at a new car. They can help light up dark areas during repairs and the magnetic bases mean you can work hands-free. They also come in handy around the home. too - they're ideal for working on the boiler or fuse box.
In short, an inspection lamp is a must-have tool for many uses, and infinitely better than your phone's torch. We've tested a wide selection of them to find the best.
How we tested the inspection lamps
A good inspection lamp should provide excellent lighting and easy to use hands-free. With this in mind, we first tested the inspection lamps in a low-light environment to see how bright they could be. We also took this chance to see if the light was adjustable.
We then looked for features that would come in handy when working hands-free. Features like magnets, hooks and auxiliary lights were all examined to see how versatile these lamps could be. Finally, we looked at any extra features and how ergonomic they were to hold.
RELATED: Best car battery chargers
Sealey LED180 Rechargeable Slim Inspection Lamp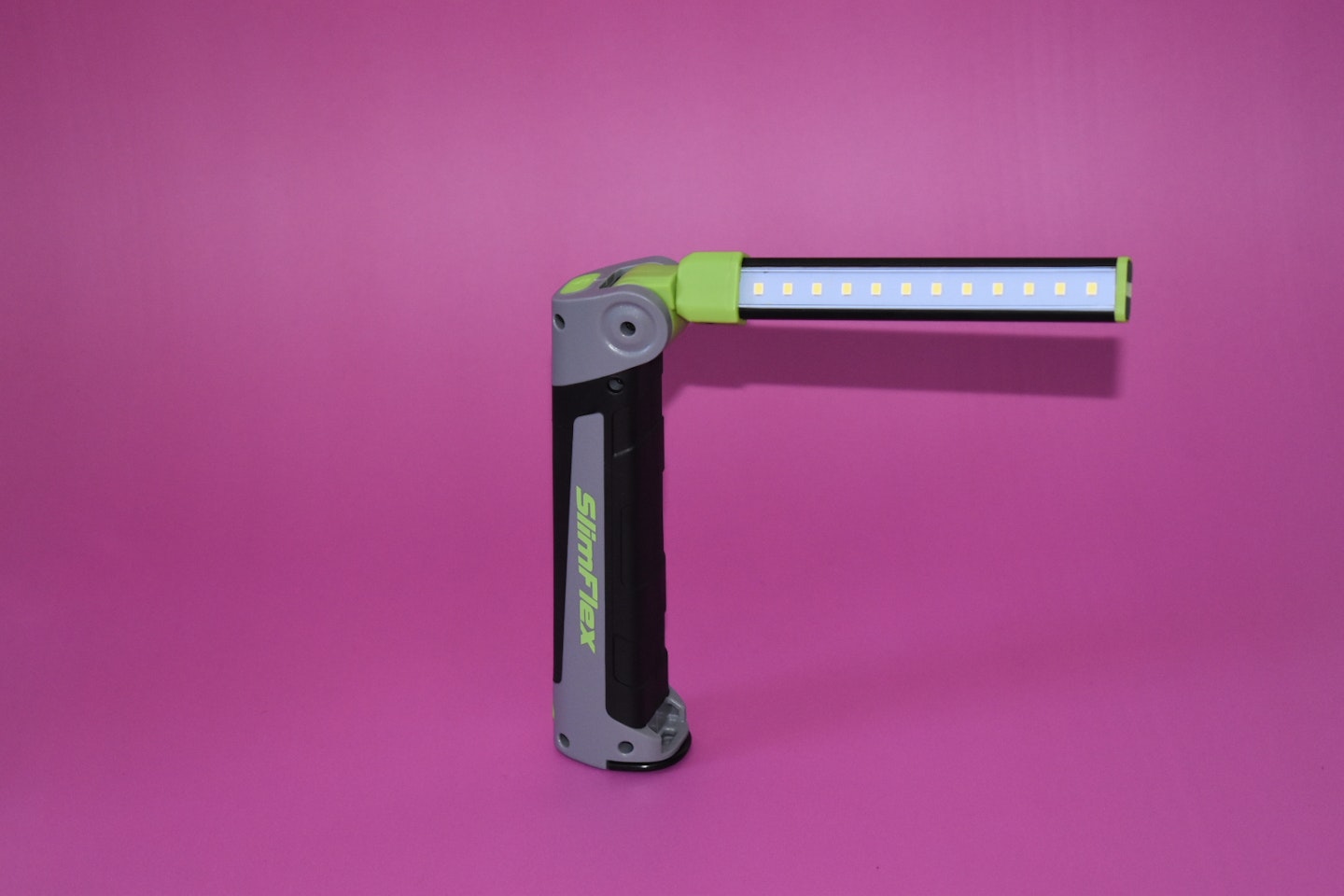 Our top pick for inspection lamps comes from Sealey and is chosen for expertly balancing value against premium quality and impressive specs.
Despite being fairly compact in size, this option features 12 SMD LEDs for the main light and a single LED in the end that can be used as a regular torch. The dimming switch for the main light is a welcome addition, as is the adjustability. The Sealey not only folds out but can be rotated 180-degrees, making it ideal for pretty much any situation, although it only rotates in one direction, which is a tad annoying.
There are three magnets and an integrated hook for hands-free operation and the compact size makes this a tool you can genuinely keep in your pocket. It also has a real premium feel to it. It's not heavy by any description, but it feels solid like a Lexus and it has a grippy coating.
The only real drawback is the lack of a battery level indicator. While the eight-hour battery life is impressive, there is no way of knowing when the battery is low until it dies.
Best overall inspection lamp
| Specifications | |
| --- | --- |
| Lumens | 400 |
| Magnets | One in the base, Two on the back |
| Hook | Yes |
| Rechargeable | USB |
| Weight | 272g |
| Other features | Works as a torch, Dimmable |
| Pros | Cons |
| --- | --- |
| • Excellent quality | • Lacks battery level indicator |
| • Powerful light | |
Draper 98342 7W COB LED Slimline Inspection Lamp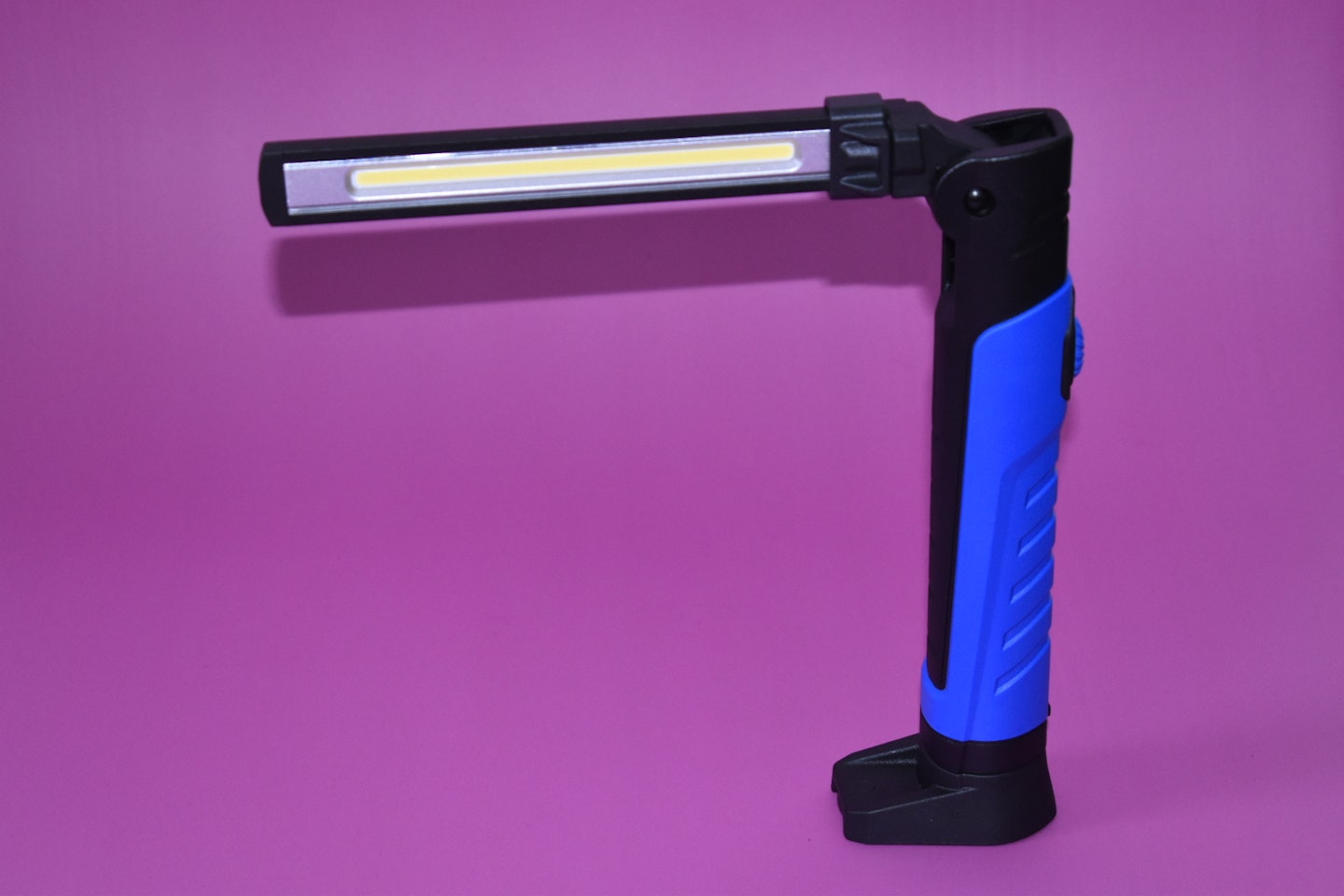 A similar design to the Sealey unit, this slimline inspection lamp from Draper is another top choice. Even more powerful with a maximum of 700 lumens, it has many of the same features including a hook, dimming option (using a wheel) and swivelling function. It also has the same feeling of quality.
It has a conventional torch in the tip; however, the lamp has to be fully extended to use it, unlike the Draper. One big plus point over the Draper is that this lamp features a battery level indicator.
The reason it doesn't quite clinch the top spot is that it's bulkier than the Draper option and isn't as versatile, with magnets only present in the base. If there had been a magnet on another side, it would be our number one choice.
| Specifications | |
| --- | --- |
| Lumens | 700 |
| Magnets | One in the base |
| Hook | Yes |
| Rechargeable | USB Tyce-C |
| Weight | 640g |
| Other features | Works as a torch, Dimmable, Battery indicator |
| Pros | Cons |
| --- | --- |
| • Powerful light | • No magnets in the back |
| • Excellent features | • Bulky construction |
| • Top quality | |
Best larger inspection lamp
Philips EcoPro61 LED Work Light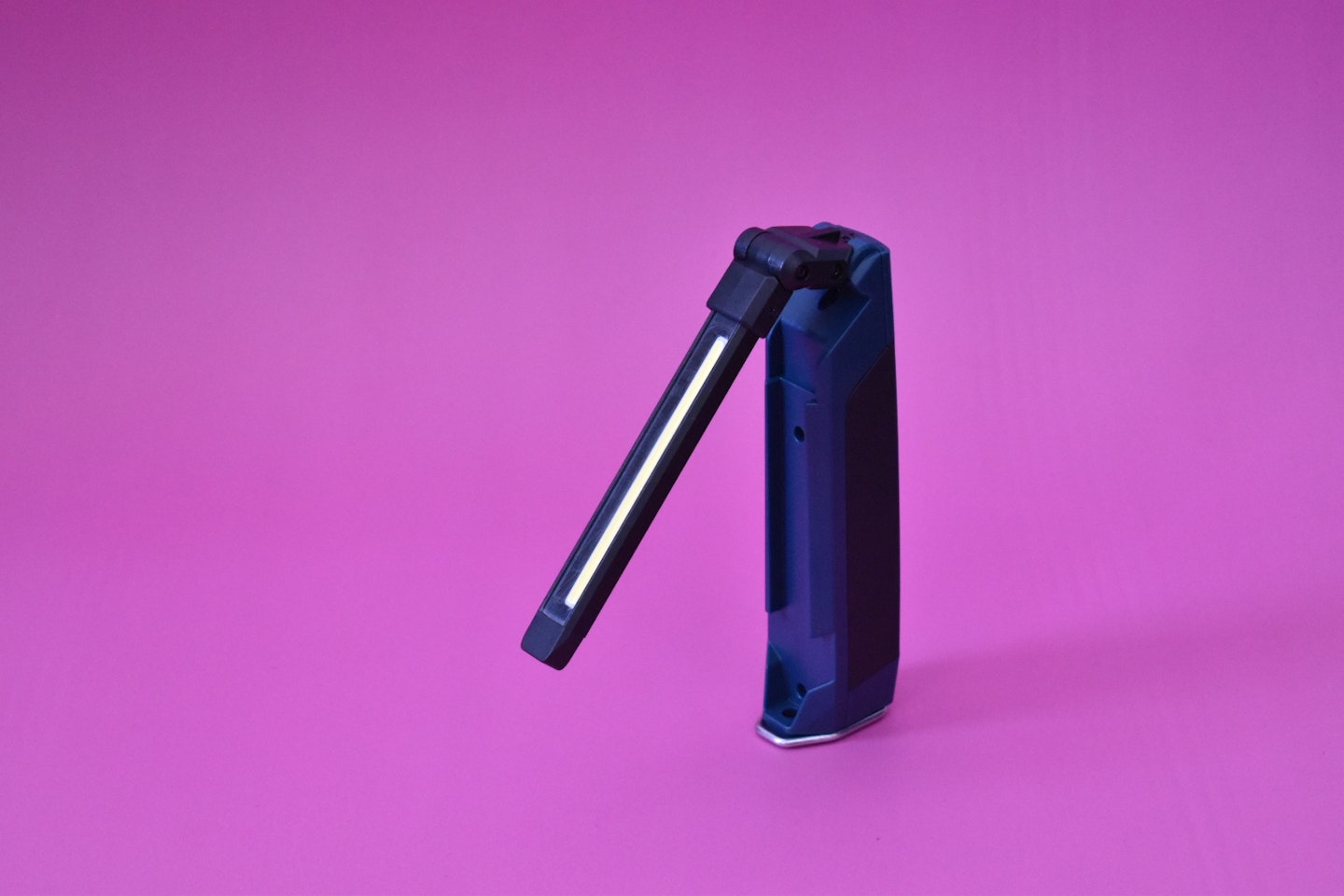 Another very versatile design from Philips, the EcoPro61 is another compact, well-made inspection lamp.
While this lamp can't swivel, it is double jointed which gives 270-degrees of flexibility. And although it may lack a proper dimmer, it does feature three levels of intensity that can be selected by pressing the on button.
As such, the only thing that really holds the Philips back is that the light cannot swivel. It's still an excellent inspection lamp.
| Specifications | |
| --- | --- |
| Lumens | 500 |
| Magnets | One in the base |
| Hook | Yes |
| Rechargeable | Micro USB |
| Weight | 230g |
| Other features | Works as a torch, programmable light, Battery indicator |
| Pros | Cons |
| --- | --- |
| • Brilliant build-quality | • Light doesn't swivel |
| • Clever design | • Expensive |
Philips Automotive Lighting LPL47X1 RCH21S LED Work Light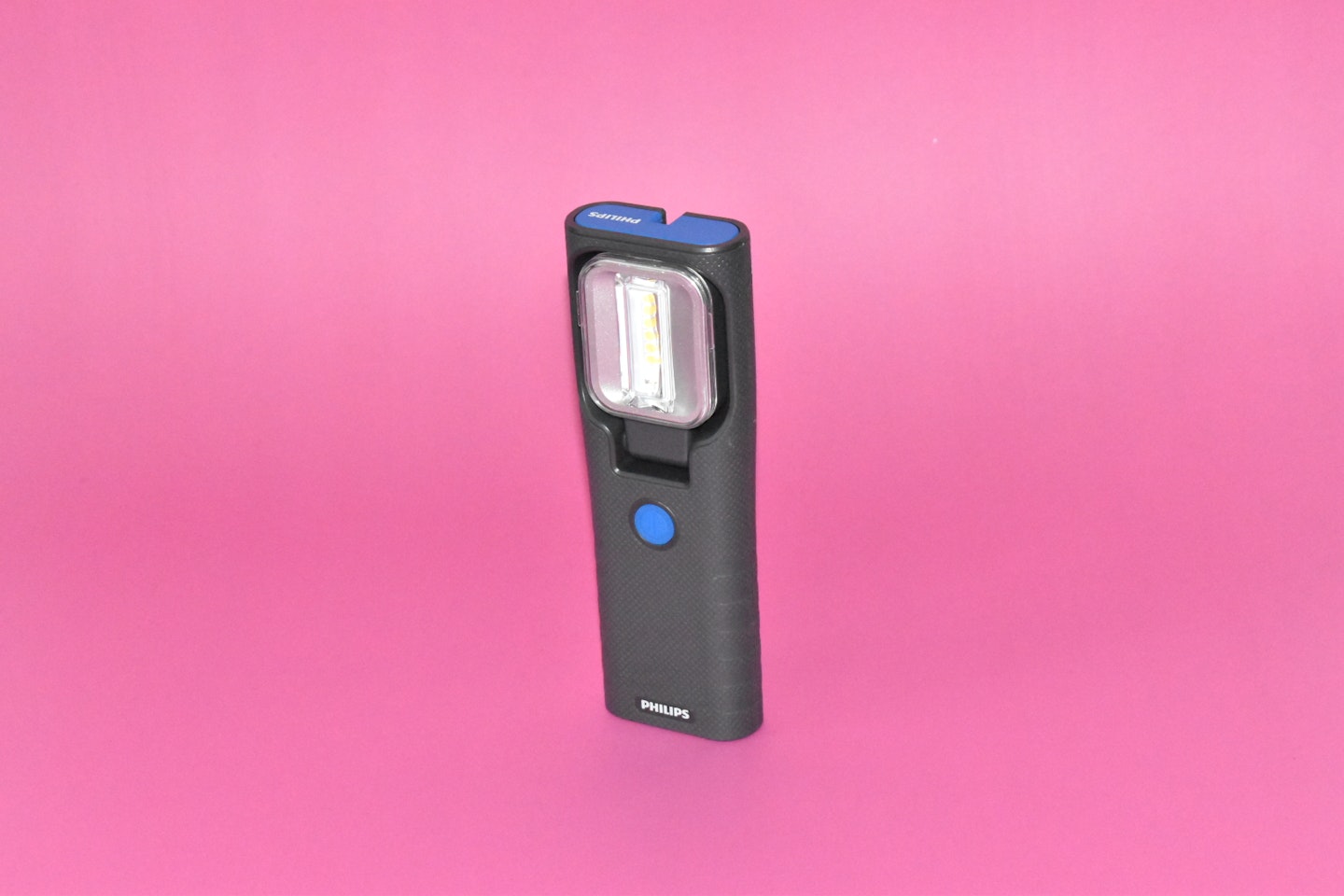 A slightly different design from this inspection lamp doesn't prevent it from being one of the most versatile and clever options.
While there is only a single magnet on the rear of the lamp, the actual light can tilt up to 90-degrees. It also features a simple hook which may feel a tad flimsy but will securely hold the light. The light is decently powerful even if it only features two settings.
It's coated in rubber for excellent grip and is designed to be resistant to the worst fluids your garage can throw at it. One nifty feature was the red anti-loss light that will prevent you from losing it while it's on standby. The six-hour battery life is definitely welcome.
On the downside, it ships with a European plug adapter, which can make charging a pain if you don't have a USB adapter.
Specifications
Lumens
300
Magnets
One on the back
Hook
Yes
Rechargeable
Docking station
Weight
250g
Other features
IP65 waterproof, Standby light
| Pros | Cons |
| --- | --- |
| • Great quality | • Flimsy hook |
| • Clever design | • Ships with wrong adapter |
Best premium inspection lamp
Ring Automotive RIL4200 Fast Charge LED Inspection Lamp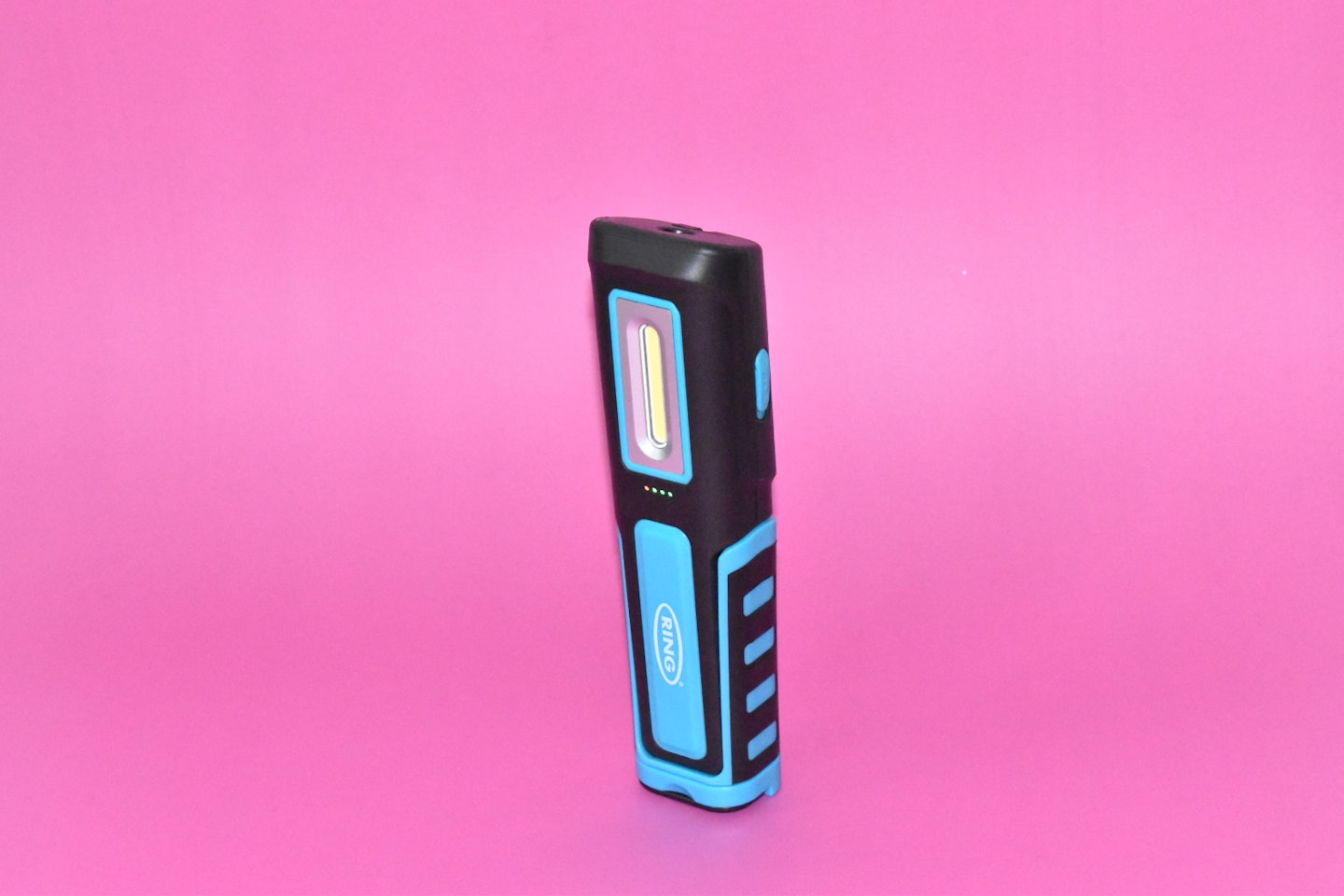 This chunky lamp from Ring Automotive is a very tough and quick charging lamp that would be perfect for use in a professional garage.
While its larger size means it's not as versatile as smaller units, it does offer the most options for hands-free working thanks to the double hooks (one at each end) and three magnets. The two in the back of the unit are welcome but it's the bottom magnet that's more impressive. This magnet is attached to a racket mechanism that allows the rest of the lamp to pivot.
The floodlight was impressively bright but the real bonus with this lamp is how quick it can be charged, 0-100% in just an hour. The rubberised sides meant that it was both shock-resistant and easy to hold and use as a regular torch too. In fact, the only real issue we could find with the Ring lamp was that it was too bulky to use in tighter spaces.
Specifications
Lumens
500
Magnets
One in the base, Two on the back
Hook
Yes (one at both ends)
Rechargeable
USB-C
Weight
400g
Other features
Works as a torch, Battery level indicator
| Pros | Cons |
| --- | --- |
| • Sturdy construction | • Bit bulky |
| • Versatile design | |
Best simple inspection lamp
Philips LPL74X1 LED Head Torch Headlamp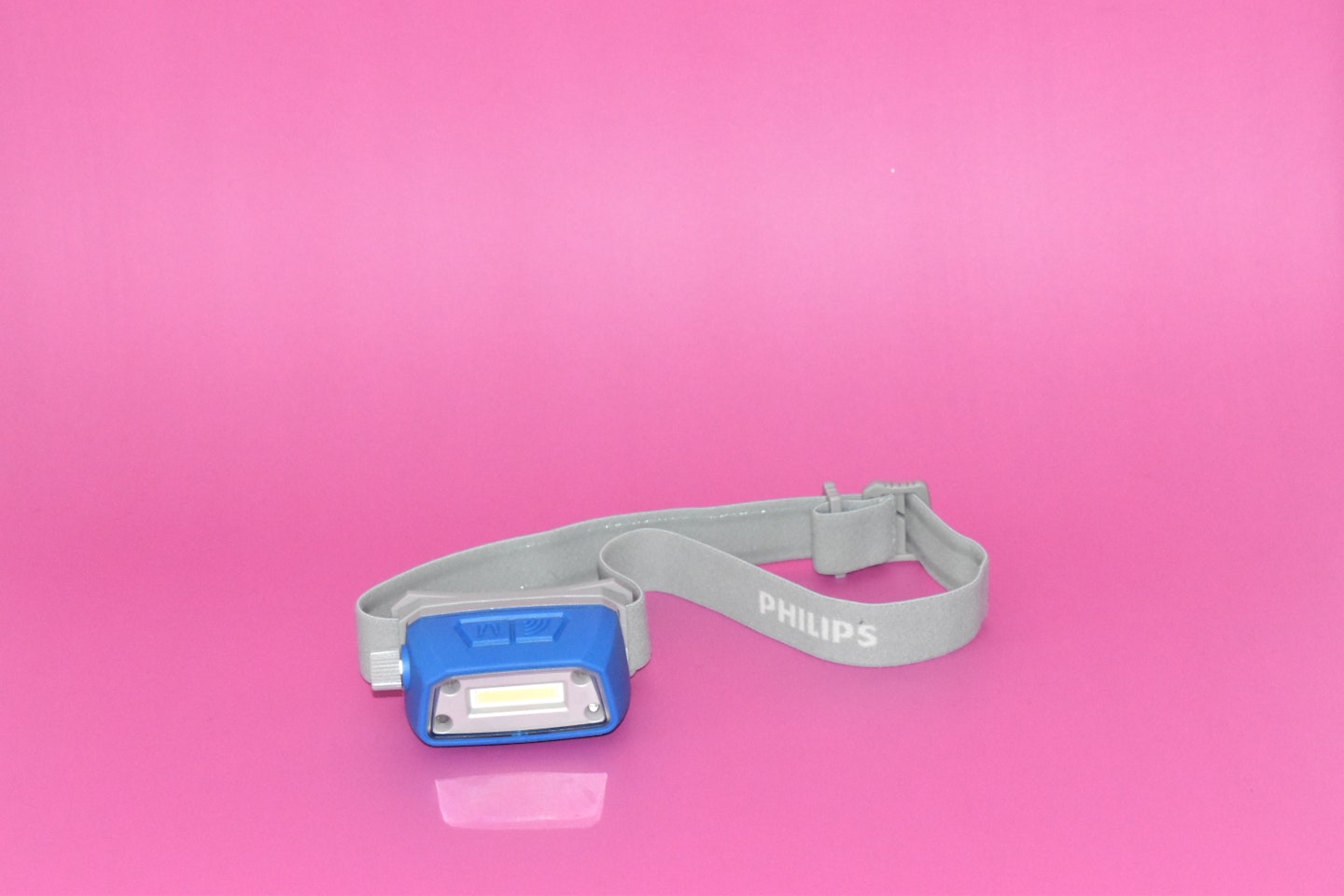 A slightly different take on the traditional inspection lamp, this head-mounted torch is an unusual but interesting choice.
While it lacks the usual hooks and magnets for hands-free working, the torch does offer some adjustability and is surprisingly comfortable to wear for prolonged periods of time.
It offers excellent light adjustability with both a wheel and button for choosing light intensity. It features an SOS feature for wearing if your car has broken down, a potentially lifesaving feature.
One amazing feature of this is that the light can be turned on and off with a motion sensor. We tested this out and were amazed at how genuinely useful this was for hands-free working, even if head movements could occasionally knock off the light.
And while we aren't convinced it's a better option than a traditional inspection lamp, it is a thoroughly impressive head torch and a very handy thing to keep in your car in the event of a night-time breakdown.
Specifications
Lumens
300
Magnets
None
Hook
None
Rechargeable
Micro-USB
Weight
115g
Other features
Head mounted, SOS mode, Motion sensor
| Pros | Cons |
| --- | --- |
| • Great head torch | • Not a proper inspection lamp |
| • Welcome safety features | |
Our top head-mounted option
Philips Compact Dimmable Pocket Lamp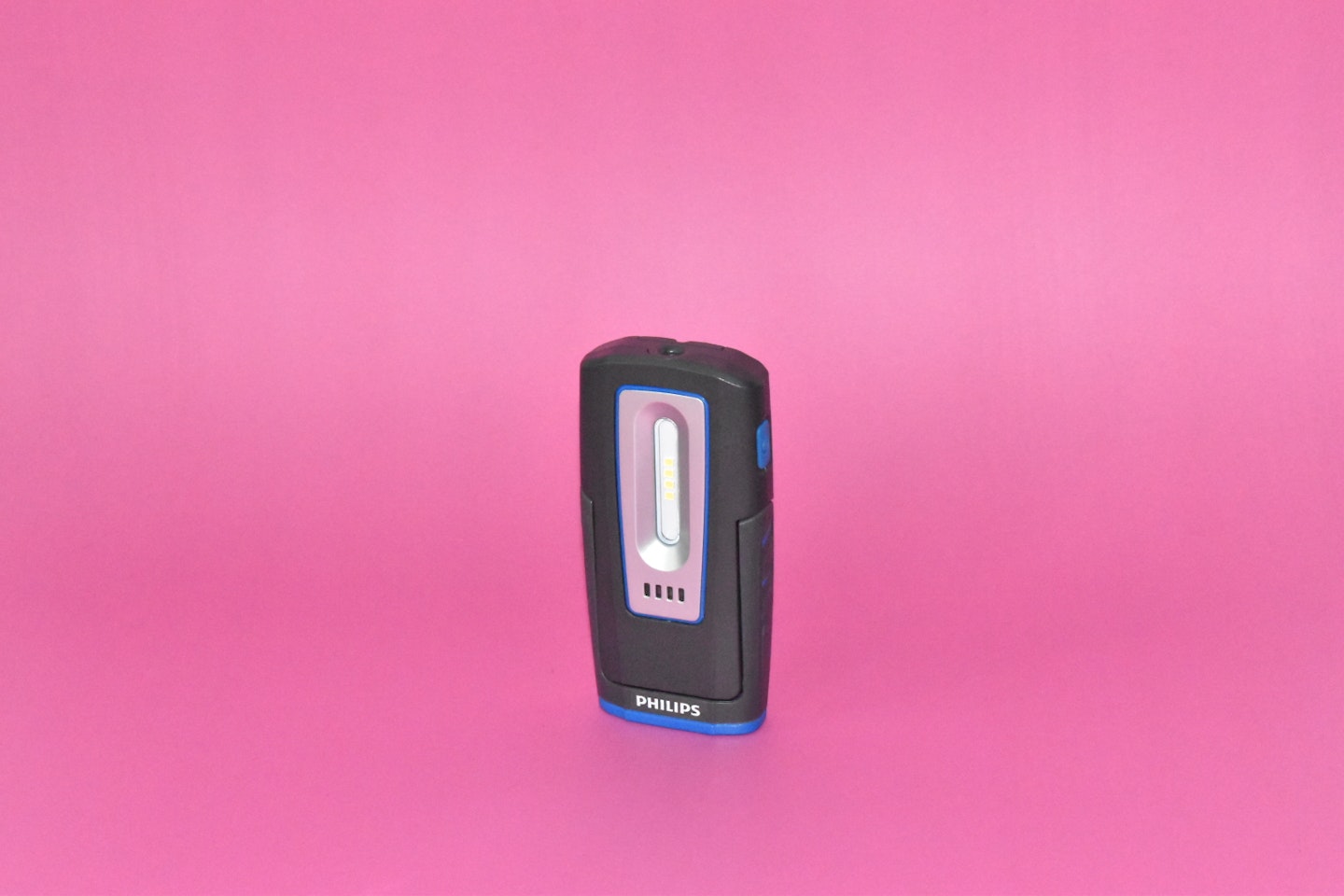 This stubby pocket lamp from Philips is another acceptable choice, but it does have clear limitations.
The big issue with this lamp is that for a 'pocket lamp' it doesn't feel very compact. It's not the most ergonomic to use as a regular torch thanks to the wide dimensions. The hook is also too small to be properly useful.
On the plus side, it has the usual Philips excellent quality, the light is powerful, and it makes the most of its single magnet. While this lamp only has one magnet in the base, it does allow for the lamp to tilt.
Still, there are better inspection lamps available. At least it comes with a smart-looking charging dock.
Specifications
Lumens
300
Magnets
One in the base
Hook
Yes
Rechargeable
Docking station
Weight
460g
Other features
Works as a torch, smart dimmer, Battery indicator
| Pros | Cons |
| --- | --- |
| • Well-made | • Not easy to carry |
| • Nice docking station | |
Good quality inspection lamp
Philips Dimmable LED light with charging dock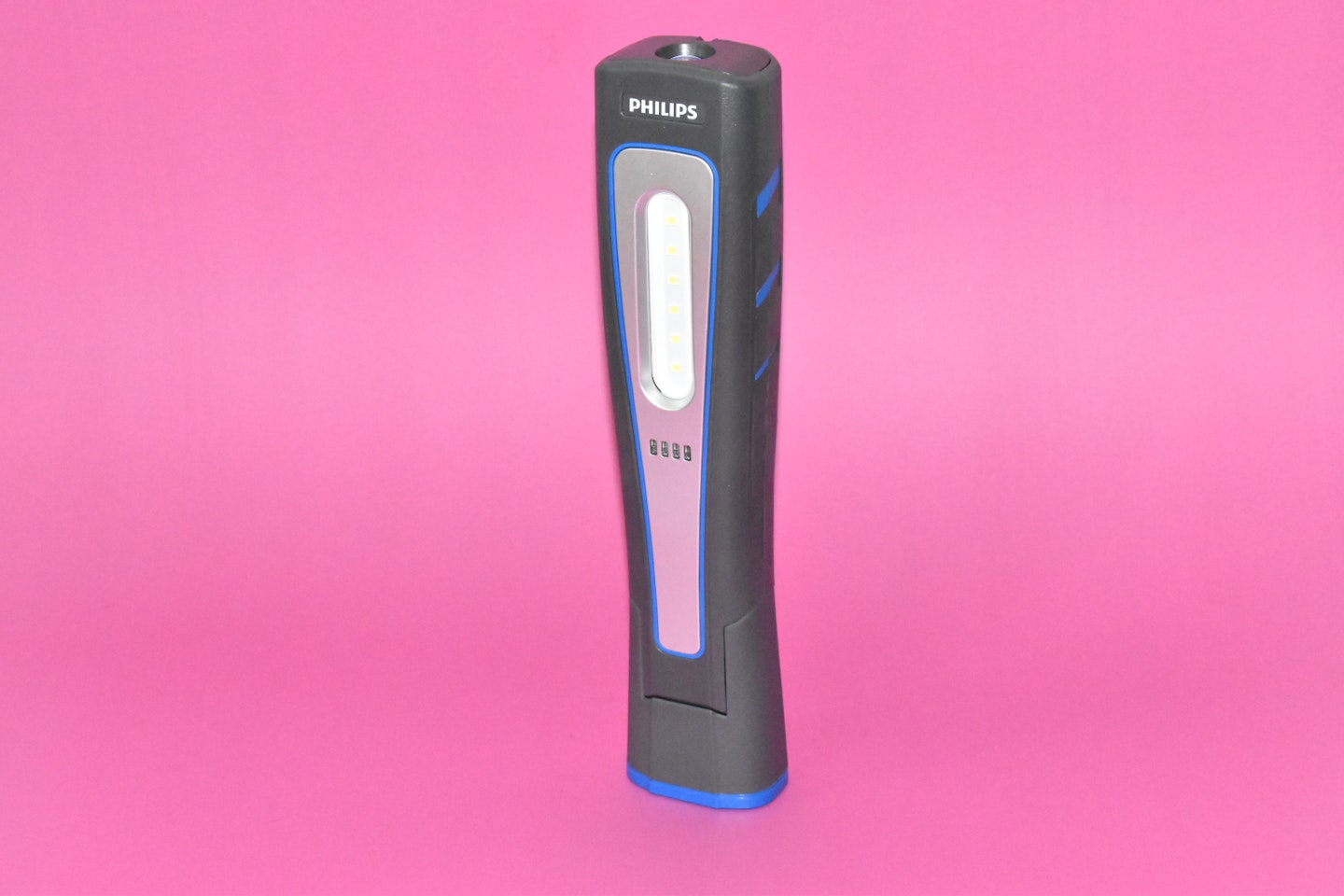 A larger version of the pocket lamp, this inspection lamp from Philips is far easier to hold but difficult to use in smaller locations.
The main problem that this inspection lamp faces is that it's massive. The excessive size makes it incredibly easy to use handheld, but hands-free use can be difficult. The size and shape do make it an excellent regular torch, however.
Even though it comes with three magnets (the base magnet being tiltable) and a generously sized hook, you need a large space for this to be useful. The light is one of the most powerful here.
In terms of build quality and for handheld use, it can't be rivalled, but as something to use in tight spaces, you'll quickly find its limitations to be an irritant.
Specifications
Lumens
500
Magnets
One in the base
Hook
Yes
Rechargeable
Docking station
Weight
700g
Other features
Smart dimming, Water resistant
| Pros | Cons |
| --- | --- |
| • Best for handheld use | • Rubbish in tight spaces |
| • Top quality | |
Best large inspection lamp
Amtech S8188 10W USB Rechargeable Work Light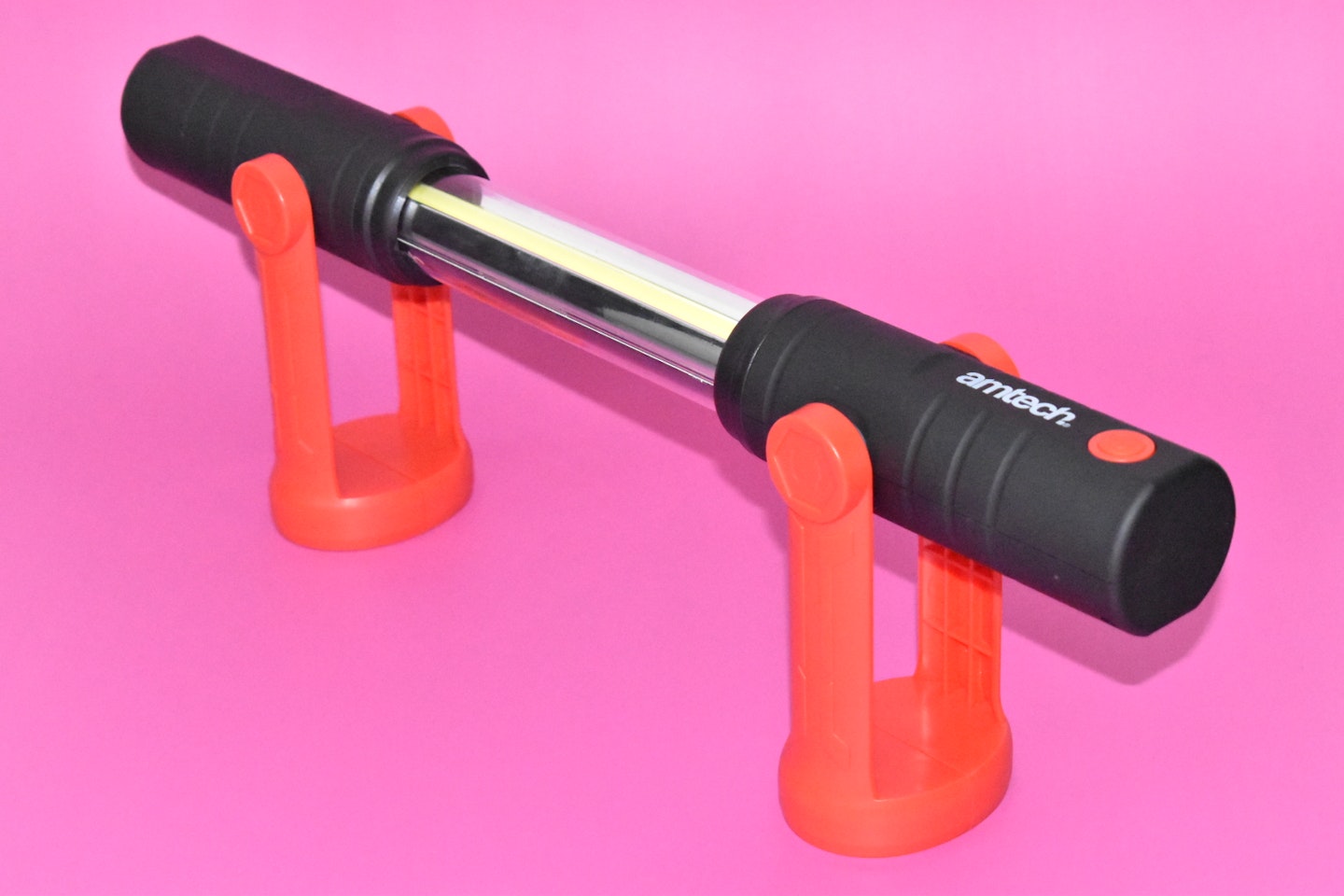 The largest lamp on our test, the Amtech is actually labelled as a work lamp.
As an inspection lamp however it's next to useless, the telescopic bits slide around in your hands and conceal the lighting and it's incredibly ungainly to hold. The two magnetic legs are a welcome addition for storing it but the lack of hooks is annoying.
The redeeming features for this are that it's cheap, is rechargeable and decently powerful. A great value work light for hands-free use, but a useless handheld inspection lamp.
Specifications
Lumens
600
Magnets
One in each foot
Hook
No
Rechargeable
Micro-USB
Weight
500g
Other features
Telescopic
| Pros | Cons |
| --- | --- |
| • Cheap and powerful | • Rubbish for handheld use |
Best value large inspection lamp
JML Handy Brite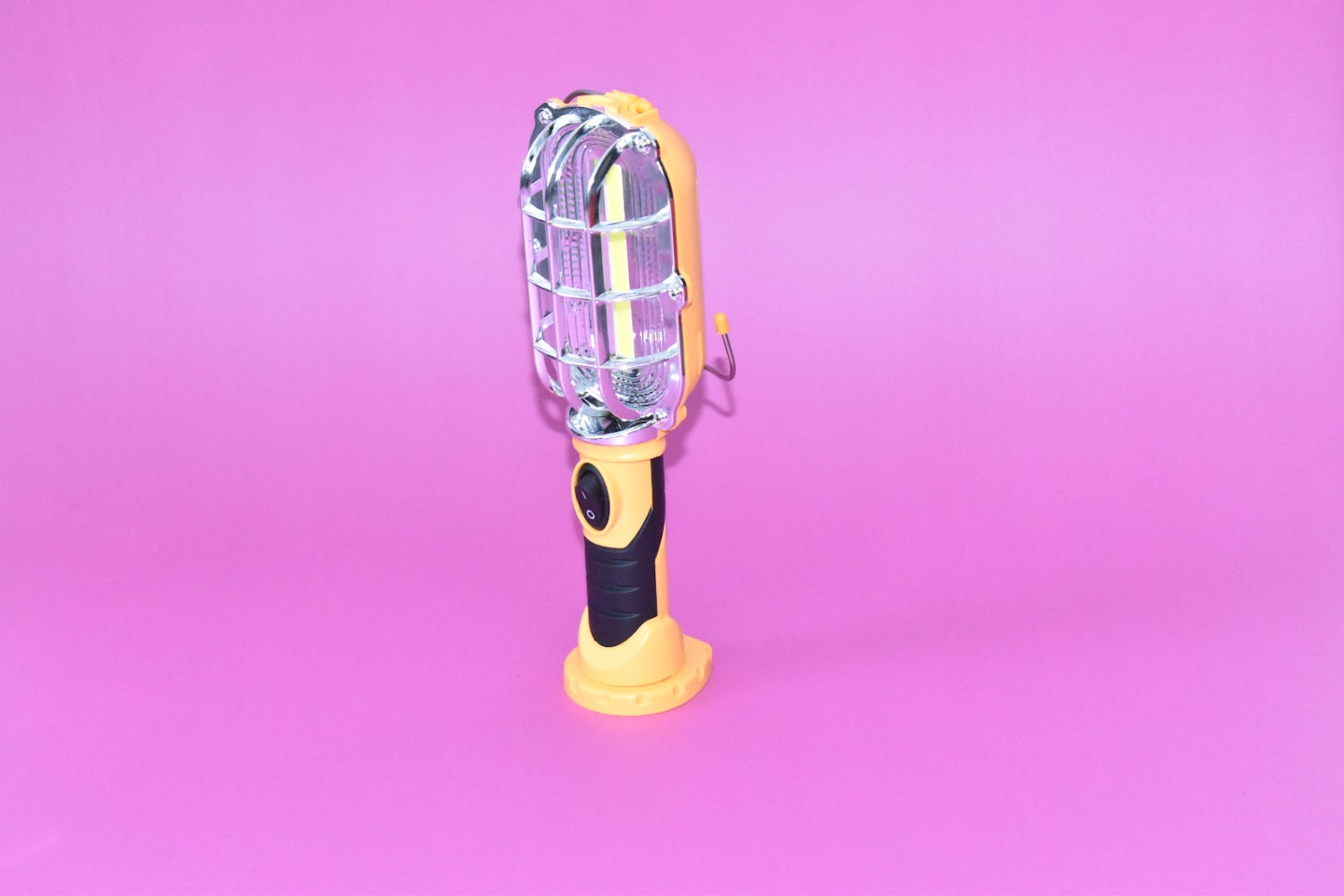 The Jeep Renegade of the inspection lamp world, the JML Handy Brite is a fairly standard inspection lamp, balancing cool styling with a cheap price. While we were impressed by the faux-tough-guy styling and cost, that's where the praise ends.
The biggest problem with the JML is that it feels so compromised because of its low price. The LED light isn't the best and offered no adjustability other than on or off. It also features only one magnet, the metal hook appears to be made from an old coat hanger and it isn't rechargeable. While the batteries didn't need changing during our testing, you'll need three AA batteries when they do run out. At least it ships with some already installed for you.
Another issue with the JML Handy Brite is the cheap feel of everything. While other inspection lamps felt robust and weighty, the JML's plastic felt cheap and brittle.
If you're on a really tight budget and need a simple inspection lamp for light-duty the JML is alright but certainly comes in last place here.
| Specifications | |
| --- | --- |
| Lumens | N/A |
| Magnets | One in the base |
| Hook | Yes |
| Rechargeable | No |
| Weight | 10g |
| Other features | None |
| Pros | Cons |
| --- | --- |
| • Cheap | • Non-rechargeable |
| • Looks cool | • Feels very cheap |
Best on a really tight budget
READ NEXT: