Before we dig into the Bissell Spotclean Pet Pro, let's remind ourselves of why we need car spot washers. Any car fitted with carpets will often end up stained at some point, and it will without fail be something that'll reek. Whether it be a pet or child accident, spilt dairy or something resembling a takeaway, you'll feel like ripping the carpet out to simply get the smell to leave your nostrils.
Stain removers and fabric sprays can be used for really small stains but will quickly be proved ineffective against a particularly stubborn stain. It's here that a spot cleaner comes into its own, expertly navigating the interior of a car and tackling these stains in a single burst of shampooing and suction.
BISSELL is perhaps the best-known domestic spot cleaner brand and the SpotClean Pet Pro is the top dog of the brand's lineup. Designed to remove stains and odours in one, it's a premium option but one that's garnered a reputation for excellence. We're putting the SpotClean Pet Pro to the test to see if it's really worth buying for your car.
Big but clever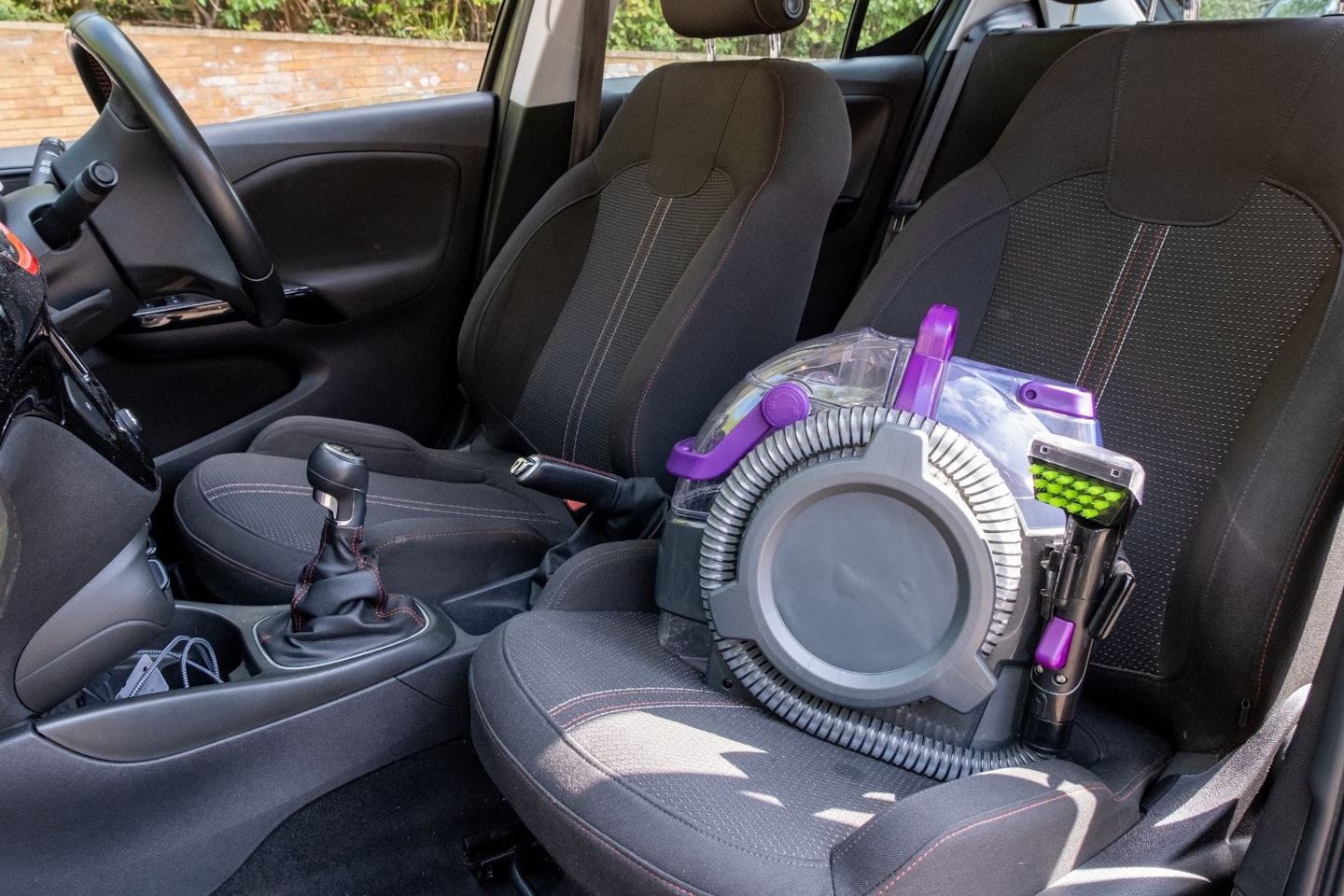 The central point of a good spot cleaner is portability, there'd be little point trying to use a conventional carpet cleaner inside a car unless it was shaped like a Suzuki Wagon R and had totally flat floors. A spot cleaner is designed for deep-cleaning smaller stains and can be easily used for car interiors.
For a portable device, the SpotClean Pet Pro is a big machine. It's brilliantly designed and full of neat ergonomic touches, it's just huge. The dirt tank, for example, features a clever locking system that means it's always locked in the correct place and there's no chance that you'll accidentally spill 200ml of murky water onto your shoes. Perhaps the sole plus point to the size is that you won't need to stop to empty the tank very often. Cleaning an entire car seat removed a load of dirt and debris and yet barely filled the tank.
The rest of the design is just as clever, but still on the larger side. The 1.5-metre hose is neatly held in place and can be fully extended really quickly, the same can also be said for the 6.5-meter power cord. There's a simple trigger to squirt the shampoo onto the fabric, although it does start to hurt your hands after a while.
The sturdy feel of every touchable piece is reassuring for the long-term durability of the device but also helps explain the hefty 5.8kg weight before any cleaning solution has been added. It's a fair workout lifting the SpotClean Pet Pro around the car, especially if the cockpit is small and finickity to navigate. The best practice we found was to balance the body on the seat that wasn't currently being cleaned, bad news for anyone looking to clean a BAC Mono.
Can it clean?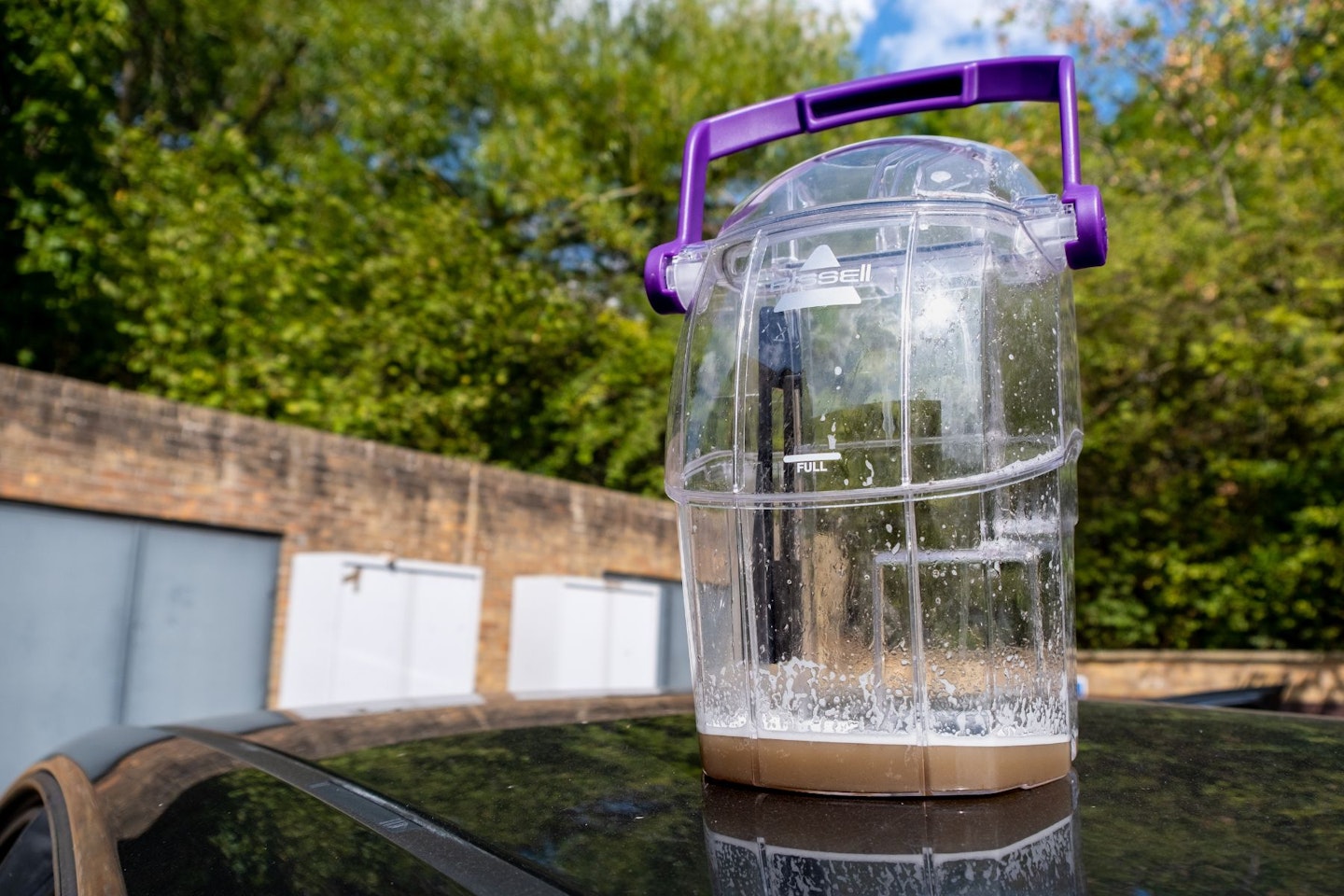 The brown fluid contained in the tank comes from a single seat in a car, and not a mud-plunger, a newish (2017) Vauxhall Corsa that's semi-regularly vacuumed. All of that grime was quickly and expertly pulled from the seats using the SpotClean Pet Pro, most of it pulled up with the first pull. Most embedded stains were expertly dealt with too, but a fair bit of saturation from the included shampoo was required.
It's a powerful machine thanks in part to its 750W motor, impressive for something that tackles such a small surface area. That meant it not only pulled stains out of fabrics, it restored the pile too. There's no need to worry about older fabrics being damaged either, it restored the door pocket of a 15-year-old Volvo with no trouble whatsoever.
Versatility is a big plus-point for the Pet Pro, it worked easily on any fabric surface we could reach, from the usual car seats and carpets right down to sofas and stairs. It basically fills the void for any surface a regular carpet cleaner would struggle to reach.
In terms of drying the fabric after treatment, the BISSELL mostly excelled at this. Flat surfaces were mostly dry with a single pass of the tool, with perhaps the odd second go required for any surface that had been particularly saturated in the name of stain removal. On curved surfaces however, the head did struggle to lift the liquid in one go adequately, it called for multiple passes and small adjustments to collect the shampoo.
The included Stain Trapper attachment is a clever gadget designed for use on particularly harsh, baked-in stains. It pulls the stain out of the carpet into a smaller tank for easier emptying.
Any downsides?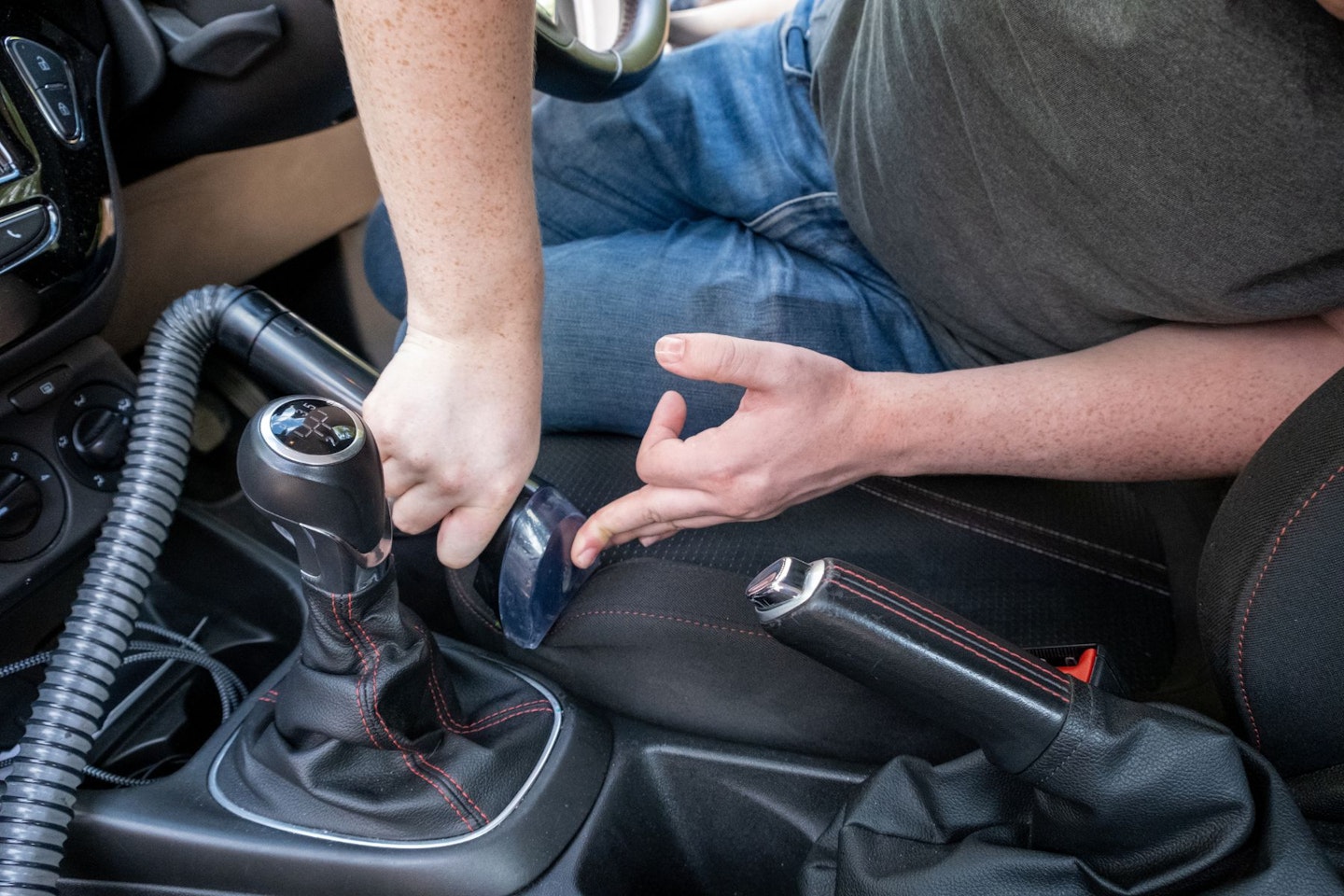 It's like an old Aston Martin in many ways; huge, very powerful and mostly well thought out, but a bit of a pain to use regularly. If it was a little smaller in size, a little lighter, or had some tiny trundle wheels it'd be more pleasant to use. The generous water tank is a little overkill for a spot cleaner which feeds into the larger issue that the cleaner could probably do with being 10% smaller and a little bit lighter. Storing such a large object could also prove difficult in smaller households, especially compared to smaller but similarly impressive spot cleaners.
Aside from the Macho Man arms you'll need to lug the BISSELL up and down a flight of stairs, the price is another point that can cause some concern. There's no escaping the fact that the BISSELL SpotClean Pet Pro is a good spot cleaner, it's just that it's priced a fair amount more than its competition.
Price and competition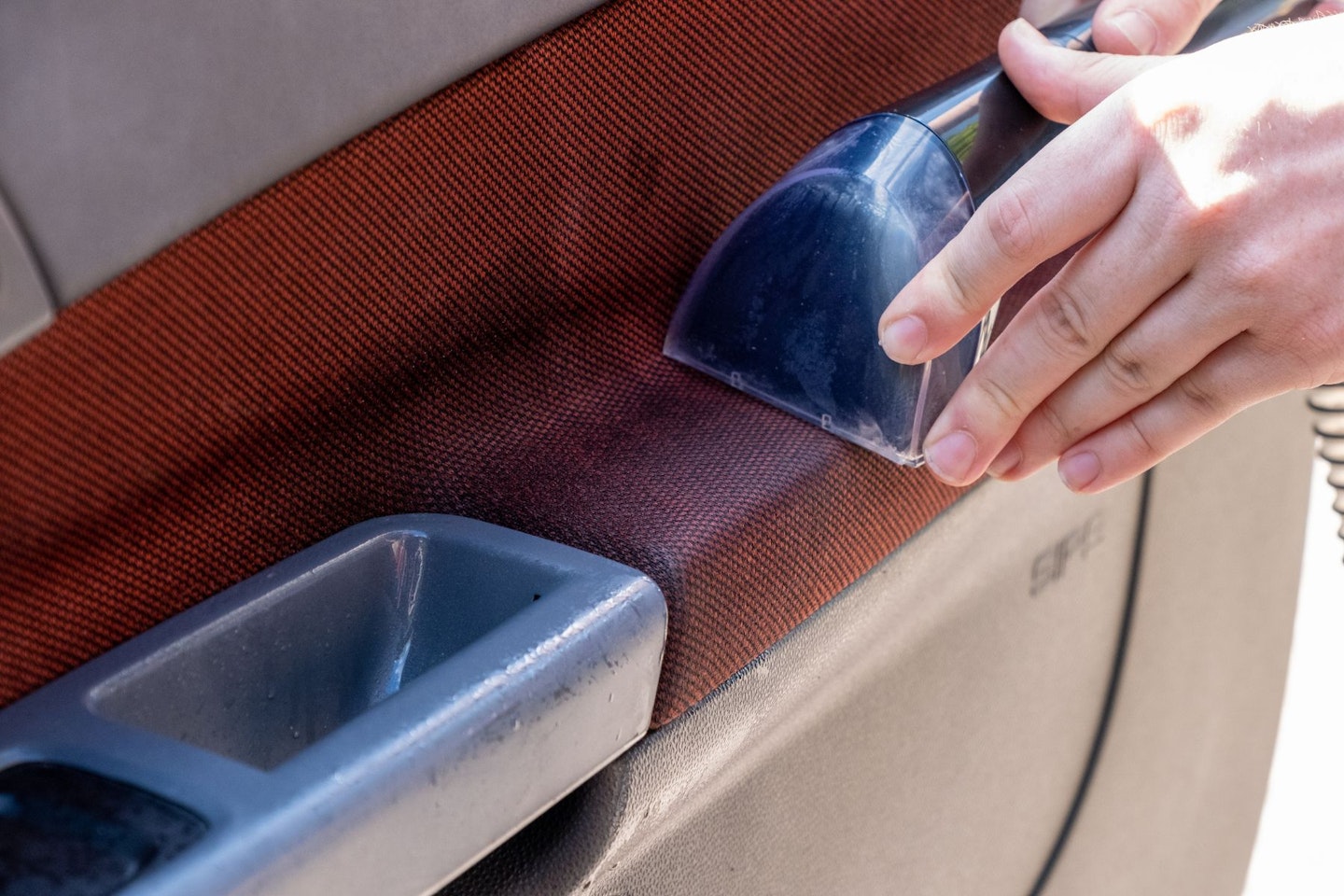 As previously touched upon, the price of the BISSELL SpotClean Pet Pro is a fair few quid more than other spot cleaners, and places it on the upper end of domestic units available. Comparably powerful options from Vax, BISSELL's biggest competitor, come in a fair bit cheaper and will offer a job that's 90% as good. In a similar vein, Rug Doctor's Spot Cleaner is again cheaper and features wheels for easier transportation, even if it's riddled with annoying design quirks.
The BISSELL's sound build quality and clever design do go some of the way to explaining the price premium. Still, when you can find wet and dry vacuum cleaners that feature carpet extractors for not that much more money, it does become a little harder to justify.
Verdict
The BISSELL Spotclean Pet Pro is an excellent way of fighting stains, it'll do a lot better than a bottle of stain remover and it's just about portable enough to be used on a car's interior. Everything feels robust and well thought out, even if it's about 10% bigger than it needs to be. Ultimately however it is worth the rather steep asking price because of its ability to restore fabrics that otherwise look fit for the tip. It's powerful, straightforward to use and full of clever design features to ensure that you won't end up covered in grime and wet fluff, all of which is what you ultimately want from a spot cleaner.
4.5/5
Pros:
• Ergonomic design
• Excellent stain-removing abilities
Cons:
• A touch expensive
• Big
Specifications:
Dimensions 25 x 36 x 35.6 cm
Water tank capacity 2.8 litres
Motor 750W
Hose length 1.5 metres
Cord length 6.5 metres
Weight 5.8kg
Other items to consider:
How the product was tested:
The BISSELL SpotClean Pet Pro was used on a variety of upholstered surfaces on a range of cars, both new and used. It was used to clean seats, carpet mats and the boot floor to examine how practical and portable it was. The BISSELL was also used on an upholstered chair and rug to examine how it performed around the home.
For verdicts, scoops, news and analysis from the team, delivered direct to your inbox, subscribe to the CAR newsletter.
You can enjoy CAR in its traditional print format, or one of the swelling numbers of digital editions, optimised for Apple iPhones, Android devices, iPads, tablets and desktop computers.