Not the most obvious automotive accessory you might think of, the humble toolbox is just as crucial as any tool used to keep your car on the road. Keeping your tools together in one handy place will always be appreciated when they're needed. And while most toolboxes will be too big to keep in your car, they're the perfect size for a garage or under the stairs.
Thing is, there are a lot of different types of toolbox available. From the latest polymer models and canvas tool rolls right down to the traditional sheet steel examples. Steel toolboxes may sound as old-fashioned as carburettors or a black and white television these days, but they're still a popular choice and there are plenty for sale.
Steel won't crack like plastic on impact, offers more protection from the cold and the most storage space of any toolbox type. Plus it looks the coolest. But steel is also heavy, prone to rust if you don't look after and can hurt if you whack yourself with one. To see if steel is still an acceptable toolbox we put one to the test.
Draper Barn Tool Box
Founded in 1919, Draper quickly established itself as a top tool manufacturer. Renowned for durability and quality, a Draper inspection lamp just missed out on top place in our mega test so we have high expectations for this toolbox. We're testing the Draper Barn Tool Box with 4 Cantilever Trays, one of the larger portable toolboxes.
Is it a good toolbox?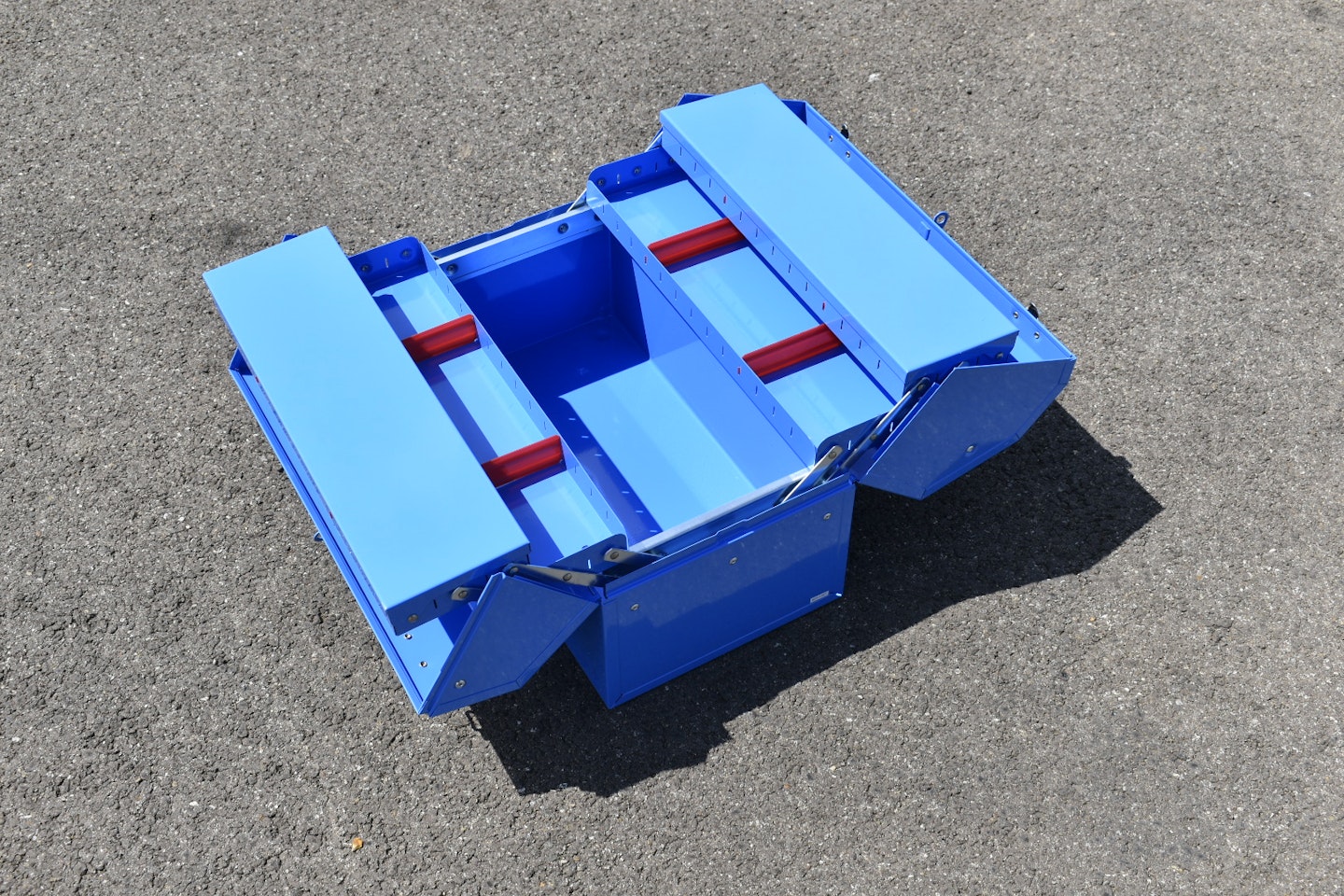 The Draper toolbox is a very simple product, as you'd expect from a toolbox. The simple construction and nice rich blue colour gives off a Bugatti Type 35 vibe and there's a reassuring quality and simplicity to this toolbox. The sheet steel construction is robust and has a reassuring clunk to it when you open and close the barn opening. It's very reminiscent of an old Land Rover, slightly agricultural but it works and will do until the end of time.
You'll also undoubtedly notice the massive dimensions. The 47.8 x 36.8 x 26.4 cm dimensions are undeniably massive and it'll easily be able to swallow a set of domestic tools. And thanks to the steel construction there is no wasted space. Draper claims that this toolbox can hold up to 22kg of tools with ease and the toolbox was able to support my weight when I sat on it. Clearly steel is still a top tool.
The four cantilever trays are a clever addition that allows you to make the most of the space available. These trays are covered when the toolbox is closed and the top layers come with a proper cover which means these trays are perfect for holding smaller items like screws and nuts. Draper also provide eight plastic dividers you can install to organize these trays.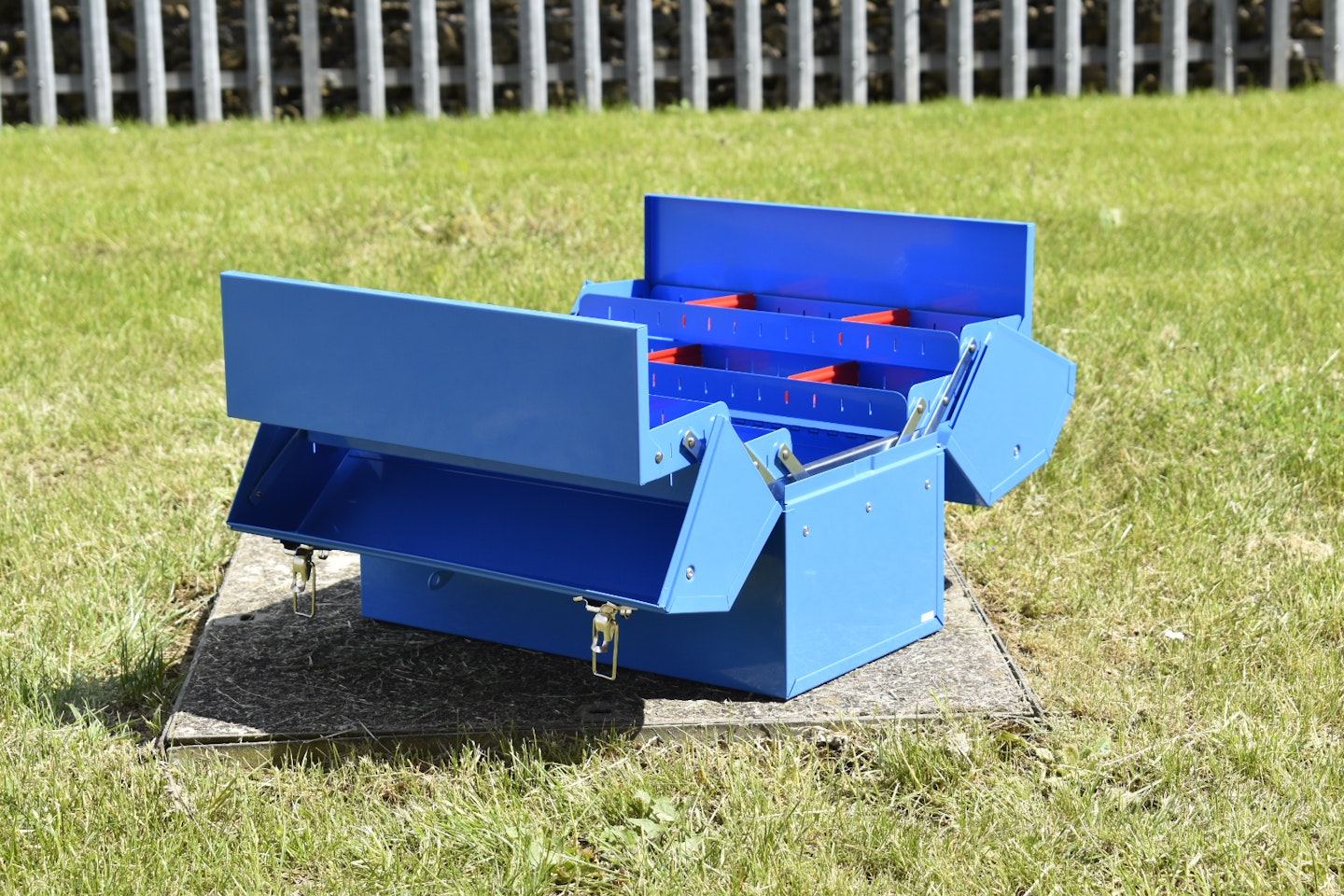 This quality and space comes with a drawback, namely the fact this toolbox weighs 8kg when empty. This is fairly hefty for something empty and when fully laden with tools it easily weighs north of 25kg.
Another irritant is that there is no lock supplied. There are provisions for one but nothing is supplied as standard. And while the toggle latches are a decent quality, they can't be locked either. Not the best for peace of mind.
Final verdict
This toolbox is deeply impressive when it comes to build quality and storage space. The steel construction is simple but robust and offers an unmatched use of space. Indeed, steel has been proven to still be a solid choice for toolboxes.
However, this toolbox is way too large and inconvenient to be kept in any car smaller than a Lamborghini LM002 but lacks the wheels and size to be used in a proper mechanics' garage. Instead, the best use for a toolbox of this size is for domestic garage use. And if you're in the market for a proper toolbox for your garage, this is the ideal option.
And if you want something a touch smaller then the two cantilever option may be a better size.
| Pros | Cons |
| --- | --- |
| • Offers outstanding storage | • Very heavy |
| • Durable design | • Might be too large for some people |
| | |
| Specifications | |
| --- | --- |
| Dimensions | 47.8 x 36.8 x 26.4 cm |
| Weight | 8kg |
| Maximum load | 22kg |
| Material | Alloy steel with lacquered finish |
READ NEXT:
CAR picks the best spanner sets for home mechanics and DIYers