People who like cars usually get shoehorned with two other interests; expensive watches and fancy coffee. The former is well established with expensive titanium and onyx watches littering car magazines while the latter is a more recent pairing. Maybe it's the rise of those Cars & Coffee events in the US, or the opening of Caffeine and Machine here in the UK (which would have made a far better headline than badly referencing a Blur song as I did).
However the connection was formed, coffee and cars are now forever linked. And what could be a better show of this unity than a car-based coffee maker. And we're not talking about some poxy 12V travel kettle for a forgettable cup of instant coffee. No, we're testing a proper espresso maker, one capable of 19-bar of pressure and boiling water. And there's no better place to make this coffee than by using the 12V socket from an Audi R8 Spyder.
The Handpresso Auto Capsule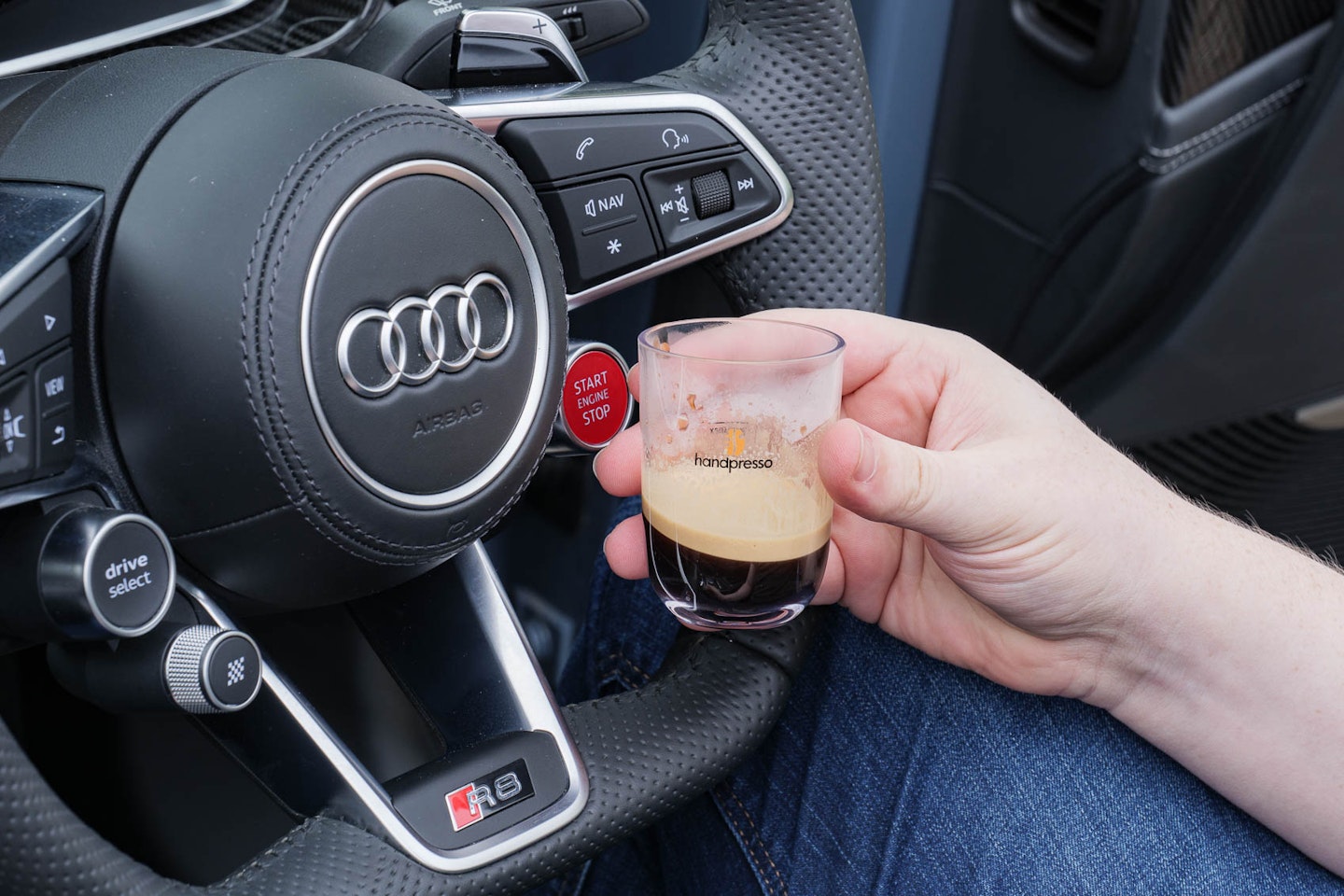 This flask-shaped device is a portable espresso machine that can both heat water, reach the desired pressure and pour the coffee in one handy device. Two models are available, one that uses Senseo coffee pads, the other using traditional coffee pods. We're testing the pod example today, seeing if it can make a decent espresso without the need for a kitchen.
The review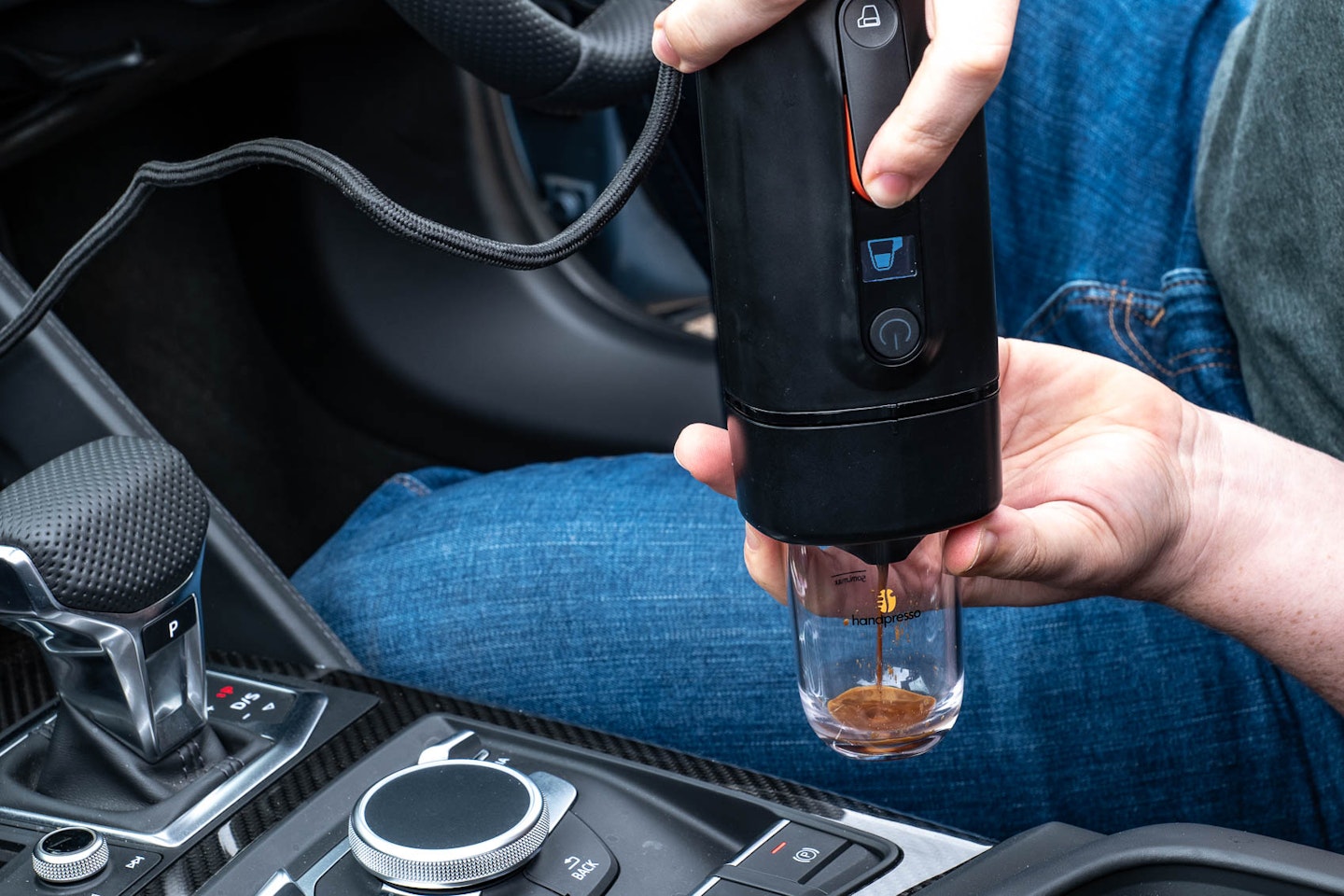 The first thing that stands out about the Handpresso is the build quality. Every surface feels robust and well-made, with a reassuring heft to the design. It features a simple interface of one button, one switch and a small screen. It also includes a small espresso cup, the perfect extra.
Filling the machine with water was an immediate irritant. Owing to the design of the device, pouring water in is a blind task, the only indication of whether you have too much or too little water coming once you turn the machine on. I made two coffees with this and managed to both over and underfill the machine in that time.
Once filled with the correct amount of water and a coffee pod you plug it into the 12V socket of your car and you turn the machine on. It will then take roughly two and a half minutes to boil the water, a handy percentage showing on the screen as it boils, simple stuff.
Pouring it on the other hand a rather worrying experience. The instruction manual informs you to turn the device upside down once it's boiled the water, ready to pressurise it and pour. This is a downright scary experience the first time, hoping that it isn't going to leak boiling water down all over your legs and the car. It's especially scary in a car that is specced at £180,000.
Plucking up the courage to turn it upside down, you then press the lever down which begins to pressurise the machine. This is an annoying part too because you need to hold the machine with a cup underneath it as it pressurises and pours the coffee. Flick the switch the other way to stop it and you're free to enjoy a fancy espresso.
I'll be honest that it wasn't that bad at all. The coffee has a thick creamy texture to it, and it was nice and hot. The quality does depend on what type of pod you use, however. It's also irritating that you can't use ground coffee and are limited to pods or pads.
Verdict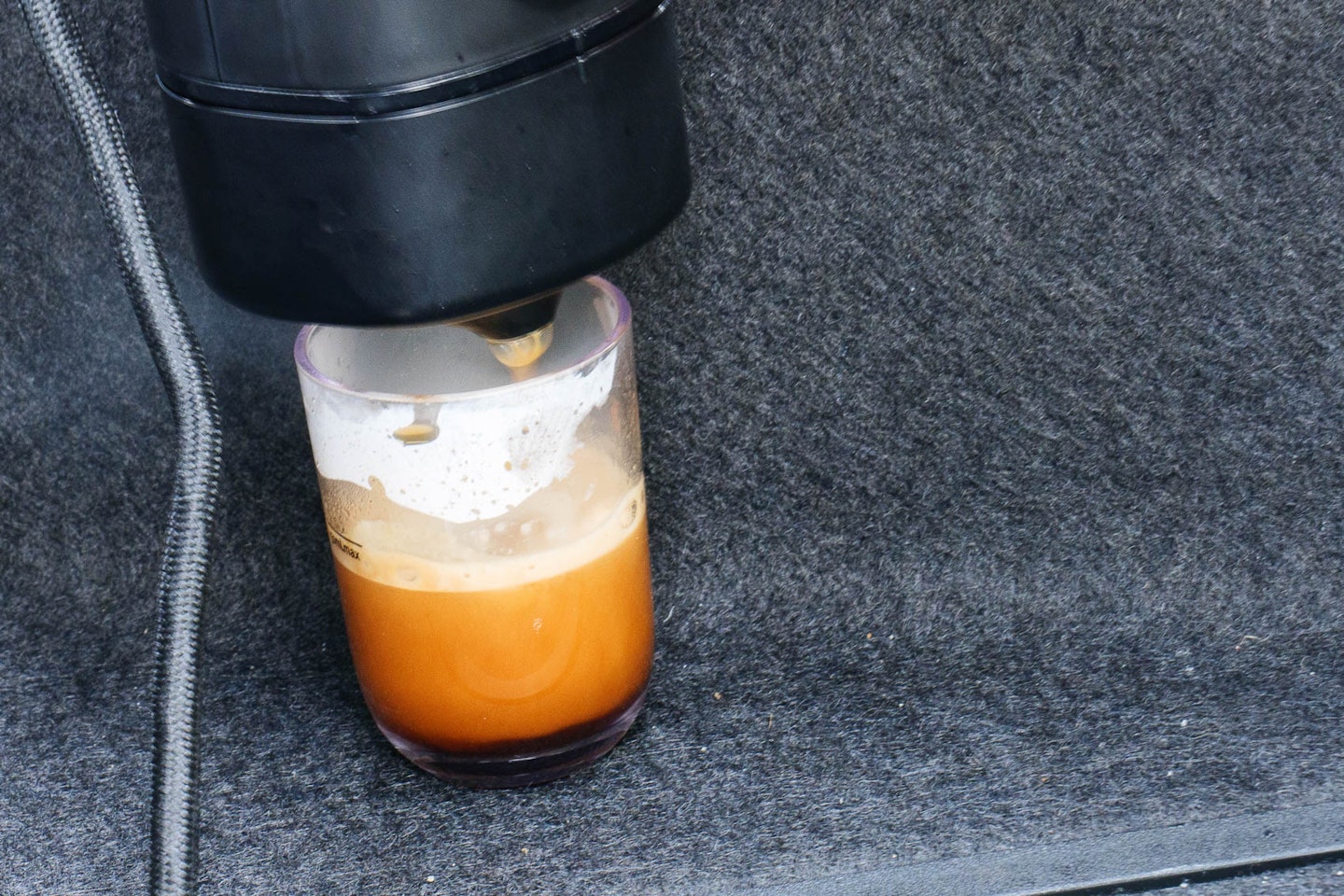 This coffee machine does make good espressos but at what cost? It's a lot of money to buy in the first place, and then you need to buy coffee pods each time you want an espresso. Factor in the annoying design quirks and it becomes a difficult product to recommend.
It's such a niche product to begin with and the price means that it's far better to buy a proper espresso machine and travel flask if you're wanting a coffee on the go. Even buying a fancy coffee-to-go is good value next to this machine. Plus, I'd rather have the Audi.
3/5
Pros
Cons
• Makes good coffee
• Expensive
• Premium quality
• Riddled with annoying touches
• Only makes espressos
How we tested it:
In case we hadn't mentioned earlier, we tested this coffee maker in the 12V power sockets of an Audi R8 V10 Spyder, one in the interior and the other in the boot. I used Tesco Finest Ristretto Espresso Capsules as the coffee capsules. As a regular coffee drinker, I tested the resulting espresso, looking for texture, foam and whether it tasted like coffee.
READ NEXT:
For verdicts, scoops, news and analysis from the team, delivered direct to your inbox, subscribe to the CAR newsletter.
You can enjoy CAR in its traditional print format, or one of the swelling number of digital editions, optimised for Apple iPhones, Android devices, iPads, tablets and desktop computers.