Why is looking for the best Faraday and RFID key pouches important? Well, with keyless car tech, there inevitably come keyless car thefts. An increasingly common form of car theft involves criminals using relay signals that mimic those that come from key fobs to unlock and start cars.
You can opt for existing security measures exist such as car wheel clamps which can physically keep your car nailed to the ground. However, there have been scary cases where premium cars such as Range Rovers and Mercs have been swiped in under a minute. The no.1 method for criminals is relay signals, so being able to block that can prevent a nightmarish situation. Which neatly brings us onto the convenience of RFID key pouches.
The brilliant thing is that they don't incorporate the bulky hassle of a steering wheel lock. The solution simply involves keeping your key fob in a protective Radio Frequency Identification (RFID), signal-blocking pouch or box. These effectively act as a Faraday cage. No signal, no keyless car theft.
The best RFID key pouches at a glance:
Editor's pick: Disklabs Key Shield - buy from Amazon.
The best compact pouch: Defender Signal Blocker Mini - buy from Amazon.
Best RFID box: Monojoy Faraday Box - buy from Amazon.
The best RFID key pouches
Editor's pick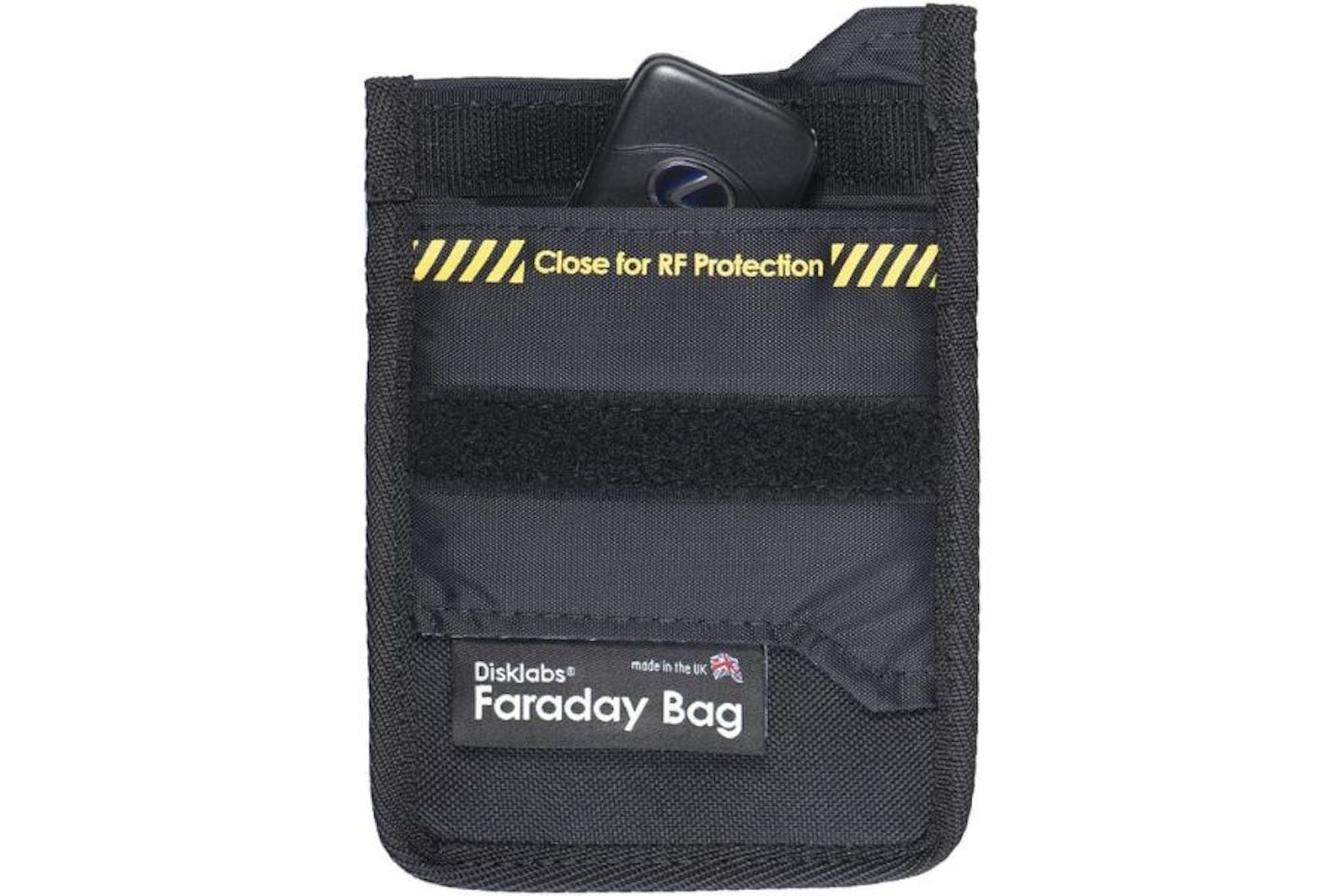 Via Disklabs
Description
Disklabs is a British company that specialises in Faraday bags. Its products are made in the UK
Pros
Handy wallet
Blocks all signals
Good for phone and keys
The most durable RFID key pouch
Via Disklok
Description
Disklok is another British company with 'disk' in its name, which produces products like steering
Pros
Reputable brand
Carabena clip for belt loops
Durable
Cons
Only for keys or cards, too little for your phone
The best for storing a phone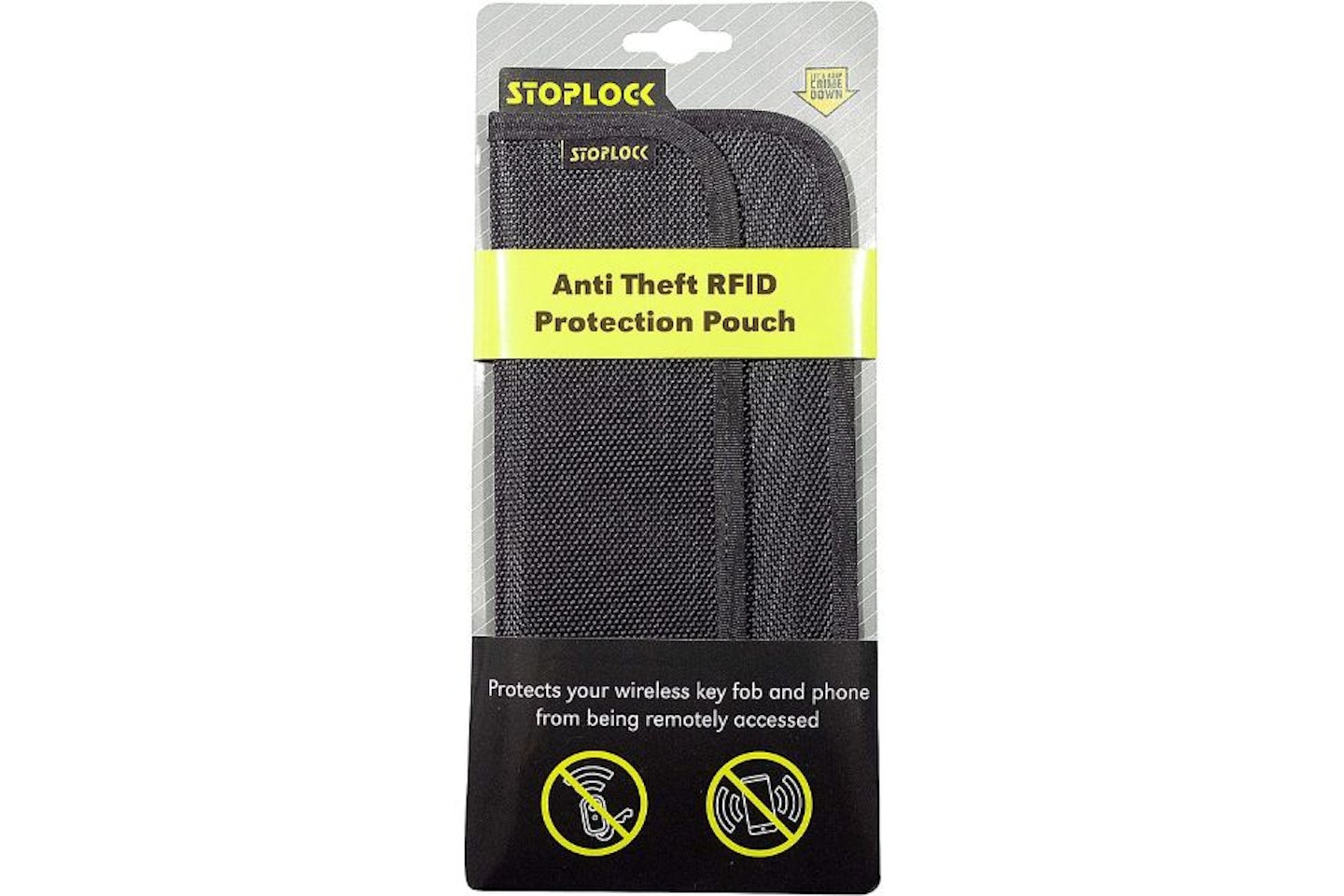 Via stoplock
Description
If you've ever bought a steering wheel lock or wheel clamp, there is a fair chance it was a
Pros
Reputable brand
Budget-friendly
Stores phones as well as keys
Cons
No clip for belt loop storage
The best compact RFID key pouch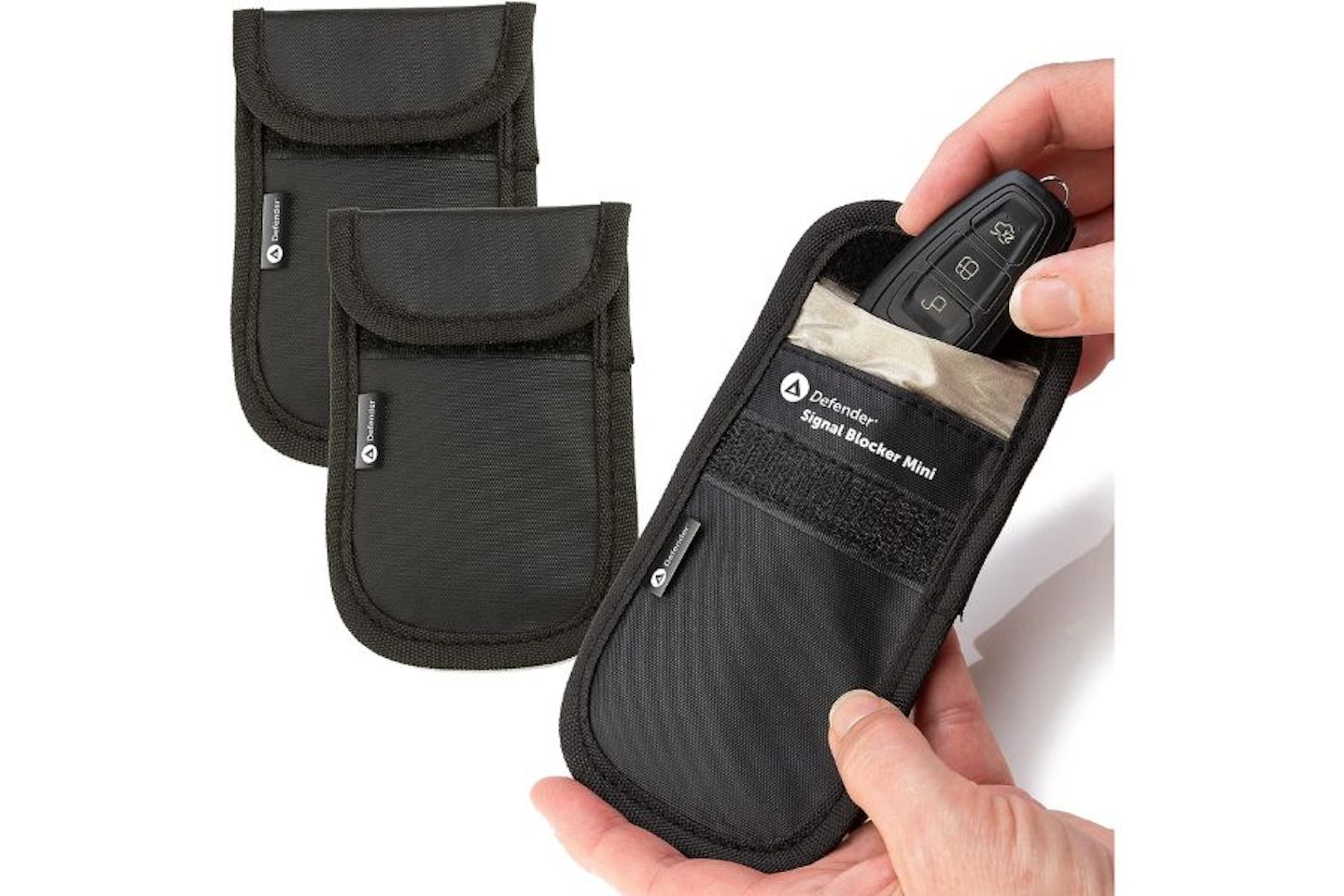 Via Defender
Description
Designed to neatly fit into your pocket, Defender's answer to preventing keyless car theft
Pros
Fits in your pocket
Very effective signal blocker
Cons
Won't fit a smartphone inside
The best RFID box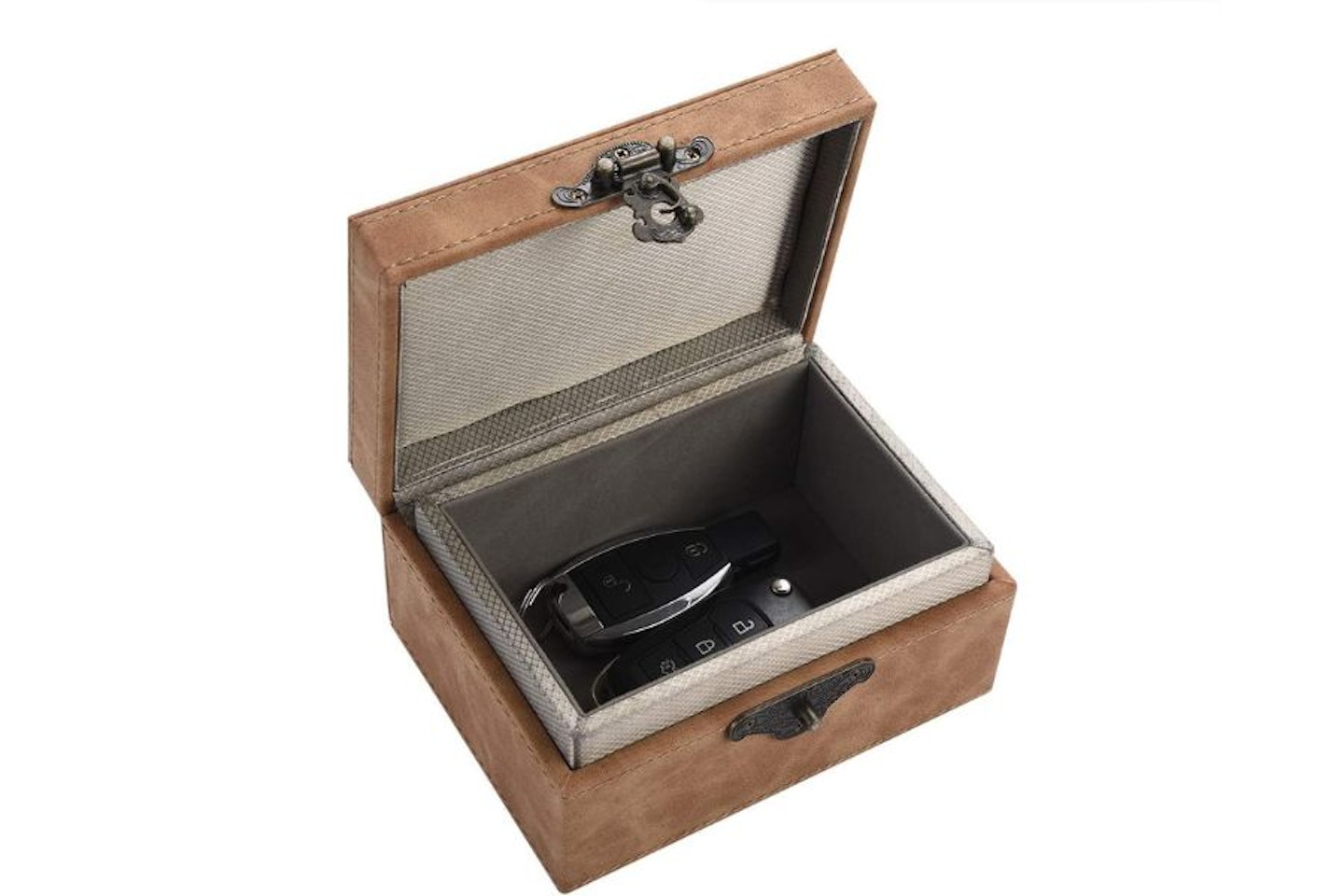 Via Monojoy
Description
For use at home, a signal-blocking box is a far more practical option that looks better, too. This
Pros
Store everything in one place
Blocks most signals
Fits your phone and keys
Cons
Only suitable for home use
How does RFID tech work?
RFID pouches and Faraday bags work by incorporating certain materials such as copper or aluminium foil into the bag or pouch. A layer of aluminium foil, for example, blocks all signals to wireless devices being kept inside them. These include phone networks such as 5G, Wi-Fi, GPS, and Bluetooth. They are as subtle as a well-hidden magnetic tracker in your vehicle.
Consequently, key fobs and other devices are kept safe inside and no relay signal can be produced. It sounds a bit Prepper-ish and conjures images of idiots wrapped in tin foil, building home bunkers beneath their geraniums. Nevertheless, the foil trick works for signal blocking. And thankfully, you can buy some quality products that tactfully hide the survivalist foil beneath a neat layer of fabric.
Our top tip in recommending the best RFID and Faraday product is not to be sucked into the 'I'm not paying an extra £5 for one that looks the same as the cheap ones' trick. We've found the super-budget ones aren't always consistent in blocking signals, unlike those that come from established, recognized brands. If it keeps your £40,000 Lexus safe, only a fool would complain about an extra few pounds. For an extra layer of protection - and to potentially lower your insurance premium - you can also consider installing your car with a tracker.
Chris Williams is a Senior Product Writer for CAR, also working for Live For The Outdoors. An expert in camping and muscle cars, he spends most of his time up a mountain or laying rubber.
For verdicts, scoops, news and analysis from the team, delivered direct to your inbox, subscribe to the CAR newsletter.
You can enjoy CAR in its traditional print format, or one of the swelling number of digital editions, optimised for Apple iPhones, Android devices, iPads, tablets and desktop computers.
Just so you know, whilst we may receive a commission or other compensation from the links on this website, we never allow this to influence product selections - read why you should trust us.