One debate you thought you'd never see here at CAR is what second vacuum cleaner you should buy. Obviously, you have the main household vac, often a multipurpose or upright that can tackle the main jobs but what secondary unit do you settle on?
RELATED: How to vacuum your car
There's the humble handheld vacuum (like this Vax unit) that's great for cleaning surfaces and your car's interior but lacks the power to do tackle anything seriously dusty. Or there's the wet and dry vacuum cleaner, the heavy-duty choice for cleaning a sodden floor but often expensive and rather bulky to live with.
If only there was something that combined the liquid clearing ability of a wet and dry unit with the compactness and portability of a handheld.
The Beldray Cordless Wet & Dry Handheld Vacuum
Now however there is. Not only does the Beldray condense a wet and dry vacuum cleaner into a handheld design, but it also does so while being cheaper than almost any other wet and dry vacuum cleaner on the market.
With this in mind, the 20-minute runtime is more than acceptable, even if the vacuum only comes with a 500ml storage capacity and a rather stingy two attachments (a squeegee and a crevice tool). It takes four and a half hours to fully charge, comes in a rather fetching shade of blue and we're going to see if it's any good.
The test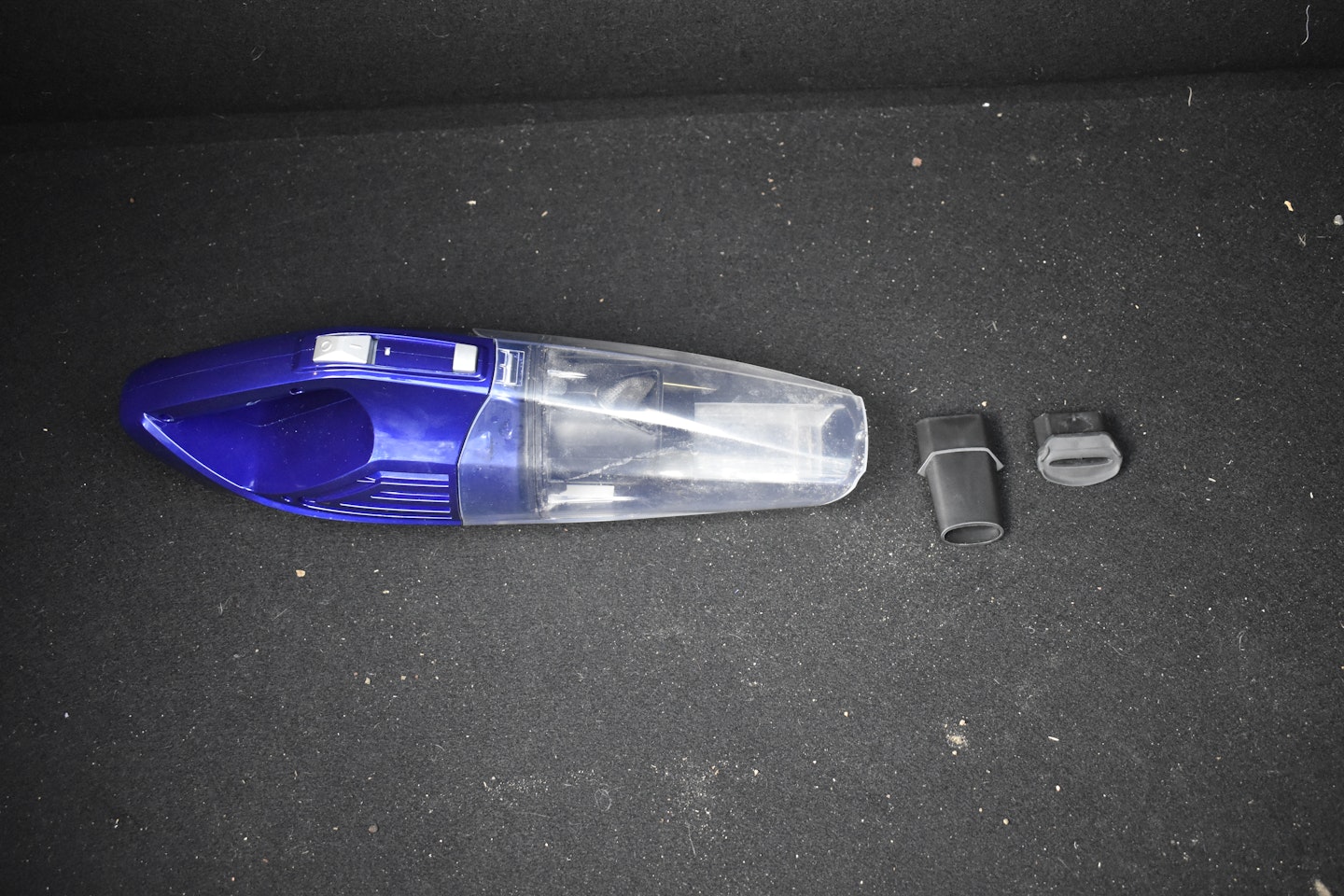 Don't tell Mercedes and its cherry wood boot floors, but most real boots aren't maintained to the highest standards and are quite often a mess of dusty carpet covered with bags, shoes and stuff you forgot to take to the charity shop.
The boot of this Renault Zoe is filled with dirt and debris and provides the perfect real-world test for the Beldray's regular vacuuming abilities. For sucking up liquids I'll simply spill some water and see how good it is at vacuuming it all up.
Review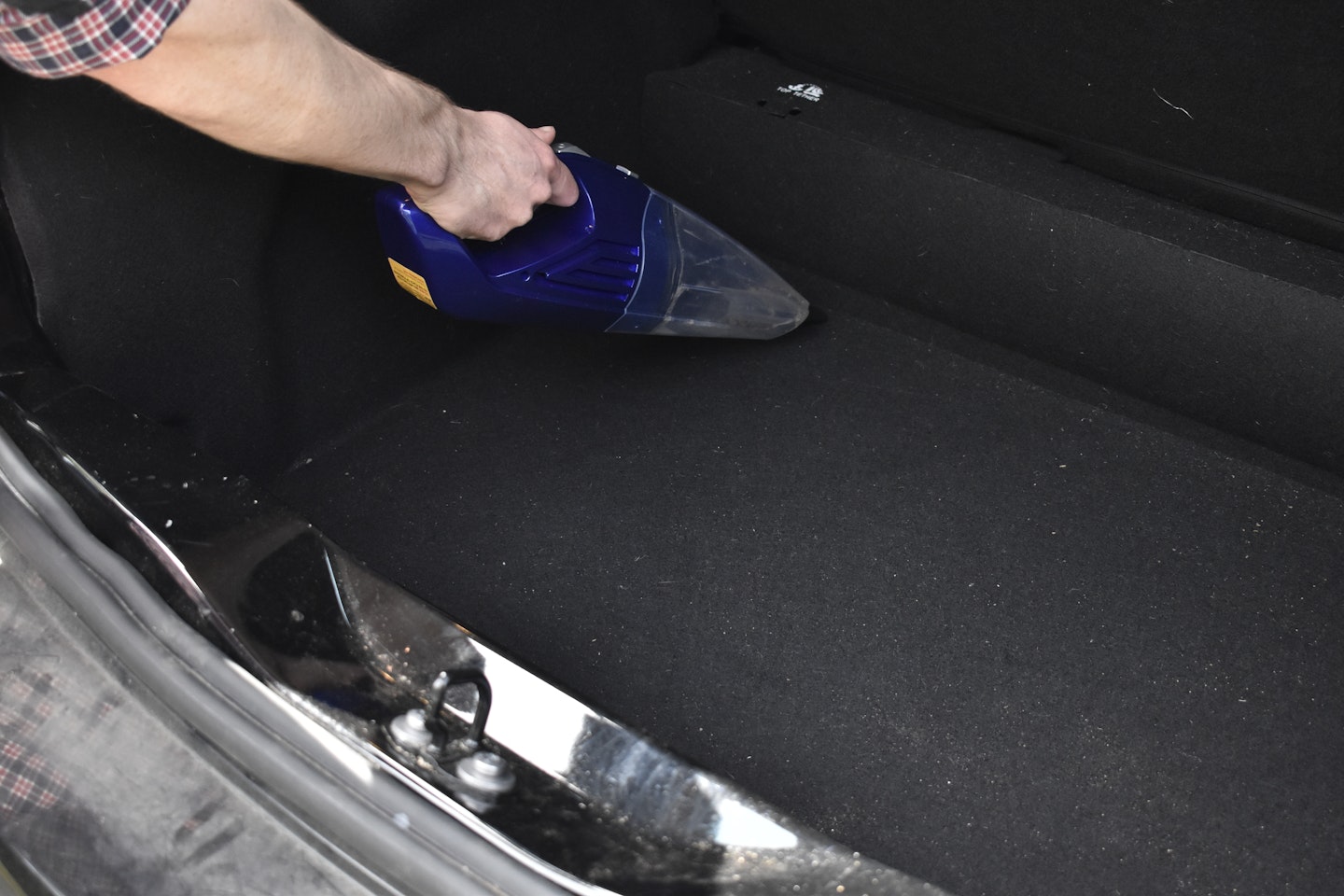 The budget nature of this vacuum is nearly inescapable from the get-go. The plastics feel robust enough if a little cheap and the overall design feels spartan. There's only one switch (on/off) and there are no power settings. Still, it's very light and the handle is decently comfortable.
Attaching the crevice tool I set to work on the carpet and despite the lack of suction modes, the Beldray was impressive. It could collect larger bits of debris with ease and the suction was excellent. The only real criticism here was that there were no alternative attachments, a pet hair remover or flexible crevice tool would have been a welcome addition for cleaning a car.
Moving away from solids, however, is where it starts to get annoying. There's no need to change filters or modes to move on to liquids but you do need to empty the dust container to keep the vacuum cleaner working effectively. This is a relatively time-consuming affair, especially as the design of the dust compartment means fully cleaning it out is nearly impossible. The fact this compartment is also made from clear plastic only serves to remind you of this fact.
With the compartment emptied as best I could manage and the attachment switched to the squeegee head I set to work testing the vacuum on liquids. And for small spillages, it was very good at sucking up water. It may lack the power and capacity to clean up a large spillage, but for small kitchen mishaps it was decent enough.
Verdict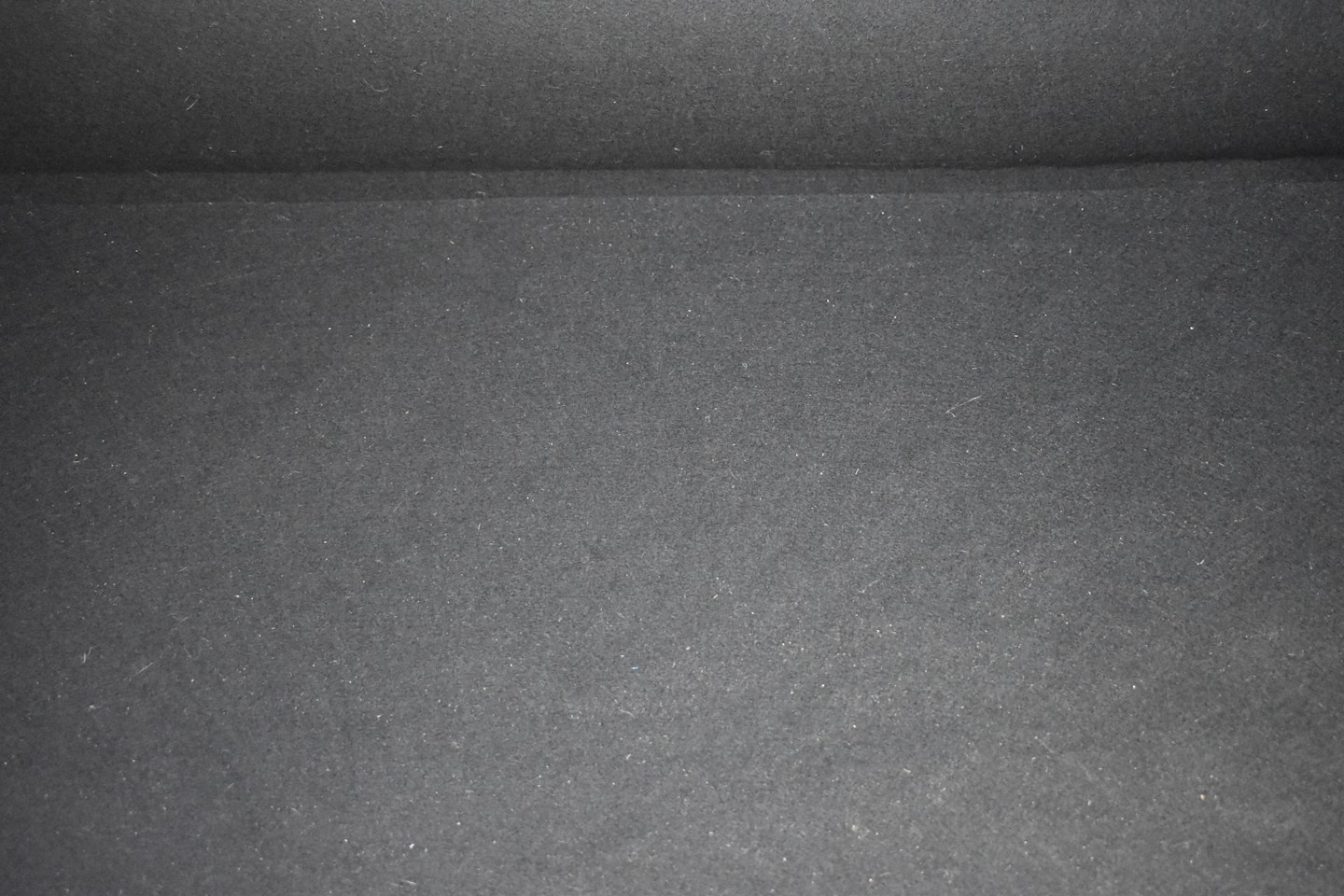 The best way to describe this vacuum cleaner is to say that it's an ok appliance but filled with small design flaws and irritants that mean it's not hard to find a better alternative. In balancing wet and dry power with a cordless design (not to mention the cheap price), it all feels very compromised. Add in the fact it'll struggle on larger jobs and the lack of extras and it's safe to say you should keep your options open.
3/5
| Specifications | |
| --- | --- |
| Capacity | 0.5 litres |
| Power | 1300 watt |
| Running time | 20 minutes |
| Weight | 1.16kg |
| Pros | Cons |
| --- | --- |
| • Acceptable on wet liquids and solids | • No good for larger tasks |
| • Good value | • Clear tank is a nightmare to clean |
| • Decent run time | |
How we tested it:
To make the test as realistic as possible we decided to vacuum an actual person's car as opposed to a spotless press car. If it could excel cleaning a real person's car then it'll be well suited to most peoples needs.
To test the wet aspect of the vacuum I recreated several common household spillages to test how good it would be for domestic duties. This included coffee and water on a kitchen table, as well as water spilt on both wooden and carpeted floors.
I was looking for suction power, quality feel and ease of use, the main considerations I'd have when looking for a wet and dry vacuum cleaner alongside portability and battery life.
READ NEXT:
For verdicts, scoops, news and analysis from the team, delivered direct to your inbox, subscribe to the CAR newsletter.
You can enjoy CAR in its traditional print format, or one of the swelling number of digital editions, optimised for Apple iPhones, Android devices, iPads, tablets and desktop computers.