The humble Swiss Army Knife is right up there with the Land Rover Defender in terms of rugged coolness. Every time you hold one you get images of being trapped in the hostile wilderness, using the knife to survive against the odds.
In reality, it's just a nice pocket multi-tool that'll come in handy for opening a beer or tightening a loose screw on a picnic table.
So surely such a tool is ideal for a campervan holiday. They're small, lightweight and multipurpose so they should come in handy. To find out we're putting the Victorinox Adventurer to the test with a series of tests.
Legal Disclaimer:
In England and Wales, it is an offence under the Criminal Justice Act 1988 (Section 139) to carry in public without good reason (i) any knife with a locking mechanism, or (ii) a folding knife with a blade length of more than 3 inches/7.62 cm. Contravention can lead to a fine and/or imprisonment.
This knife features both a locking mechanism and a blade of over 3 inches/7.62 cm (it's 8cm long) so carrying one in public without good reason could lead to a conviction. For more information on this click the link here.
The Victonix Adventurer Pocket Knife
One of the larger pocket knives that Victorinox offer, the Adventurer offers the following functions:
1. Large blade
2. Bottle opener
3. Wire stripper
4. Screwdriver 7.5mm
5. Can opener
6. Screwdriver 3mm
7. Reamer, punch
8. Phillips screwdriver
9. Tweezers
10. Toothpick
11. Key ring
There are other pocket knives available if you're needing different functions. From the Champ Pocket Knife with 33 functions, including pliers, a saw and even a fish scaler down to the simple six-function budget-friendly option. Victorinox even sells a pocket knife for cheese lovers (yes there is a fondue fork).
The test
First impressions are as you'd expect, the quality is excellent and the tool is compact in size. The tools are made of stainless steel and have a quality feel to them and all the blades look decently sharp.
The red outer shell also has a quality feel to it too. The 111 x 16 x 30 mm dimensions mean it won't take up any unnecessary room. So far so promising for the pocket knife.
To find out if it would actually come in handy in a campervan, I set myself some challenges to see if the Adventurer would prove genuinely useful.
For food preparation: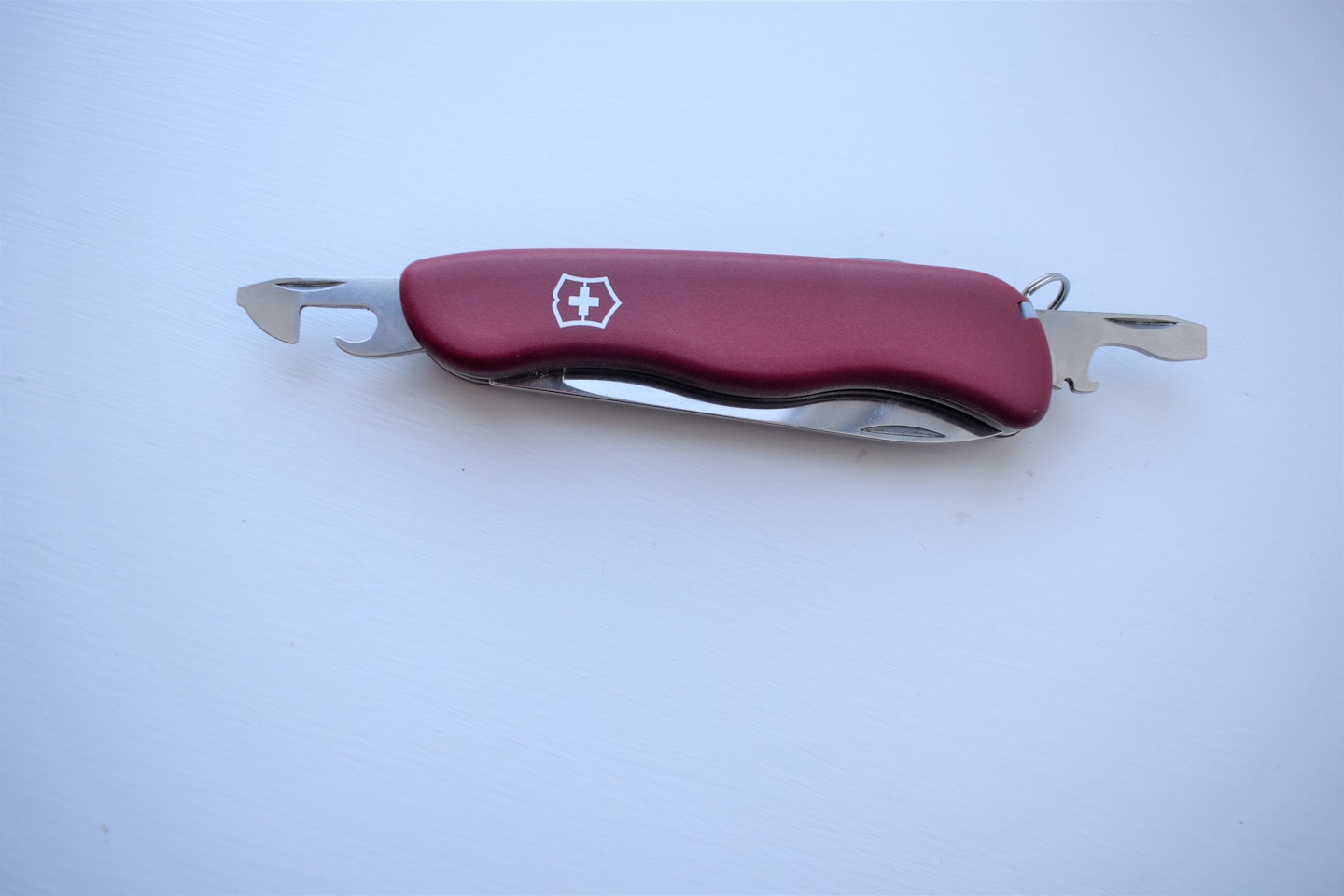 If space is a real premium in your campervan's kitchenette then a multitool like this will preserve valuable space for tins of beans and tea bags.
But to test and see how effective the Adventurer would be, I set myself the task of preparing a dinner using nothing more than the pocket knife.
The blade, can opener and tin opener would all be put to the test here, and if the pocket knife excels here then it should be a campervan kitchen essential.
The blade is pretty sharp, and thanks to the generous 8cm blade length and locking mechanism it was perfect for chopping fresh vegetables and opening packets. I didn't use it on any meat but if I had it would have made mincemeat of it (sorry).
RELATED: Driving the classics: Playmobil Volkswagen T1 Camping Bus
This particular pocket knife lacks a full-sized can opener, instead opting for a stubbier, more compact option. It's not the best option for opening cans (it can take ages) but it will get them open. A blessed relief for many a hungry camper.
Arguably the most important of any pocket knife is the bottle opener and I'm pleased to report that the Adventurer has a top-notch bottle opener.
As such, for use in a campervan kitchen, this pocket knife can hold its own while taking up next to no space at all.
For DIY tasks: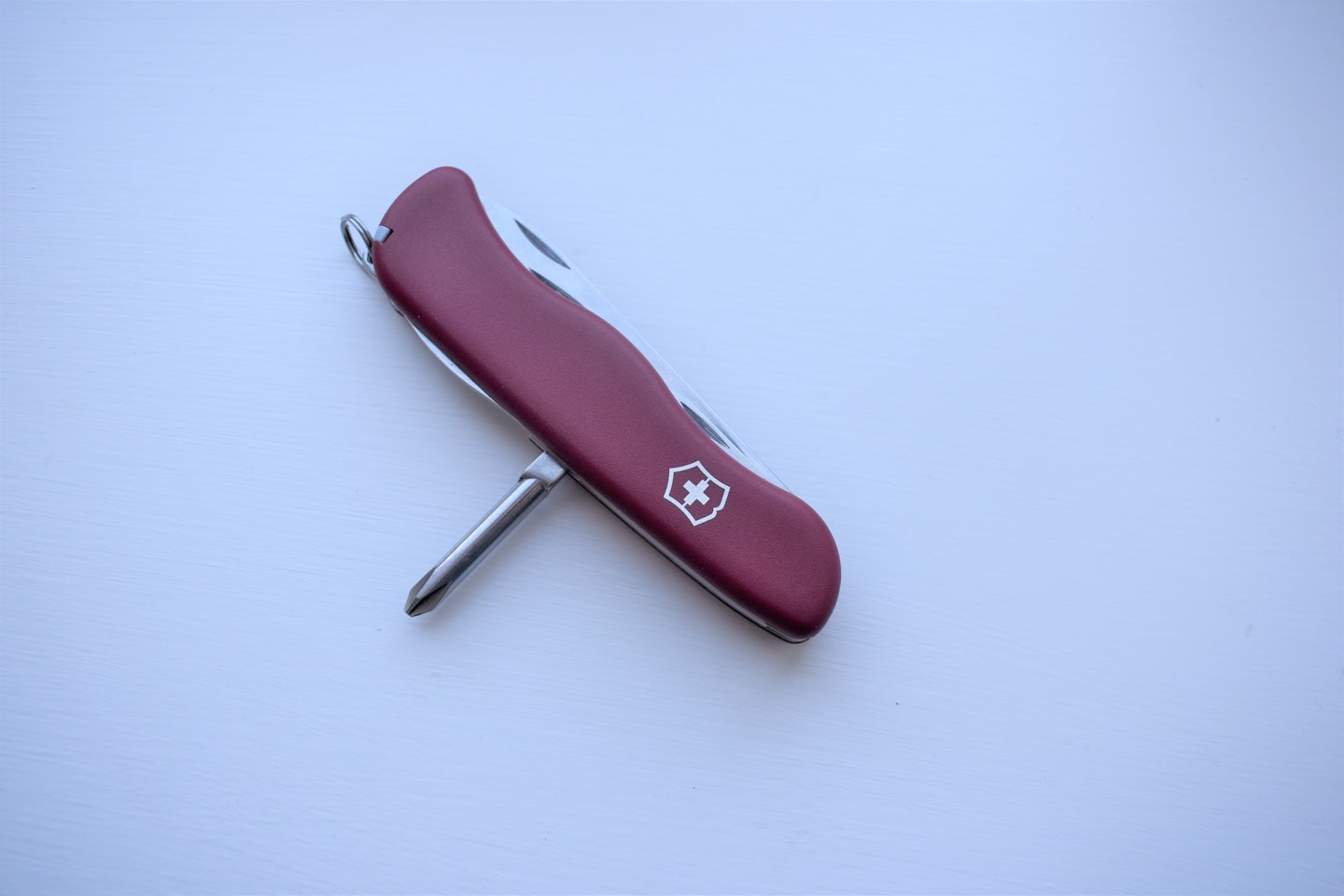 The next thing a campervanner needs is a selection of tools for basic maintenance and DIY. And while the average campervanner doesn't need an impact wrench or grease gun for a weekend away, they will need some basic tools to keep everything held together.
A proper toolkit can take up a fair chunk of room so to test whether you could replace a tool kit with this pocket knife I set myself the challenge to dismantle and rebuild a piece of furniture. The logic being that if it can do this, it'll easily mend a squeaky fixture in a campervan.
As such, I dismantled then rebuilt my IKEA coffee table using nothing more than the screwdriver functions of this pocket knife. These functions were incredibly effective and would certainly be invaluable for light maintenance.
This particular model only offers series of screwdrivers and a reamer. While larger pocket knives offer wire cutters, scissors and even saws, the average campervanner shouldn't be needing to saw through a table or rewire a computer.
In short, it's another area in which the Adventurer excels, the screwdrivers are robust and the reamer a good addition. All I would say would be to bring a hammer if you want complete peace of mind.
For personal care:
The final two attachments to test were the tweezers and reusable toothpick. The tweezers were a fairly standard (if small) metal pair that would come in handy in the event of a nasty splinter (thankfully I didn't have to test this). The toothpick wasn't used for obvious hygiene reasons (it was a demonstrator model I tested) but it did look robust enough.
Verdict
This pocket knife makes total sense whether you're in a full-sized VW California or a diddy Citroen C15 Romahome. It's worth carrying one just in case. You're bound to forget something like a screwdriver or bottle opener and carrying one of these around will save at least one holiday headache. It's simply a great multi-tool.
Verdict: 5/5
| Pros | Cons |
| --- | --- |
| • Great quality | • Larger models offer more tools |
| • Excellent tool selection | |
| | |
| Specifications | |
| --- | --- |
| Dimensions | 111 x 16 x 30 mm |
| Weight | 107g |
| Functions | Blade, bottle opener, wire stripper, screwdriver (7.5 mm and 3 mm), can opener, reamer, Phillips screwdriver, tweezers, toothpick and key ring |
| | |
How we tested it
As a former boy scout, I was well equipped for some mild-outdoorsmanship with a pocket knife. However, owing to the legislation I decided to test the knife exclusively indoors. The challenges I set myself would be completed as much as possible with nothing more than the knife.
READ NEXT: