Campervans have come a long way from those clunky kitchenettes of old. Modern, cleverly packaged campervan kitchens can now feature microwaves and even offer enough room for a proper oven.
Modern campervans offer seriously impressive creature comforts including a decent fridge. Imagine being able to enjoy a chilled yoghurt/beer/kiwi after a long drive to a campsite.
RELATED: Driving the classics: Playmobil Volkswagen T1 Camping Bus
We've found the best campervan fridges for sale that are perfect for a whole range of things. From smaller top-loading examples to big 40-litre examples we've got you covered.
The best campervan fridge
Description
The best choice for campervan fridges comes from Smad. This 12V (or 240V) fridge offers 40-litres
| Specifications | |
| --- | --- |
| Dimensions | 40.2 x 46.5 x 56 cm |
| Weight | 16kg |
| Capacity | 40 litres |
| Features | Adjustable shelving, locking door, near-silent running |
Best smaller campervan fridge
Description
Working as either a fridge or a freezer, this small 20-litre campervan fridge is perfect for a
| Specifications | |
| --- | --- |
| Dimensions | 61 x 38.3 x 37.4 cm |
| Weight | 10kg |
| Capacity | 20 litres |
| Features | Car battery protection, rugged construction, freezer function |
Description
With 33-litres of storage and a top-opening design, this fridge is a mixture between a cooler and
| Specifications | |
| --- | --- |
| Dimensions | 56.5 x 47.5 x 39 cm |
| Weight | 10kg |
| Capacity | 33 litres |
| Features | A++ energy efficiency rating, Control panel |
A literal campervan fridge
Description
A more literal example of a campervan fridge, this option from Kuhla may be a rather inefficiently
| Specifications | |
| --- | --- |
| Dimensions | 34.1 x 38.5 x 42.2 cm |
| Weight | 7.7kg |
| Capacity | 17 litres |
| Features | Cool design |
Campervan fridge FAQ: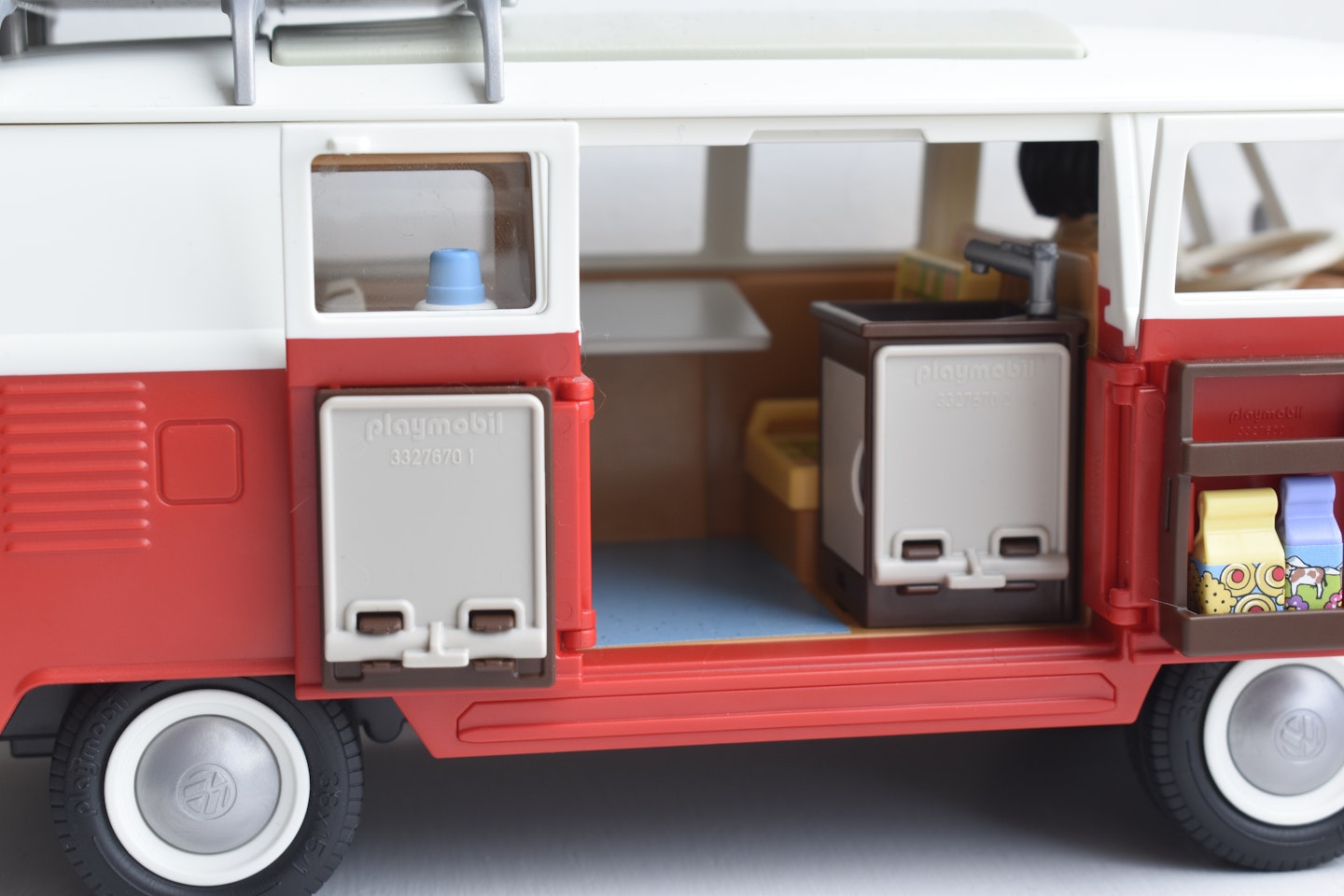 How big should the fridge be?
It's all a matter of how big your campervan is. If you own a Bedford Rascal or a Seat Terra Darby then it's fairly obvious you aren't going to be hauling a larger fridge around with you, not unless you're content with sacrificing the bed and outside. Whereas, one of those huge American RVs could easily swallow a full-size American Fridge Freezer.
Another consideration is how much food you're planning on bringing with you. More people and a longer holiday will inevitably mean more food is required. One thing to remember is not everything needs refrigerating. If you have a very small fridge it may be an idea to buy tinned veg and UHT milk which don't need to be chilled. Also, remember that eggs don't need to be kept in the fridge.
Top or side opening?
This question comes down to personal taste. There won't be any real difference to how much space it takes up or how much storage it offers so just go for what you like the look of.
What features should I look for?
Campervan fridges can be broken down into three types:
Thermoelectric - These are the basic cooler-like fridges you'll find at the lower end of the price range. Expect a smaller capacity and not the most powerful cooling, but these do tend to be portable.
Compressor - Similar to a normal fridge, these are often the most advanced type of campervan fridge you can buy. Some even come with separate freezer compartments
Gas - The least popular type of fridge because it takes quite a bit of plumbing in and needs a full gas inspection before you can run it. The bonus of a gas fridge is that they run silently.
Voltage is another thing to look out for:
12V - The most common voltage you'll find for campervan fridges, these will use the least power but won't be as powerful as larger units.
24V - Some larger campervans may come with 24V power, make sure to find out beforehand.
240V - These are regular fridges. Expect a lot of power and but giant power usage.
READ NEXT:
Proscenic S1 cordless vacuum review: light on your arm and wallet