DIY car maintenance has changed so much over the decades because these days almost no one does it. It's like going to church. It used to be a common thing that everyone did but now it's reserved for the super enthusiastic.
But don't be put off. Home car maintenance does not have to be reserved exclusively for people who drink tea from smoked glass mugs and have a permeating musty odour. No, basic car maintenance is enjoyable; it's different to all the other jobs we normally do and very satisfying. It even saves you money.
In addition to basic things such as replacing windscreen wipers, halogen headlights, refilling screenwash, oil changes, and attending to air filters, removing your oil filter for replacing is something else you can do (unless you have and EV). And an oil filter removal tool is vital to this.
What is an oil filter?
Motor oil needs to be filtered in the same way air does. Without one, grit and other bits would get into the oil and cause wear and damage to your car's engine - exactly the same reason for an air filter.
An oil filter about the size of a tin of Spam and is located either on the underside, protected by an undertray, or in the engine bay. It varies from car to car.
How often do oil filters need changing?
Because the oil filter is constantly cleaning the oil, over time it will get clogged with debris and lose its effectiveness. It depends on who you ask as to how often oil filters need changed. Your manufacturer's car manual will say one thing, your mate another, and your internet search about a million.
We suggest you stick to the manufacturer's recommendations on this because different engines operate differently and there is no one size fits all, despite what your mate Shane says. A manufacturer's recommendations will usually be within 5,000 and 8,000 miles.
Factors that will influence the lifespan of your oil filter are things such as driving style, frequency of towing, and types of driving. Aggressive driving shortens the life of an oil filter, as does frequent towing, and stop-start city driving will chew through an oil filter faster than miles spent on the motorway and open roads.
Oil filters should get changed with the engine oil. There's no point just replacing the oil because the old filter will dirty it.
Types of oil filter removal tools
There are four basic designs of oil filter removal tools available; cup, claw, pliers and wrench.
Cup tools are the simplest oil filter removal tools available, it slots on to the oil filter and is removed with a socket wrench. These are non-adjustable, so you'll need to find the right size for your car. If you run multiple cars, a set of different sized cups will be your best bet.
Description
Cap tools aren't adjustable, but this set offers a load of different sizes. The set is made from
Claw wrenches are similar to cup-type tools but are adjustable, meaning they're great for different sized oil filters.
Description
Claw-type tools are great because they adjust. This universal option adjusts to fit any oil filter
Pliers work like normal pliers but are bigger to accommodate the size of the oil filter. These are able to remove a variety of filter sizes but will require a bit of elbow grease.
Description
A simple but effective way to remove an oil filter, these pliers are designed to grab the oil
Wrench type oil filter removal tools include different variants, chain and band types. These wrap around the oil filter and are tightened by hand to make removal easier.
Description
Using a heavy-duty chain to remove oil filters, this oil filter removal tool will certainly be an
Description
A great budget tool, Draper still offers outstanding build-quality with this wrench. The strap
Cup tools and claw type wrenches will require a socket set to work, and thankfully socket sets are readily available and are useful for a number of tasks around the garage. We've included our top pick below.
Socket wrench set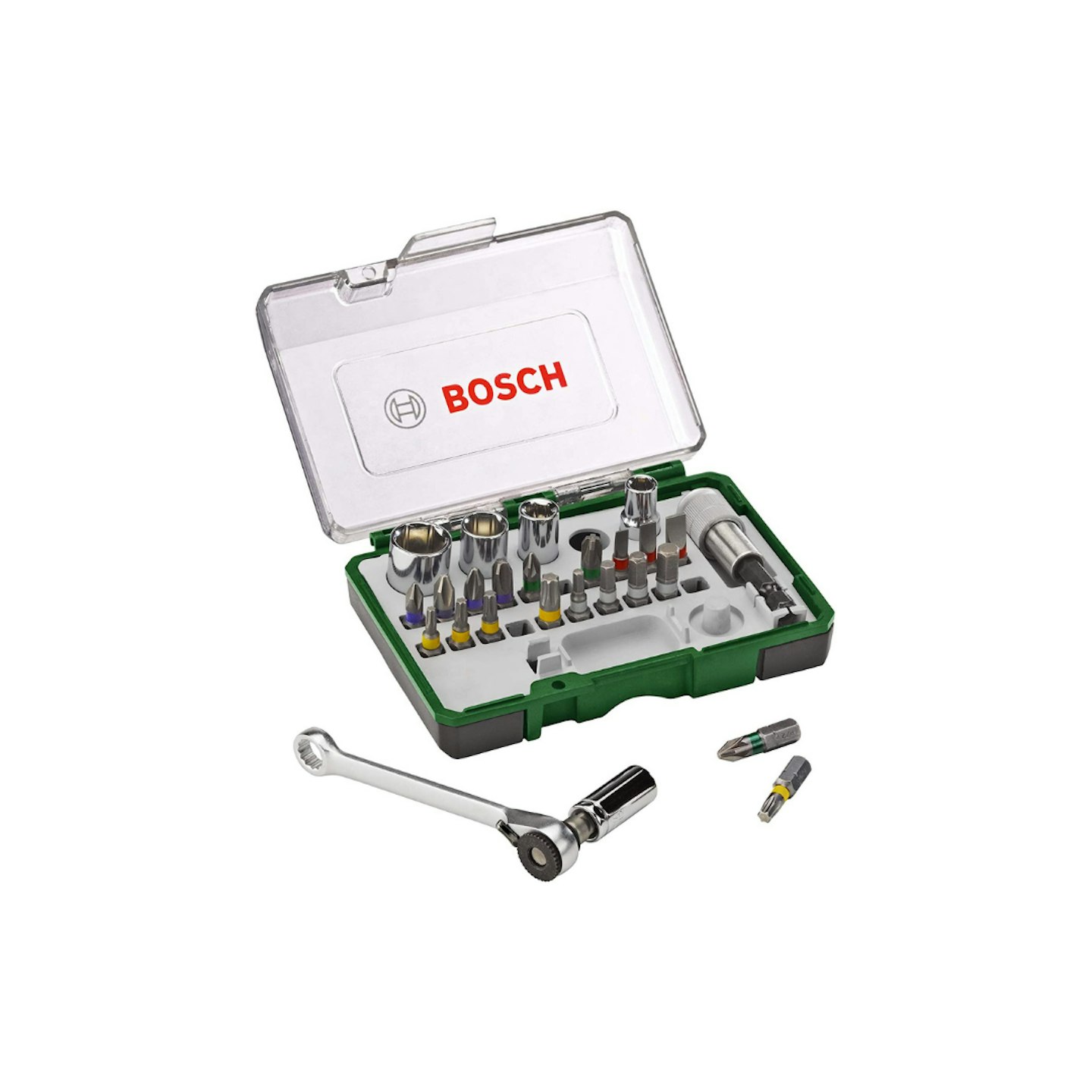 1 of 1
Bosch Ratchet Set
An incredibly useful tool to have in your garage no matter what, a good socket set will always come in handy. This neat option from Bosch includes a number of attachments, including screwdriver attachments. It may be small but it's really well-made and the perfect tool for making an oil filter change easier.
How do I change an oil filter?
Run your engine for a few minutes so the oil is heated, it'll drain quicker this way (but make sure it isn't too hot to be safe to remove).
If you can, get your car on ramps (using a ramp, inspection pit or jacks will make things a lot easier but are in no way essential). Just make sure you have enough room underneath your car to work safely.
Put on some gloves and safety goggles.
Find the oil drainage plug and place an oil pan underneath it, use a socket wrench to loosen the plug and remember that the oil will drain at an angle.
Drain the old oil.
Reattach the plug, secure it with a socket wrench and make sure not to over-tighten it.
Find the oil filter (a small mirror can come in handy if you can't safely get under your car) and place the oil pan underneath it. Attach the removal tool to the oil filter and remove it. Make sure to clean the mount with a rag.
Using a little bit of fresh oil, lubricate the gasket and screw it into place by hand.
Add new engine oil to your car. Make sure not to add too much or too little.
Run the car and make sure there are no leaks, if there is any evidence of this, fix it.
Dispose of your old oil at an appropriate location.
READ NEXT: